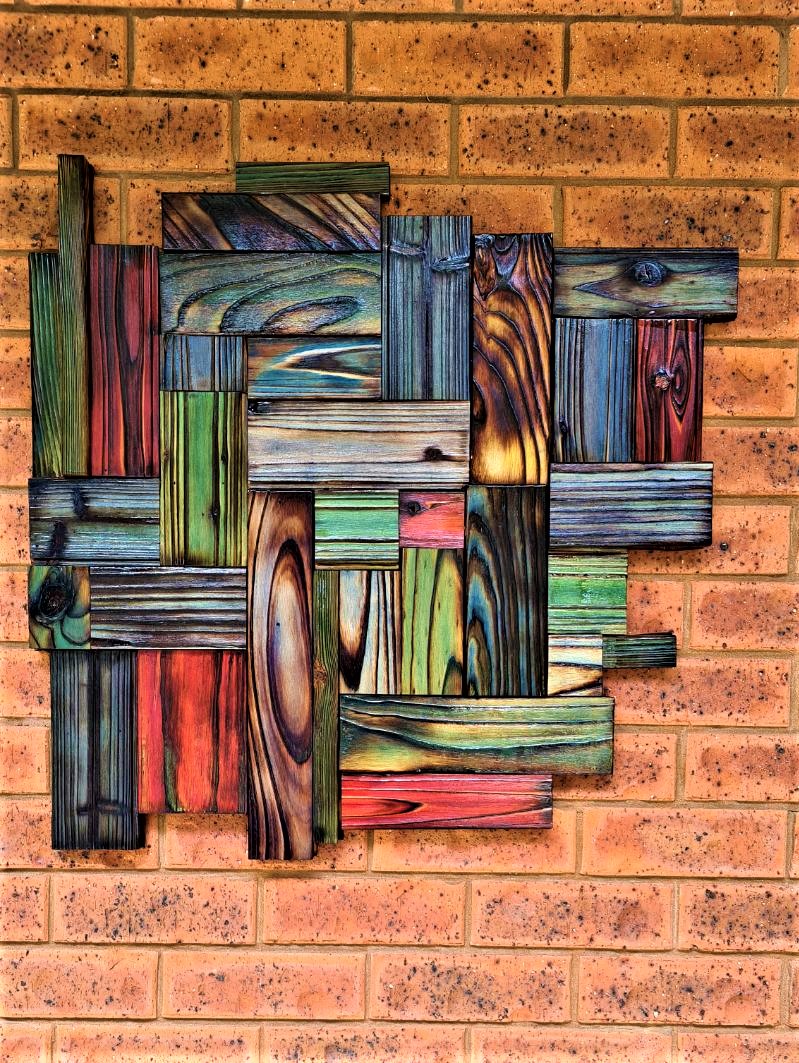 I have recently discovered Shou sugi Ban and I must be honest and say I am totally addicted.  I have so many ideas flying around in my head for projects I want to make.  The idea for this project was to create a multi-coloured Shou Sugi Ban wall hanging to go under my pergola.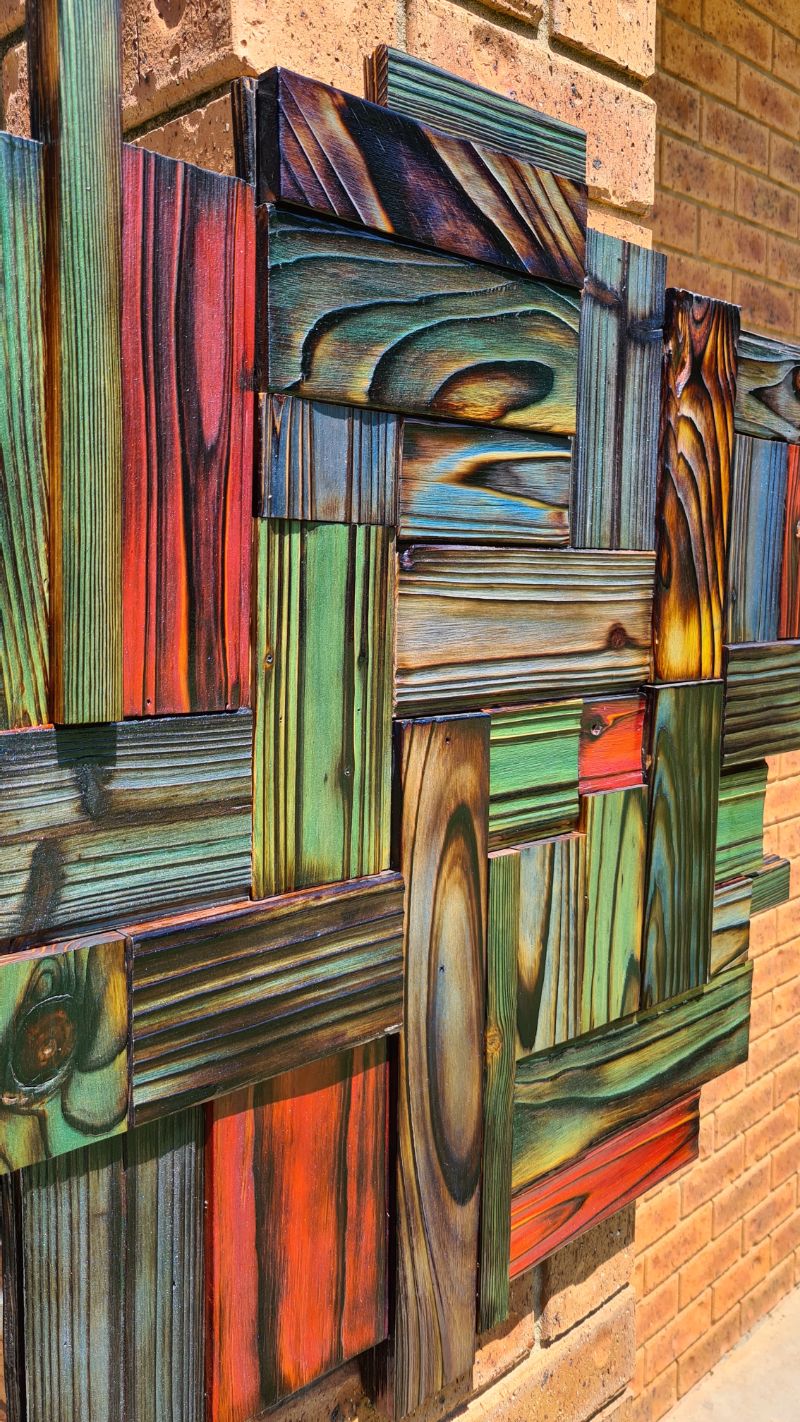 I am also killing two birds with one stone because I am also using up some of my small pieces of scrap wood. The great thing about this project is you can use just about any wood.  Some woods do have more dramatic results than others, but blended all together they look awesome.
My first attempt at Shou sugi ban was this wooden canvas frame.  I chose to leave the wood natural colour, but this project will have all the colours of the rainbow.  When you add colours to Shou sugi ban wood, you have no idea what colour you will get.  The colour depends on how deep you burn, the different levels of sanding, and the different ways you add the colours.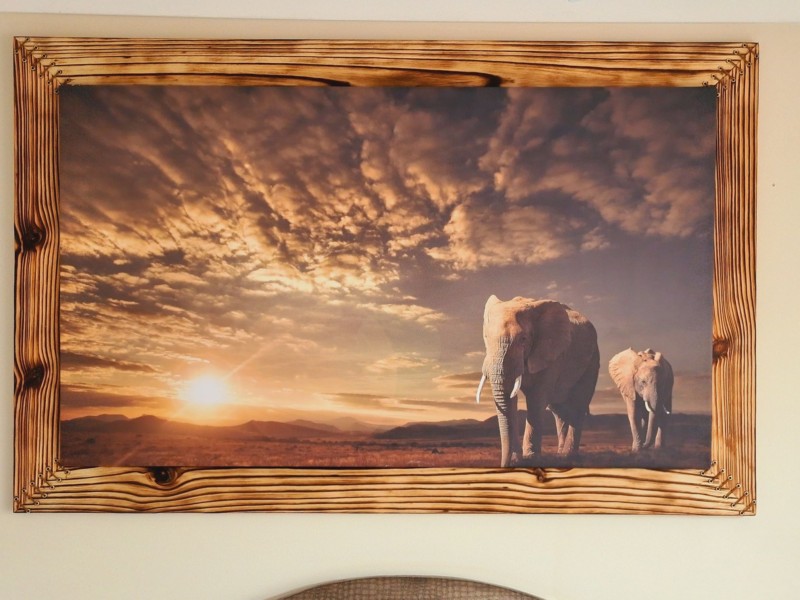 What is Shou Sugi Ban?
Originating in 18th century Japan, Shou sugi ban is a particularly striking method of preserving wood by charring it with fire. Traditionally, this practice is used with Japanese cedar in order to weatherproof it. The wood is burned until the surface is charred, and then coated with natural oil. The result is a scorched finish with a magnificent charcoal black colour. The surface of the wood can take on a crackled or alligator skin look depending on the wood species and the burning intensity. Traditionalist utilizes only Cryptomeria japonica or Japanese cedar because it can take the heat for a deep burn resulting in pest, rot, and fire-resistant as well as becoming a natural water repellent and sun shield.
While this is the traditional method, over the years people have played around with it and this post will show another great way to use Shou Sugi Ban.
How to make a Shou sugi Ban Wall Hanging
*This post may contain affiliate links. This means I earn a small commission on links used at no extra cost to you. Please see my disclosure policy for more information.**
Burning the wood
This project will look more dramatic if you use a variety of woods because they all have different results.  You will need a propane blowtorch
to burn the wood. You will also need to make sure your area is suitable for burning to prevent unwanted fires.  I used a sheet of metal over my table.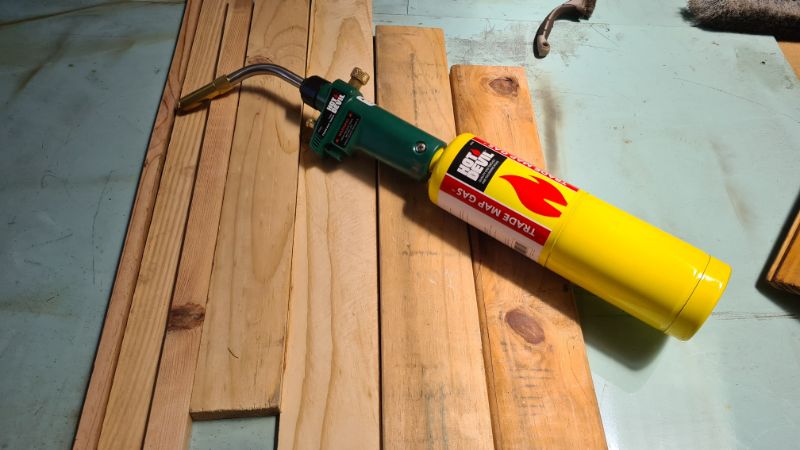 Not only did I use different woods, but I also used different thicknesses too.  I was hoping the different thicknesses of wood would add to the effect.  There is no special way to burn the wood. You need to blacken the wood until it starts to get a cracked effect on the surface.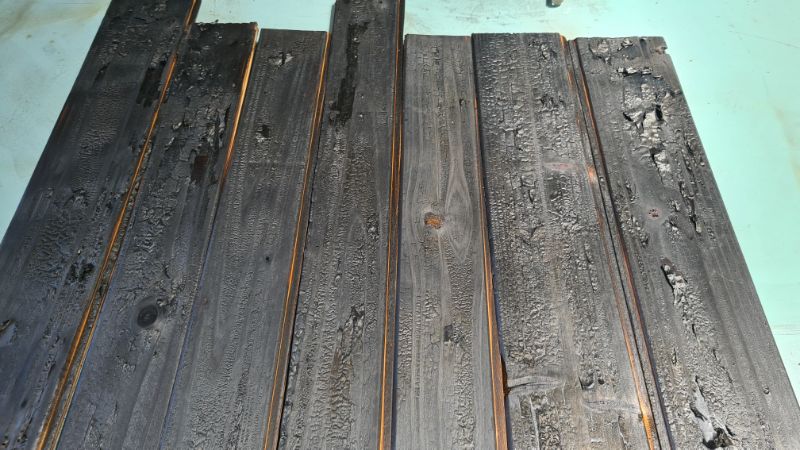 Cleaning up the wood
This is where this project gets really messy, so prepare to get dirty.  To start you need to use a wire brush
to remove the top charred layer.  If you can do this step outside, that would be better.  Be sure to use the wire brush in the direction of the wood grain.
Once you have removed the charred layer your wood will look like the image below.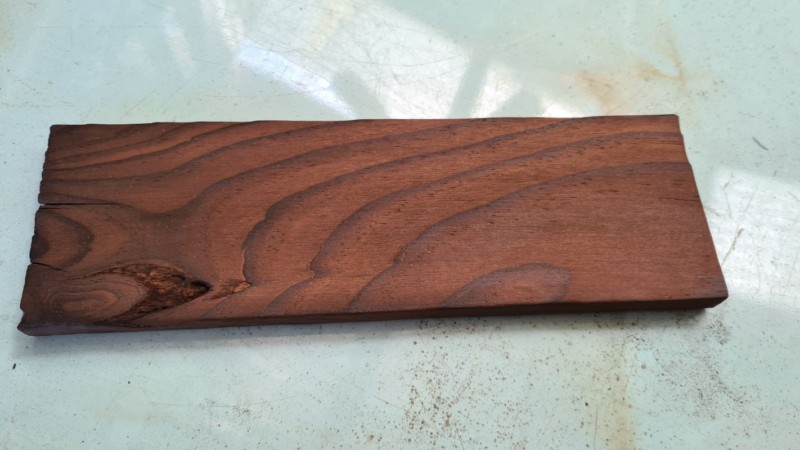 Next, you want to remove some of the wood between the woodgrain.  This will also add some great texture to the surface. You can keep going with a wire brush, but that is hard work after a while.  It is worth buying a course nylon flap brush
that you can attach to a drill.
For this project, I thought I would be a smarty pant and added the brush to my drill press.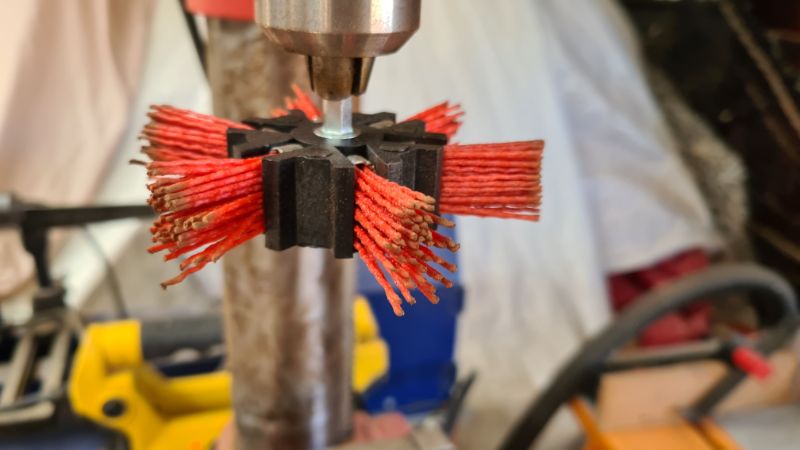 You will need to use some protective gear such as a respirator
/facemask
, safety glasses
and gloves
. Wearing old clothes is also recommended because you will get filthy, as my arm shows below.  The rest of me looked like a coal miner after a 12-hour shift underground.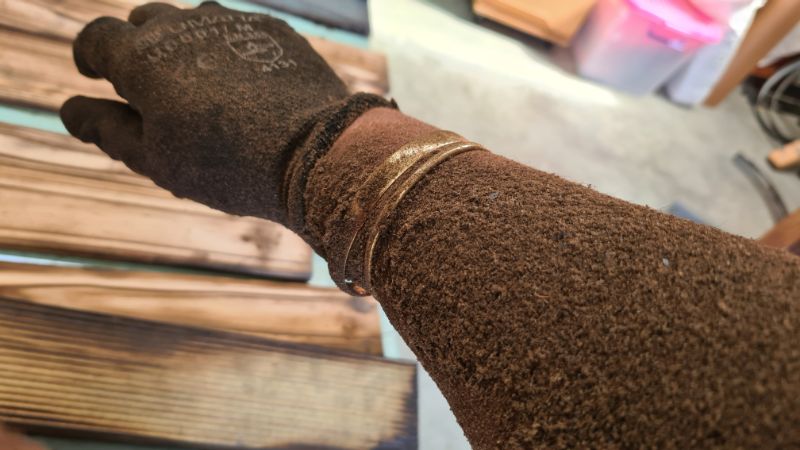 Because I was using lots of smaller pieces of wood, using the drill press
left both hands free to hold the wood.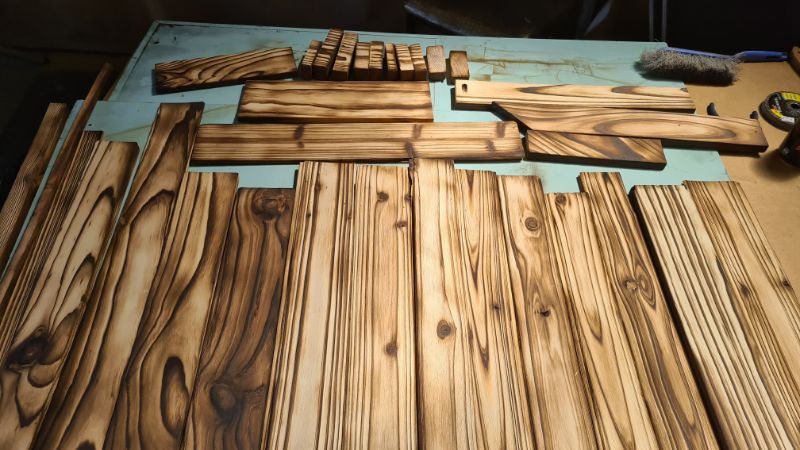 The idea is to sand the wood until you get down to the white layer of wood, the woodgrain will stay black. This is how the wood will look when you have used the course flap wheel brush. For added colours in the wood, you can randomly leave some darker areas.  This is by no means a quick project, the sanding process can take many hours depending on the wood that you use.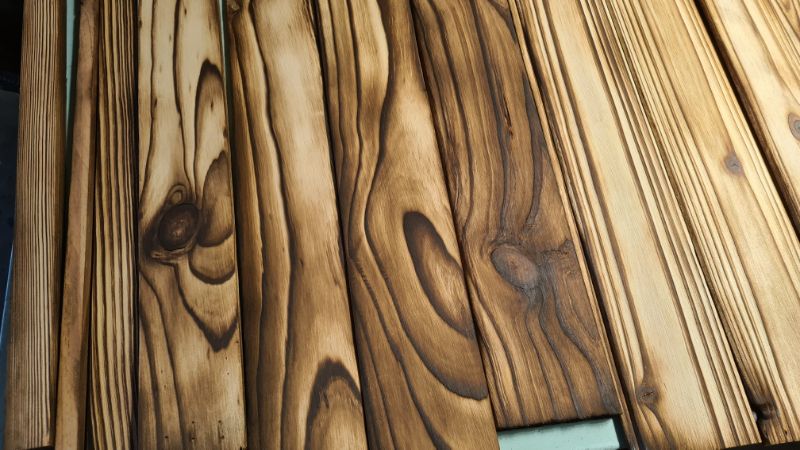 Adding the colour to the shou sugi ban
To colour the wood I messed around with a few methods and products. I am in the process of creating a post showing the results of each product used.  That is a post on its own because there are so many factors that determine the colours.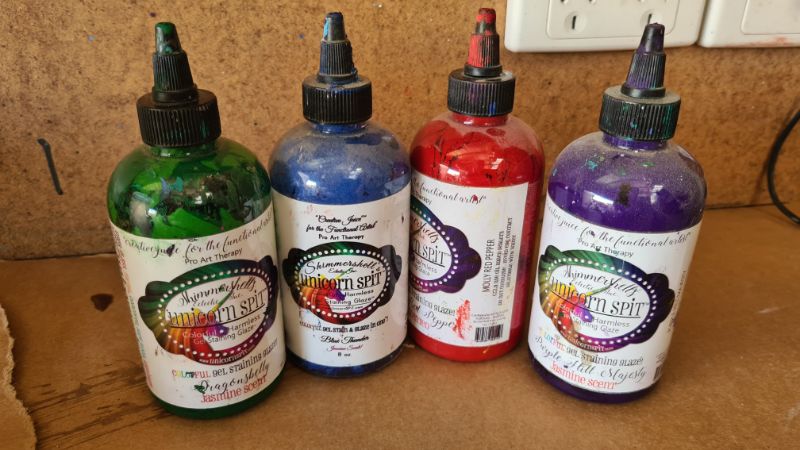 I used mainly unicorn spit for this project which I added in the following way.  You need to dampen the wood with water using a spray bottle on a fine mist.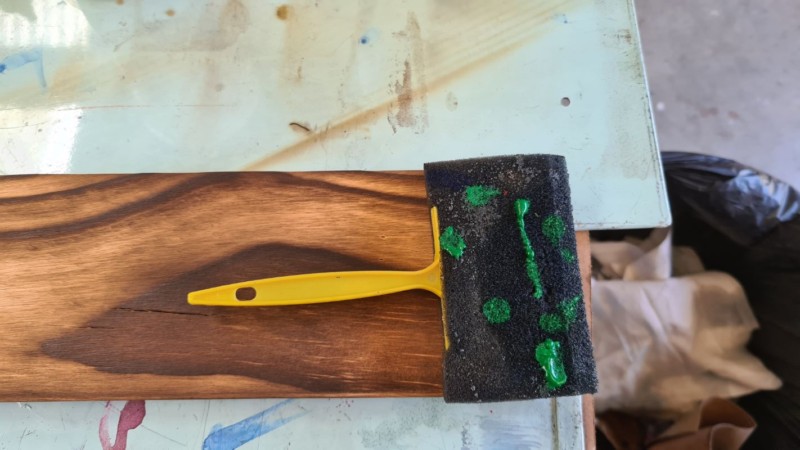 Next,  using a wet foam sponge add some spots of colour to the sponge and pulled it across the surface of the wood. I did not cover every surface with colour, or the effect would be lost. You can leave the colour for a minute or two to soak in, then wipe off the excess colour with a cloth. Once the wood has been coloured you can start making your wall hanging. Unicorn spit will have this dull powdery colour until it has been sealed with an oil-based product.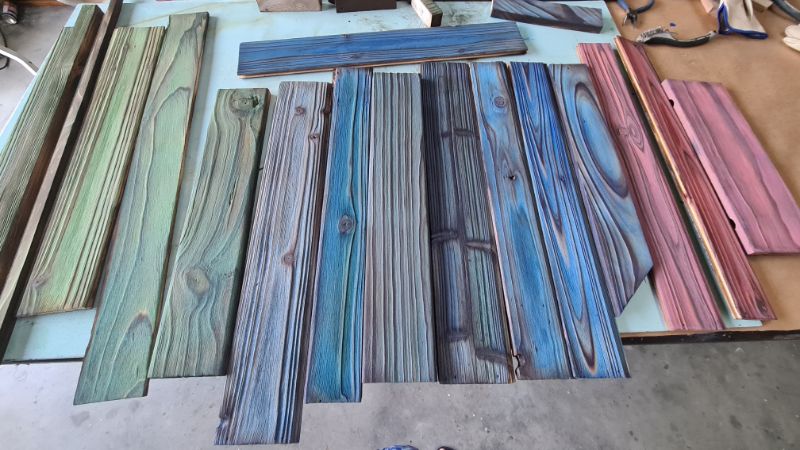 Making the base
To make the base you will need a sheet of 12mm plywood cut to the size you want your wall hanging, mine was 1m square.  To add so character to my hanging I cut some of the wood at 45-degree angles. This will allow me to mix the colours up and still get them to fit together.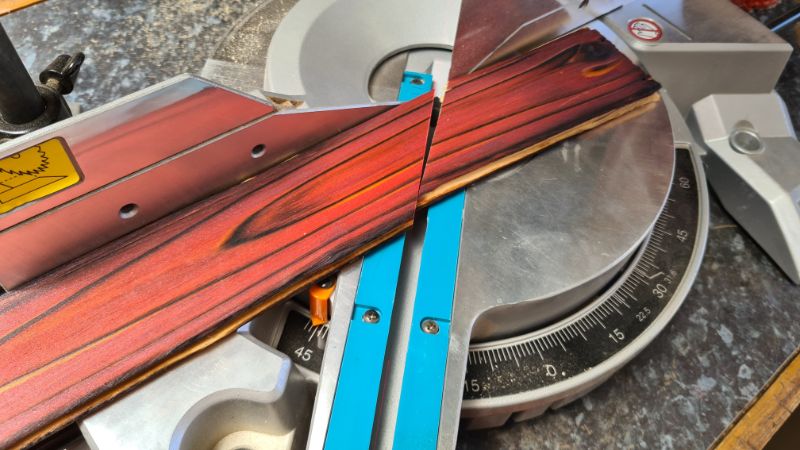 You can now start creating the design you want. You can keep moving the wood around until you are happy with the look.  I messed up here and did not burn the wood on the base.  The reason for this is to disguise any gaps you can not fill, it will make them less obvious. I had to go back and burn the base.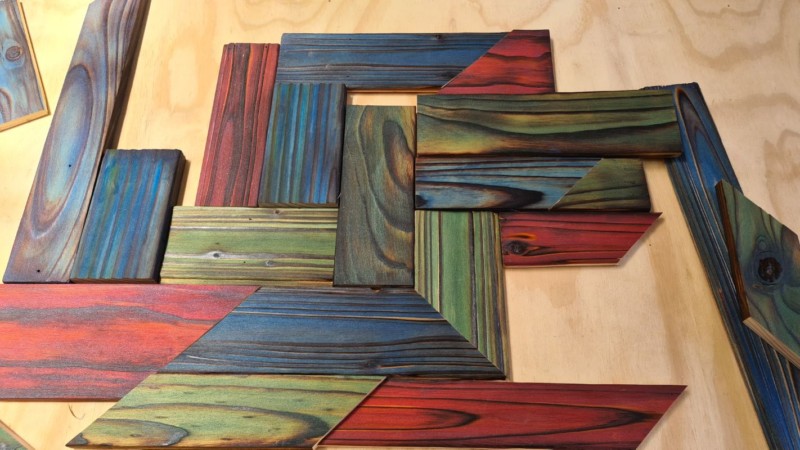 Once you are happy with the design, take a marker pen and draw around the outline of your project. This will give the shape you need to cut the base.  Next, take a photo of the wall hanging so you know where all the pieces go and slide them off the base.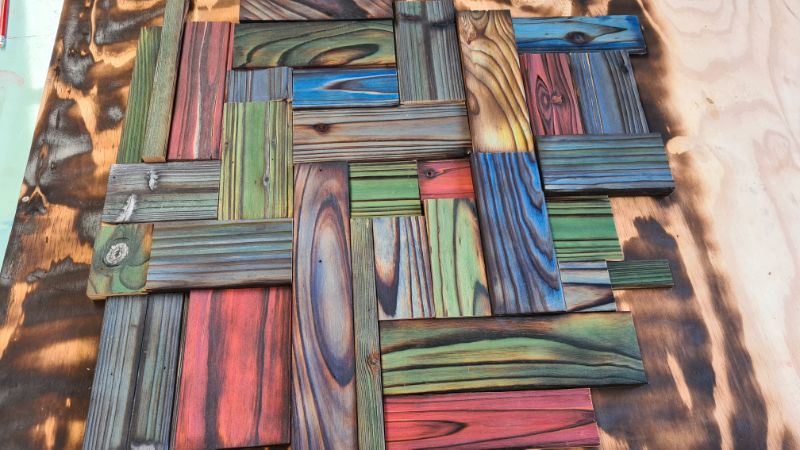 If you don't want all this hassle you can keep your design square and fill in all the areas.  I was not happy with a plain design so now I have to do the extra work. You can use a jigsaw and cut out the shape.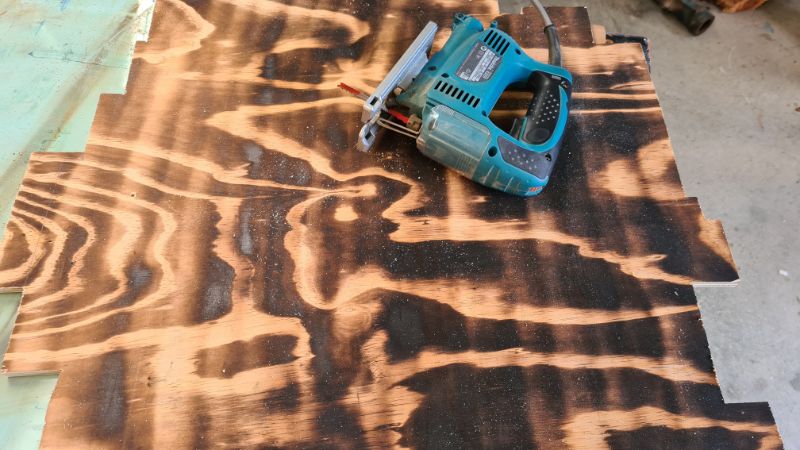 This step can not be done safely with a jigsaw after the wood is glued down due to all the different thicknesses of the wood used.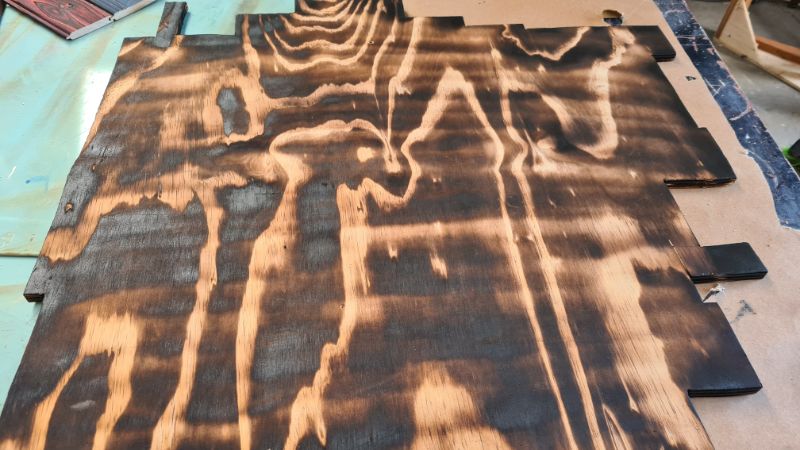 Glue the wood to the base
You can use wood glue
and a nail gun, but I found the nail gun spoilt the look.  I used wood glue and two drops of hot glue on each end.  The hot glue will hold the wood in place while the glue dries and you can proceed.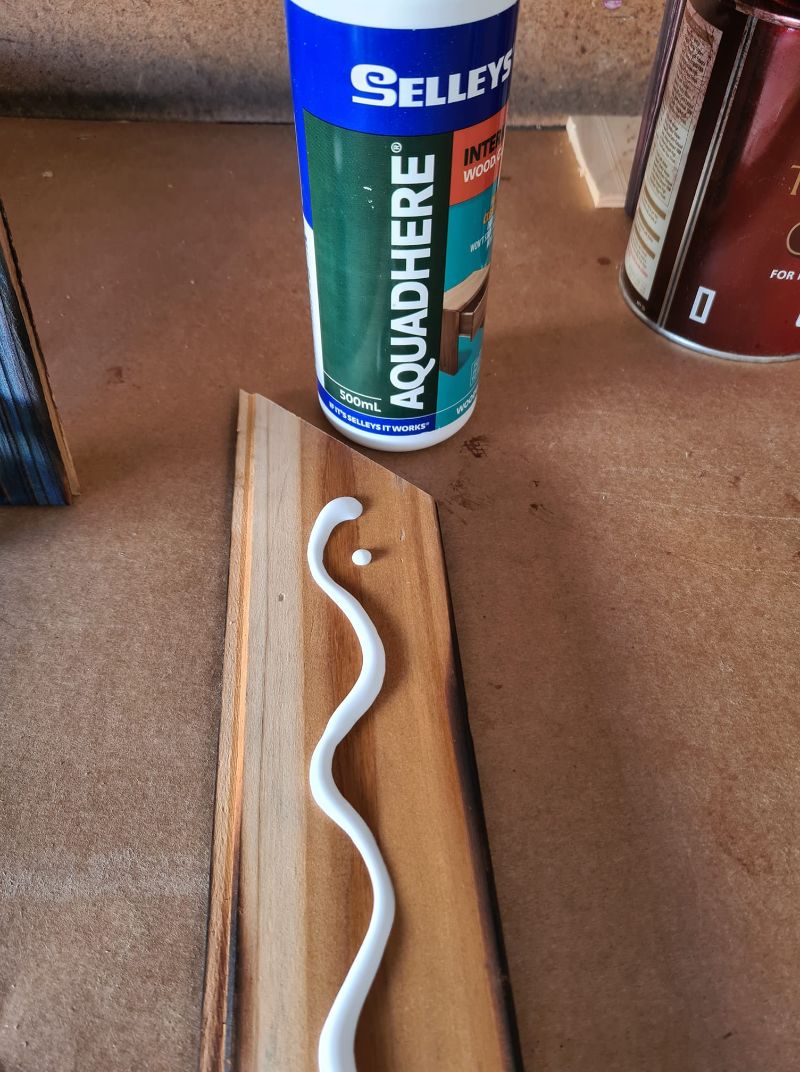 Seal the wood
I used mainly Unicorn spit stain
and glaze
on this project and it needed to be sealed with 2 coats of oil-based polyurethane
. This is where you will see all the colours pop and all the different shades of colour. You can not use a water-based product with unicorn spit because it will reactivate the colours, but you can also use tung oil
.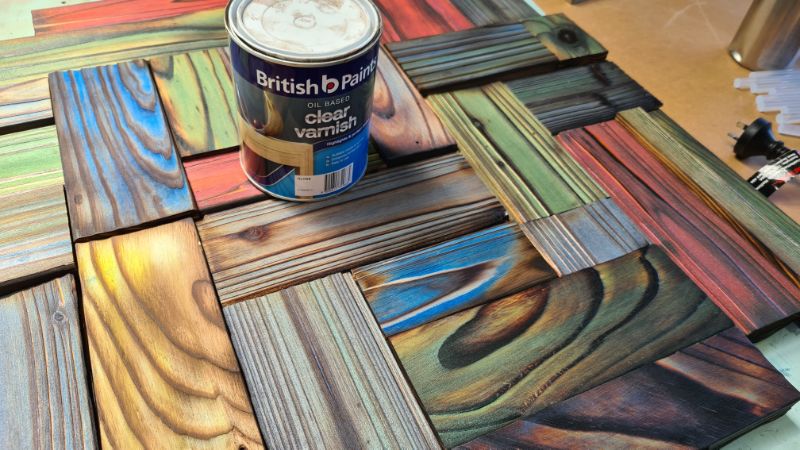 The colours were great before they were sealed but were stunning after.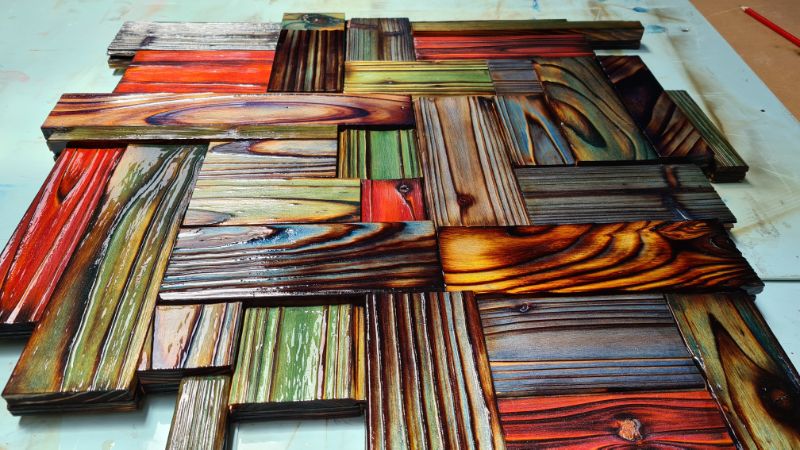 Finished Shou Sugi Ban Wall hanging
A couple of close up photos so you can see the awesome colours.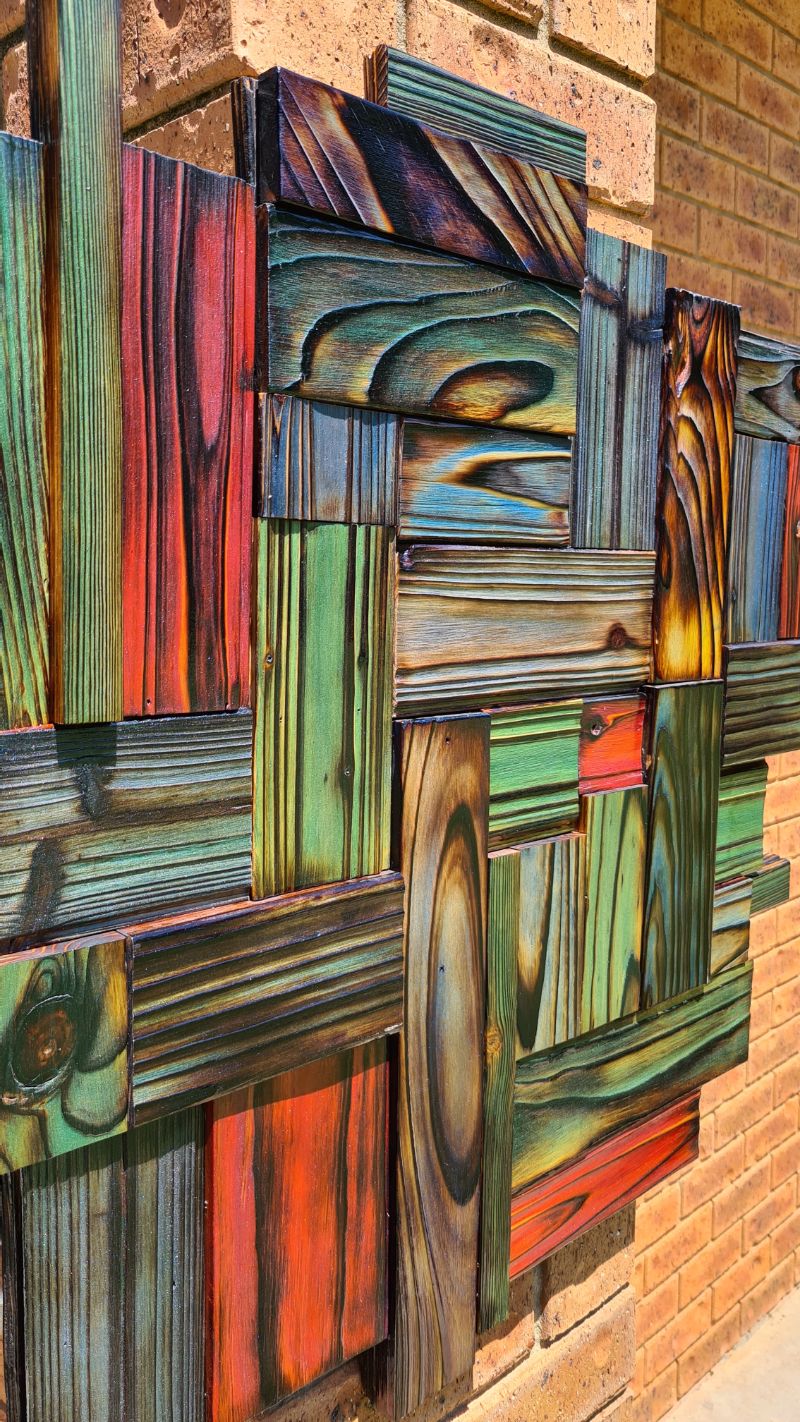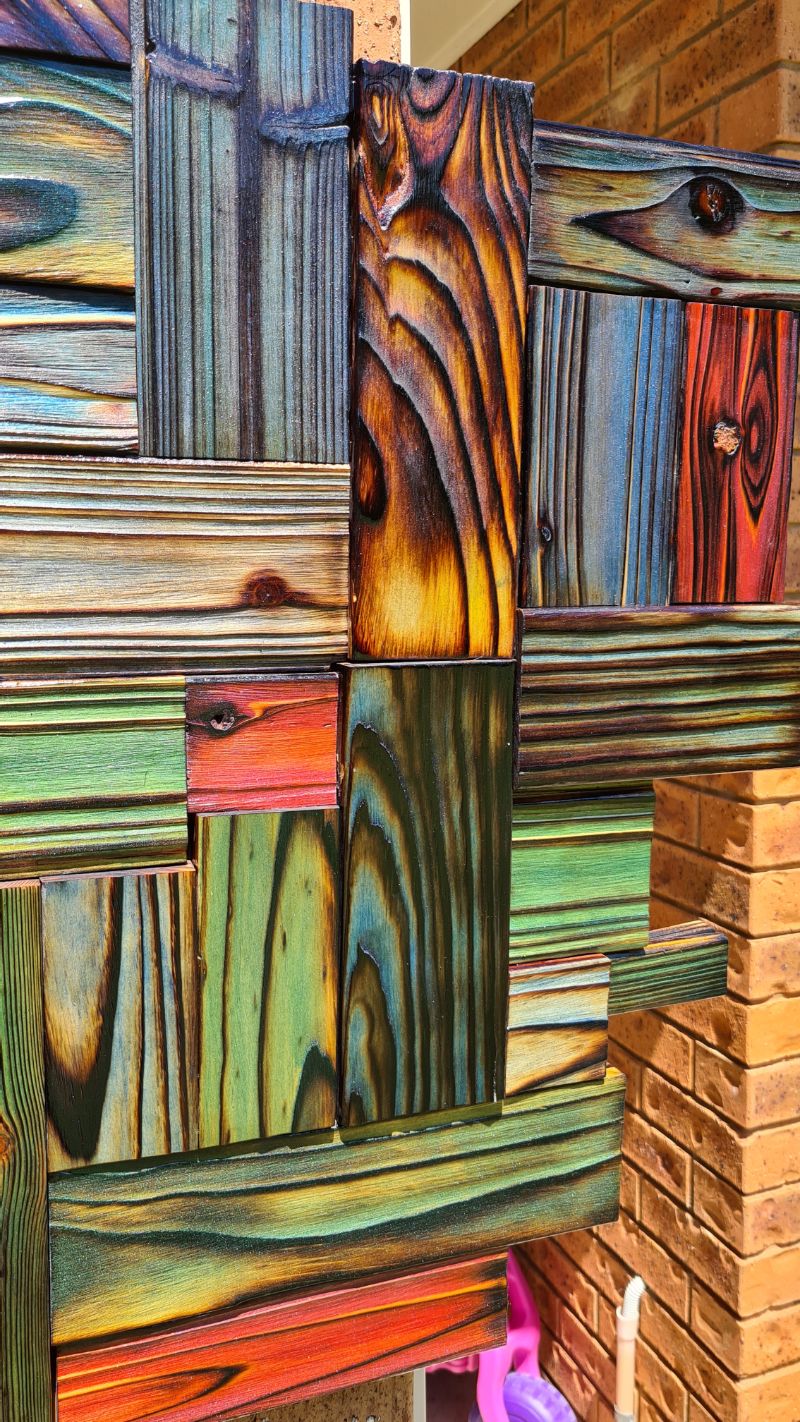 Depending on the angle and the light, the colours will look different.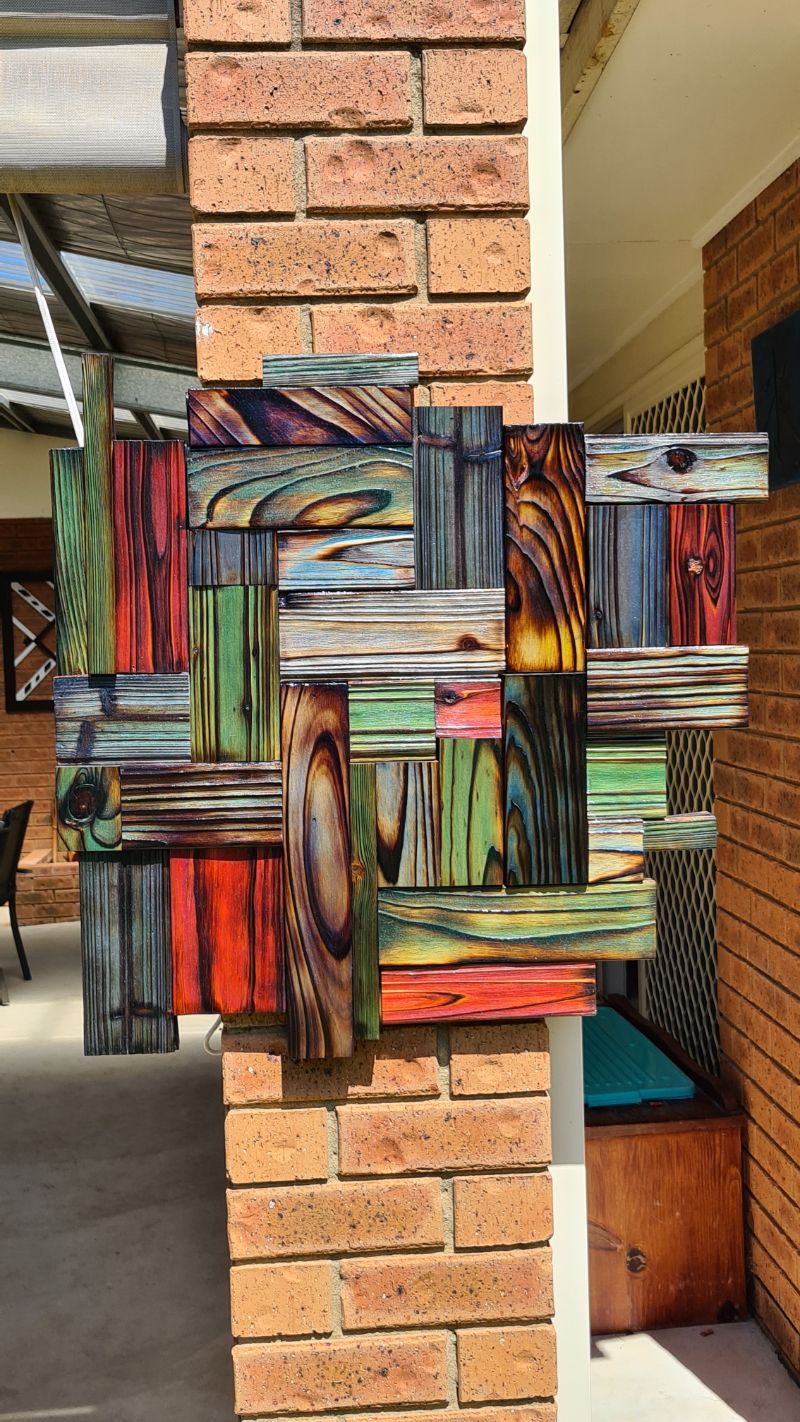 More project ideas for you
This is another Shou Sugi Ban project made using just one unicorn spit colour.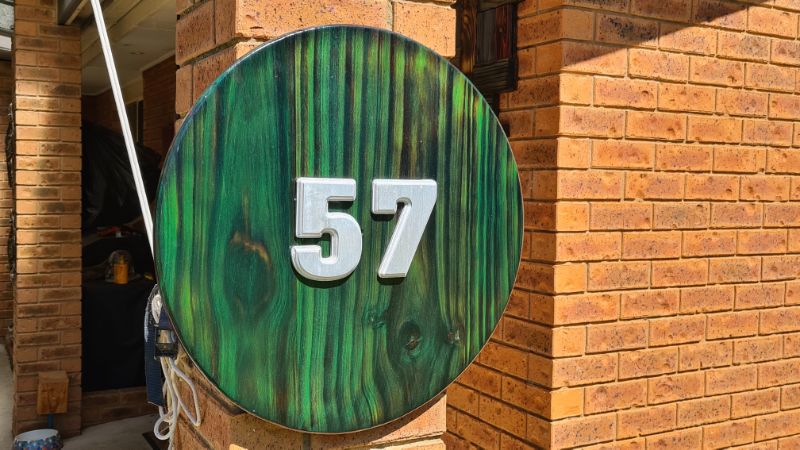 Unicorn spit can also be used on glass to create this stunning effect, which is so easy to do with no artist skill needed.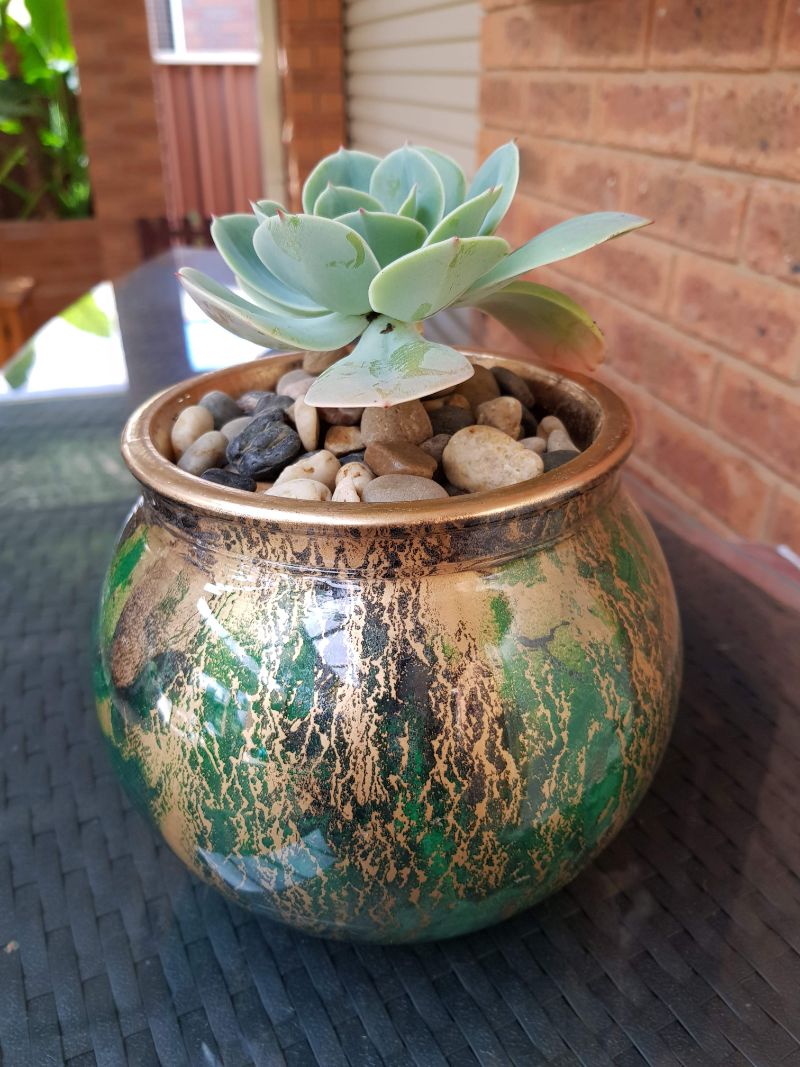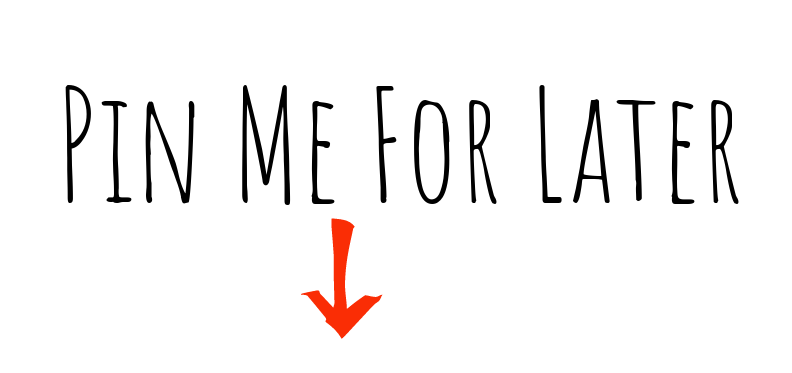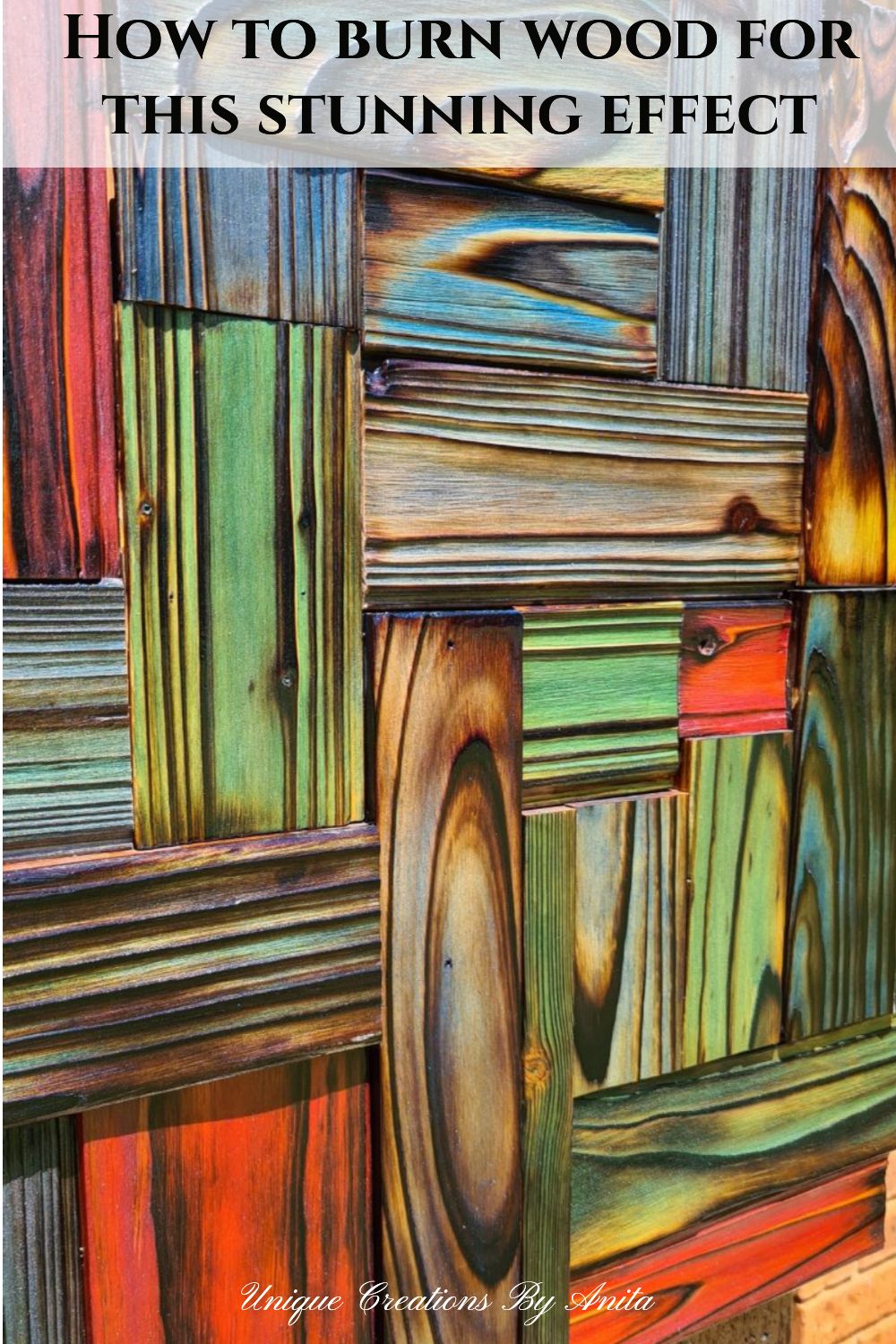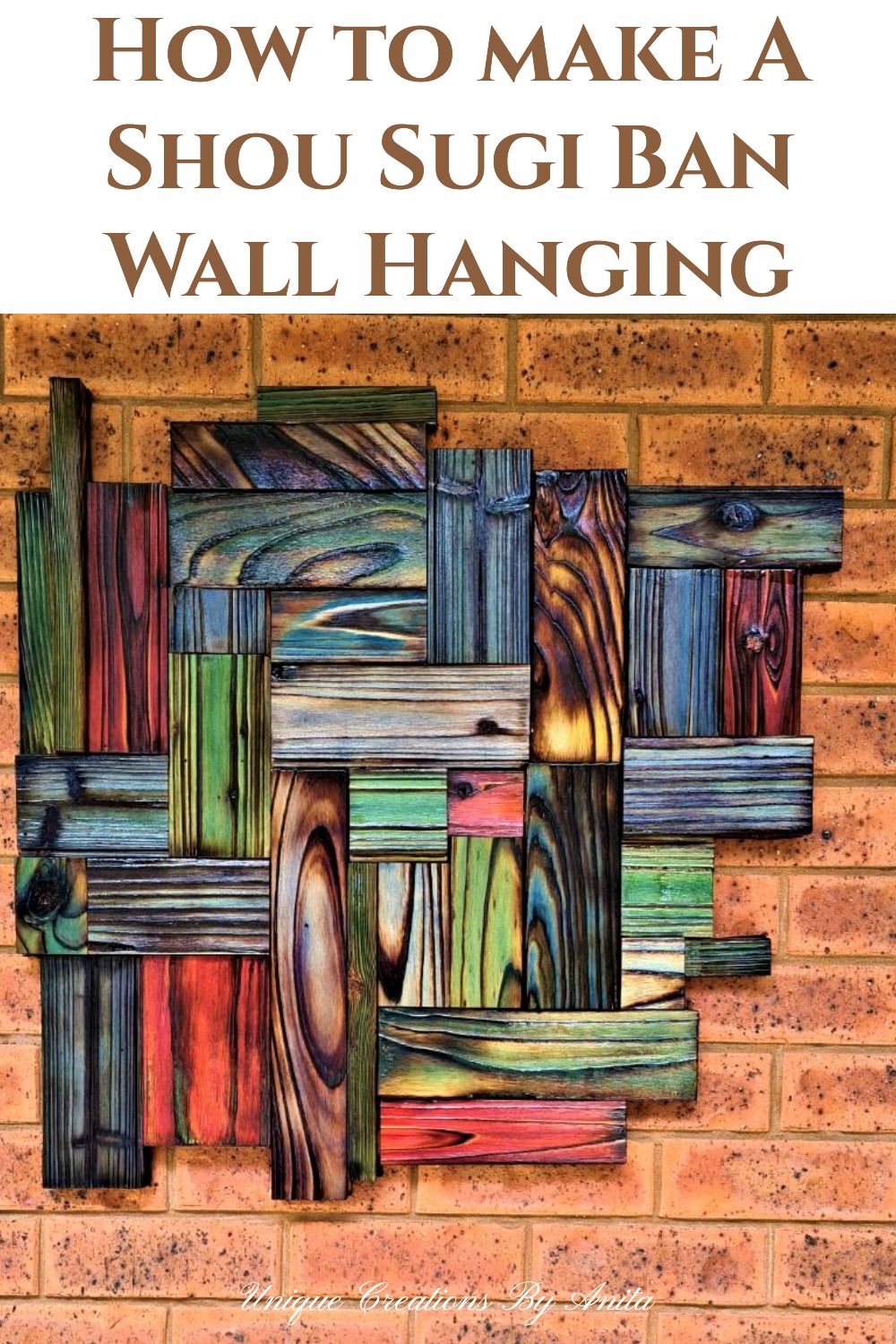 If you are looking for any of the items used in this project, please consider using our links. By clicking on the links we will earn a small commission at no extra cost to you.  Which helps us come up with new and exciting ideas to share with you. Please feel free to share or leave a comment we would love to hear your thoughts.