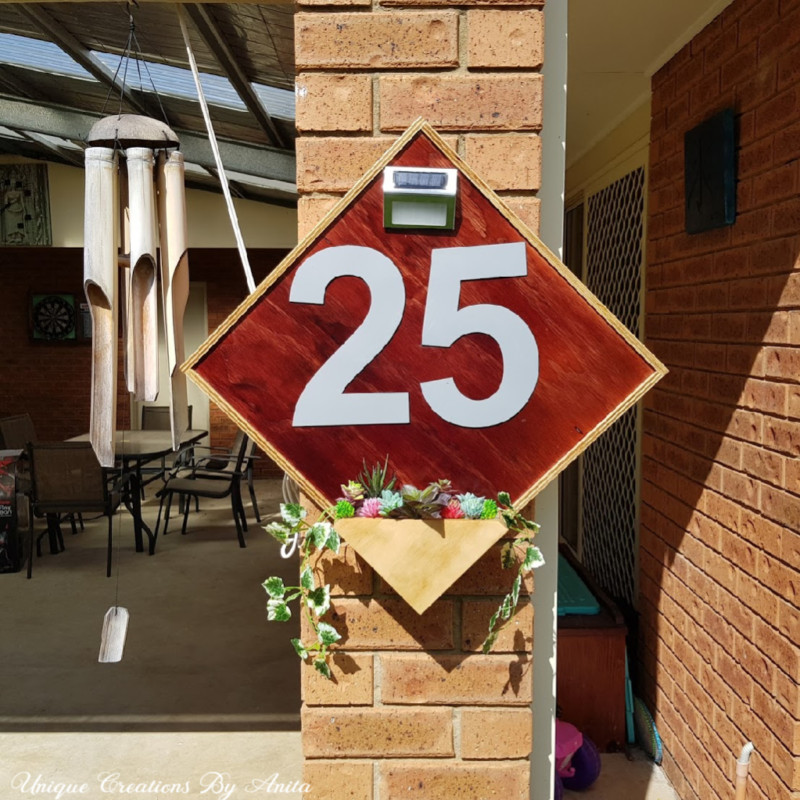 My daughter has recently purchased a new house and as you can imagine she has a list of things she wants me to make.  The latest request is this House Number.  She had two requests, she wanted a solar light and a plant box.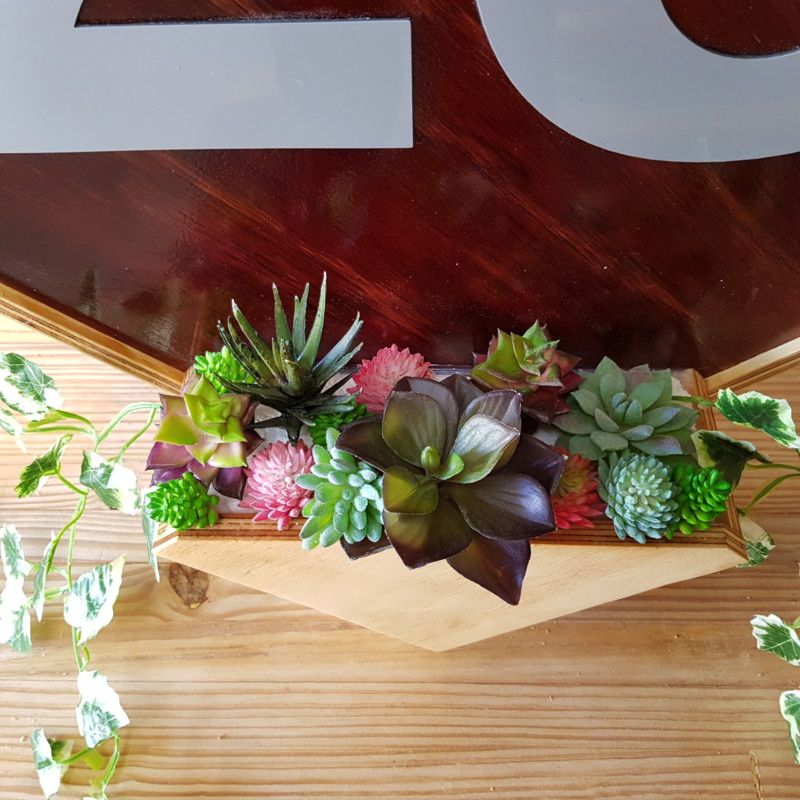 Unlike me, my daughter does not like DIY or gardening, so the plant box would have to hold fake succulent plants. She wanted the house number to have a solar light so it would be visible at night. And with a solar light, there would be no maintenance.
DIY House Number
**This post may contain affiliate links. Which means I earn a small commission on links used at no extra cost to you. Please see my disclosure policy for more information.**
Making the base of the house number
For this project, I use plywood, only because it was what I had at home.  The wood was cut into a square the final measurements being 48cm square.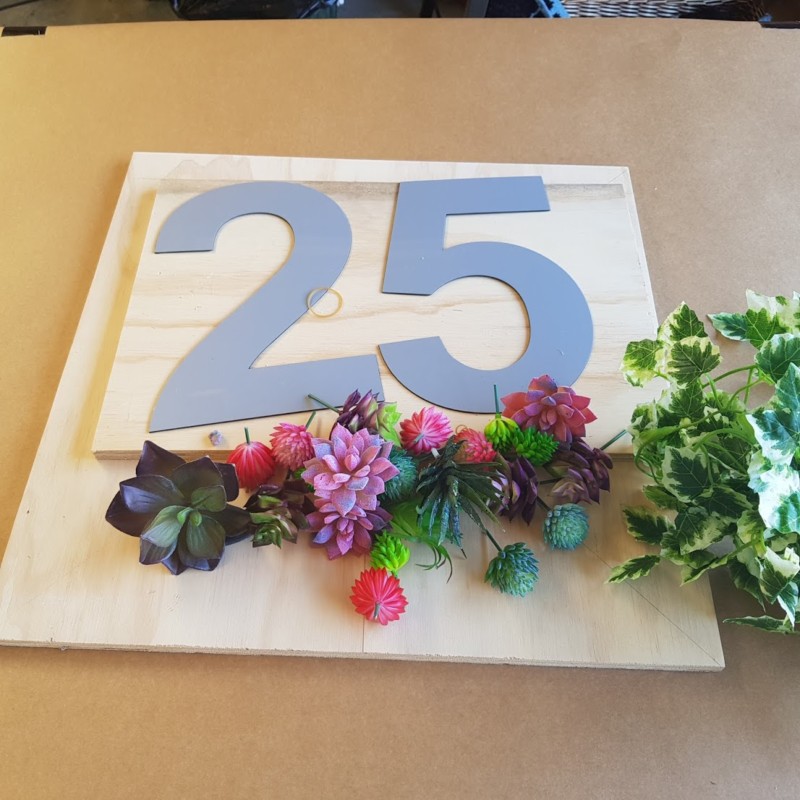 To make the flower box, you will need to cut 2 pieces of wood 18 cm long x 8 cm deep.  I used a drop saw to cut mine but any saw will work.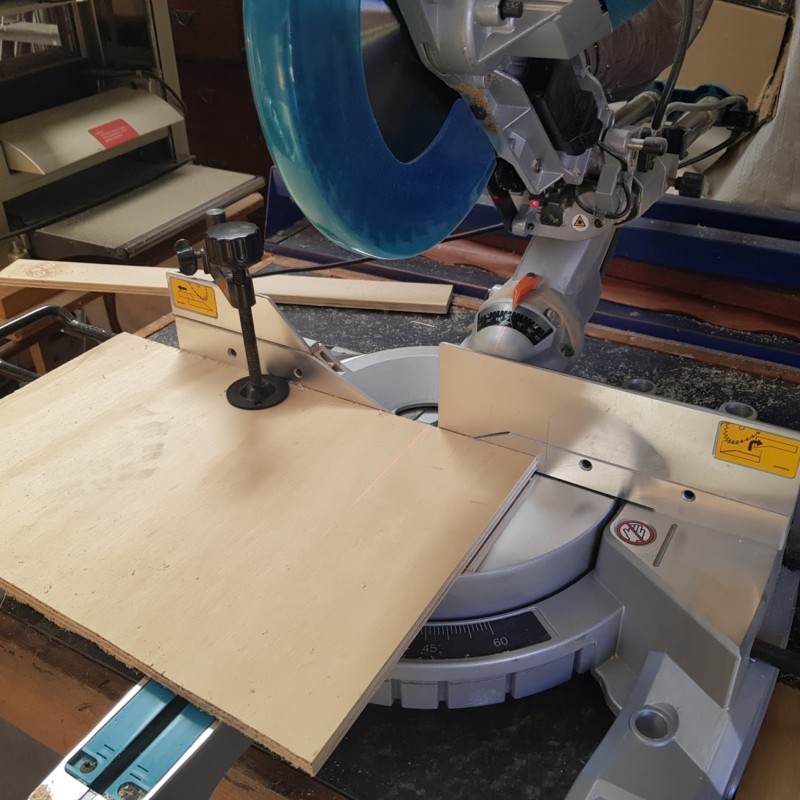 To get a nice join in the flower box one side on both pieces was cut to a 45-degree angle.  The angles were joined together with wood glue and held in place with a corner clamp.  I did not want to wait for the glue to dry, so I secured the joint with a nail gun so I could proceed.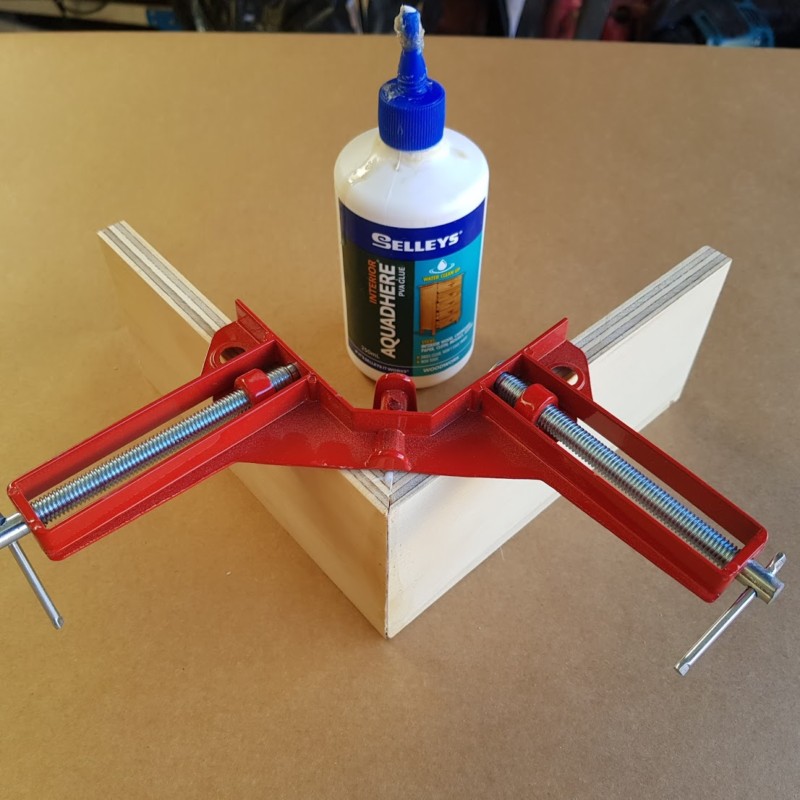 The front of the flower box was another scrap of wood that I placed over the front and drew a line with a pencil for my cut line.  This picture is not correct, you will notice the wood is on the inside of the frame when it should sit flush on the outside.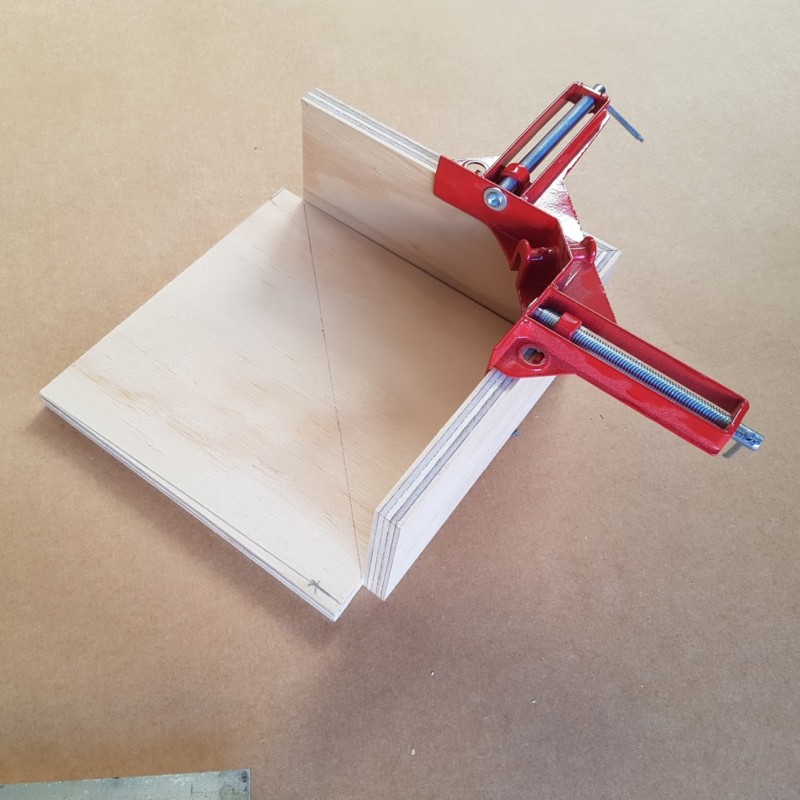 Cut off the excess wood so you are left with a front panel for your flower box. Glue the flower box together with wood glue and secure with a nail gun if you have one.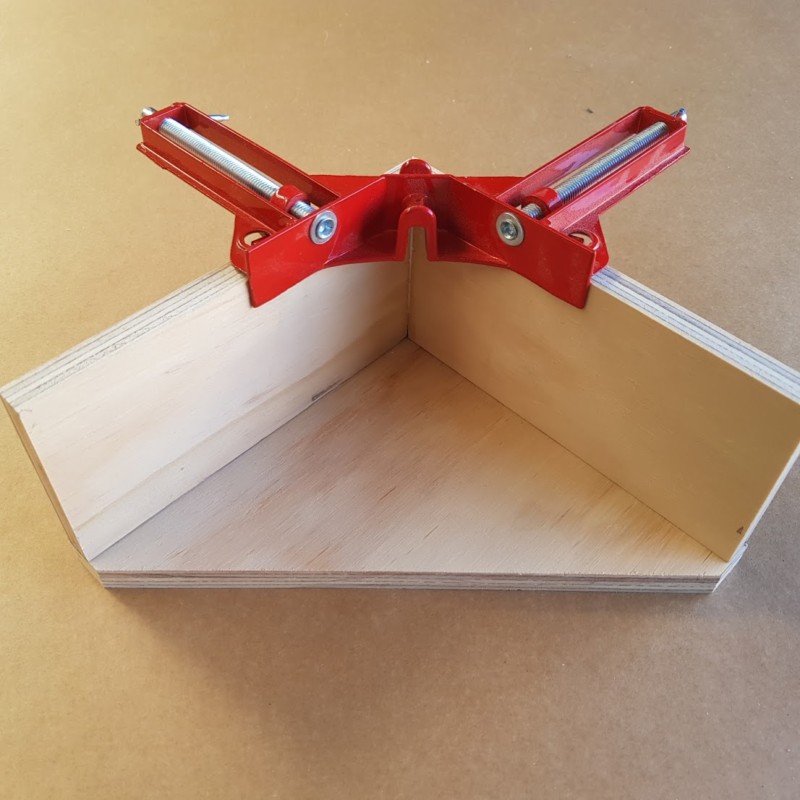 I stained the base with dark mahogany stain first just because I thought it would be easier.  The box is then glued to the base.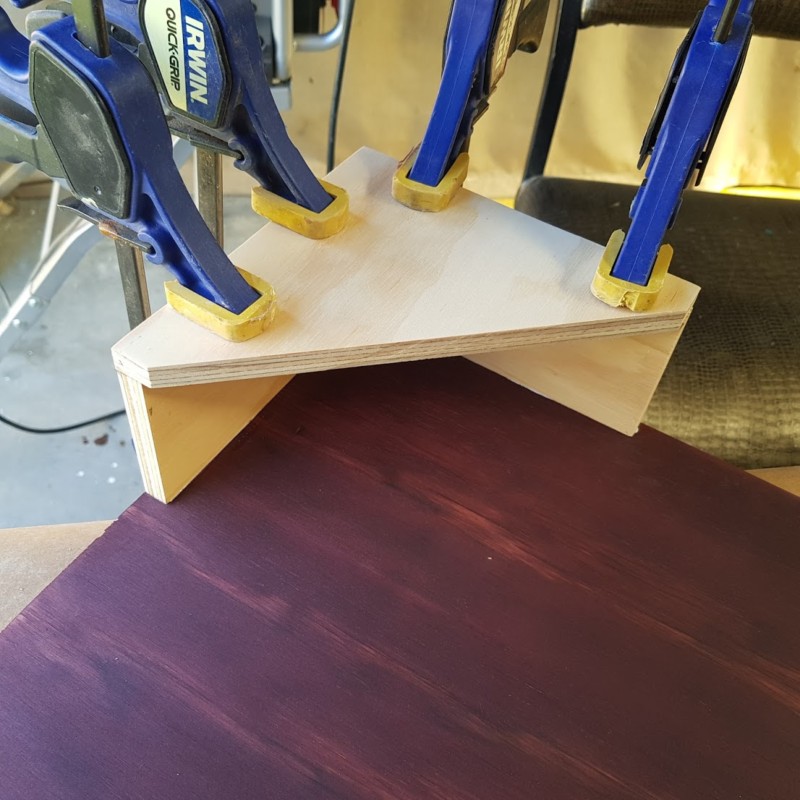 To make sure the box was secure, you can also add some nails. I was going to add some screws but because I used plywood there was a high chance the wood would split.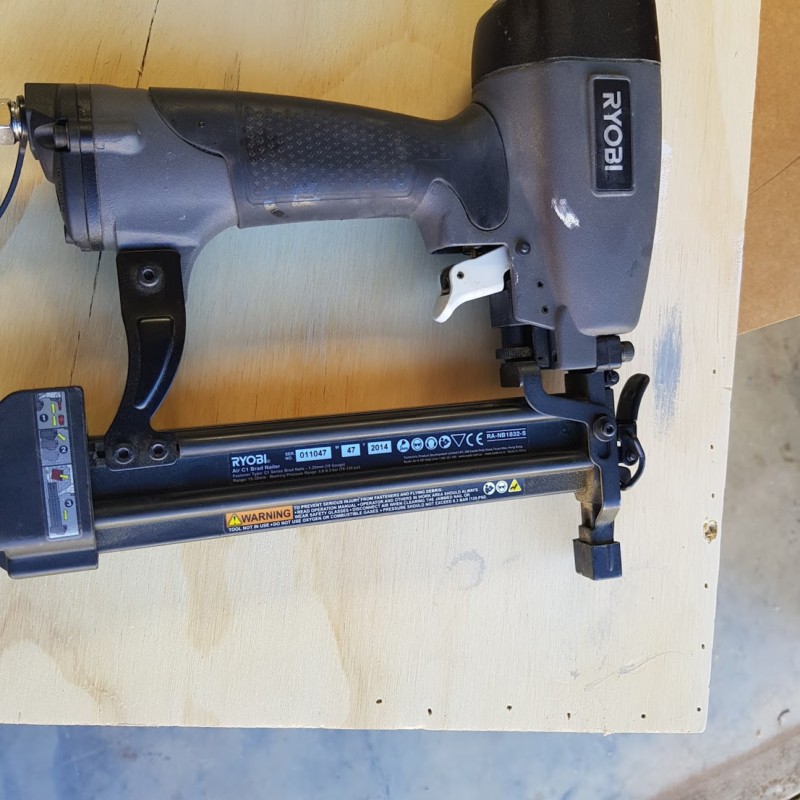 Making a frame for the house number
The wall that this is going to hang on is all dark brick.  To make the house number stand out more I wanted to add a light colour frame. To make the frame cut 4 x 50 cm pieces of wood and 1 cm thickness. I got a bit lazy here and instead of cutting 45-degree angles, I just overlapped the wood. The frame was glued to the base and nailed with a nail gun.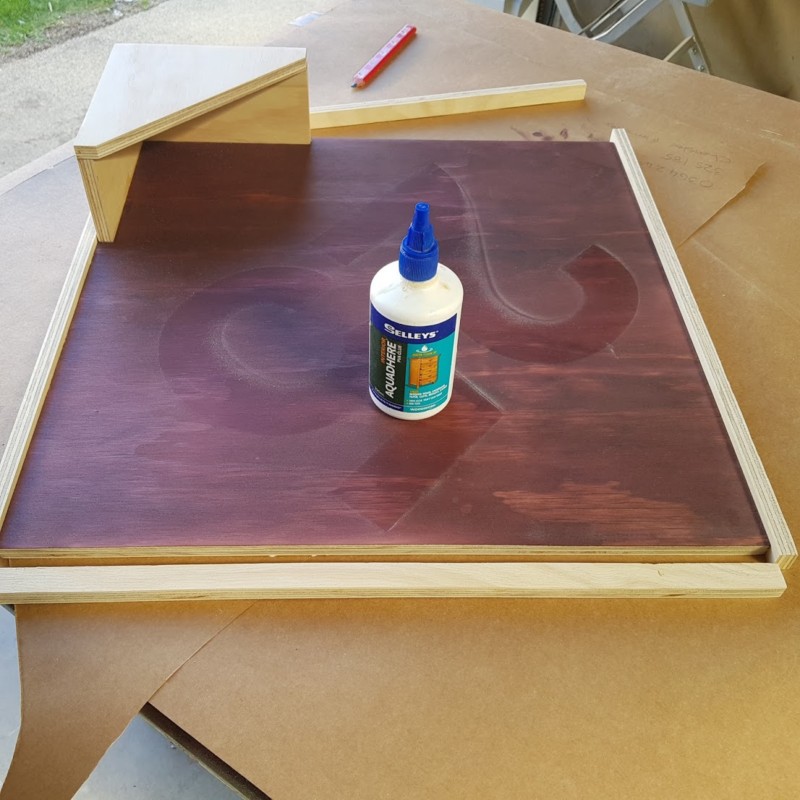 Sealing the house number
Because this house number is going to be exposed to all the weather elements, I sealed it with 2 coats of exterior varnish. It is also a good idea to seal the back as well.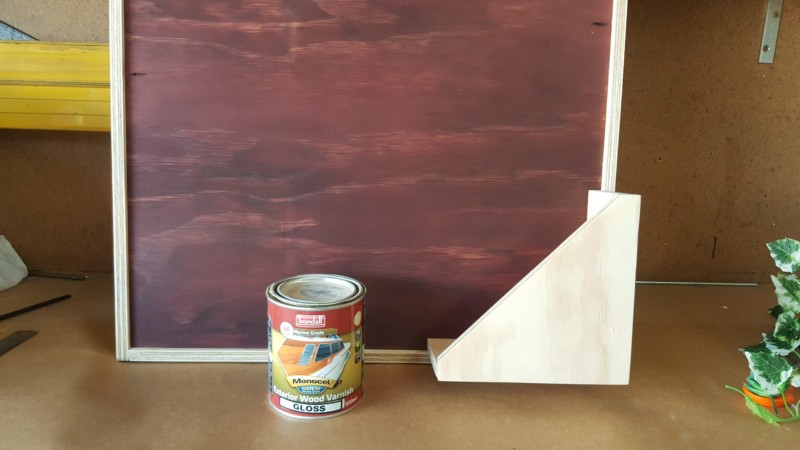 Decorating the flower box
I had to come up with a way to hold the succulent but not hold onto the water, which would end up rotting the wood. Styrofoam packaging cut to the shape of the top of the box worked great.  I made sure it was a couple of millimetres bigger so it was a tight fit.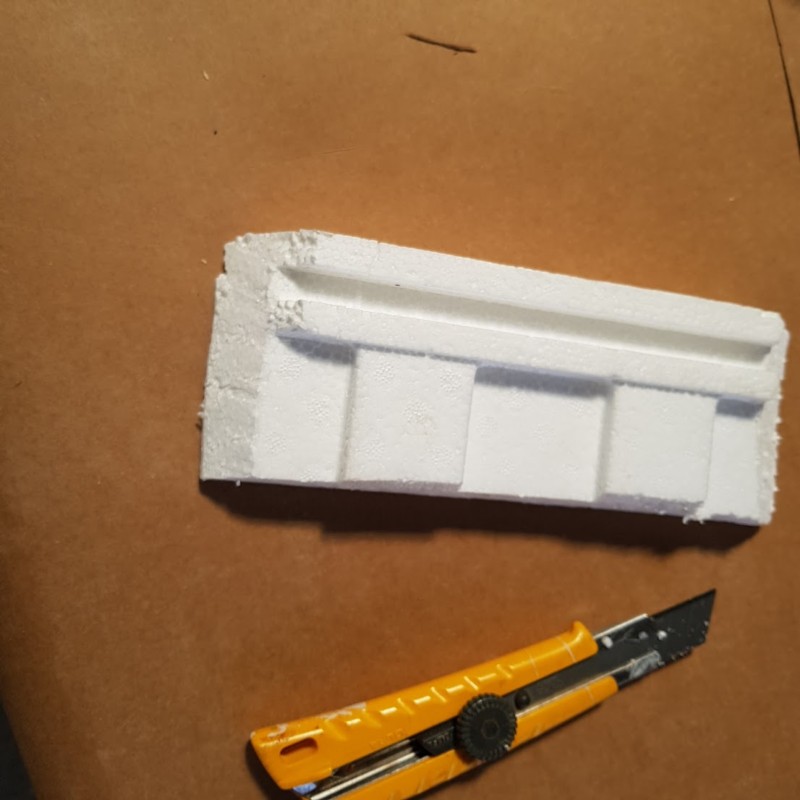 The seal the styrofoam into the box I used silicone sealer making sure to seal all the edges to prevent water from going inside.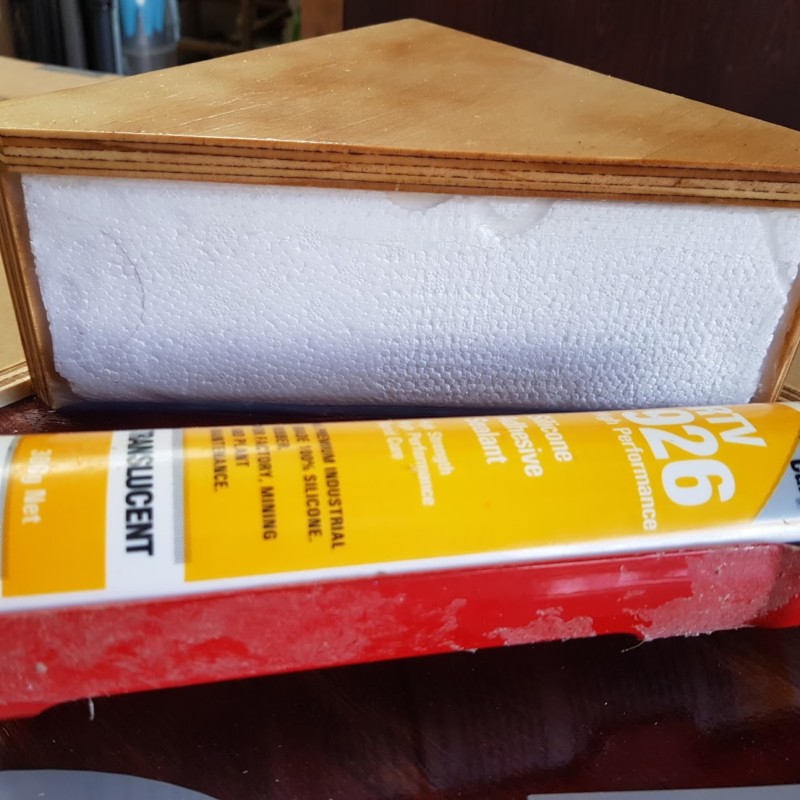 To add the faux succulents I made a small hole using a screwdriver partway through the styrofoam. The fake succulents were pushed into the hole and secured in place with a silicone sealer.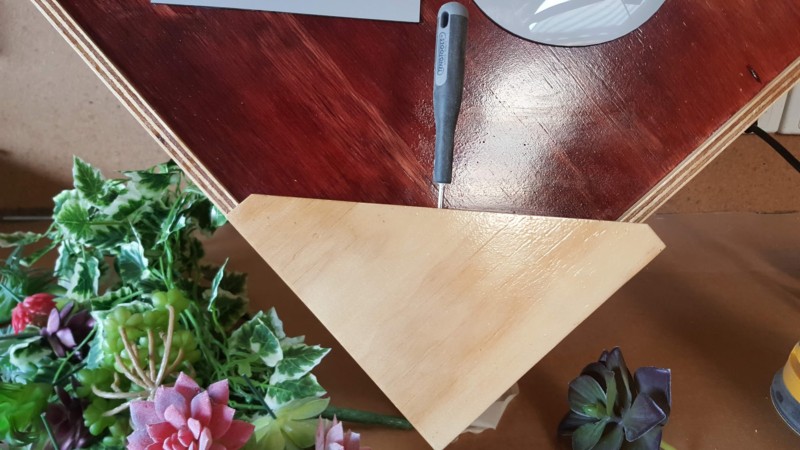 I used a silicone adhesive to attach the house numbers.  You can use any numbers which you can make or buy. Even though I feel the box was well sealed to prevent water from pooling inside the box.  I drilled a couple of small hole in the back just in case any water did get in.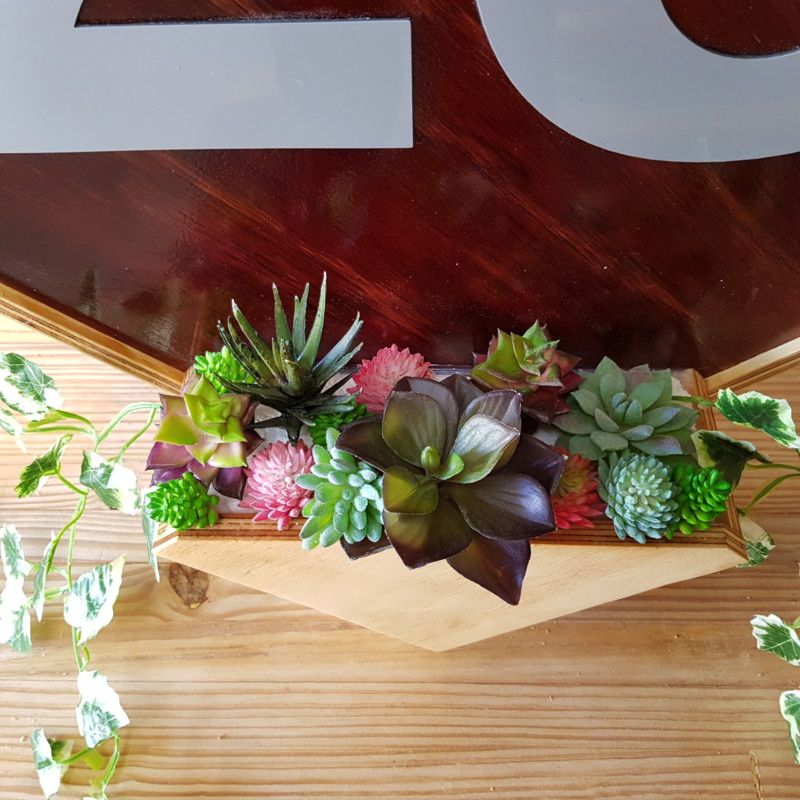 Adding the solar light
I ordered a small solar light to go onto the house number.  To secure the light in place I added 2 screws which the light could slip onto.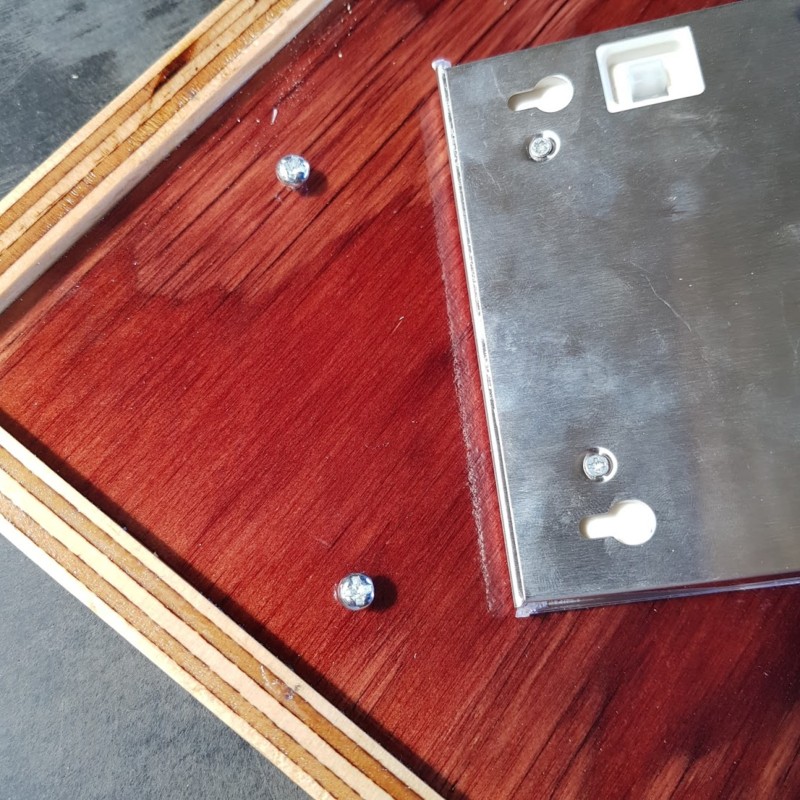 Please feel free to share your thoughts on my project, I value your feedback.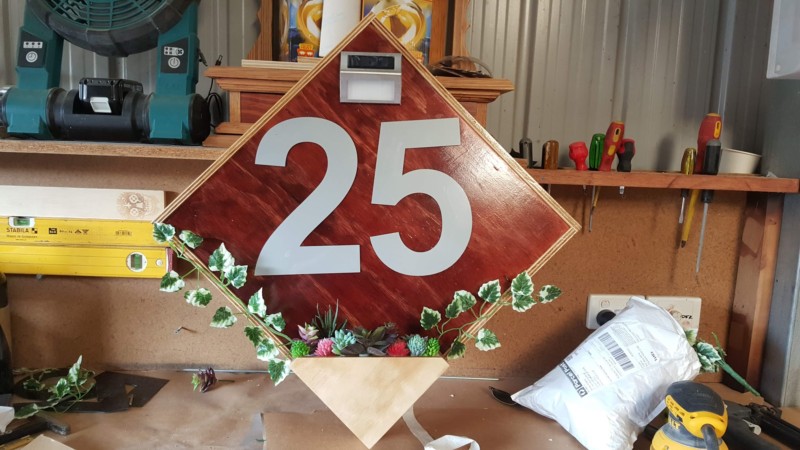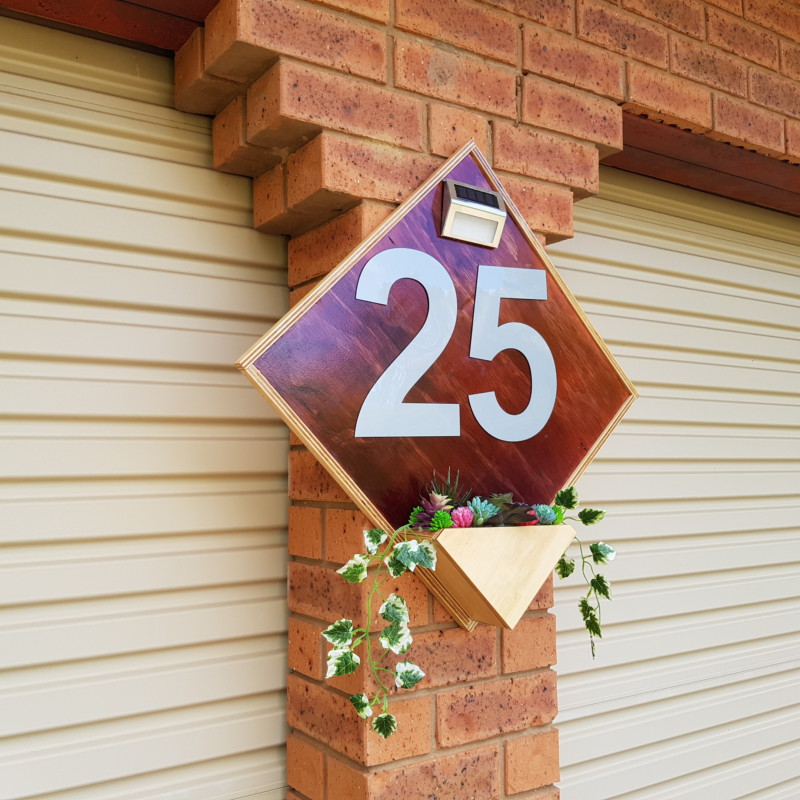 Looking for your next DIY project check out this Horse racing game that can be adapted to be played around a dinner table.  This game is fun for the whole family while in lockdown due to COVID 19.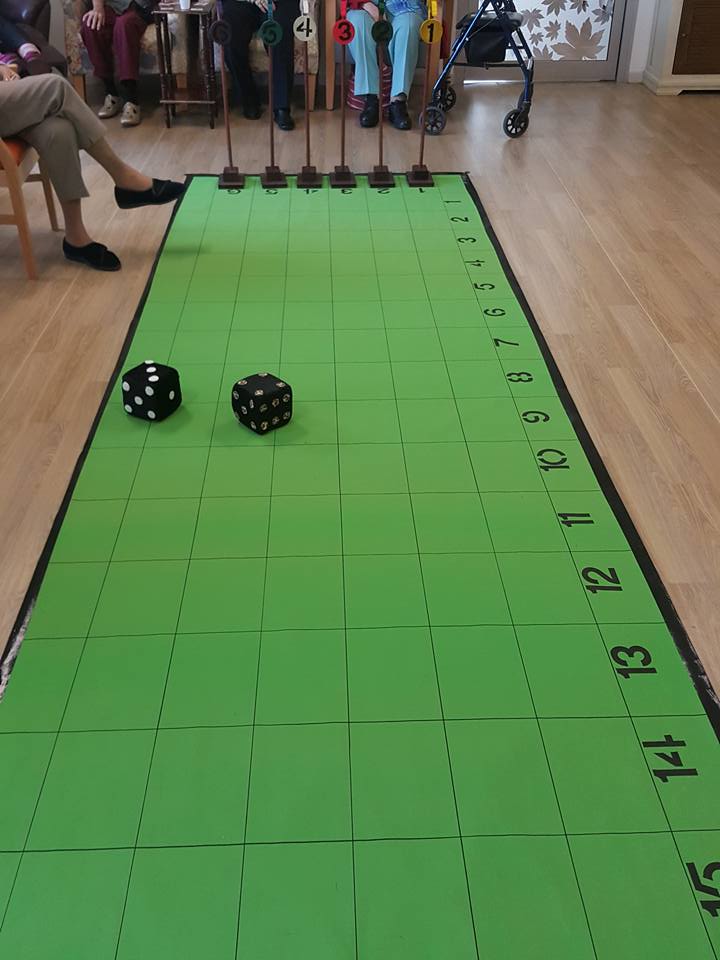 Keep a lookout for an old broken freezer to make this cool icebox to store your drinks at parties.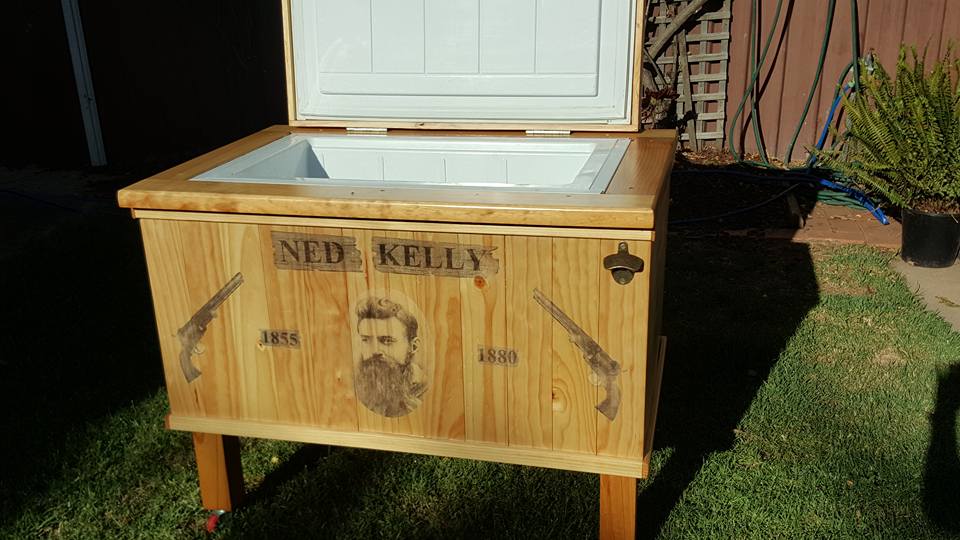 If you are looking for any of the items used in this project, please consider using our links. By clicking on the links we will earn a small commission at no extra cost to you.  Which helps us come up with new and exciting ideas to share with you. Please feel free to share or leave a comment we would love to hear your thoughts.