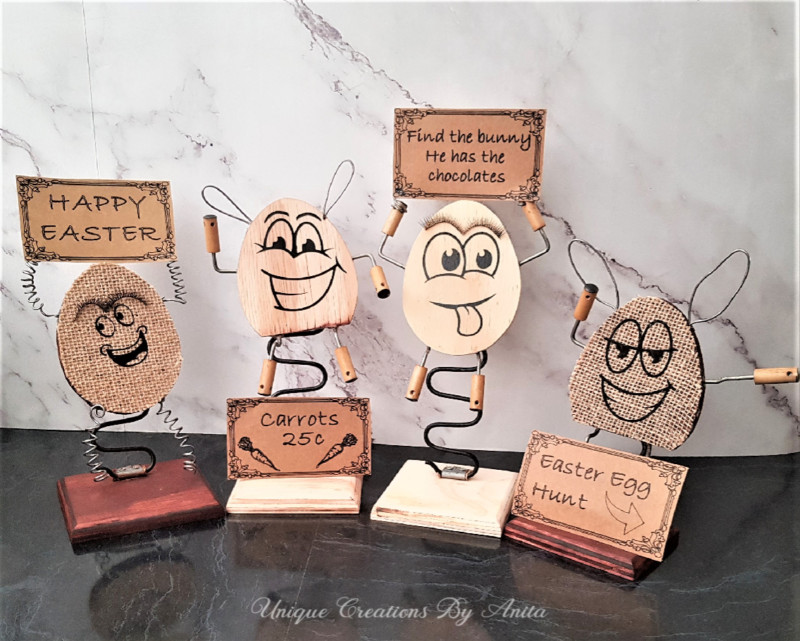 Hi all, with Easter just around the corner it is time to see all the great Easter projects popping up everywhere, So I am joining in with these Rustic Fun Easter decorations.  Staying with my website theme of trying to make all my projects out of recycled materials, these guys were made from junk items I found around my workshop. They are not your usual  Easter decorations, but I hope you like them. It is also time for our next IBC (International Blogger challenge) and you guessed it, Easter Decoration or any Easter related project. More about IBC at the end of this post.
How to make Rustic Fun Easter decorations
**This post may contain affiliate links. Which means I earn a small commission on links used at no extra cost to you. Please see my disclosure policy for more information.**
To make this project, I looked around my workshop for items that I could use.  I knew I wanted to make some Easter bunnies and Easter eggs which I wanted to be made from wood. These were the materials I came up with, some items did change during the process because I kept changing my mind.  For the stands, I used old springs from the base of a chair, scraps of plywood for the heads and soldering wire for arms and legs.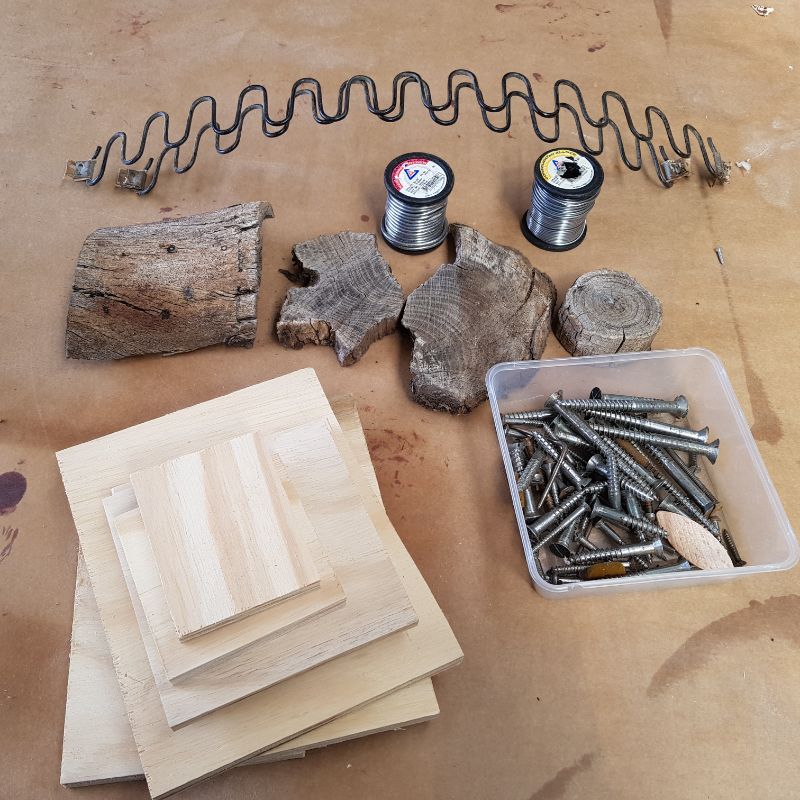 Making the Easter egg heads
Because I am really rubbish at drawing shapes, I kinda cheated and printed off the shape and used it as a template.  Using a felt tip marker to trace the shape onto my plywood.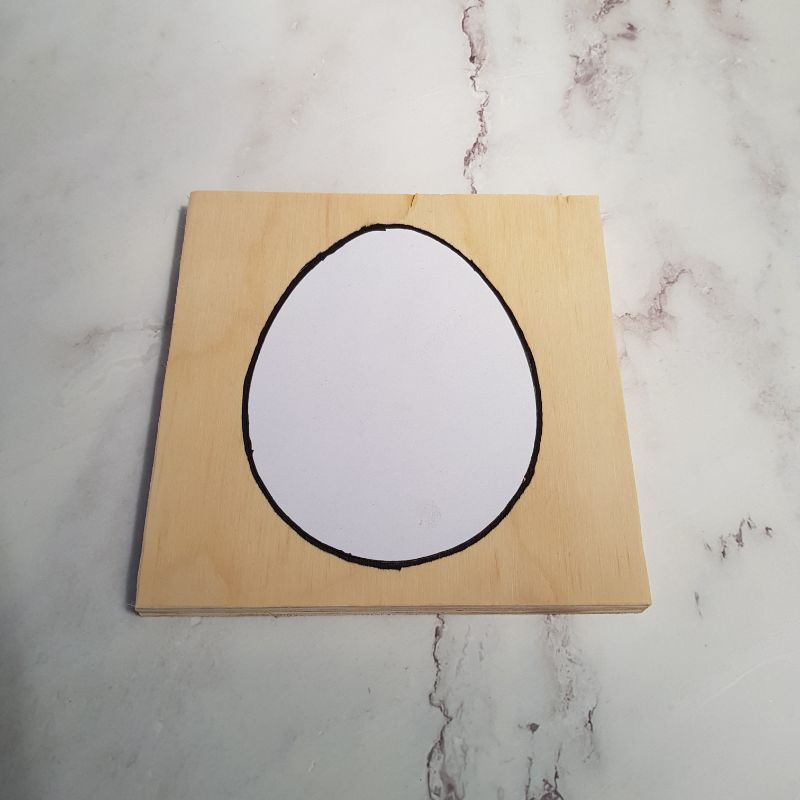 To cut out the egg shape I used a jigsaw making sure the good side was facing down to prevent the wood from splintering.  You can also use masking tape around the shape to prevent splintering if you are using plywood.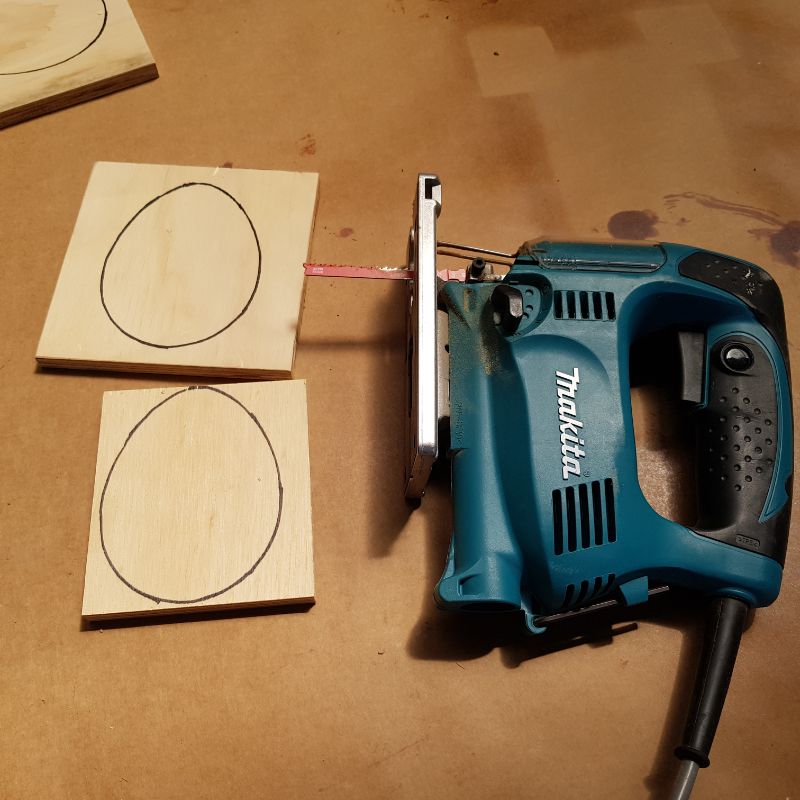 I cut out 4 shapes, 2 of which had the bottom section cut off so they look more like a bunny head.  Not really,  but that was the idea. The rough edges on the wood were sanded to make them smooth.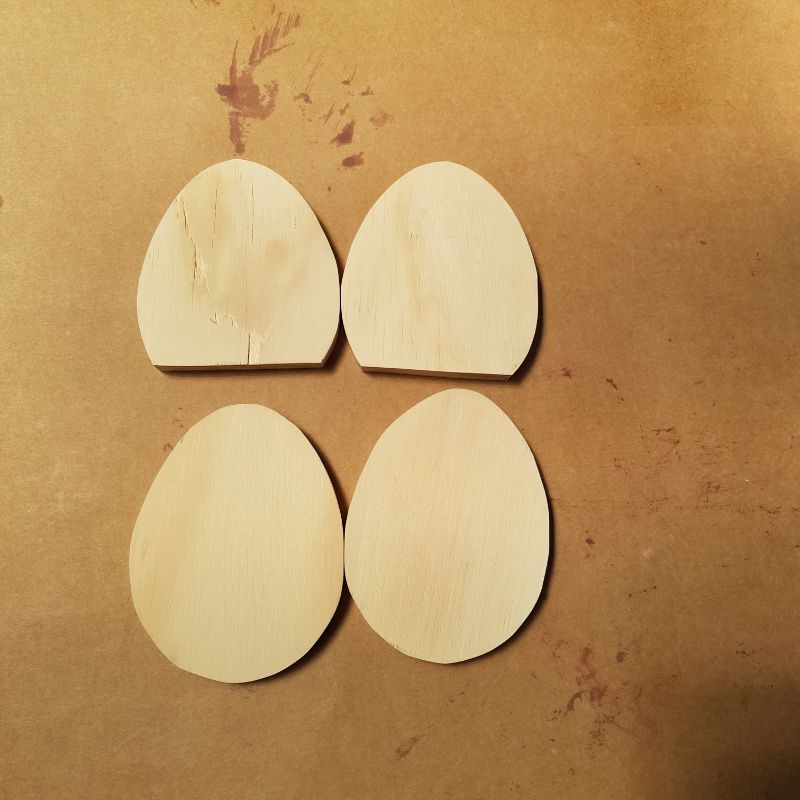 Making the base
The idea in my head was to have the shapes wobbling on the springs, so I needed a base first. These were made from scraps of plywood I had laying around, they were all different sizes but that was ok. The plywood was sanded smooth and I removed all the edges using a router and round over bit for cosmetic reasons only. If you are after the more rustic look you can just leave them.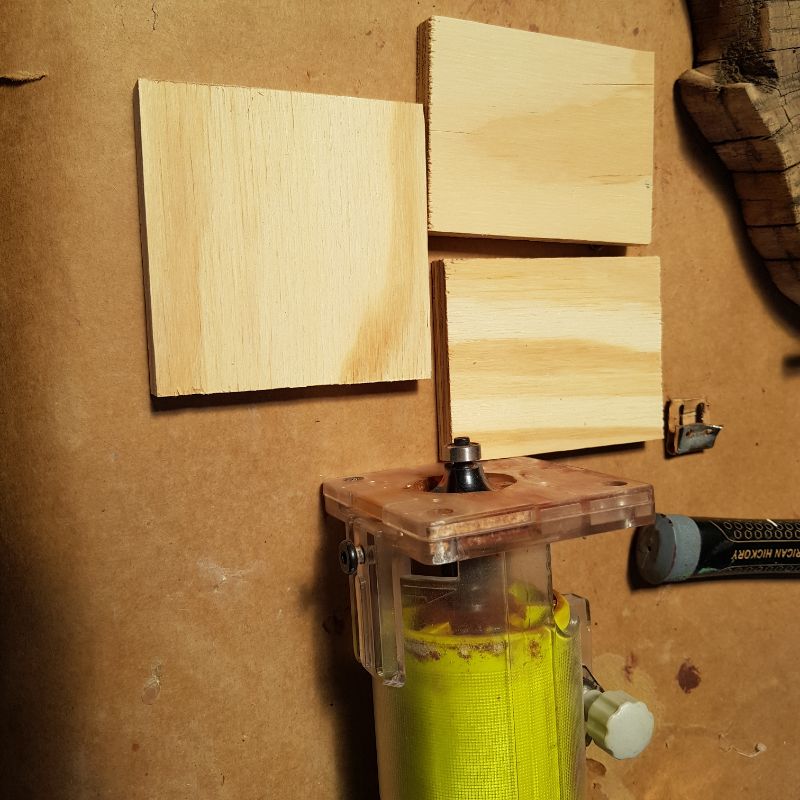 To cut the springs to size I did use a grinder only because I was lazy and I have one.  You can use a saw but it does take longer.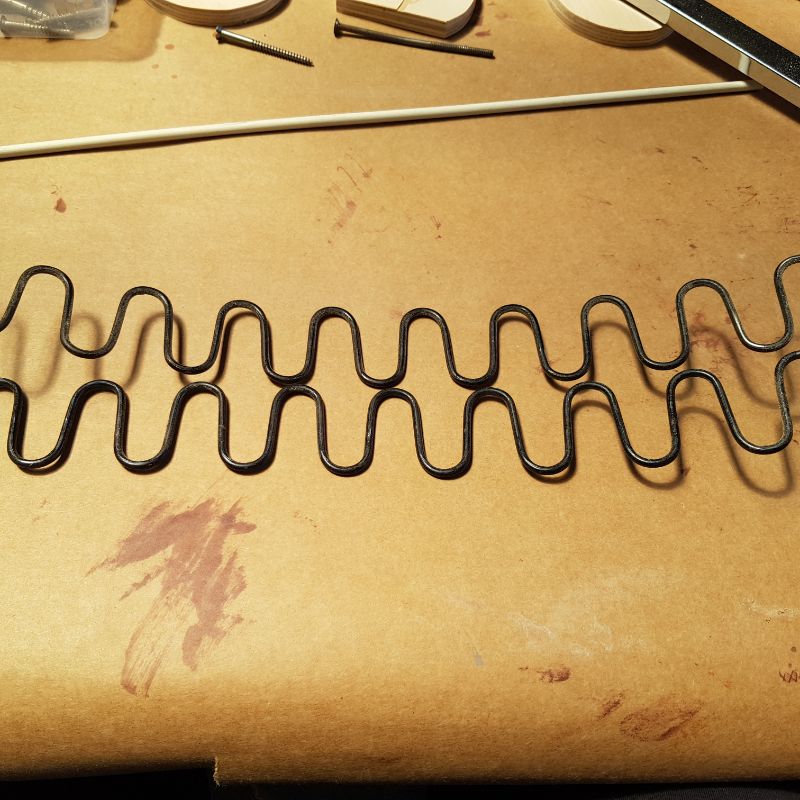 This was where it got a bit tricky because I had no idea how to attach the spring to the wood. So I used the original brackets that attached the spring to the chair. In keeping with the rustic look or that is my excuse and I am sticking to it. The brackets were attached as in the image below.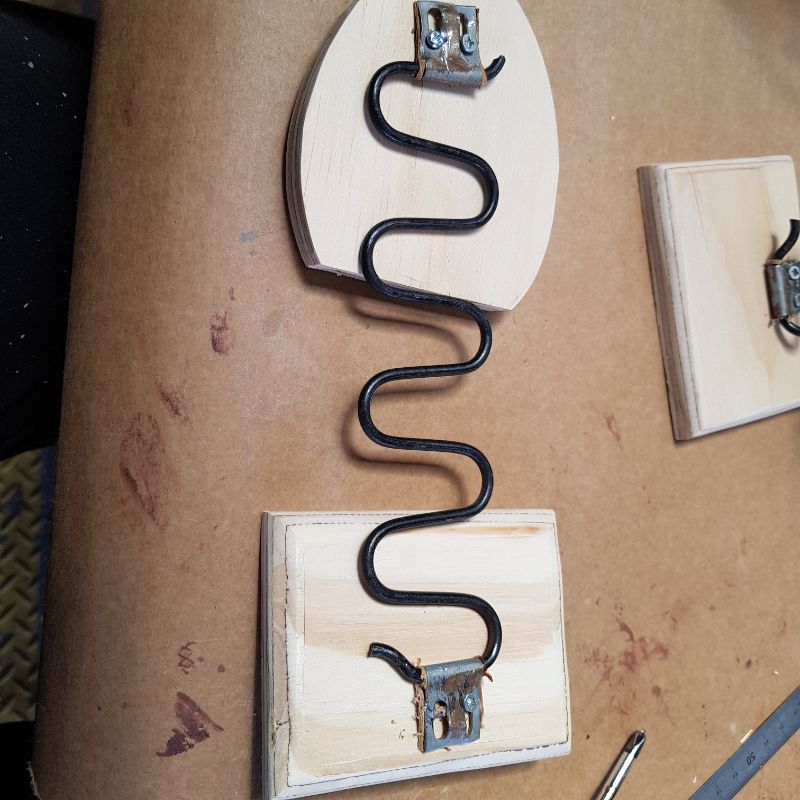 This is where I changed my mind, I was going to have distressed shapes for a more rustic look but I was not happy with the outcome.  So I sanded the distressing off and went with plan B, a smooth surface. I did add some stain to some to add a bit of colour to my Easter decorations.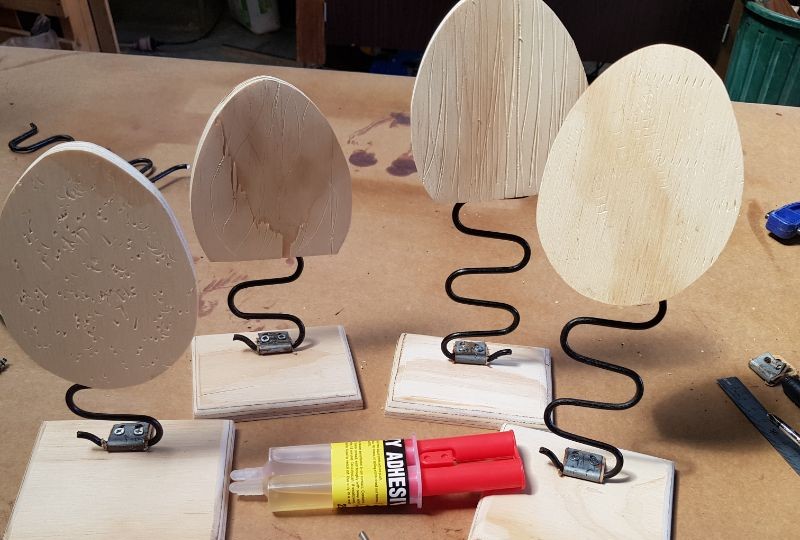 Decorating the faces
Because I changed my mind about the distressed look, some of the damage could not be sanded off.  For these two, I used a scrap piece of burlap and glued it onto the wood using tacky glue. Once the glue is dry you can cut away the excess burlap.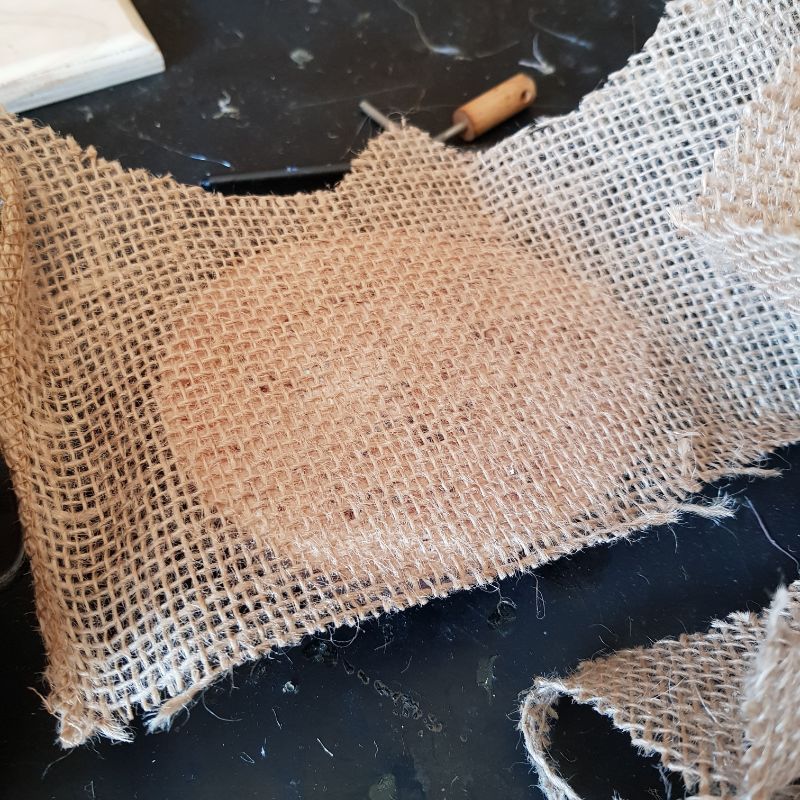 Adding the faces
To add the faces to the wood I used a Cricut vinyl cutter. I know the faces are not the most suitable for Easter Decorations but I loved them.  I found free images in the clipart library and saved them into design space which is the Cricut design software.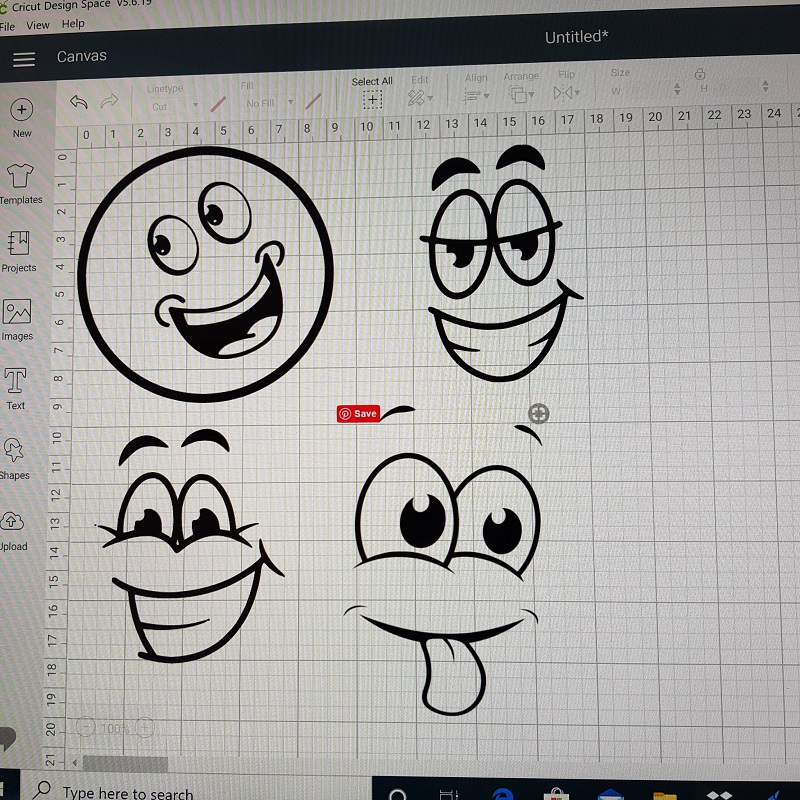 The faces were cut into black permanent vinyl and transferred onto the wood and burlap using transfer tape. The Decal is placed in the wood and rubbed with a scrapper until the decal transfers over to the wood.  Then the transfer tape is removed leaving behind the image.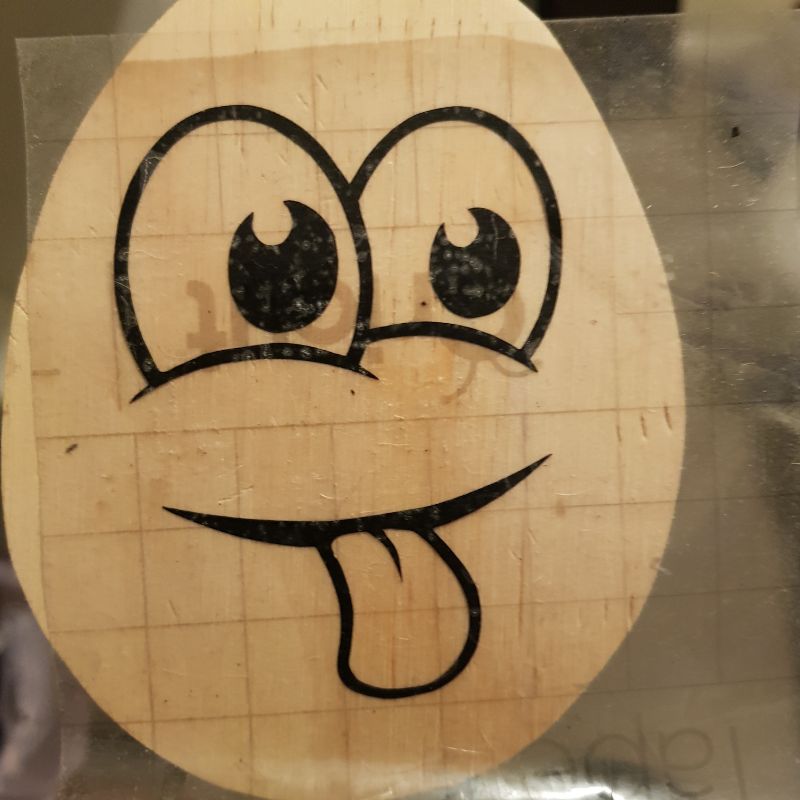 Making the Arms and legs
A few years ago I repurposed a piano and all these years later I have still not found a use for the keys.  The parts I used for the arms and legs on some of my characters are from the keys, I just bent them into shape. You can use whatever you can find.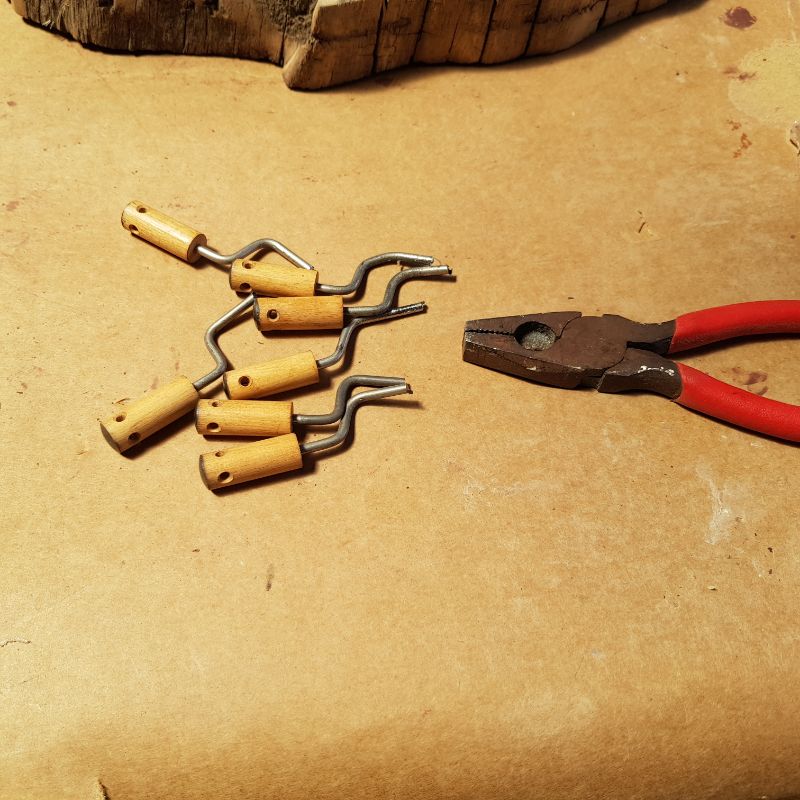 To make the arms and legs that look like springs, I used soldering wire pinched from my husband's toolbox.  The wire is wrapped around anything small and round like a paintbrush.  Remove the wire from the paintbrush as shape as desired.  You can also use jewelry wire or any similar material. The arms, legs, and ears were attached to the wood by making a hole in the wood and gluing them in place with a hot glue gun.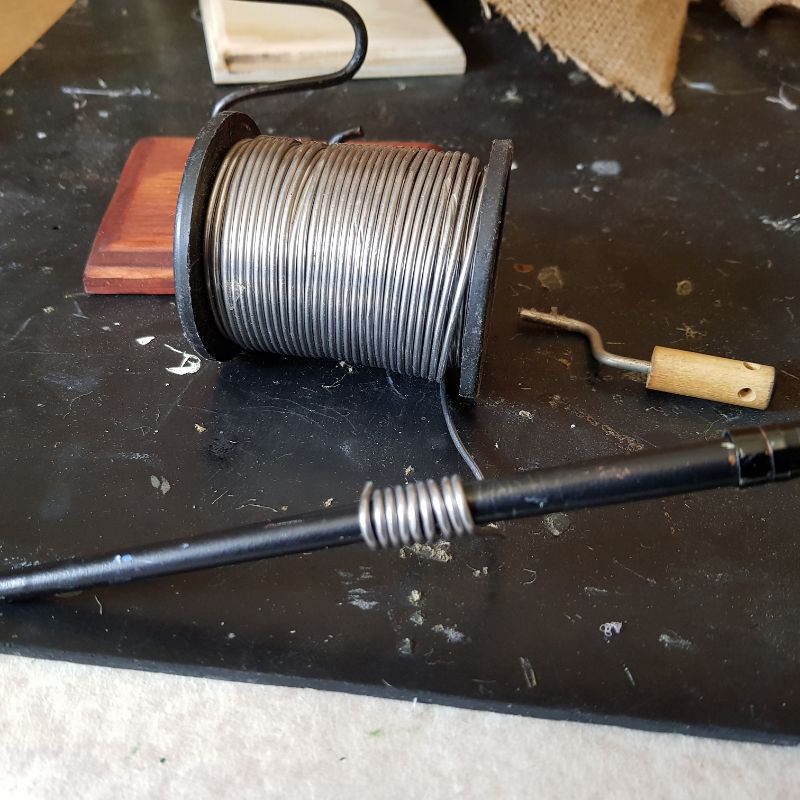 As cute as the faces were I felt something was missing.  I had some false eyelashes at home which were no go to me. I would rather be in my workshop covered in paint than covered in makeup, so they are wasted on me. But they gave my Fun Easter decorations the finishing touches that they needed.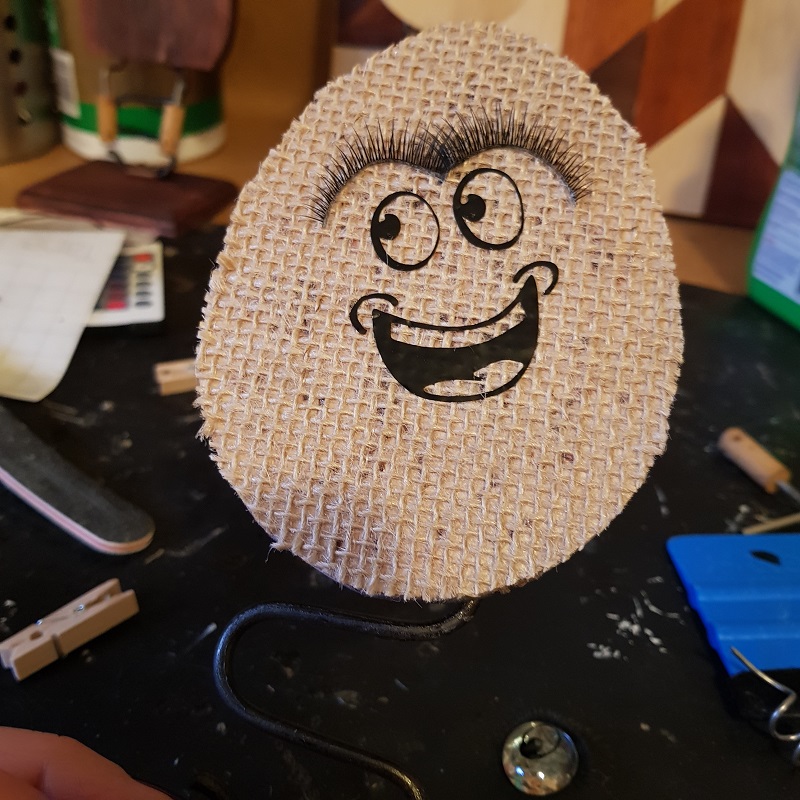 And the was my Rustic fun Easter decoration project finished. Just kidding I was still not happy because how would people know they were Easter Decoration?  I would make some fun Easter signs for them to hold.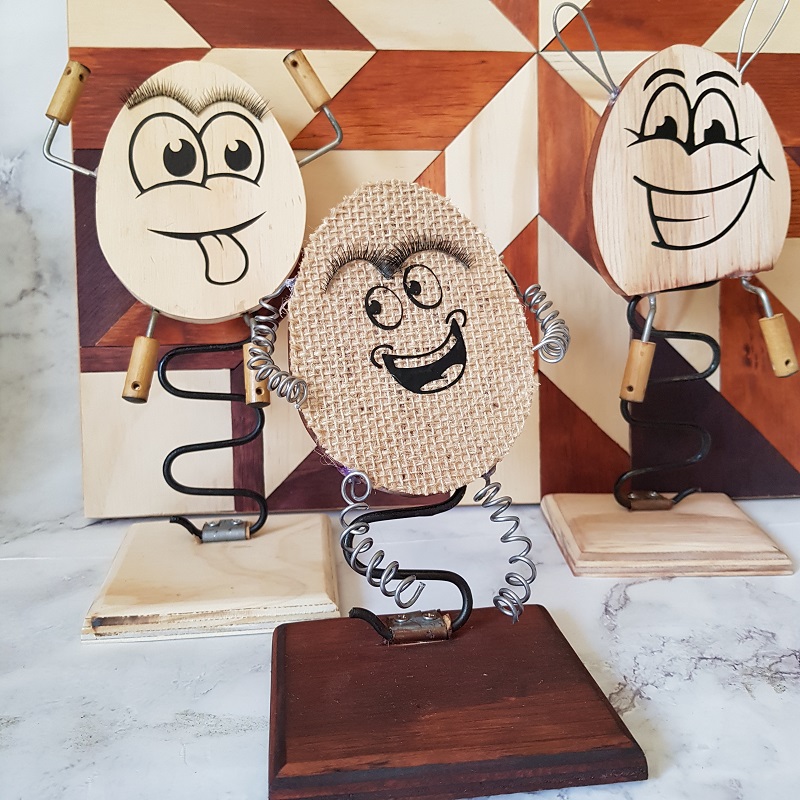 Making the Easter signs
If you thought a Cricut was just for cutting vinyl decals, you are wrong.  This cool machine can also draw using a pen.  Using Cricuts design space you type out the words you want on your Easter decorations and chose a cool font.  I added a free border to make it look fancier.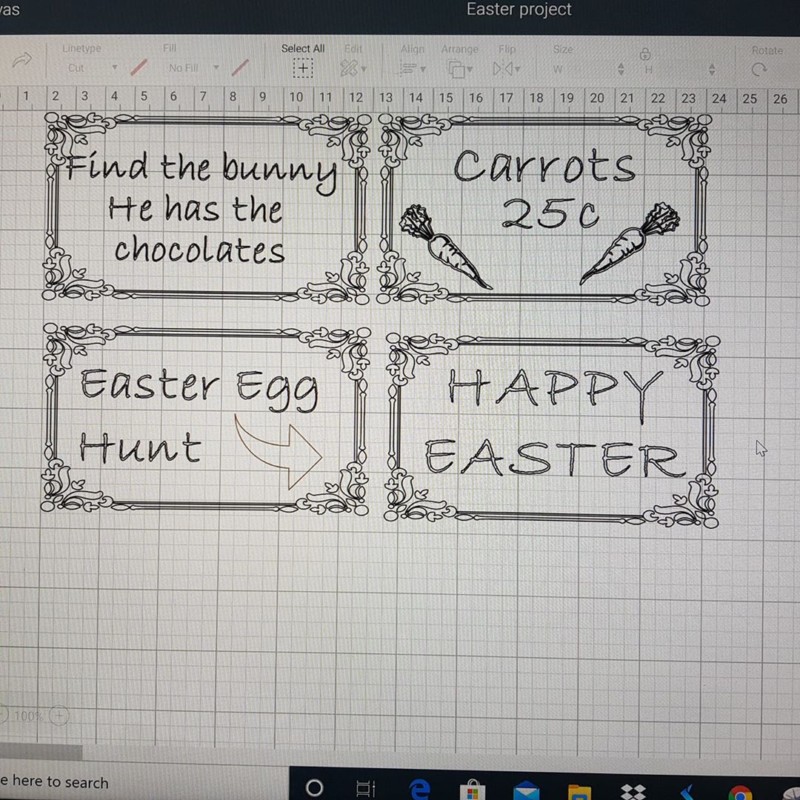 To make the Easter signs I used a scrap of craft paper I use to line my workshop table.  Put the paper on the mat and load your pen and click start and the Cricut will do the rest.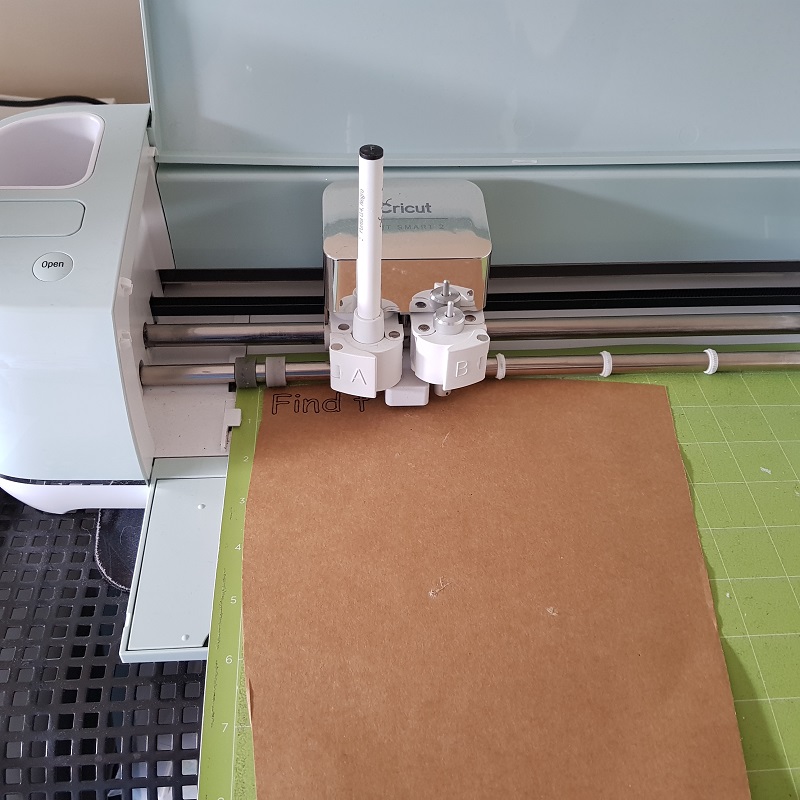 Now I am really finished, just a few closeups of my Rustic Fun Easter Decorations.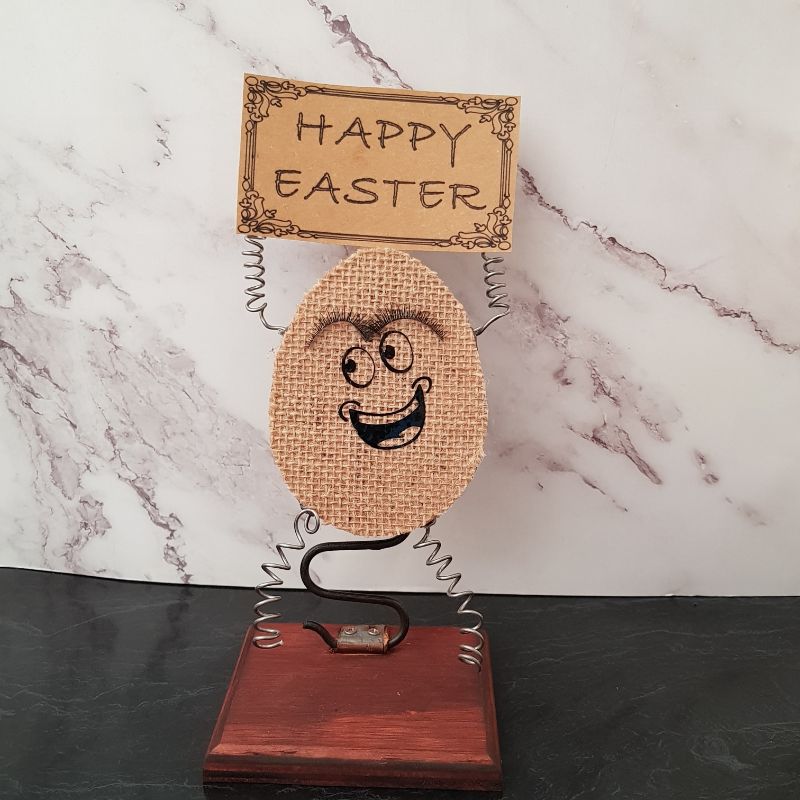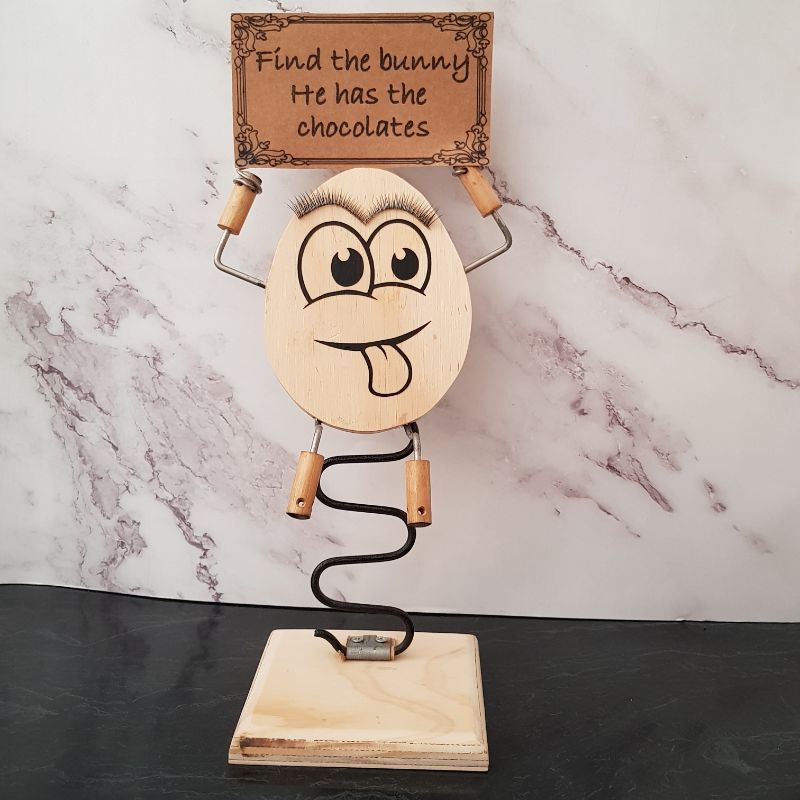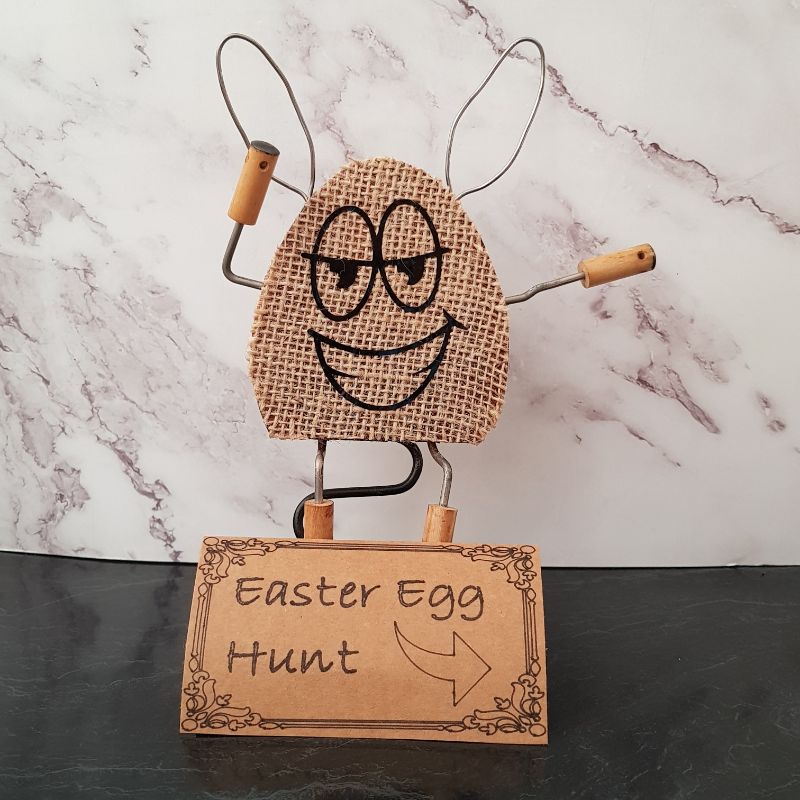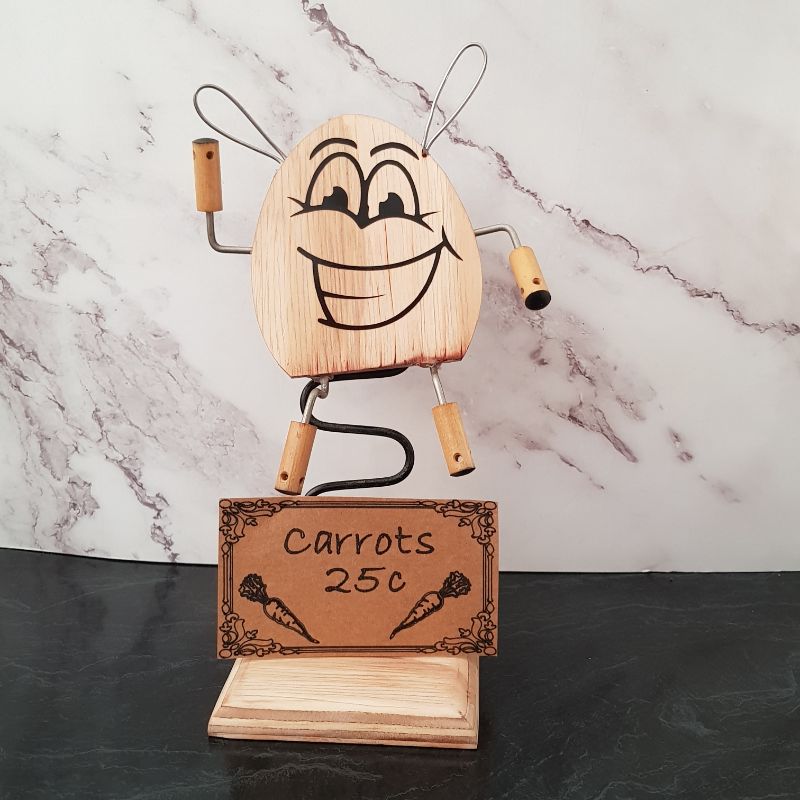 Happy Easter.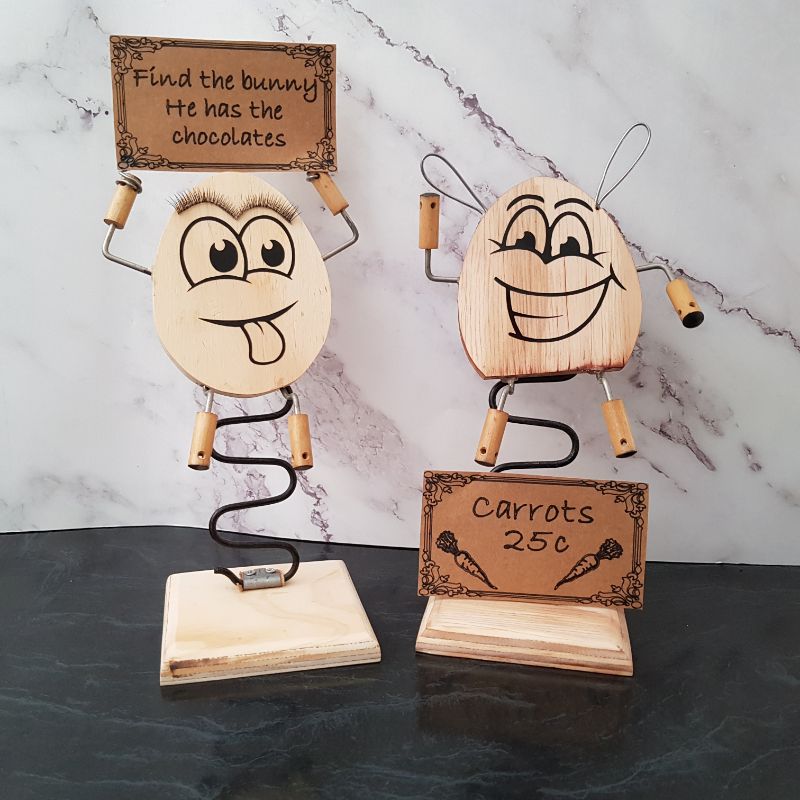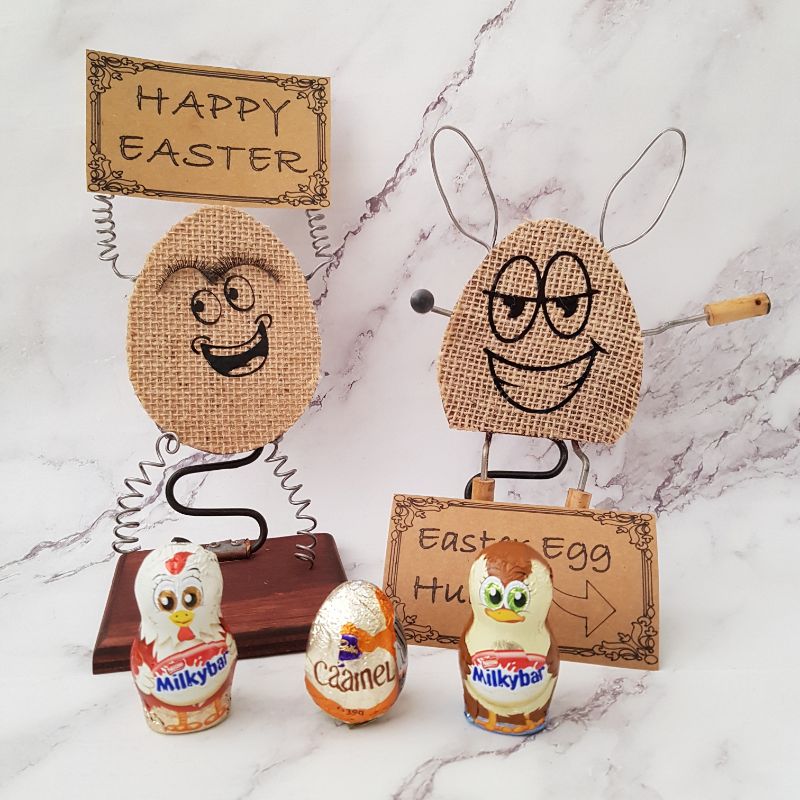 Please feel free to leave a comment and share this post.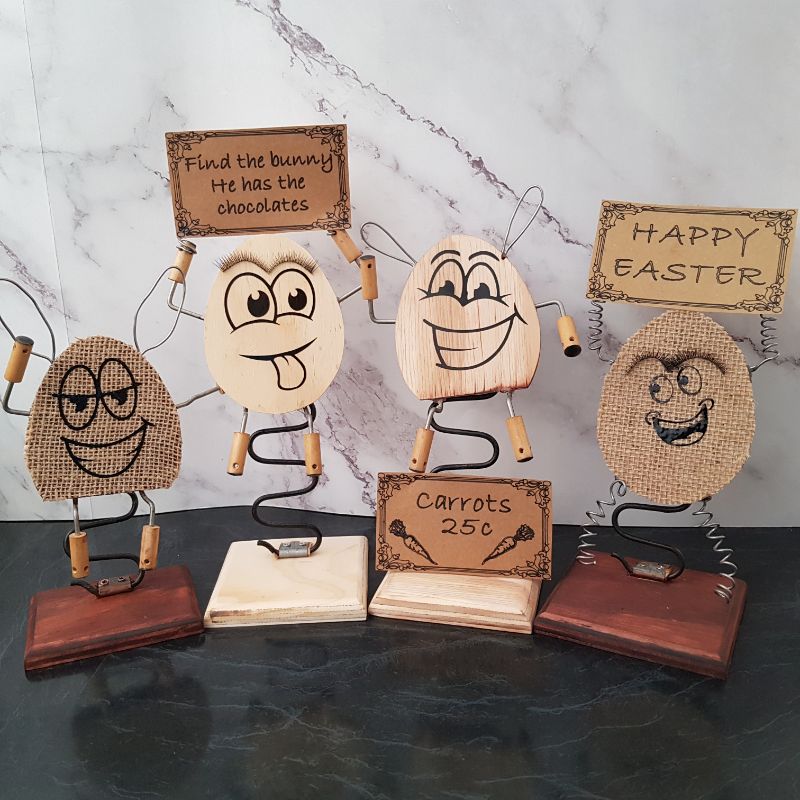 About IBC (International Bloggers Club)
If you follow my blog you will know I am part of IBC (International Bloggers Club) which is a group of talented bloggers from around the world. We have members from Spain, South Africa, Australia, the United States, and Canada. Each month we come together and create a project in a common theme.
If you missed last month's Mixed media theme here is the link to my Mixed Media Mirror Makeover.   The contributions from my fellow bloggers are listed below, please feel free to jump over and share your thoughts.
1  Interior Frugalista | Super easy dollar store easter wreath
2  Faeries and Fauna | Dollar store wooden easter bunny buffalo check makeover
3  A Crafty Mix | Giant faux concrete easter egg
4  Raggedy Bits | Farmhouse topiary easter bunny bucket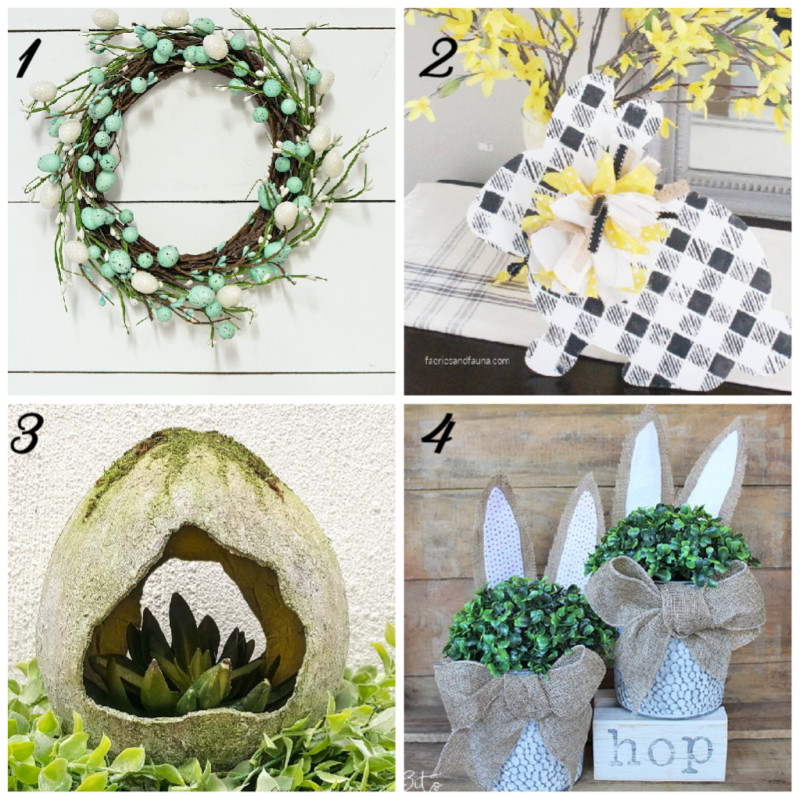 My Sweet things| DIY cement mushrooms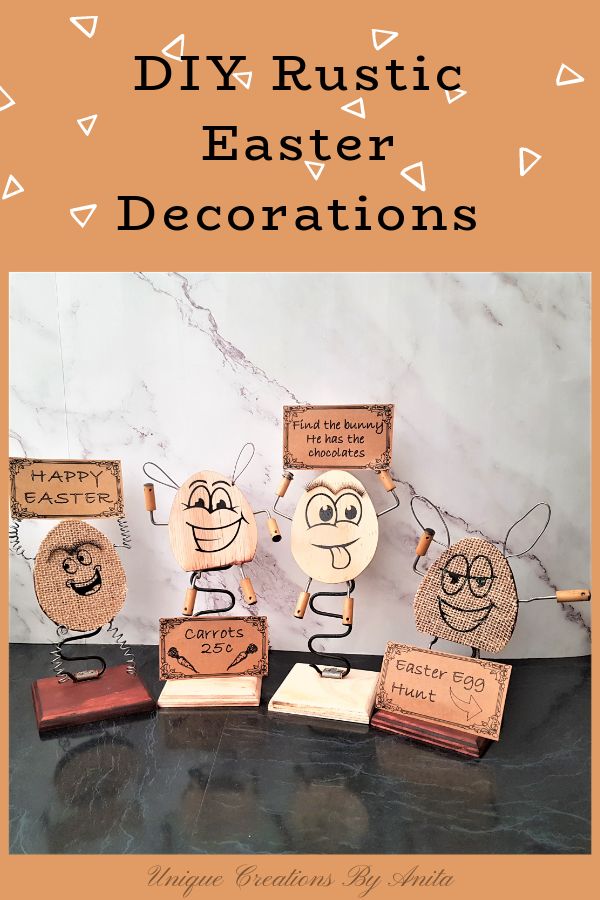 If you are looking for any of the items used in this project, please consider using our links. By clicking on the links we will earn a small commission at no extra cost to you.  Which helps us come up with new and exciting ideas to share with you.