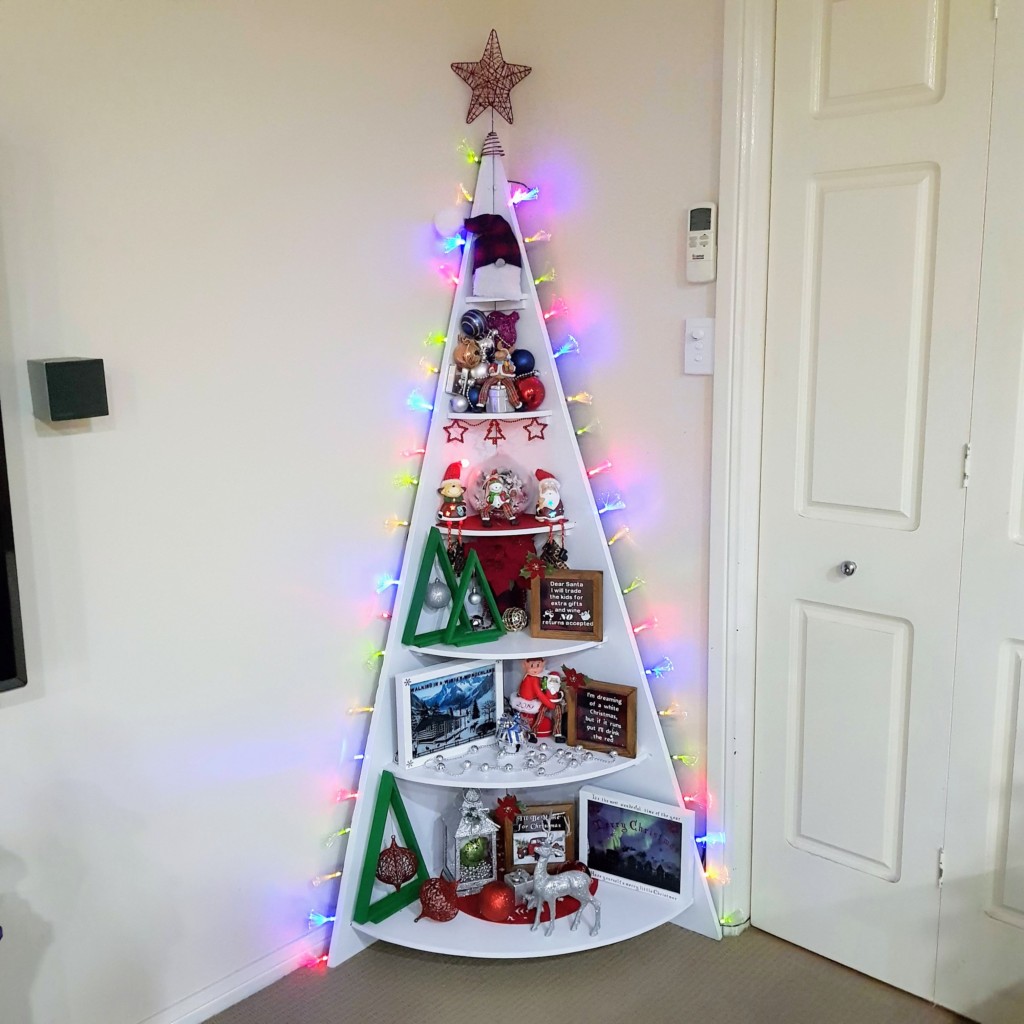 This year mine is a Corner Christmas tree shelf.  If you don't want the traditional Christmas tree this may be an option for you. This shelf will fit snuggly into the corner of any room and can be decorated in a Christmas theme. 
After Christmas, it can be used as a regular shelf to display all your home decor items.  If space is a big issue for you this Christmas tree shelf I made last year might be a good choice. It can be hung on a wall or sat on a table.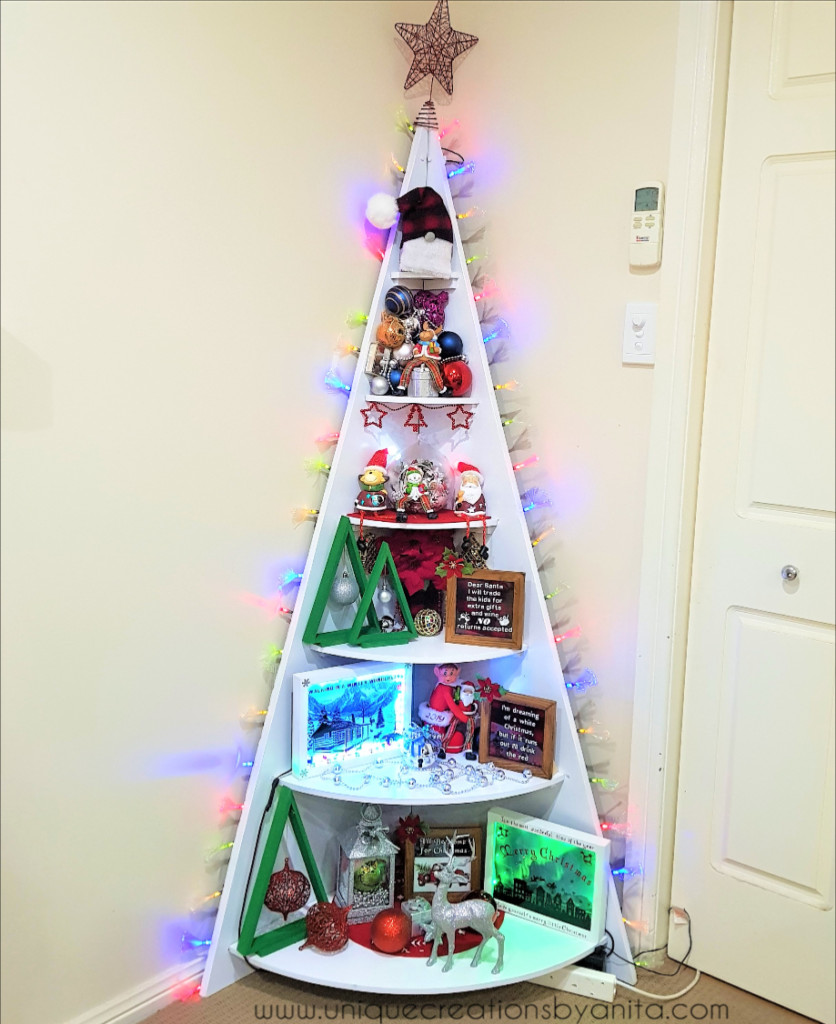 If you follow my blog you will know I am part of IBC (International Bloggers Club), we are a group of talented bloggers from around the world. We have members from Spain, South Africa, Australia, the United States, and Canada. Each month we come together and create a project with a common theme.  Obviously, this months theme is Christmas, YAY! If you missed last months theme it was flannel and these flannel dog bandannas were my contribution. More info and other members contributions at the bottom of this post.


How to make a corner Christmas tree shelf
**This post may contain affiliate links. This means I earn a small commission on links used at no extra cost to you. Please see my disclosure policy for more information.**
Find suitable wood for the Corner Christmas tree shelf
I had a large piece of Formply laying around at home which I used for this project, any sturdy wood will work. This is a very strong form of plywood that does not seem to bend or bow.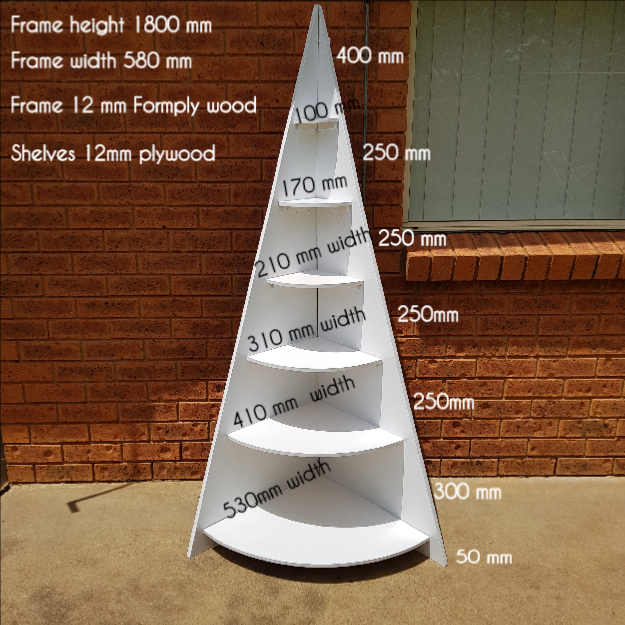 Start by dividing the wood in half from corner to corner.  I added some painters tape to stop the wood from splintering during cutting.  Using whatever saw you have cut the wood in half along the line, I use a circular saw.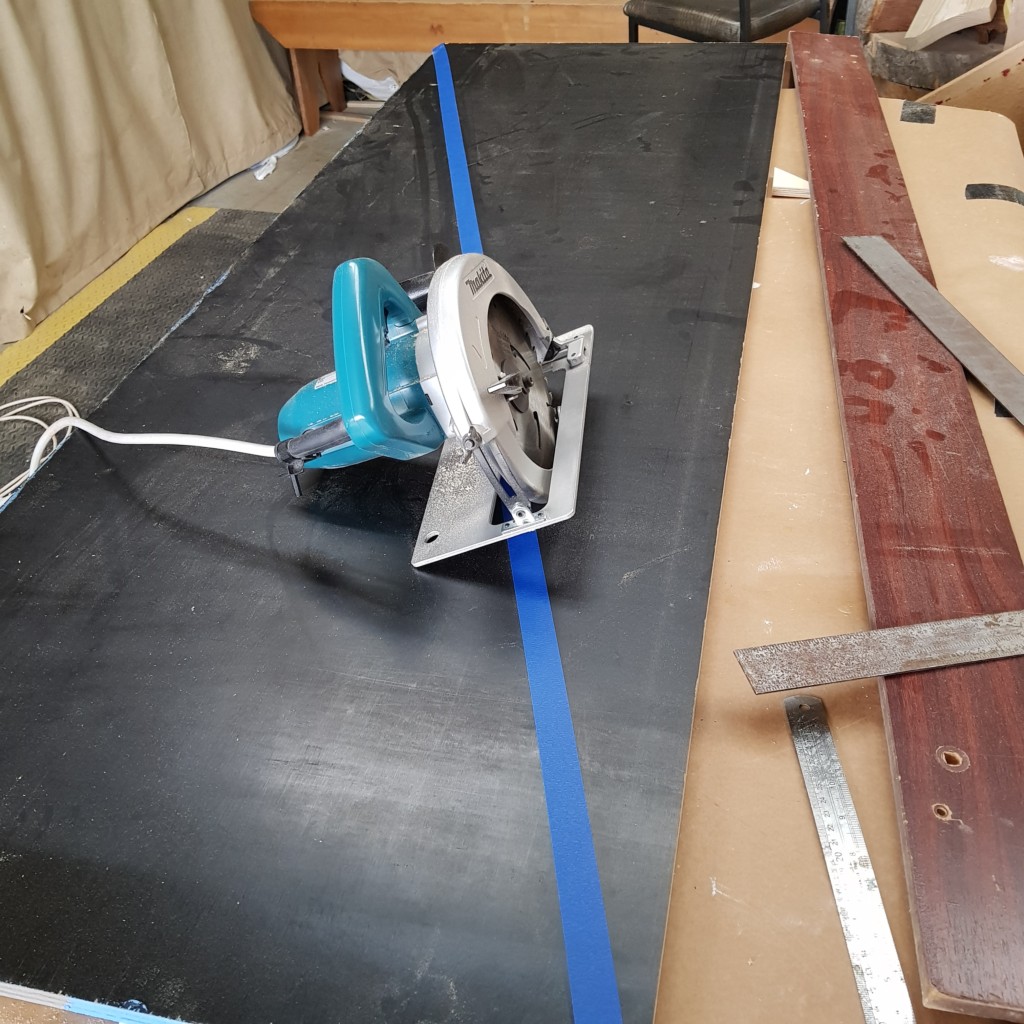 Lay the 2 pieces side by side and start measuring out where you would like your shelves to be, and mark them with a pencil.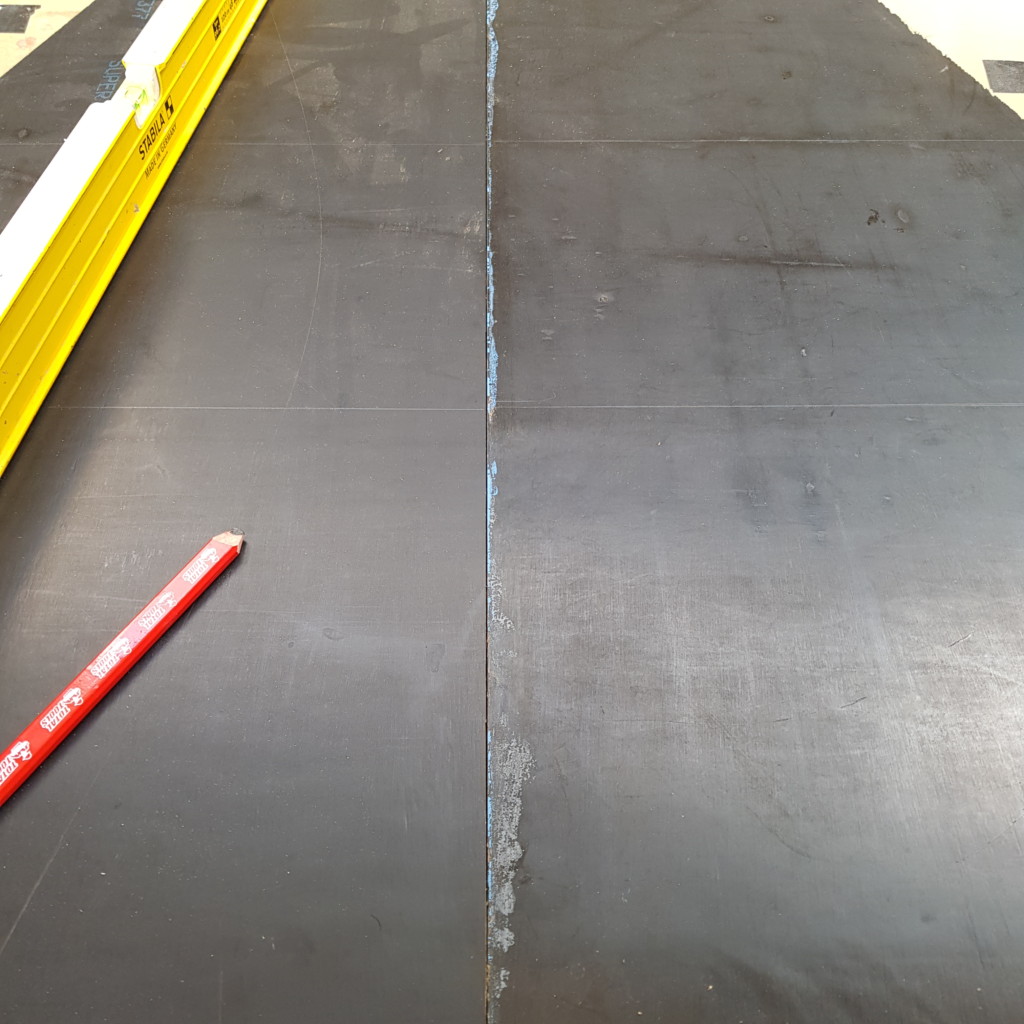 Next, cut some plywood strips to support the shelves these were 20 mm thick. I placed them leaving an approximately 50 mm gap in the centre and in the front, so they would not be so obvious when assembled.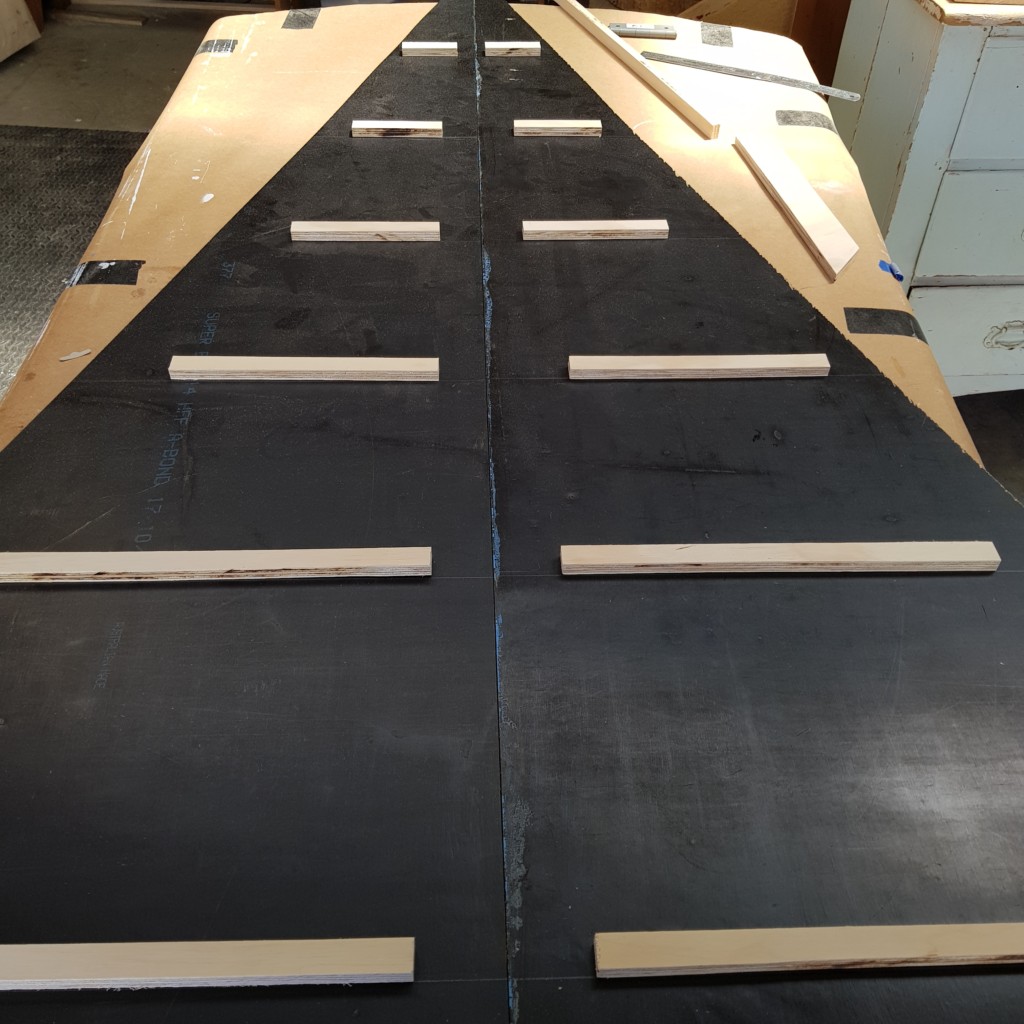 The supports were glued in place and secured with a nail gun so I could proceed without waiting for the glue to dry.  Note to self, make sure the nails used are not too long for the wood.  I ended up nailing my shelf to the table and had to file the nails down at the back with a file.   Lucky you don't see the back but you do have the option to paint the back too.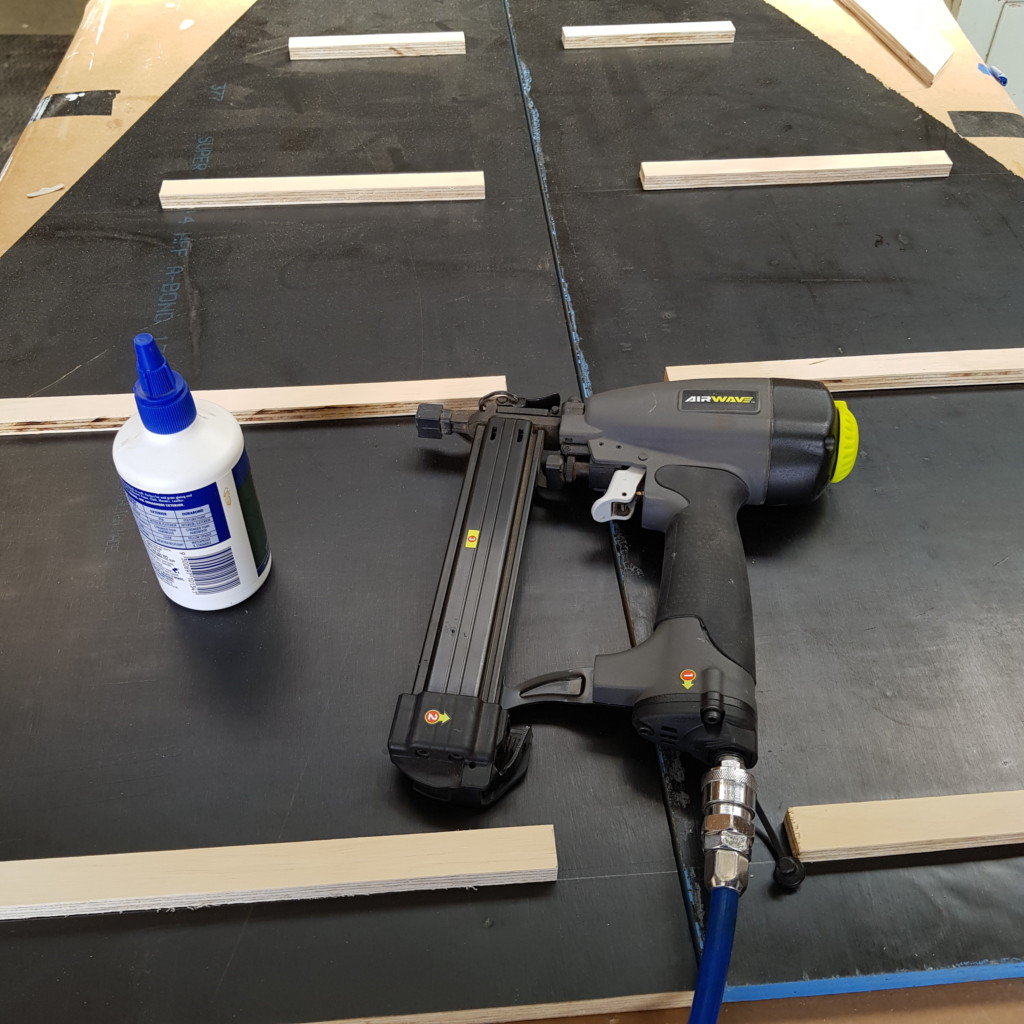 Attaching the shelf together
Using a hole saw cut a hole in the bottom inside corner for the lights to fit through.  I had a large plug on my lights, so my hole had to be a bit bigger than I would have liked. This is below the last shelf so it will not be visible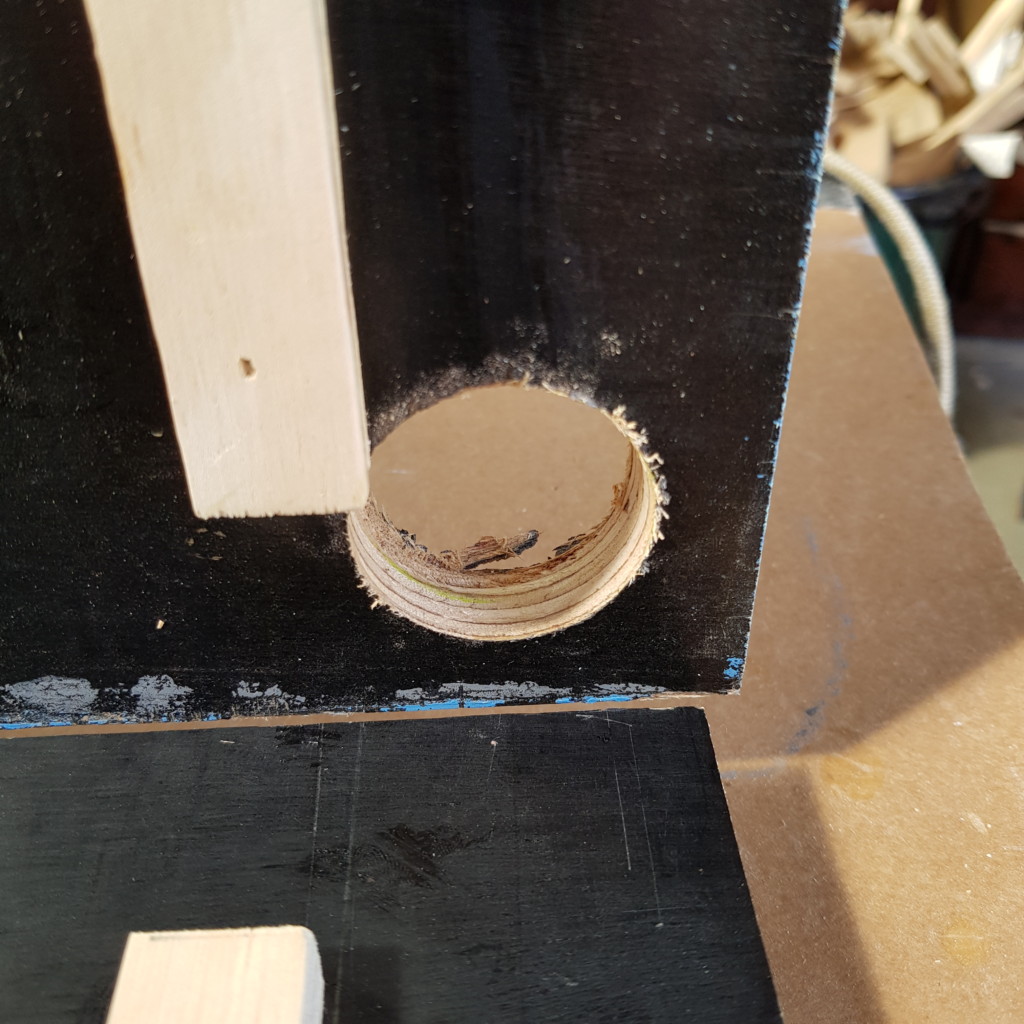 This may not be the correct way to do this, but I make up my projects as I go along using the materials I have at home.  Stand the shelf upright and using a square ruler align the wood to a 90-degree angle against the ruler.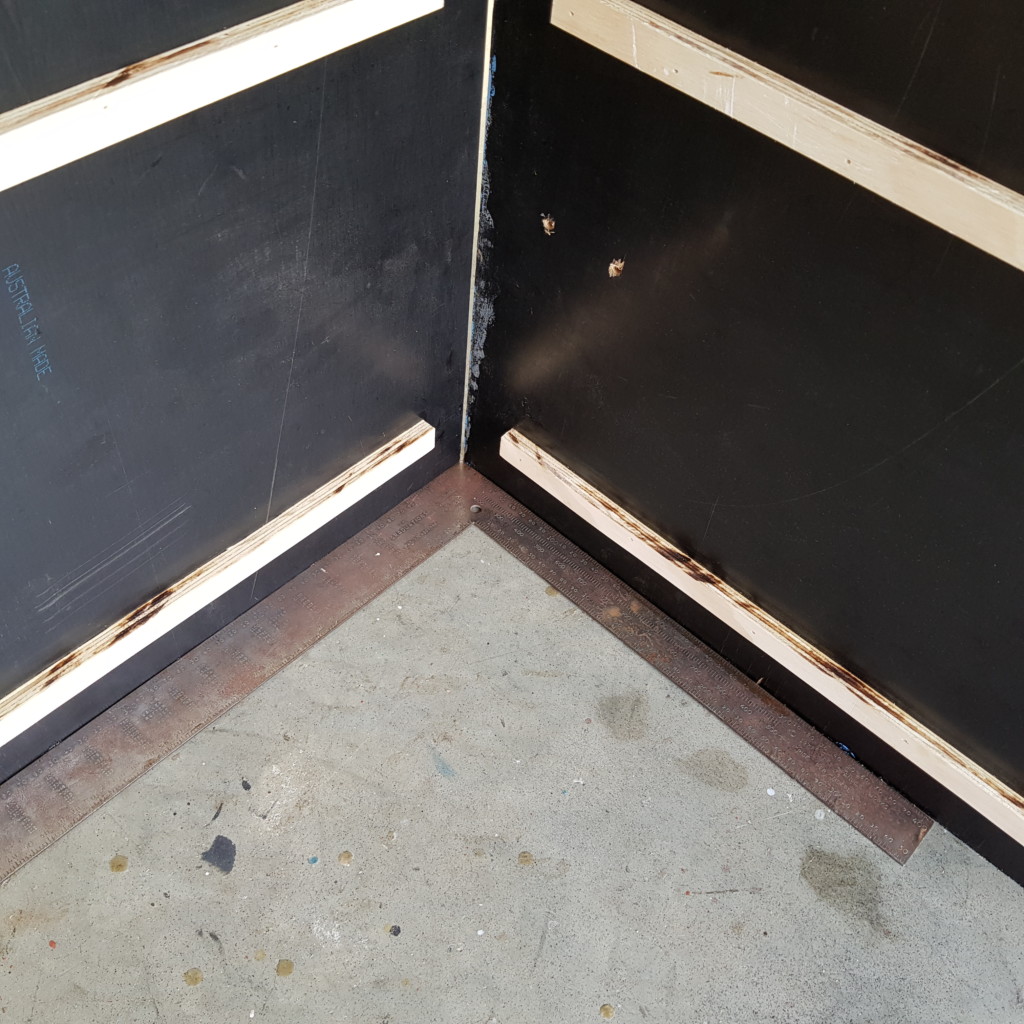 I used square brackets to hold the two sides together.  The brackets were placed just under a shelf so the bolts would not be so obvious.  Drill holes through the wood and bolt the brackets in place and secure them.  You can paint the bolts will be painted later so they will not be an eyesore. 3 Brackets were added to this shelf.  There will be a slight gap in the join because of the 90-degree angle.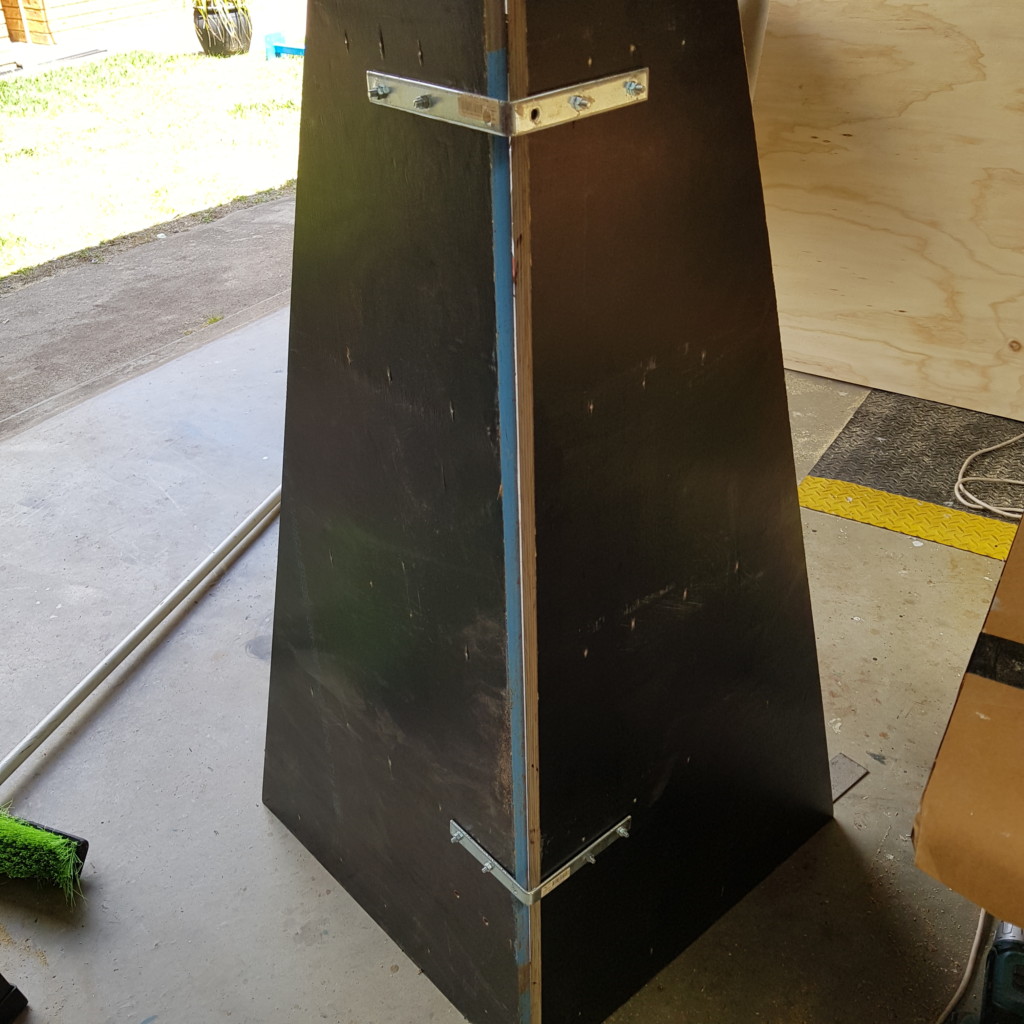 Cutting the shelves for the Christmas tree shelf
For the shelves, I used 12 mm plywood and cut it into squares to fit onto the supports (Measurements above in image) I left approximately a  50 mm gap at the start of every shelf rather than having the shelves flush with the sides.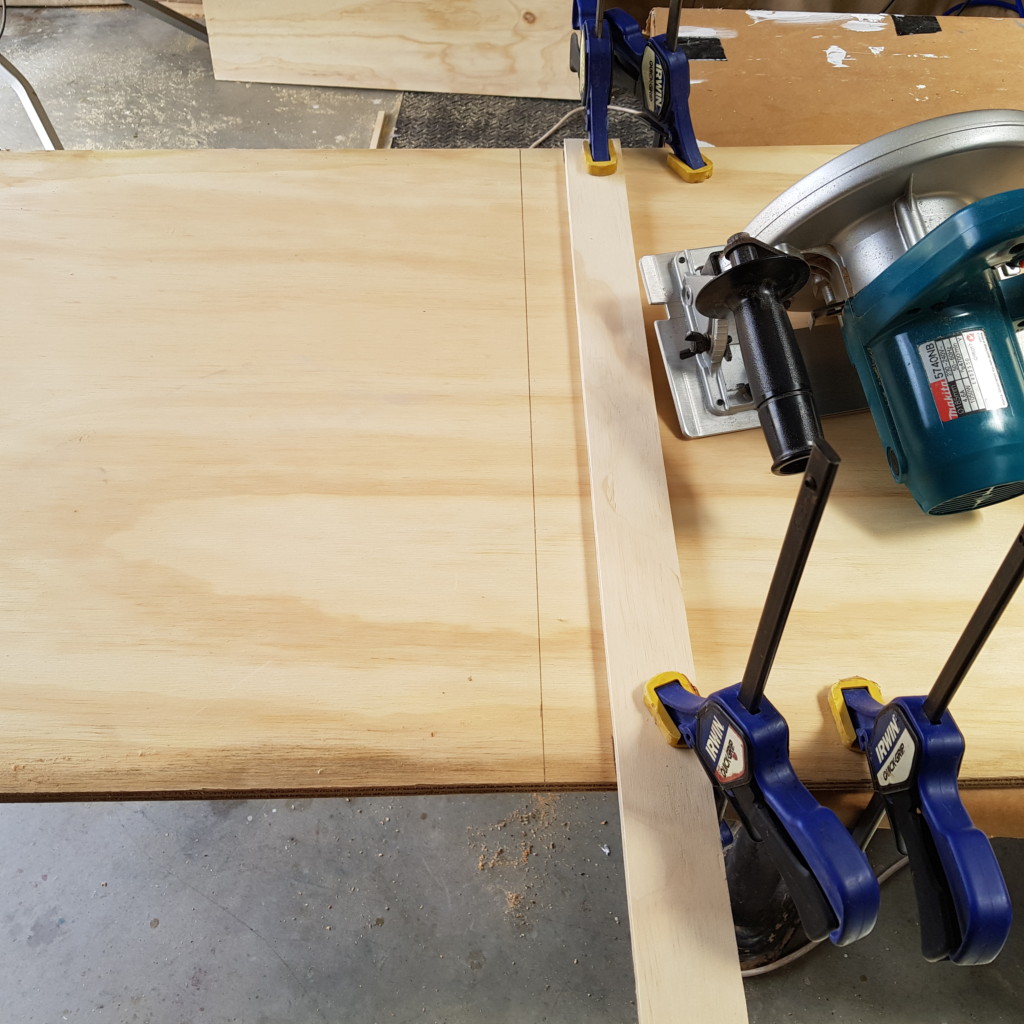 The shelves were sanded down using an orbital sander and 120 grit sandpaper.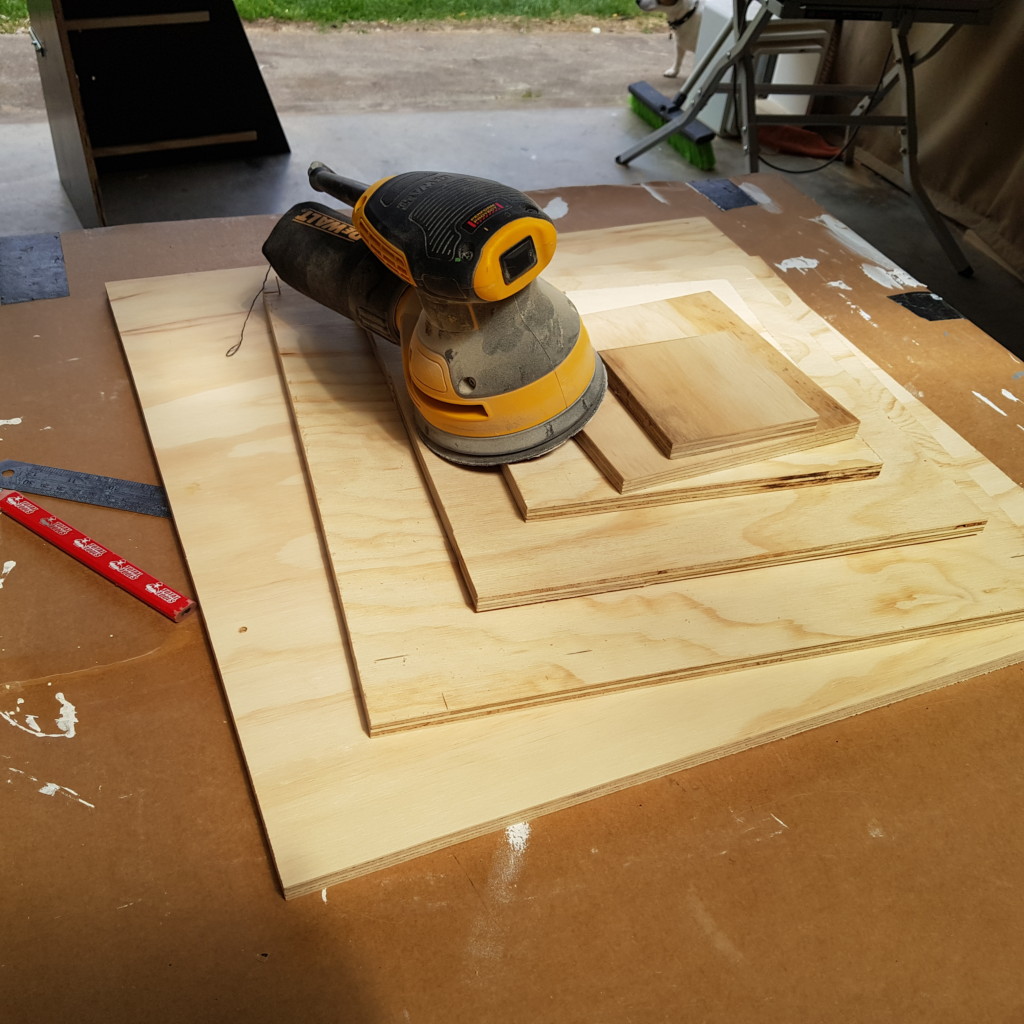 Using my handy homemade wooded compass, I marked out the curves for the shelves.  I am hopeless at cutting accurately around curved lines, so I cut them first using a jigsaw leaving 2 mm of excess wood.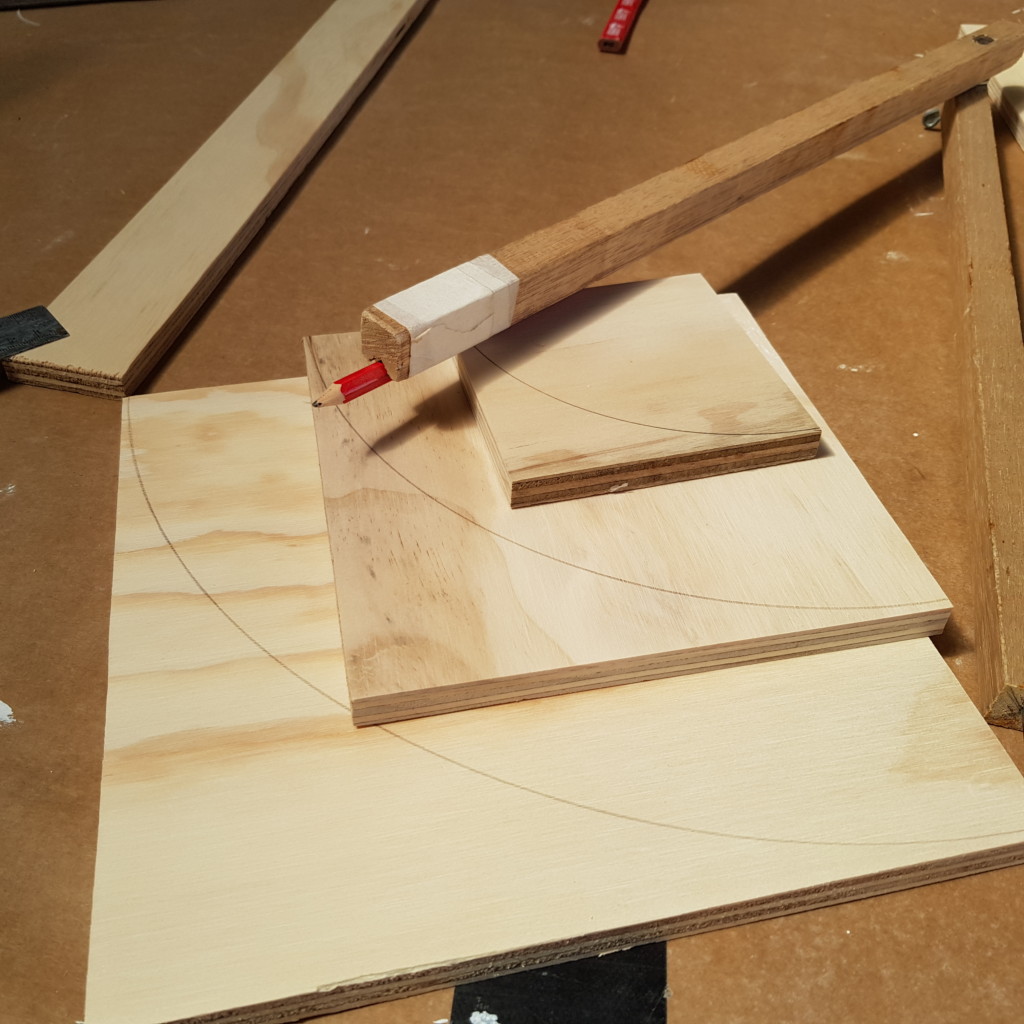 Using a benchtop sander the excess is then sanded away using the line as a guide.  You can bypass this step if you don't have the same issue cutting accurately as I do.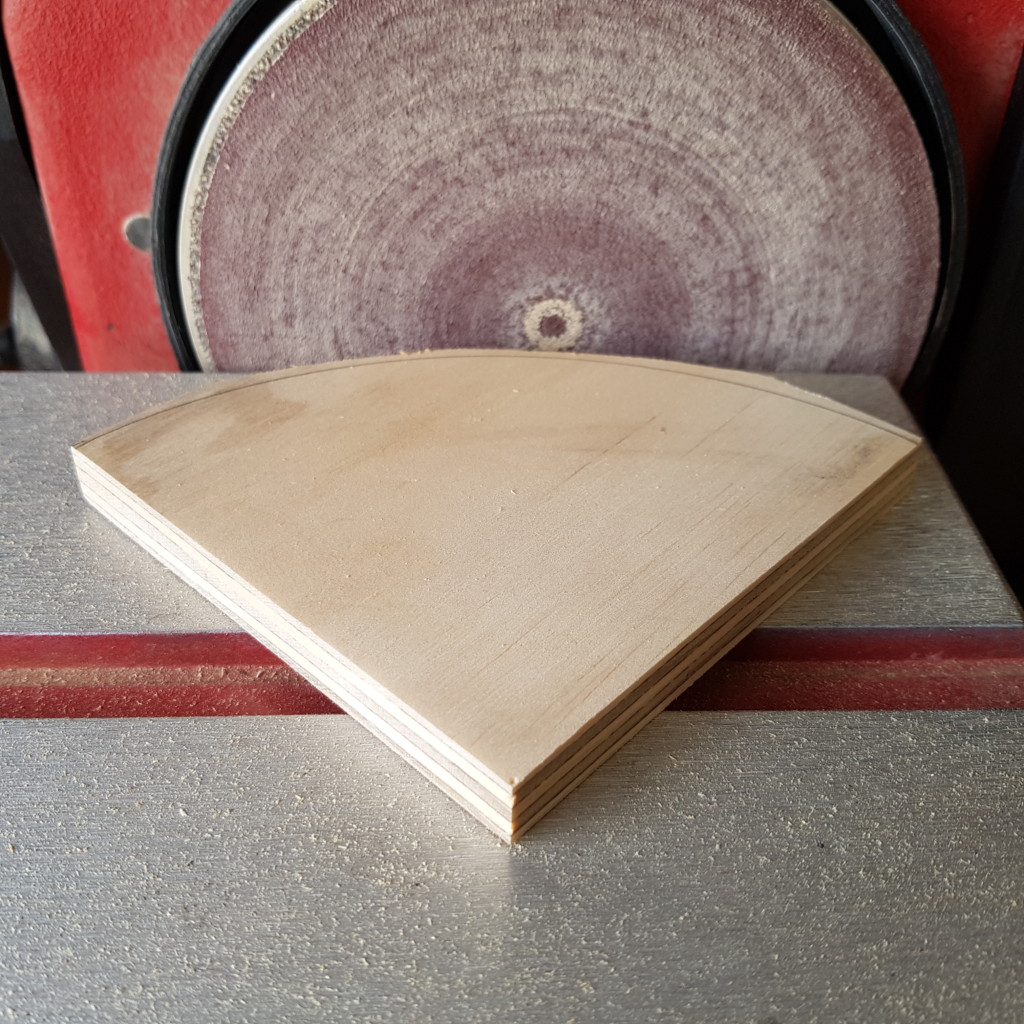 Test that the shelves are a good fit before you move on to painting the shelf.  Please ignore the mess in my workshop, it is too hard to keep moving my project to get pretty photos.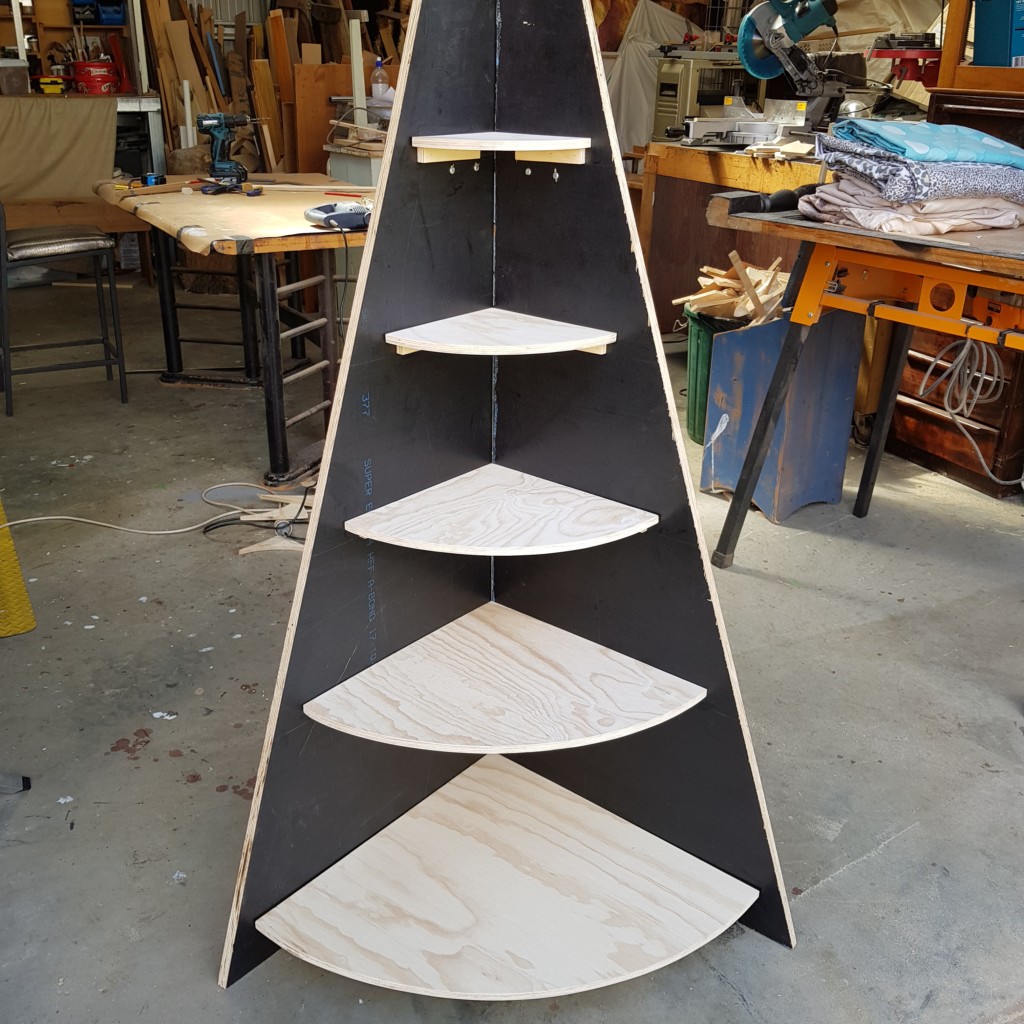 To hide the plywood edges for a better cosmetic look, I added so wood veneer tape. The tape is very simple to add, you need a hot iron and you just iron over the veneer tape to heat up the glue and it will stick to the edges.

Using a shape knife, cut away the excess tape and smooth it over with sandpaper to remove all the rough edges.

Paint your Christmas tree shelf
Before you assemble the shelves it is easier and quicker to paint first. Because I used Formply I had to add a primer first then acrylic white paint.  Using a paint roller will have this done in no time.  To make the paint more durable I also added 2 coats of water-based polyurethane. I have used oil-based in the past which is more durable, but it made my white paint go a little yellow in colour.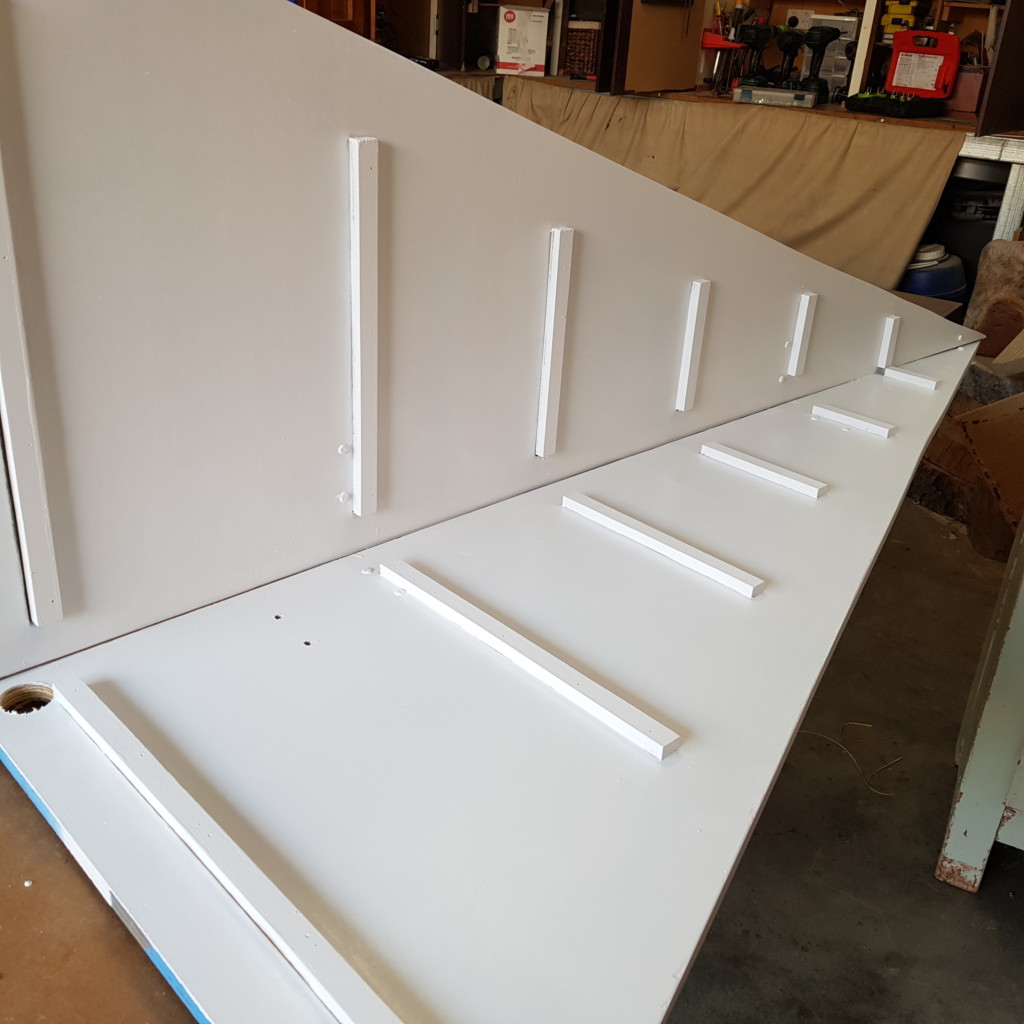 Glue the shelves onto the supports using wood glue.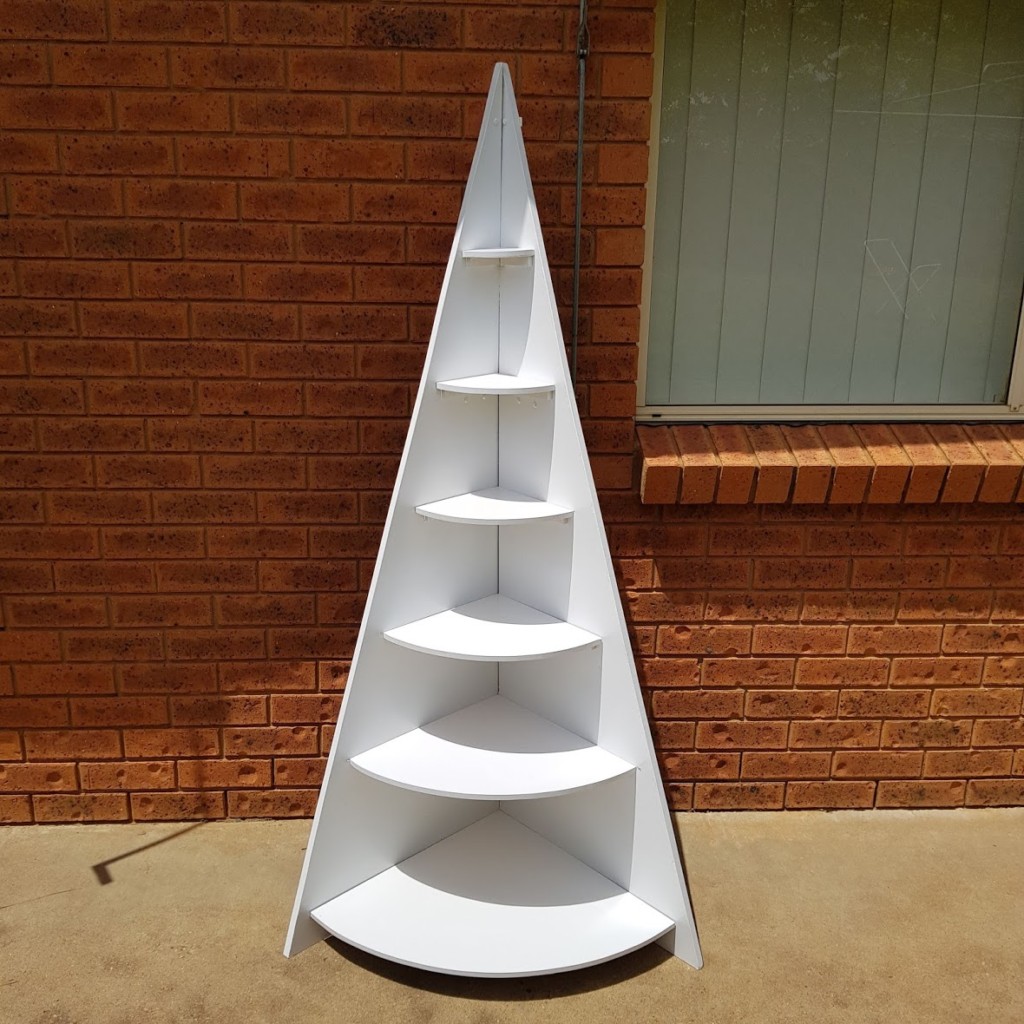 Finally, the fun part, decorate your shelf in a Christmas theme.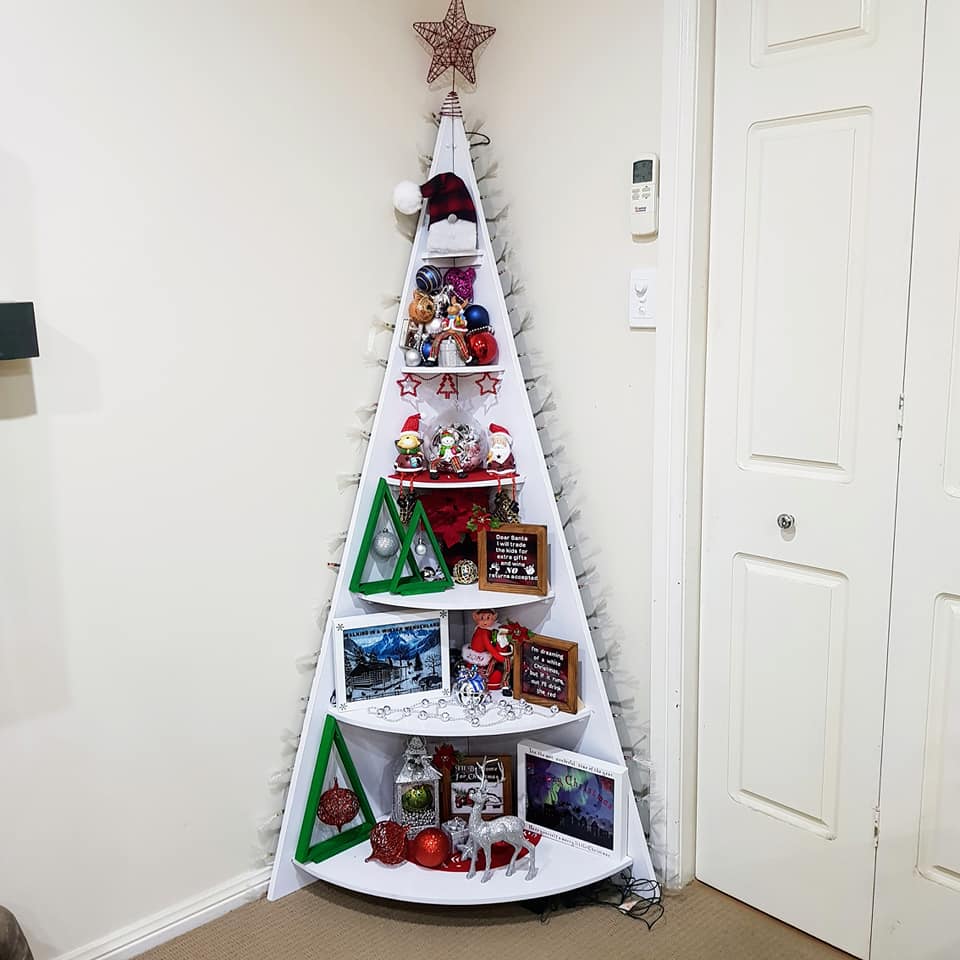 After Christmas, you can use the shelf for regular home decor.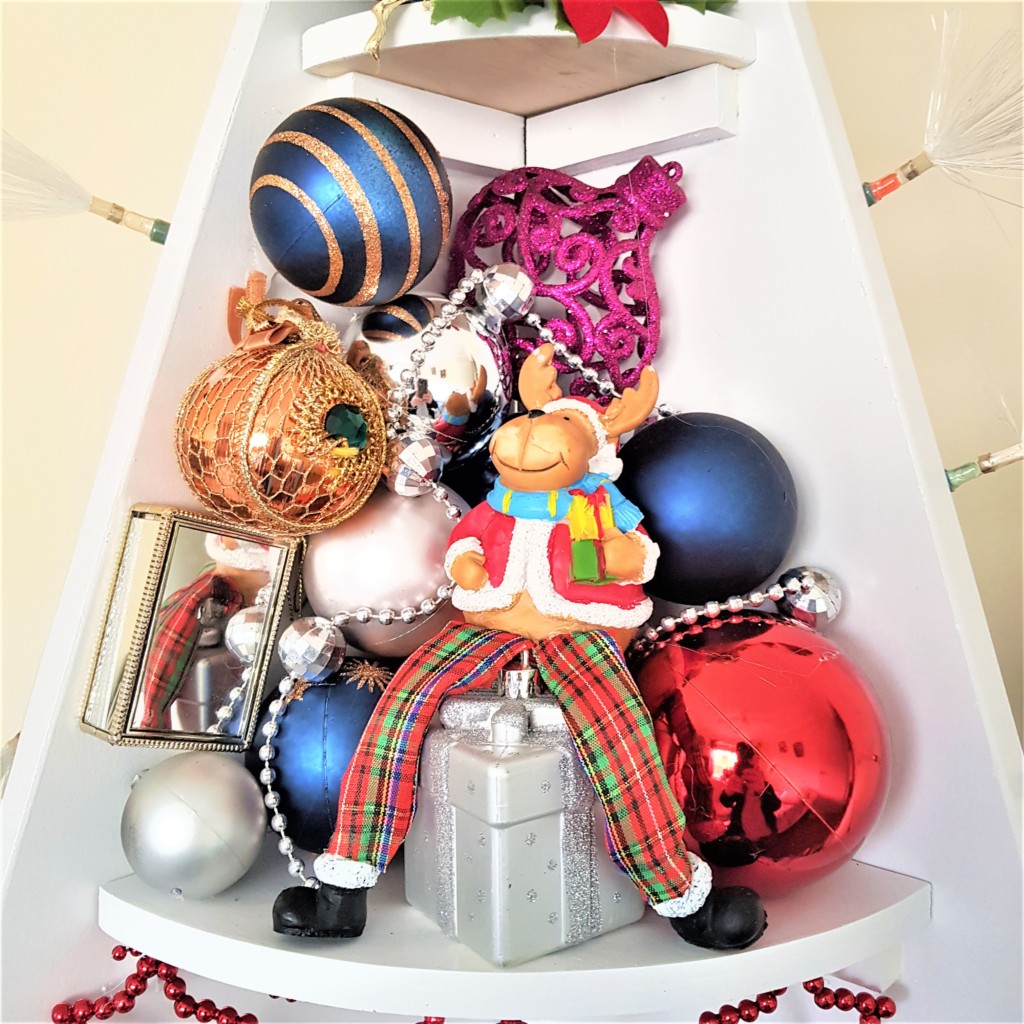 Looking for some new DIY Christmas ideas check out the stunning baubles made using unicorn spit or these stunning baubles made using unicorn spit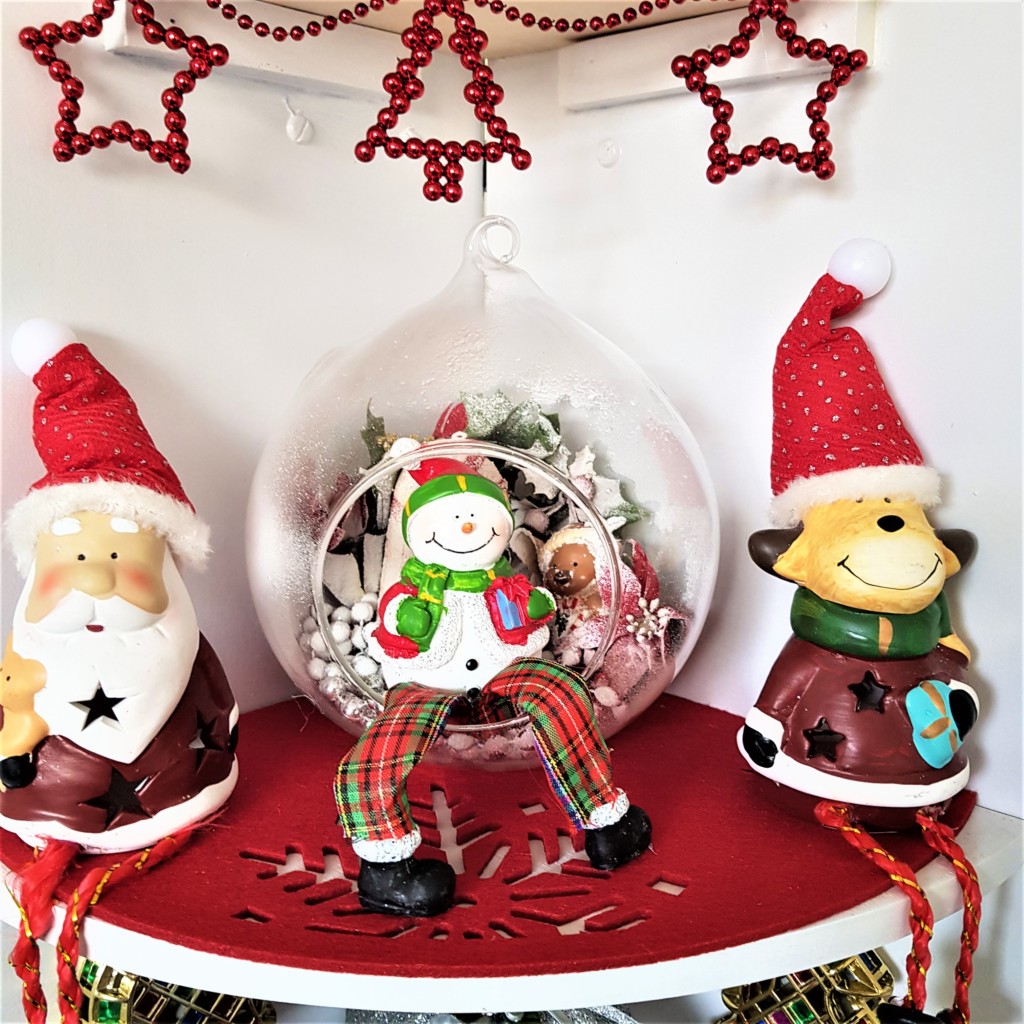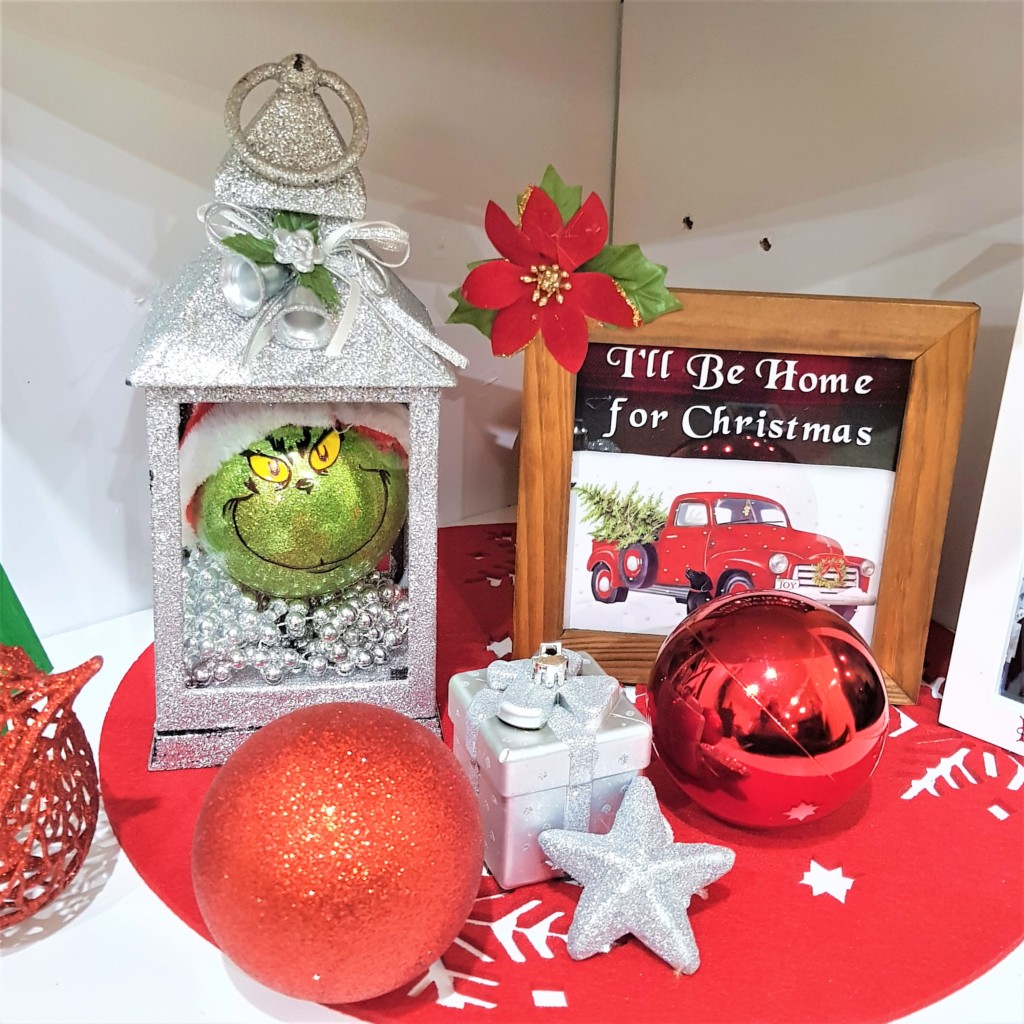 I made a couple of Christmas themed shadow boxes to go onto my shelves.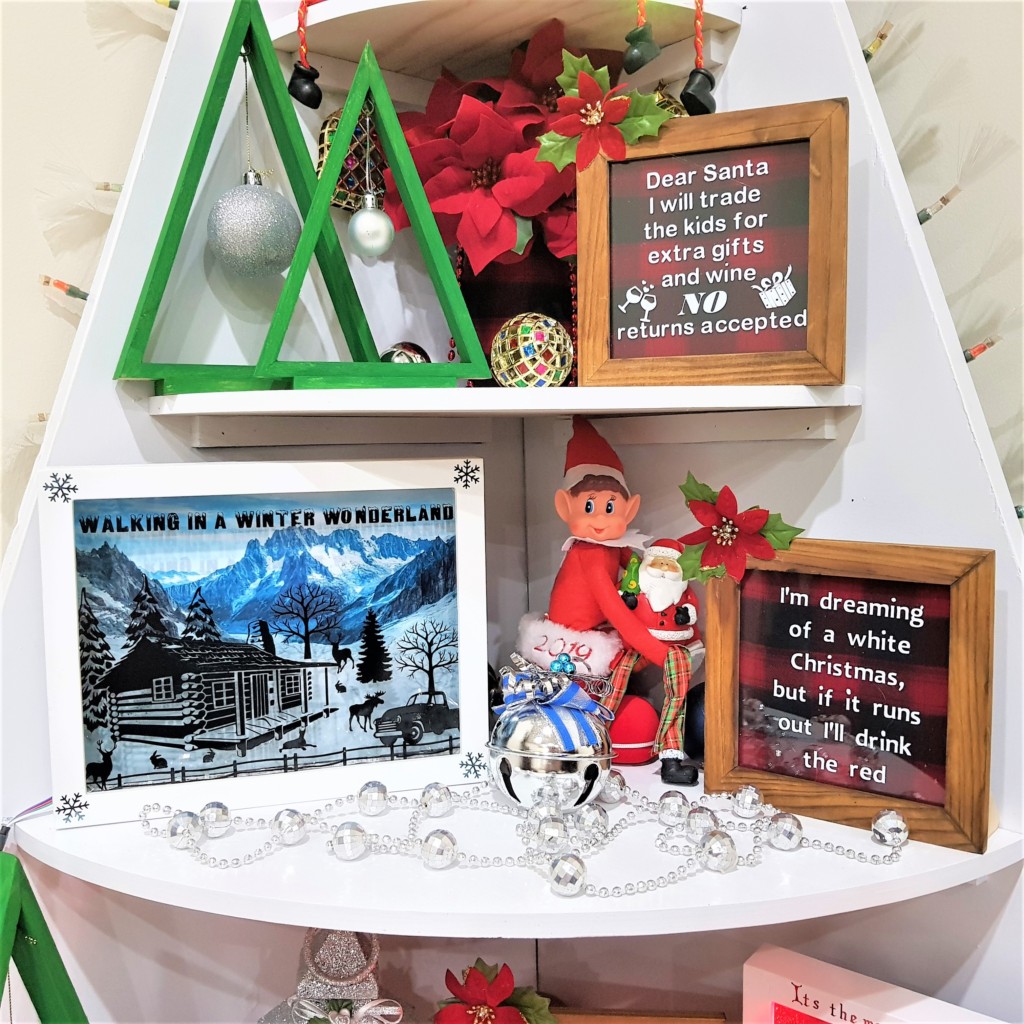 If you want to make the framed Christmas signs the tutorial is HERE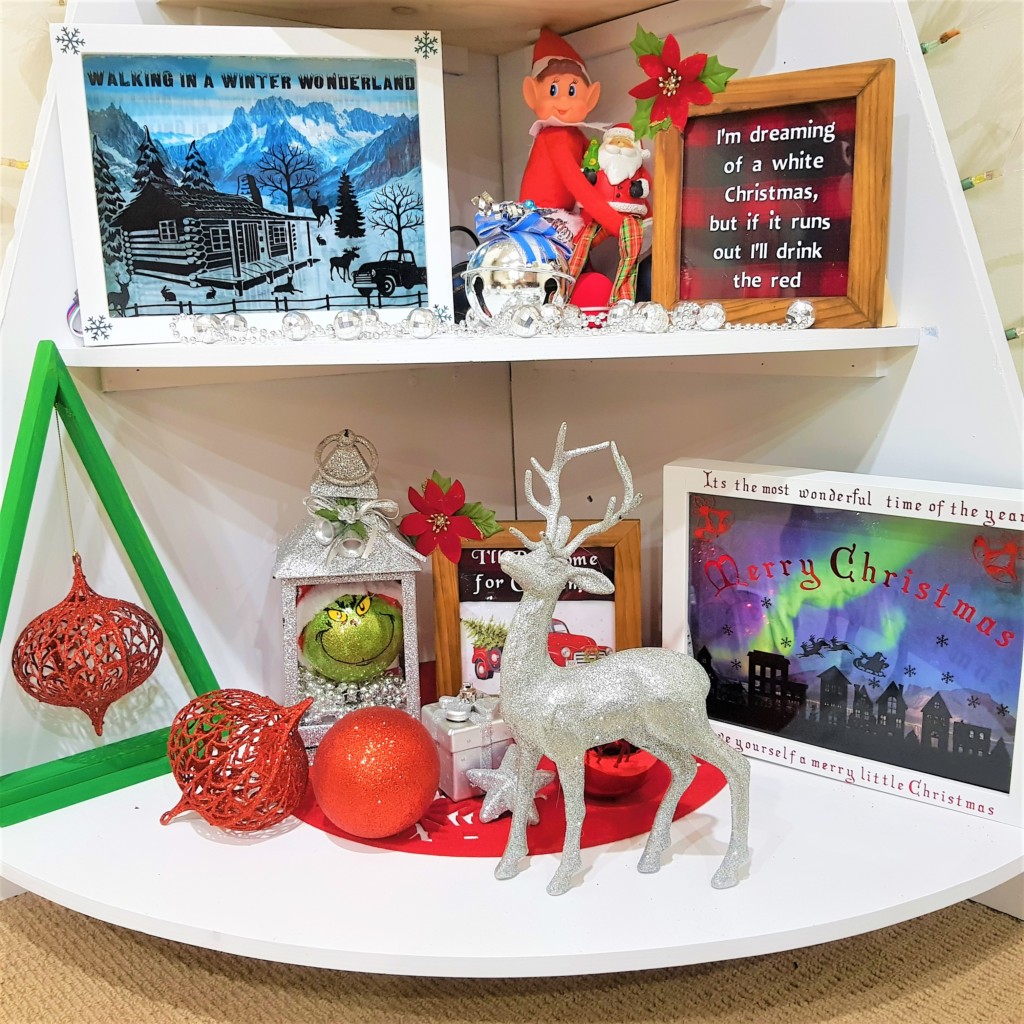 Please join me by clicking the links below to see what ideas my talented friends came up with for this Christmas theme.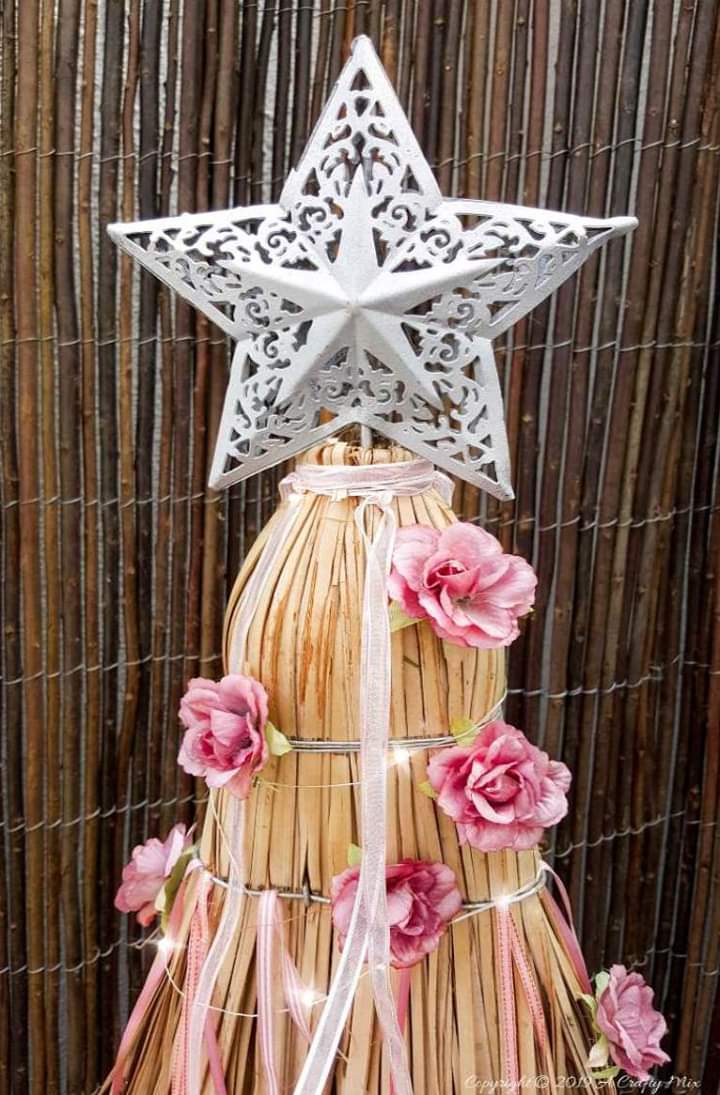 dollar-store-christmas-wood-stars / The interior Frugalista.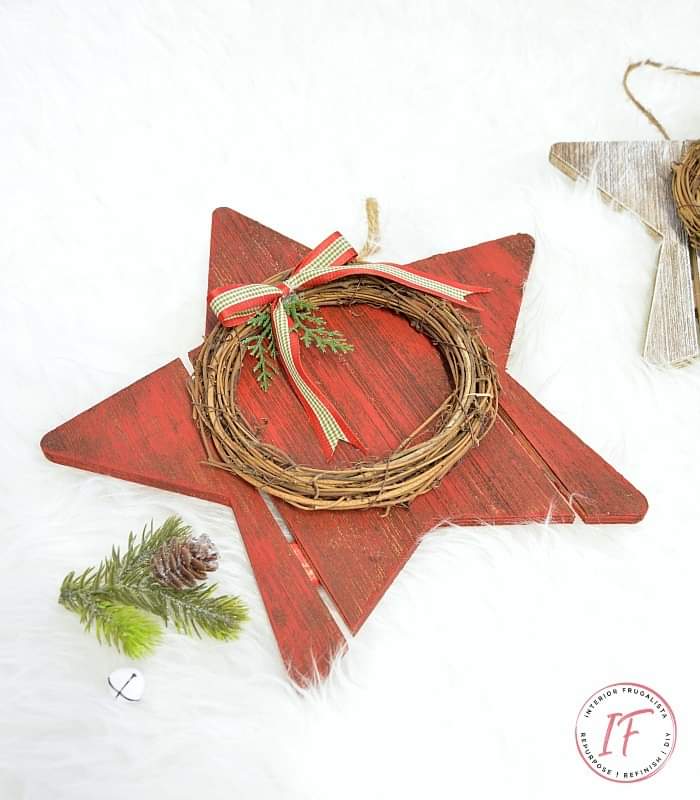 Embroidery-hoop-advent-calendar/Northern Feeling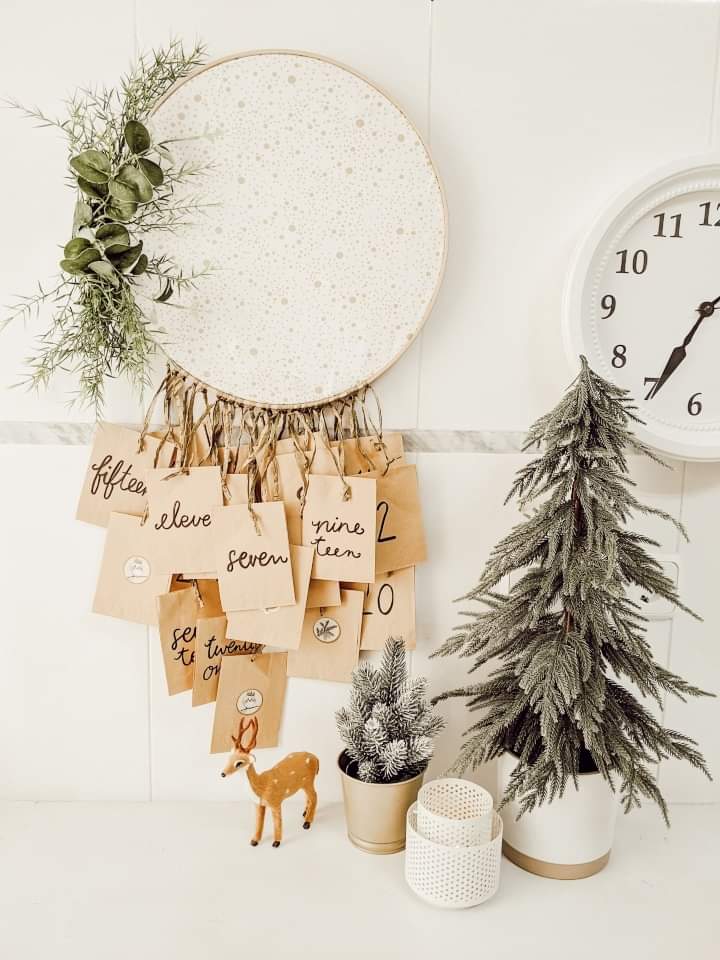 Easy-farmhouse-christmas-stocking-holder/ Raggedy Bits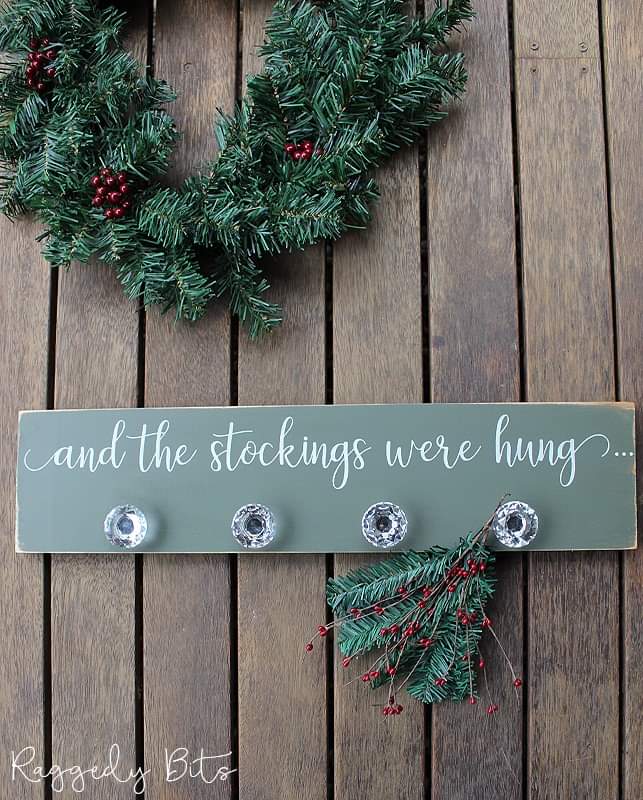 Please feel free to leave a comment and share this post. If you are in need of any of the products in this post please can you use my links to buy them at no extra cost to yourself?