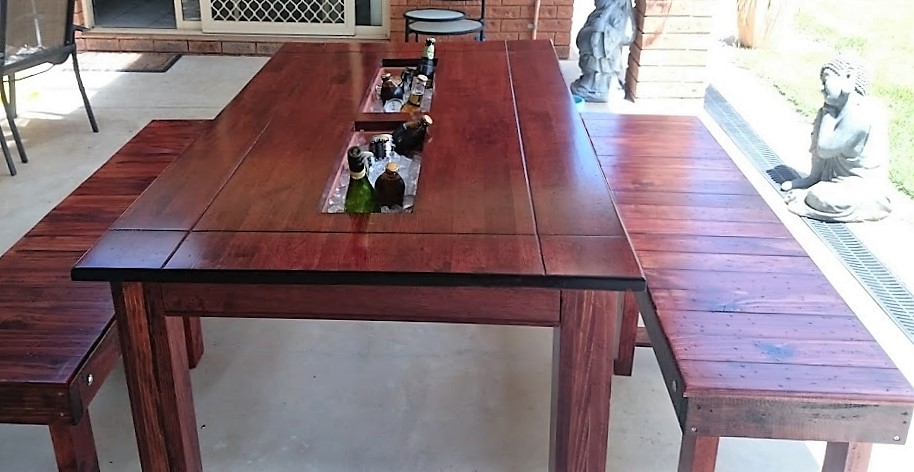 I always loved these trough party tables when I saw them on Pinterest. It was something I really wanted to try and make for my entertainment area.
There are many versions of the trough table on the internet but I wanted to try and make mine out of recycled materials. I love the challenge of trying to make my projects look great even though they are made from recycled wood. Many people think because it is made from recycled materials it has to look cheap and I love to show that you can still make good quality furniture.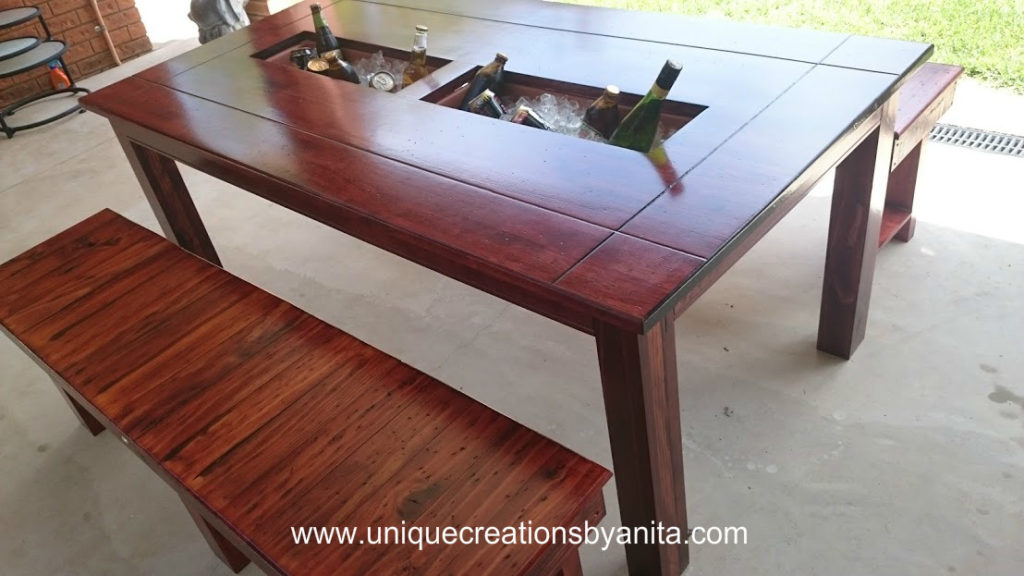 How to make a trough table
**This post may contain affiliate links. Which means I earn a small commission on links used at no extra cost to you. Please see my disclosure policy for more information.**
Find a suitable table for your trough table
All you need is an old table with a top of at least 20 mm thick.  I was offered this old table for free as long as I could collect it. There was a lot of damage on the top which I had no way of fixing. Instead of trying to fix the damage,  I decided to distress the top even further to disguise the damage.  I like to use a few methods to distress my projects. For this project, I used an old drill chuck with the tip cut off. You can now randomly hit the tabletop with the chuck.  It gives you a nice pattern which doe not look like damage.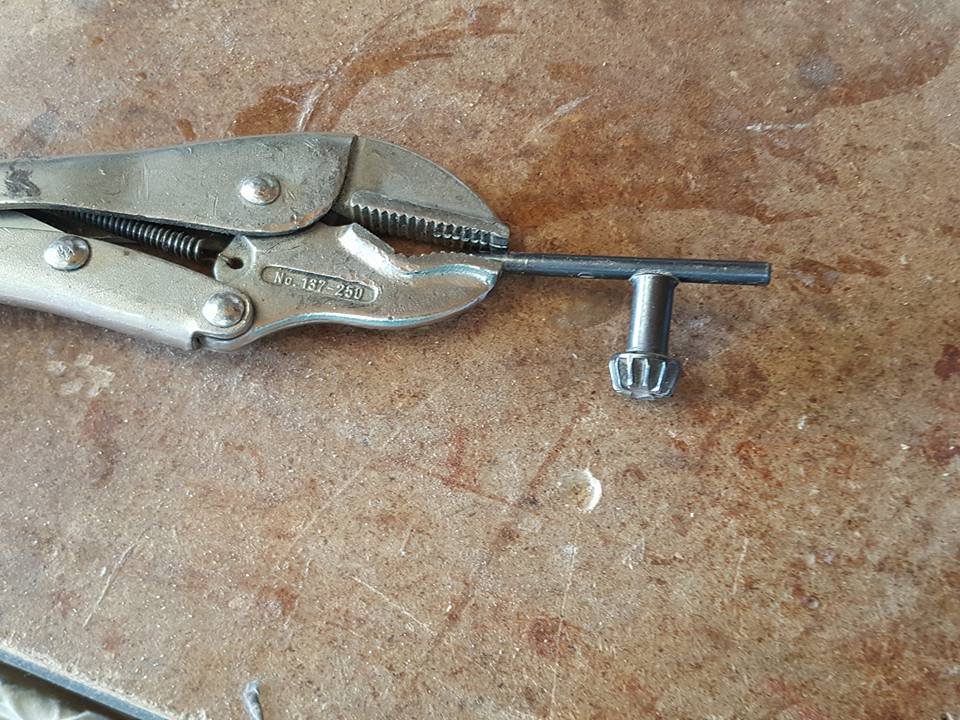 Once you have finished distressing the table you will be left with some raised surfaces.  To smooth them out you can use an orbital sander to level the surface. You can get creative and add some detail to the top to give it more character. For this table, I added some straight grooves into the surface.  This is very simple to do using a router and a straight piece of wood.  I have used this method to add a greek key design into one of my wine barrel tables.  You can clamp the wood down onto the surface and use the straight surface as a guide for the router. For this table, I used a grooving bit in the router.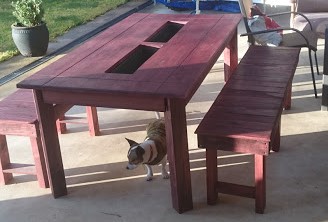 I did have some issues with my camera and lost all my step by step photos, but because this table was so popular I was asked to make a new step by step tutorial.  The legs on the original table were very flimsy and it looked like the family dog had been chewing on them.  To make the legs I glued 2 lengths of timber together to make them chunky, bigger is always better when you are going for a quality look.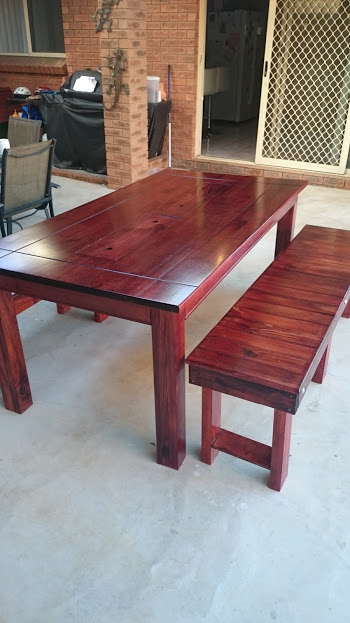 Cutting Holes in the surface
To cut the holes in the tabletop for the planters I drill pilot holes first and then used a jigsaw to cut the holes, which would become my ice troughs. I used plastic planters
 which I had seen used on other sites. But felt they ruined the look of my table in the end. I have since had a trough made for the next one that I make to give it a more professional look.  The trough had a plastic lip at the top which was how they were attached to the underneath of the table and secured with wood supports.
Add drainage
Once your party is over and the ice has melted you will need some way to drain the water.  I went with a simple method of drilling a hole in the bass of the planter using a hole saw.  To seal the hole when in use you can use a rubber bung
.  When you want to drain the water you can put a bucket under the hole and pull out the plug.
Once my table was sanded down I stained the wood using cedar stain and added 2 coats of outdoor varnish
. I added some holes in the lids that cover the holes to make it easier to lift them off.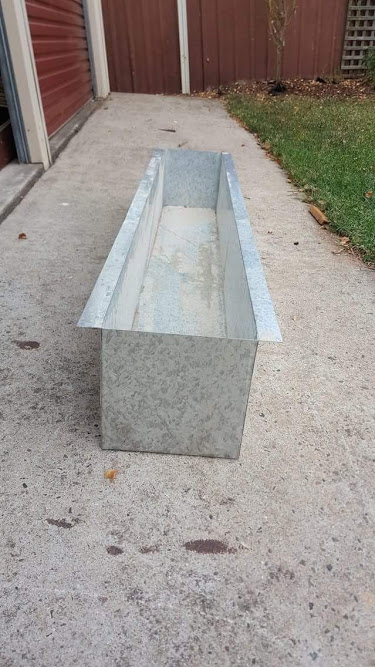 Making the benches
I went for a simple design for the benches which I made up as I went along. You can make the frame, added some legs and cross slates.  The full tutorial for the benches.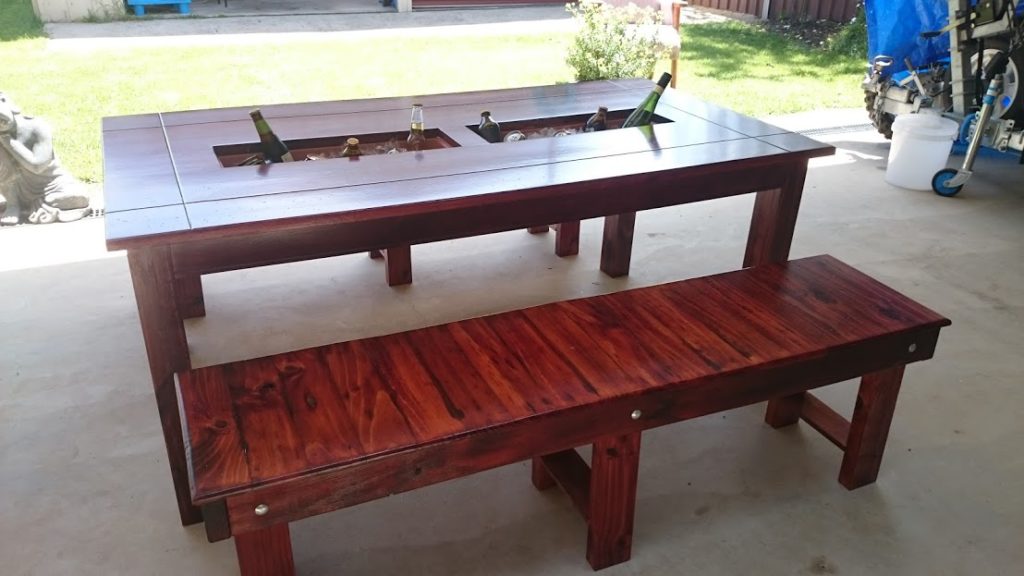 Staining and sealing the table
I sanded all the surfaces to take all the rough edges that distressing it caused, stained it using cedar stain and gave it 2 coats of varnish. This table is a great addition to any outdoor living space, all you need is the friends and the alcohol and you are set. And what a great picnic table. Looking to keep the kids entertained while you are entertaining, check out the super cool sandpit desk any kids would love.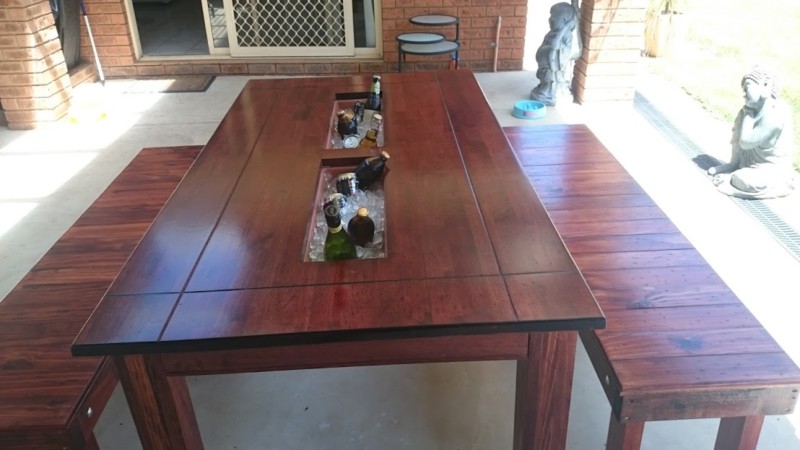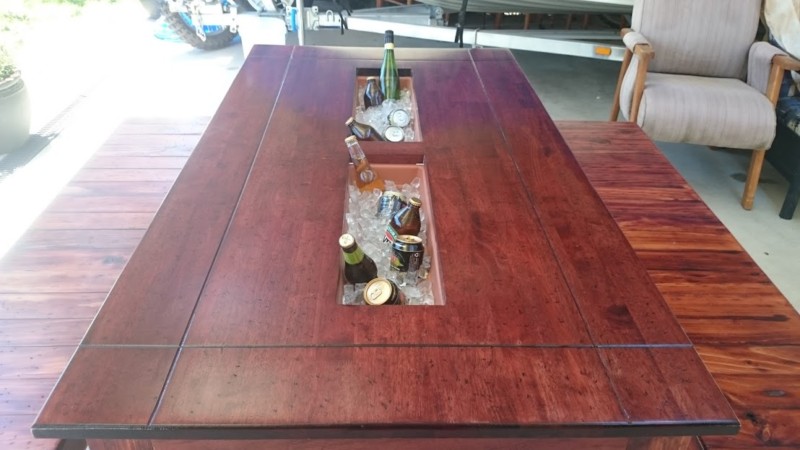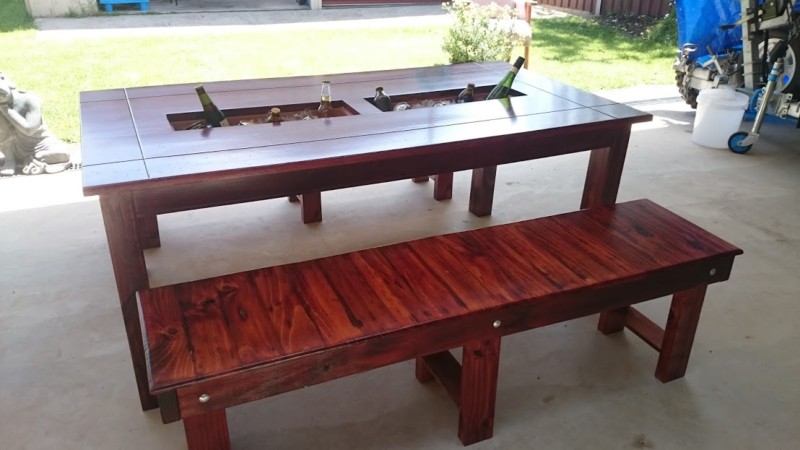 My Amazon picks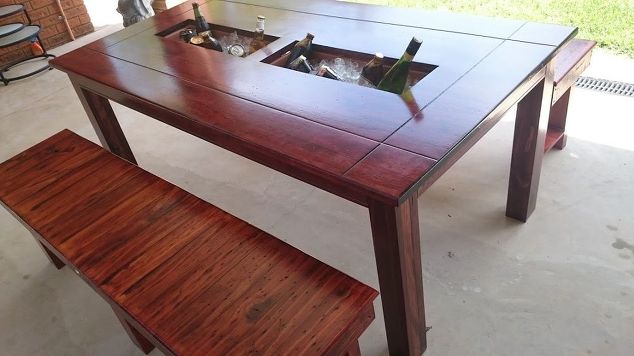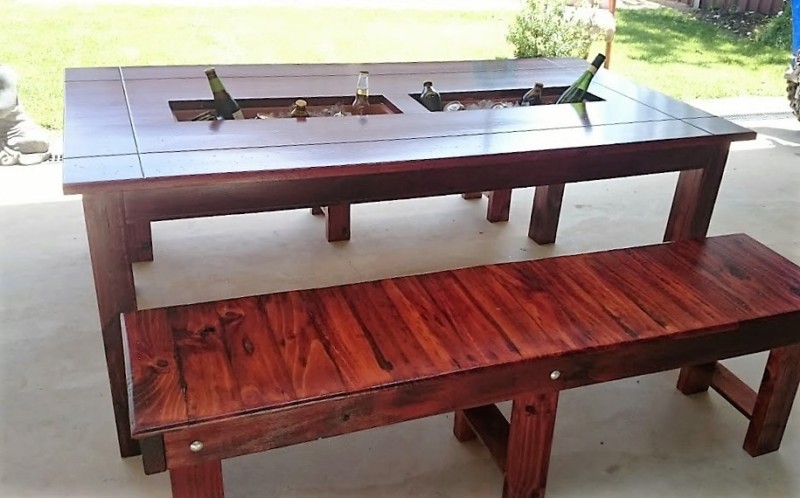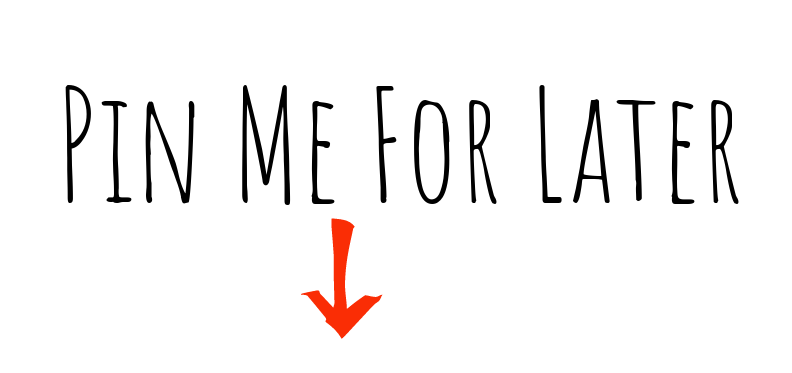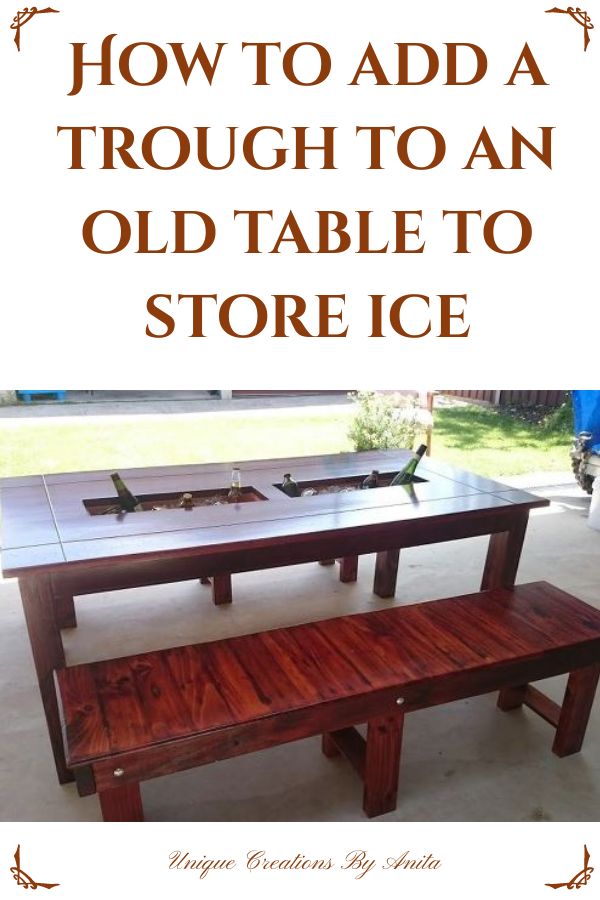 If you are looking for any of the items used in this project, please consider using our links. By clicking on the links we will earn a small commission at no extra cost to you.  Which helps us come up with new and exciting ideas to share with you.