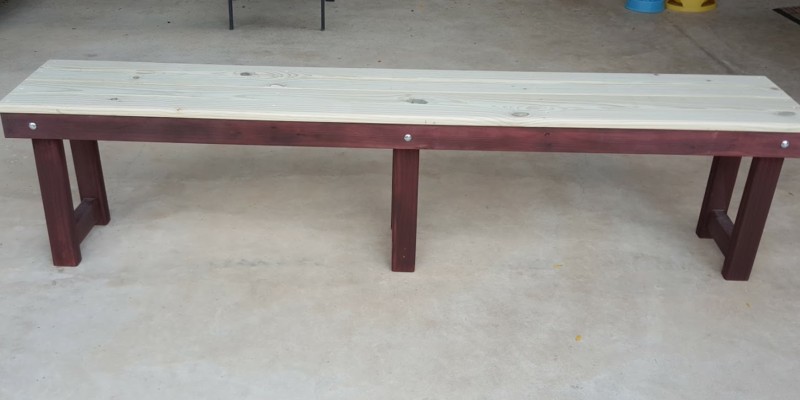 I recently repurposed an old table into a party trough table but it came with no chairs.  To make the table more appealing to a buyer I knew I would have to sell the table with some sort of seating.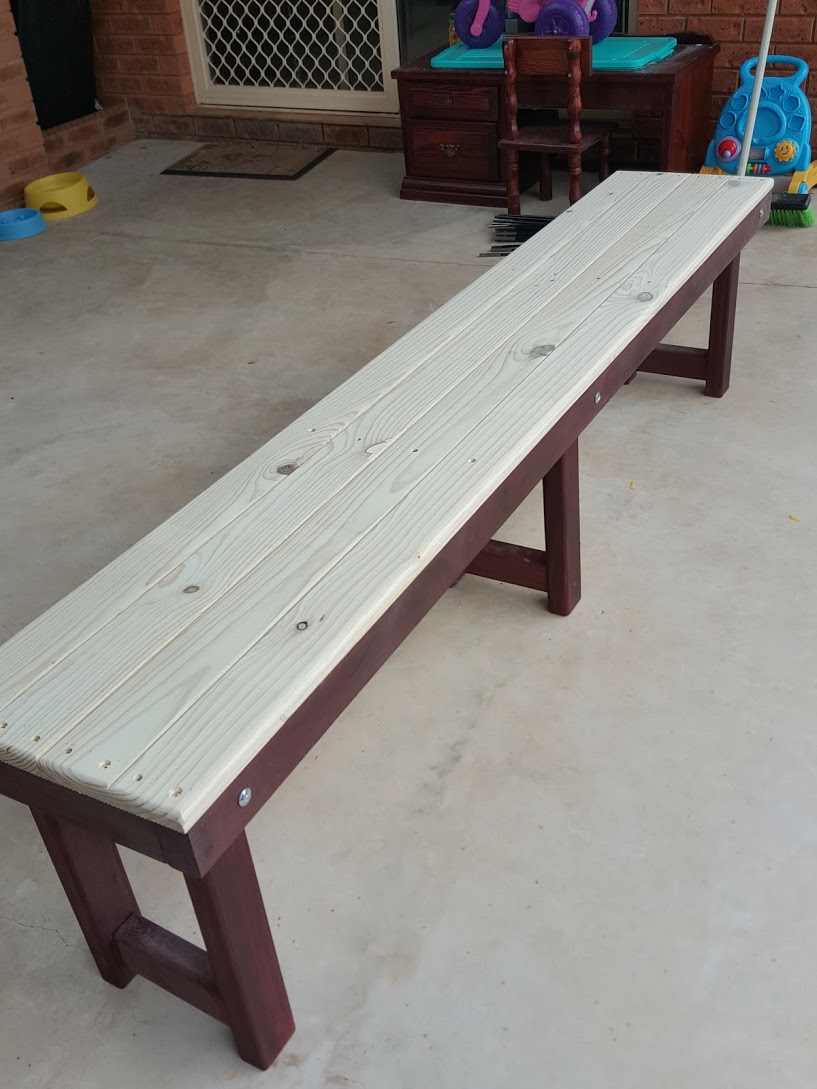 I am no professional at woodworking, just a self-taught DIY junkie who can not follow a tutorial. All my projects are made up as I go along, so I thought I would do my own tutorial.  I wanted to try and keep the bench as simple as possible but also sturdy enough to last.
How to build a simple bench
**This post may contain affiliate links. Which means I earn a small commission on links used at no extra cost to you. Please see my disclosure policy for more information.**
Find your wood
This project was made from all recycled wood that I found on a construction site.  This is the reason why my wood is not all matching, but it adds to the charm. Nearly every project on my website has been built using recycled materials, you can save yourself a fortune doing it this way.  If building from recycled materials does interest you, here is a post that will show you how I find all my materials for FREE.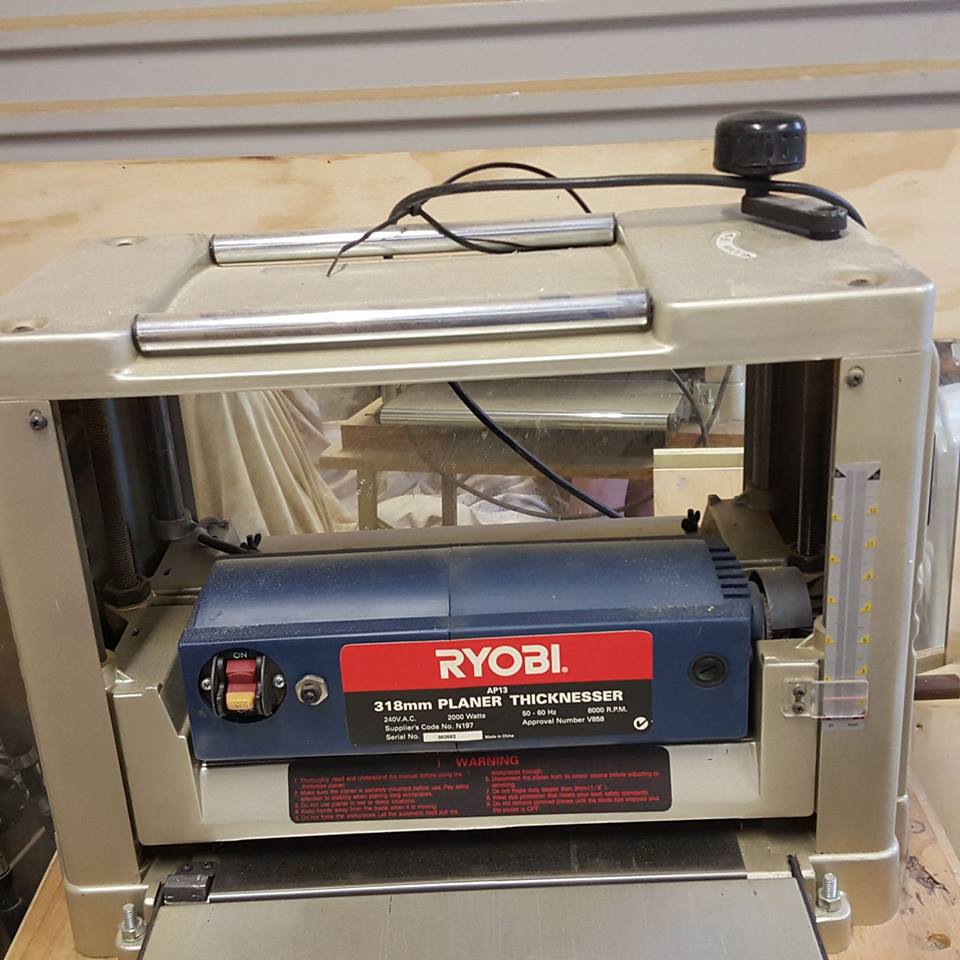 To clean up my wood and get it all the same thickness, I passed it through a thickness planer. I prefer to sand the wood before I build the bench because it is quicker than trying to sand all the small pieces later.  You can use an orbital sander
with 180 grit sanding disc
to smooth out the surface.  You don't want any splinters in the back of your legs or butt. 
Cutting your wood
I cut all my wood to size using a table saw, but a jigsaw will work just fine. The table I wanted these benches for was 2 metres long, so you may need to adjust your sizes according to your needs. I used 2 x 4 wood for the base cut to the following sizes.
4 x 2 metres (Bench sides)

8 x 190 mm ( bench supports)

12 x 460 mm (Legs)

8 x 2000 mm x 90 mm x 20 mm ( Bench top)
 Once I had them all cut to size I used a wood router and a round-over router bit to remove all the edges for a nicer look. This is optional because it is only cosmetic.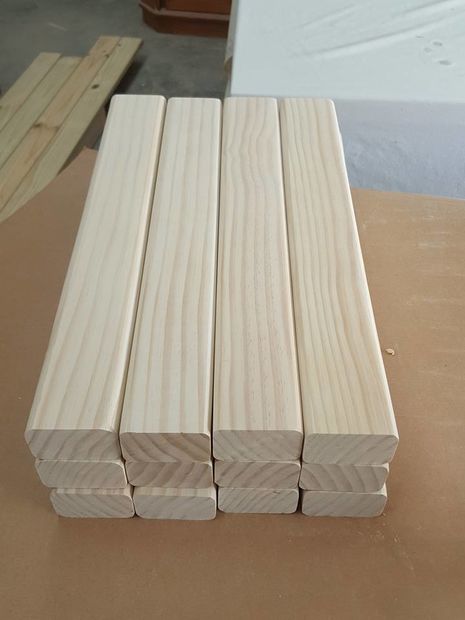 Build the bench frame
You put the bench together like the image below.  I pre-drilled all the holes and countersunk to screws so that the heads sat flush with the surface.  This is a good idea because if the screws are sticking out they can cause injury or snag on clothes.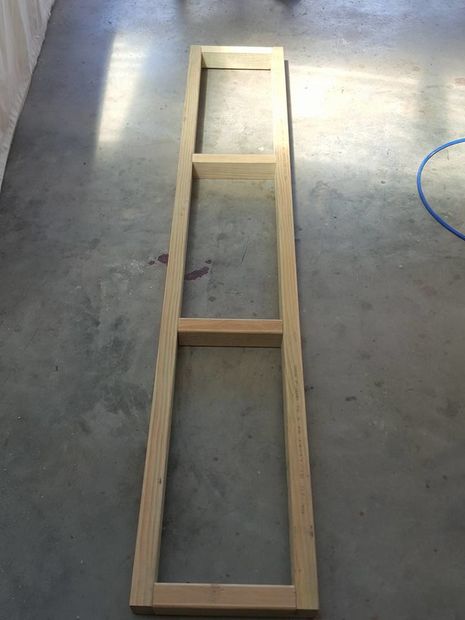 Assemble the bench
I did not have the right length bolts to do this job, and because it was a weekend the shops were shut.  But I really wanted to finish this project so I had to make do with what I had at home.  But this did mean I had to do some extra work which you can ignore if you have the correct size bolts.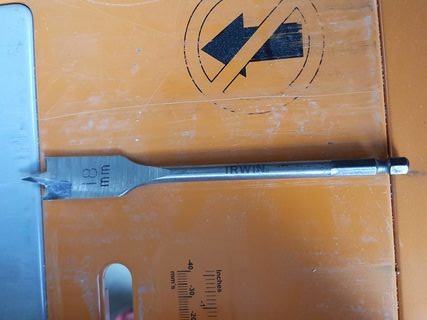 Using the spade bit I drilled halfway into the wood so my carriage bolt would go all the way through.  You can then drill a hole large enough for the carriage bolt to go through to the front.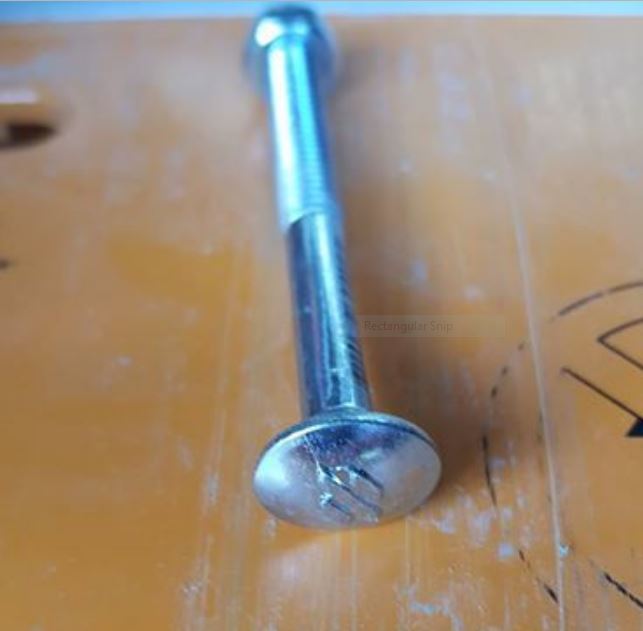 For some extra support, you can also add some wood glue between the legs and the base before you tighten the carriage bolts. Also, make sure the legs are straight by using a square ruler to line them up correctly before the bolts are tightened.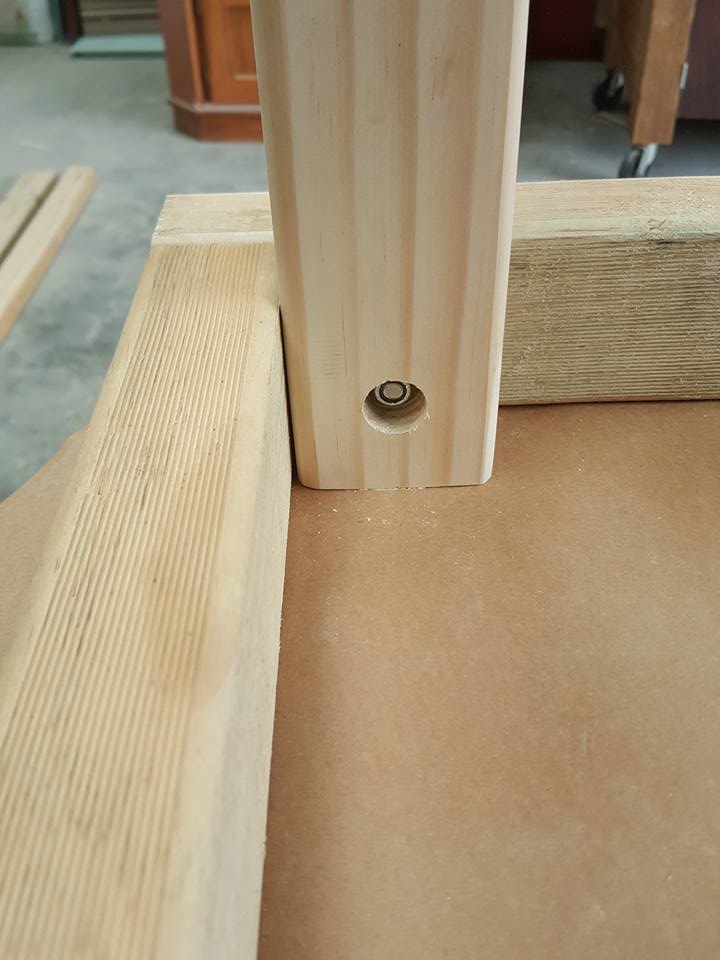 Adding the bench supports
I had to go back and add the leg support because the bench did not feel very sturdy when being dragged.  This is what happens when you make it up as you go along.  It is ideal to do this step before you stain the wood because I countersank the screws and filled the holes with wood filler.  This was only cosmetic so if you are happy to see the screws you don't need to do this.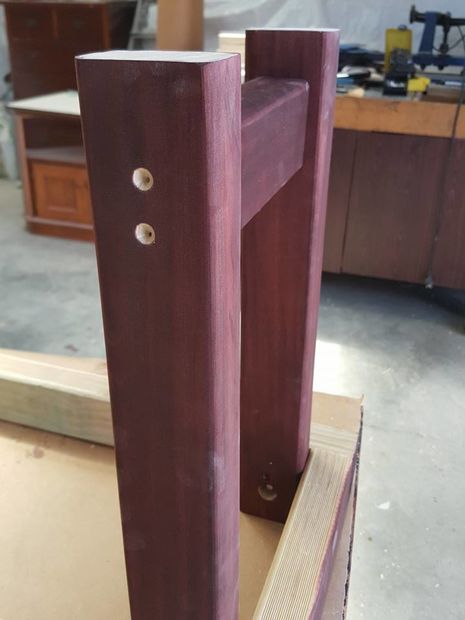 Stain the frame
I stained the legs of the bench at this stage because I thought it would be easier to get to all the wood.   Another reason was that I  did not want to risk getting the dark mahogany stain on the top section which I was going to paint to match the table.


Add the bench planks
Because I used recycled wood I did have to cut the broken sides and run the planks through the planer.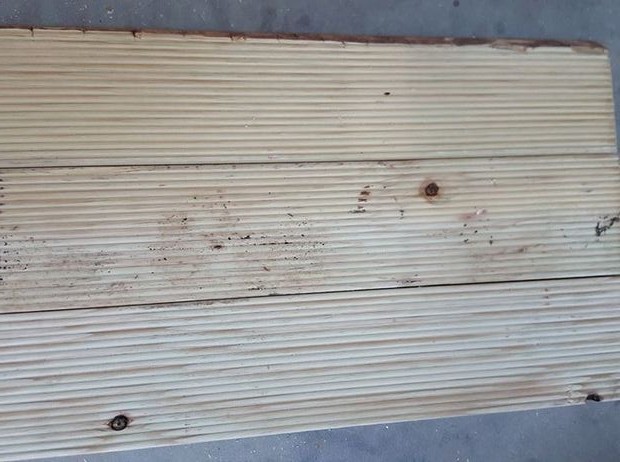 Line up your first plank with the edge and drill pilots holes and countersink them, 2 per plank.  I screwed them in place on both side and into both of the centre supports.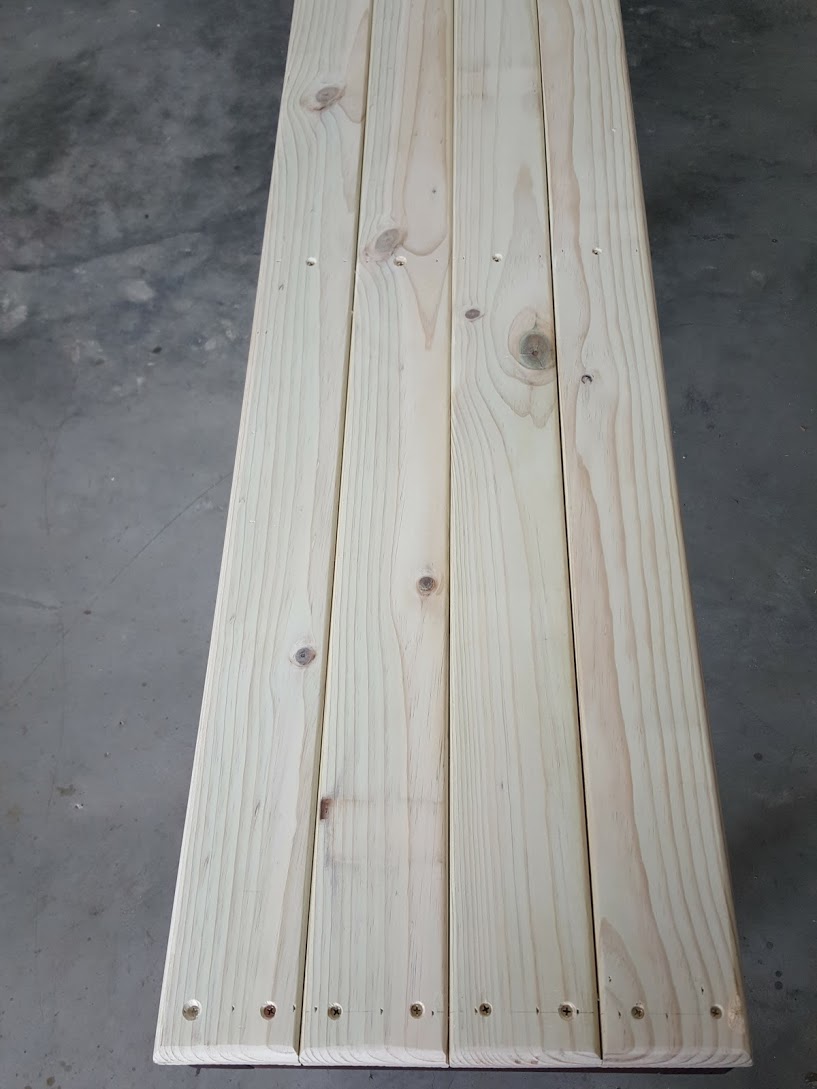 Once all my planks were added I did have a slight overhang which I cut off using a circular saw.  Or you could just measure them correctly in the first place. haha…  To finish off the look I used a wood router with a round-over bit to remove all the corners on the bench so it is more comfortable on the back of your legs.
You can now add 2 coats of outdoor oil-based polyurethane to seal and protect the wood. I found this was a simple bench to make hopefully you will too.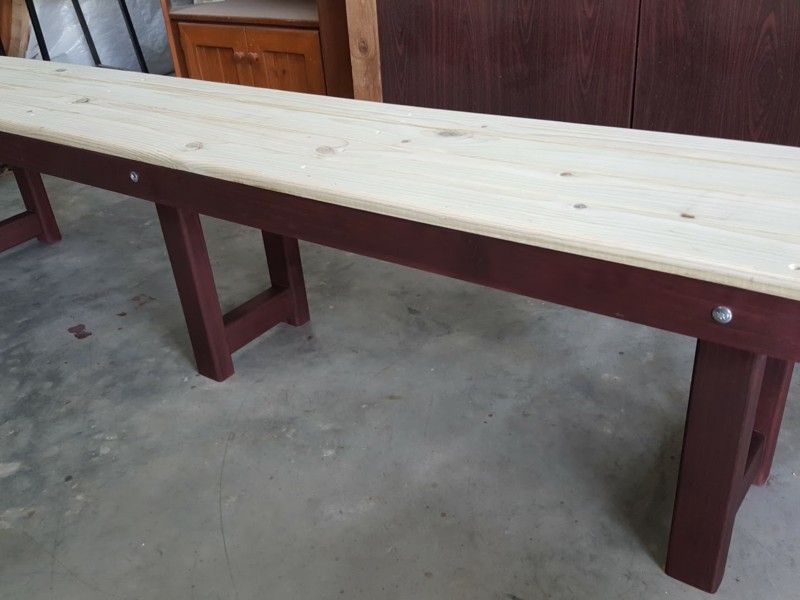 More great projects
This was the trough table I made to go with the benches.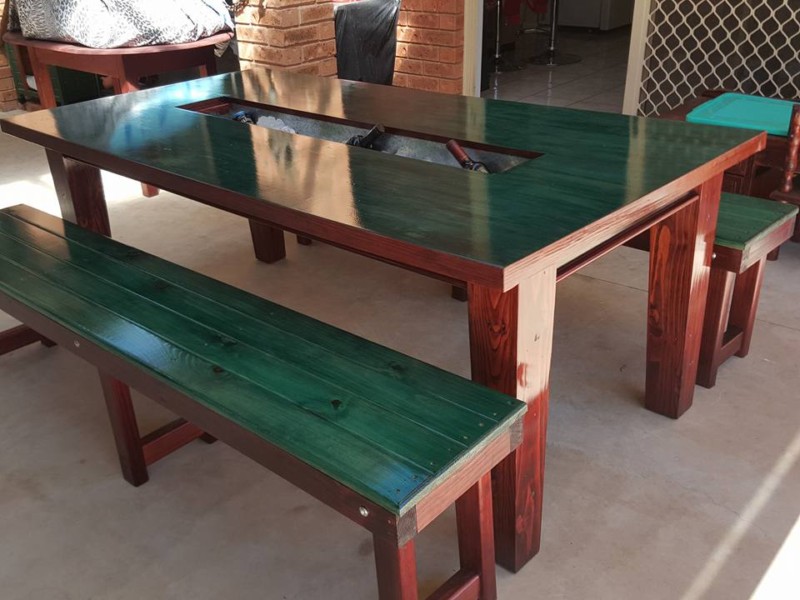 Another project you may like for your outdoor area is this cool patio cooler made from recycled materials.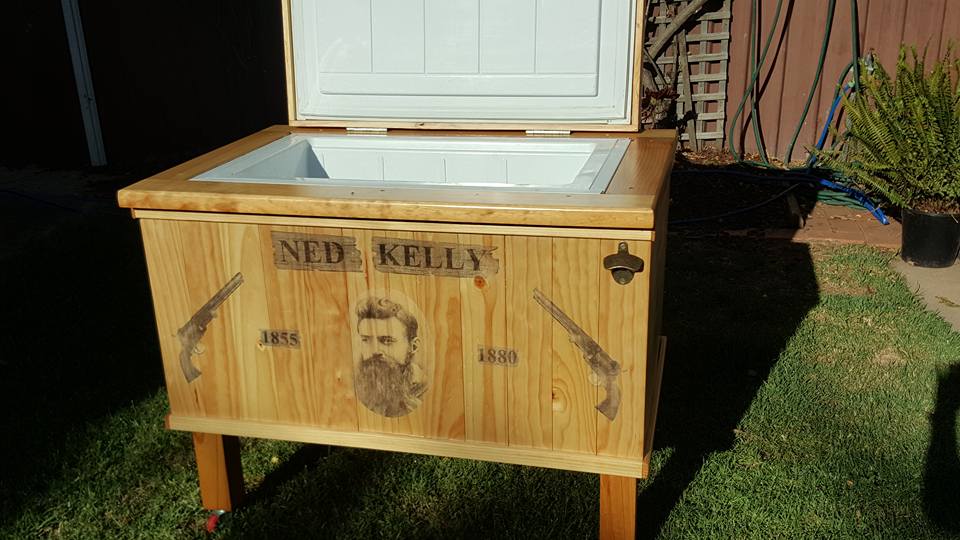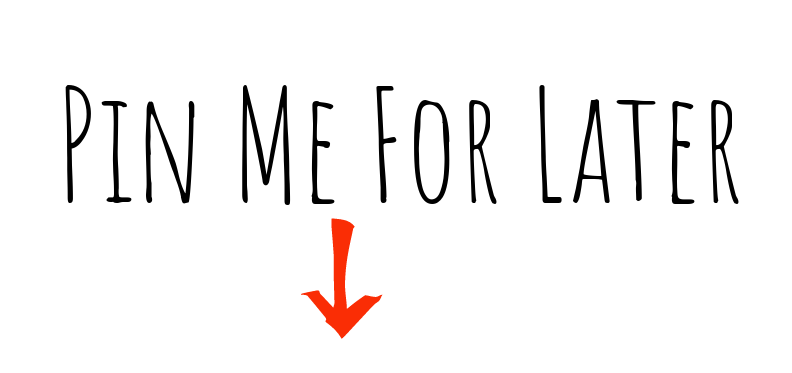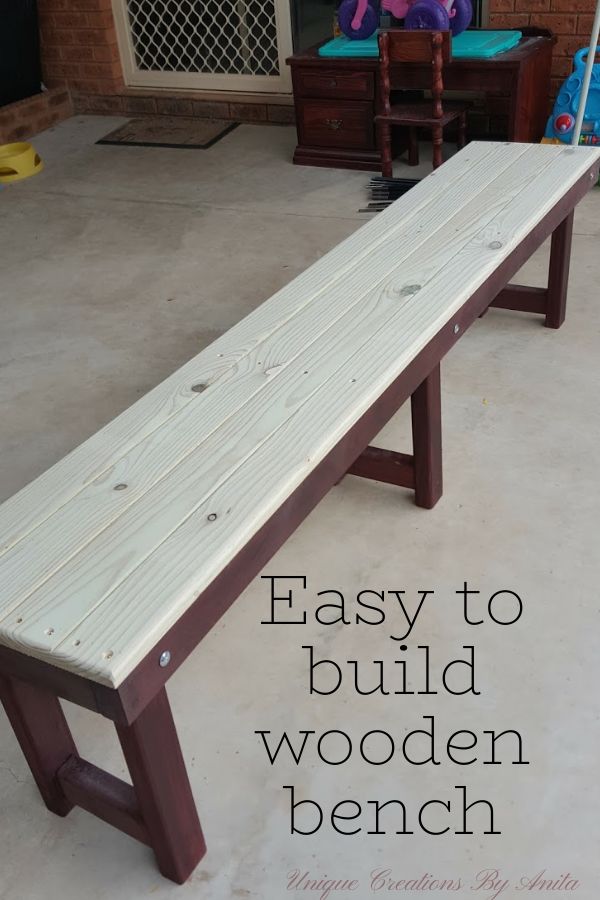 If you are looking for any of the items used in this project, please consider using our links. By clicking on the links we will earn a small commission at no extra cost to you.  Which helps us come up with new and exciting ideas to share with you.