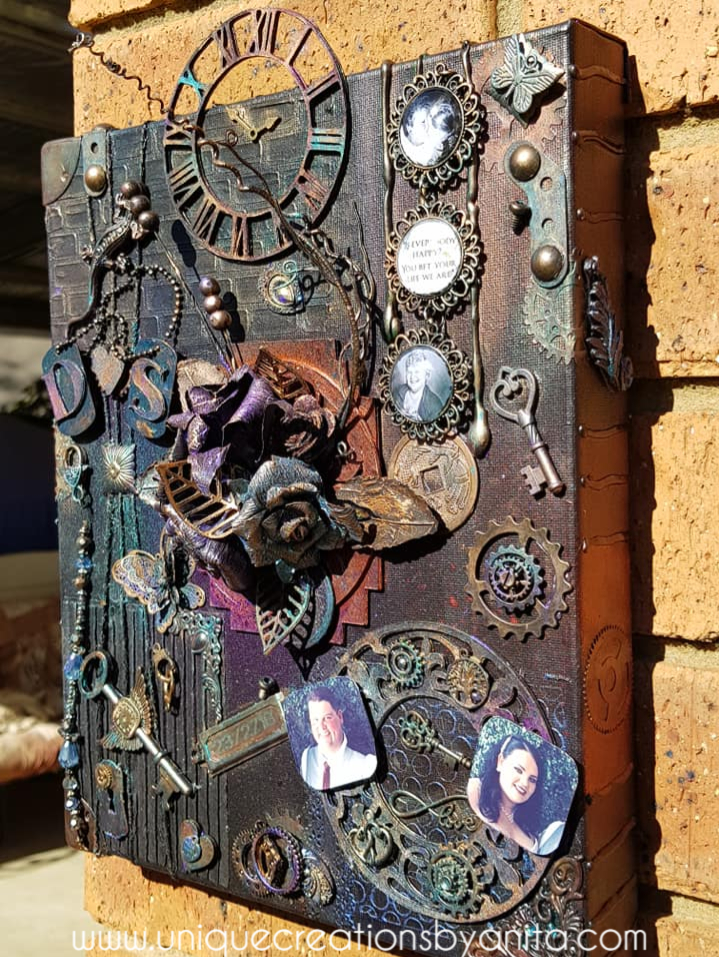 I am always on the lookout for new projects to keep my website fresh and interesting. Mixed media is going to be the new craft I teach myself. 
Browsing through Pinterest I came across mixed media canvases.  It was love at first sight.  I went on youtube and watched a few tutorials and decided to have a go.  To make it easier to get started I picked my daughter's recent wedding as a theme.  The idea was to use elements from for wedding and wedding day to decorate the canvas.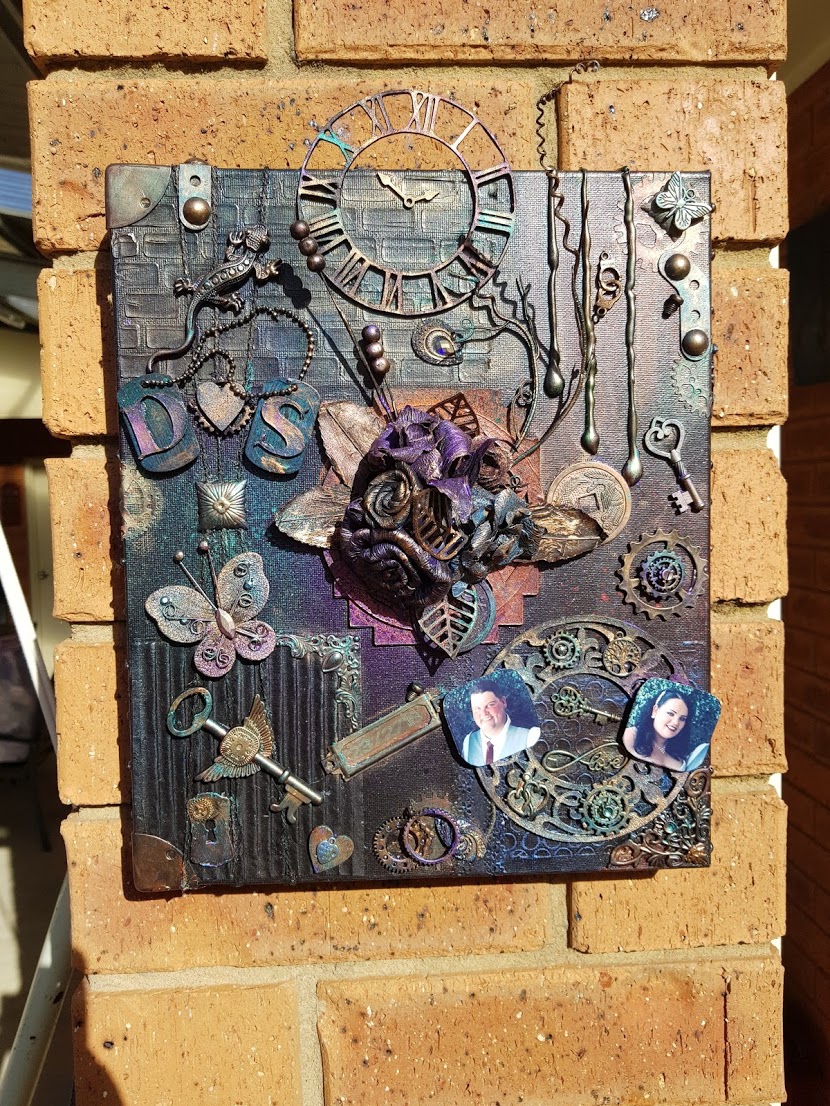 How to make a mixed media Canvas
**This post may contain affiliate links. Which means I earn a small commission on links used at no extra cost to you. Please see my disclosure policy for more information.**
Prime your canvas
To start I sealed the canvas with black gesso primer. You can use white or black depending on the look you are trying to achieve.   When doing a black canvas it is easier to hide the white now rather than later when all the embellishments are glued on. I added a thin layer and let it dry.  You can speed up the drying time by using a  heat gun or hairdryer.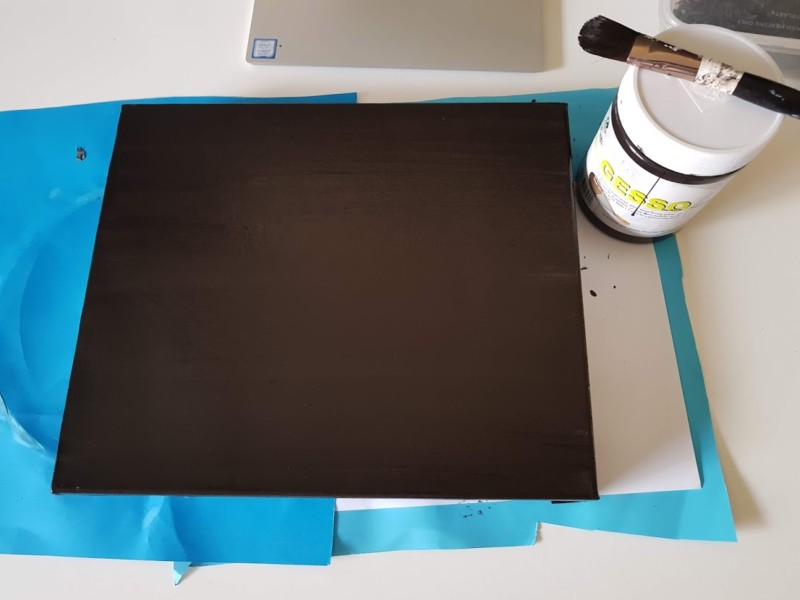 Add texture
If you have a Cricut or a Silhouette Cameo you can make your own stencils to add texture to the canvas, alternatively, you can buy stencils to use.  Using the texture paste and a spatula, place your stencil in the area you want and add a layer of texture paste. Remove the stencil straight away and make sure you wash it. This process does not need to look perfect, I think some imperfections look great and add to the look.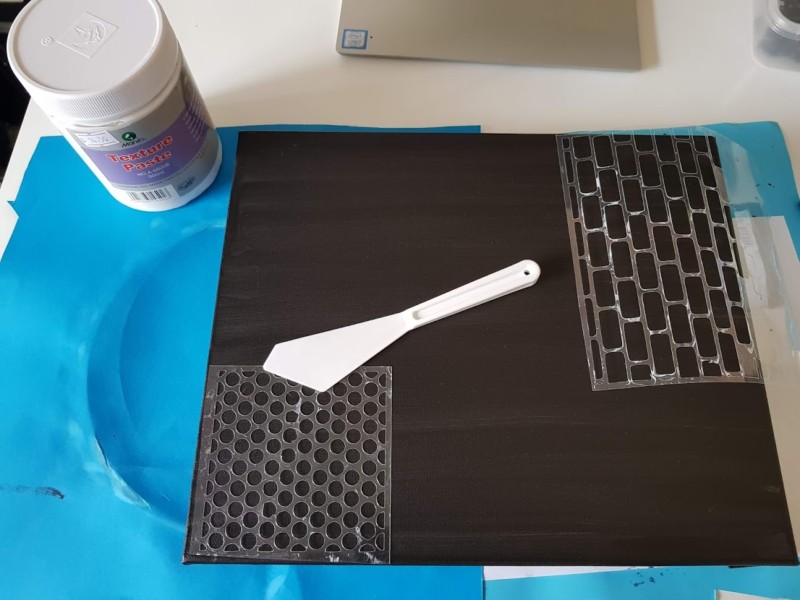 Finding your embellishments and charms
For my embellishments, I looked around my house and workshop for items to use.  I have a few bunches of artificial flowers around my house and they all sacrifice a flower to the cause. The steampunk charms were left over from the steampunk doorknobs I made an awhile back. And the charms were an impulse buy that was too small when they arrived.   Jewellery is another good option when you are looking for embellishments. I am sure we all have broken necklaces and old fashioned earrings and broaches we no longer use. A thrift store is a great place to go for jewellery.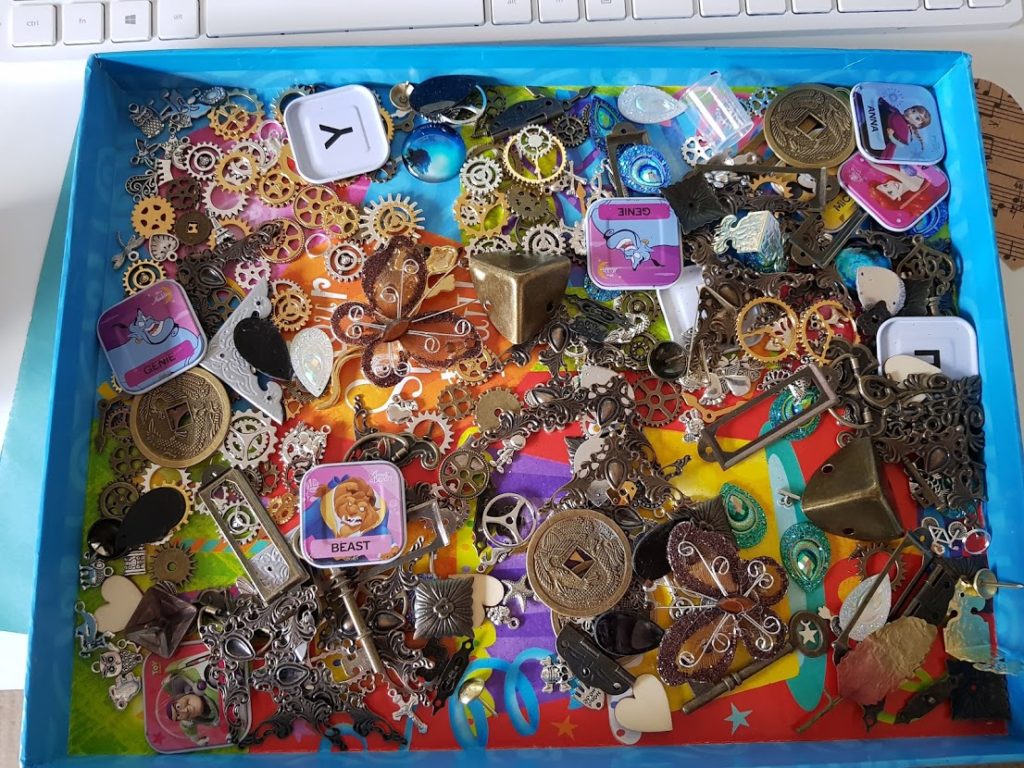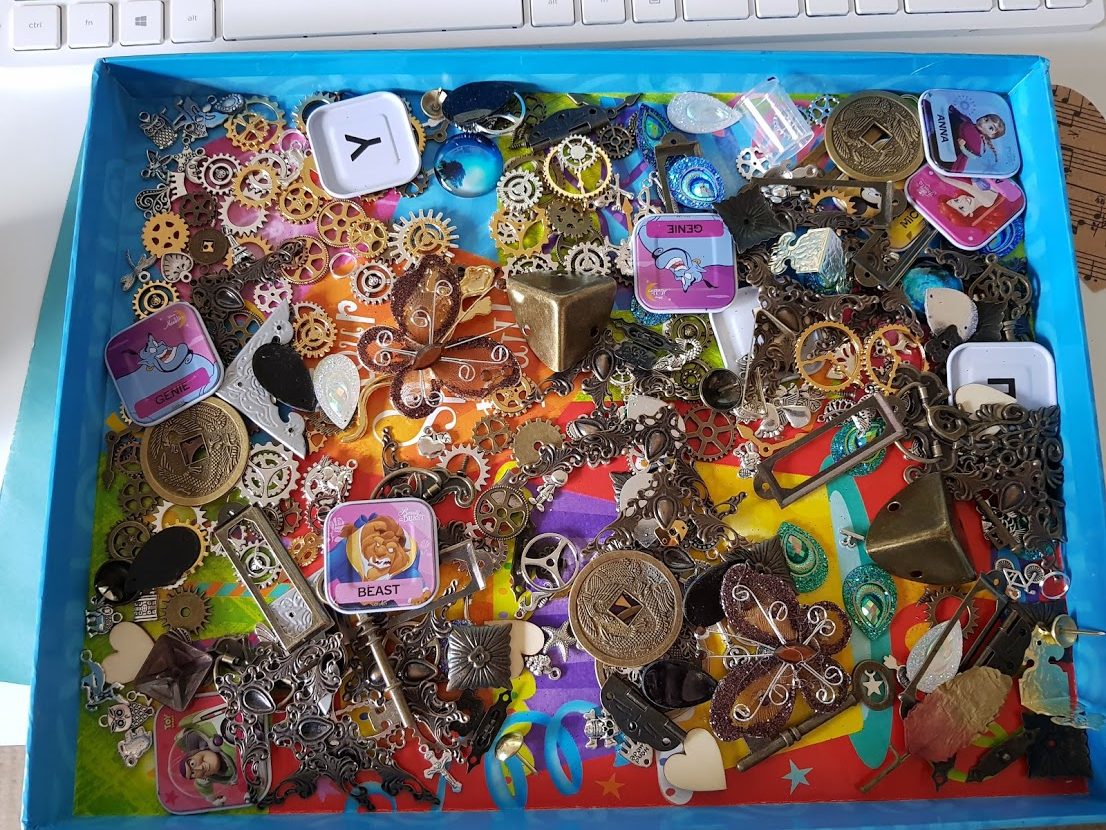 Add your embellishments
I wrapped thin sisal string around the canvas and glued a tack to hold it in place. My daughter had her wedding reception on a showboat in Sydney harbour so I added some water runs using a hot glue gun. Mixed media canvases are all about textures and layers, I used some corrugated cardboard which was the packing around a new dish I bought.  I wanted the centre to stand higher than the rest of the canvas so the eyes are drawn straight to the flowers.  To give the centre some height I found the shape that I wanted and cut the same shape 4 times on card stock and glued them together.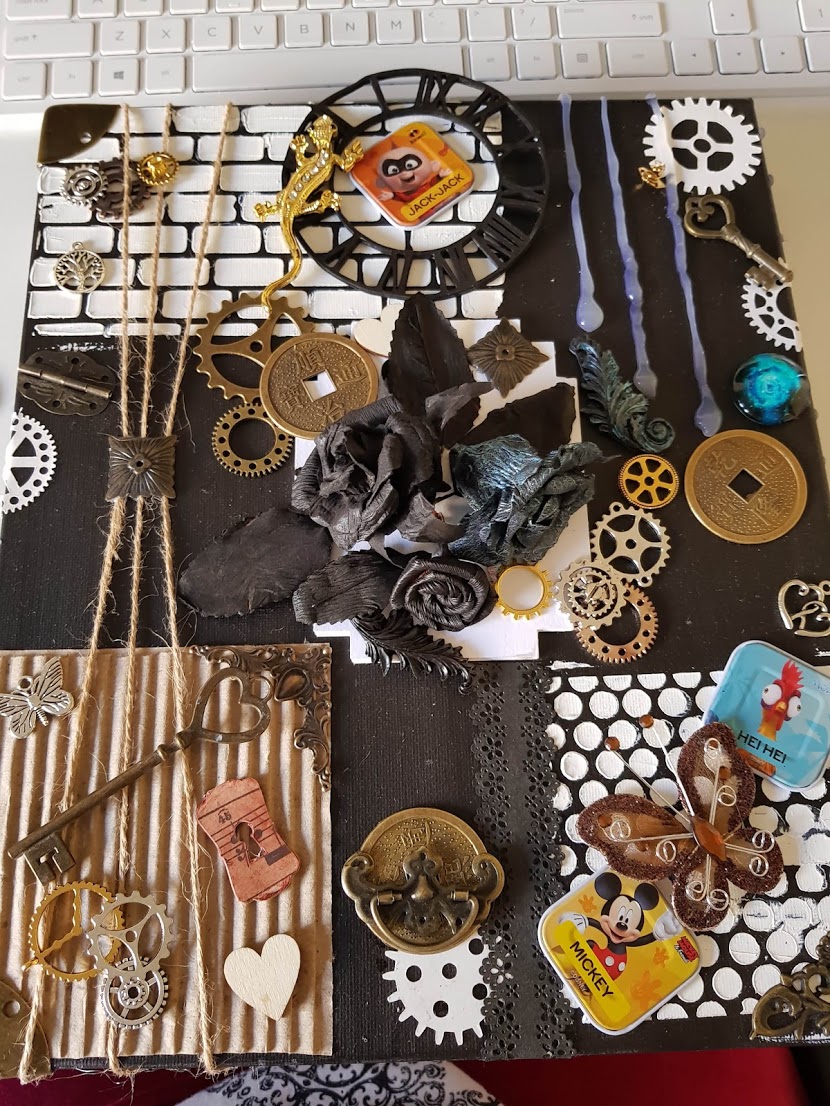 The same process was followed for all the large embellishments, keep adding layers until you have the thickness you want.  It is also a good idea to bend your card stock into shape while the glue is wet. (As the image below).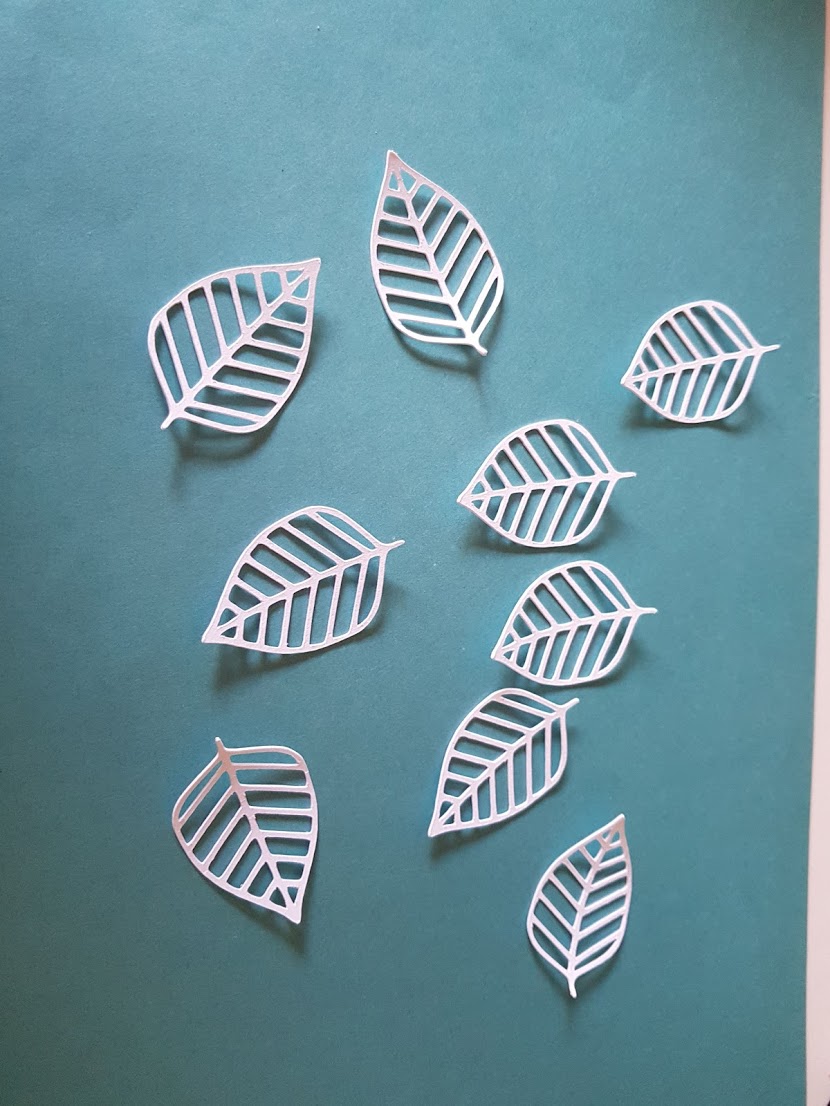 Paint your embellishments
Next, I painted all the elements black using the gesso, ready to glue in place. I did spray the flowers first before glueing them into place because of the odd shapes. If you want to add some sparkle to some of your embellishments you can spray them with shimmer spray. The more spray you add the more they shine, or that was the case with my homemade sprays.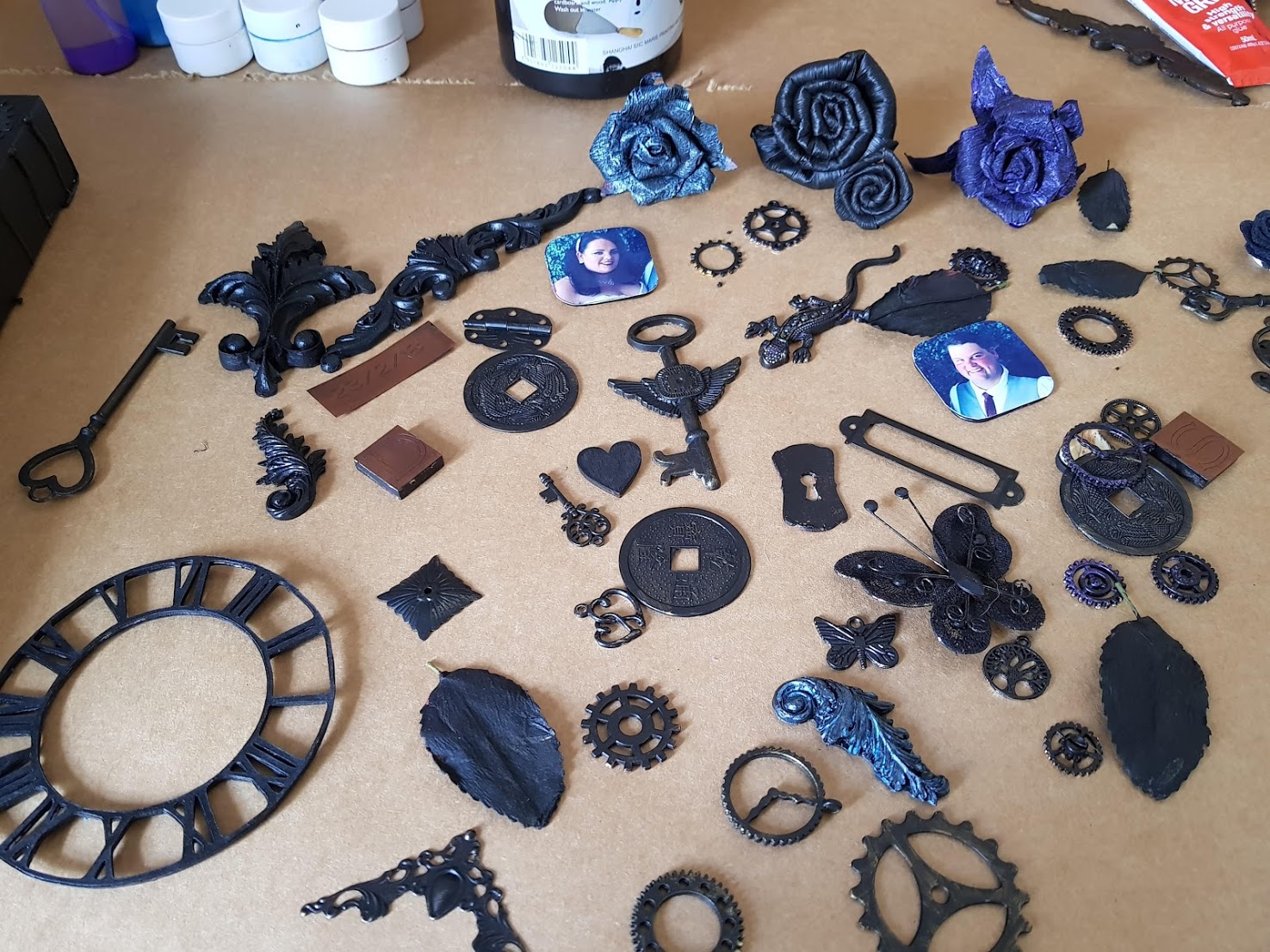 It is not a good idea to just glue
everything on straight away, I changed my design so many times it was ridiculous. Get everything in place and once you are happy, take a photo. You will need the photo as a guide to glueing
it all back together. You can glue on your embellishment using tacky for the smaller charms and hot glue for the heavier ones.  Next, paint everything with black gesso again.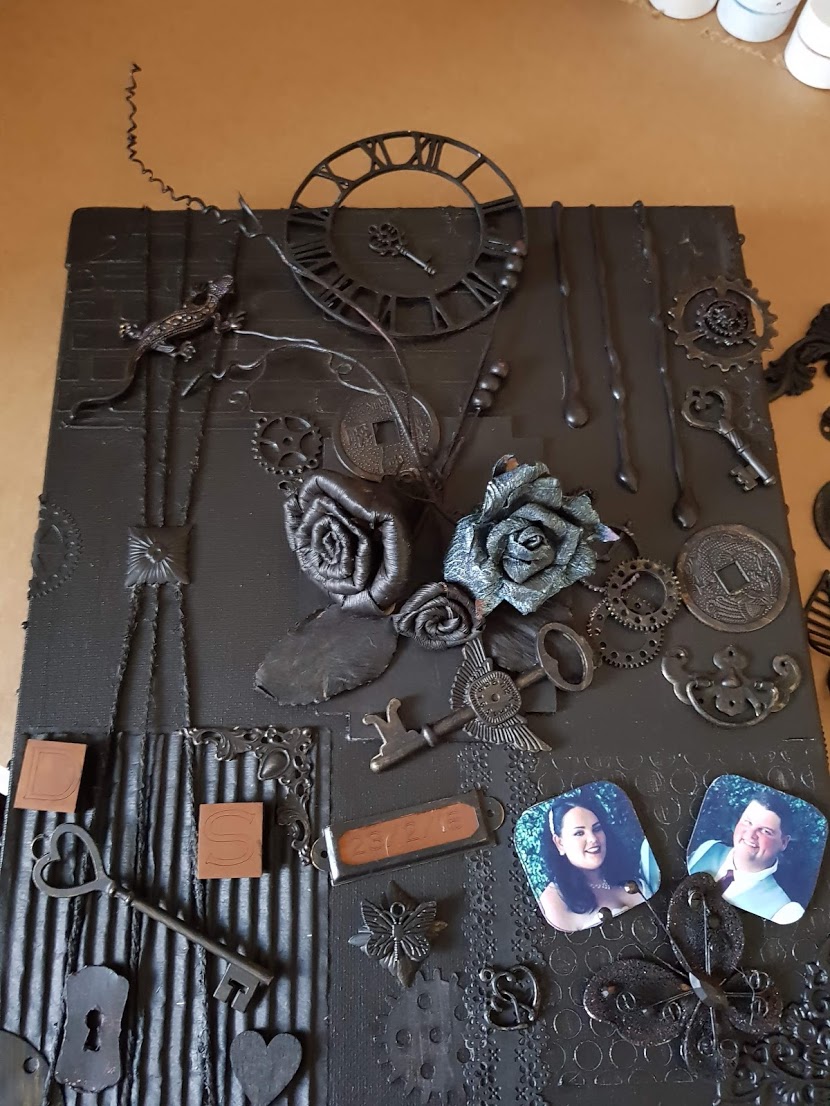 Adding the wax paste and shimmer sprays
I got a bit carried away at this stage and forgot to take photos.   I added the gold paste to these charms as an example for you to see.   You can use a small paintbrush to add the paste but your finger works best. Just rub the wax paste over the surface without adding it in the nooks and crannies.   I then added the various coloured pastes randomly to all the elements.   This gives the canvas an aged look. I did order a couple of the pastes but made my own wax pastes as I went along. There is no right or wrong way to do this.  If you don't like the results paint it black and start again. Finally, I added the homemade shimmer sprays to some area to give the canvas a shimmering glitter finish. 

Close up view
Because I wanted the canvas to have some meaning to her I added elements of her wedding day. The photo charms were attached to her wedding bouquet, they were memorial charms for her Nana that has passed away.  It was her way of having her Nana with her on her wedding day.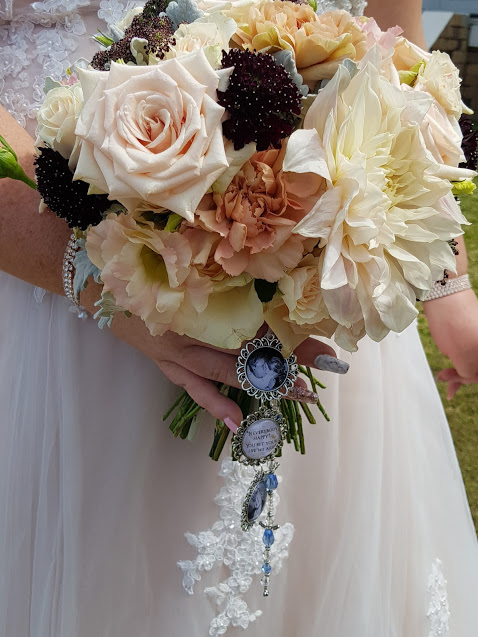 The clock shows the time she got married and the key is the key to her heart.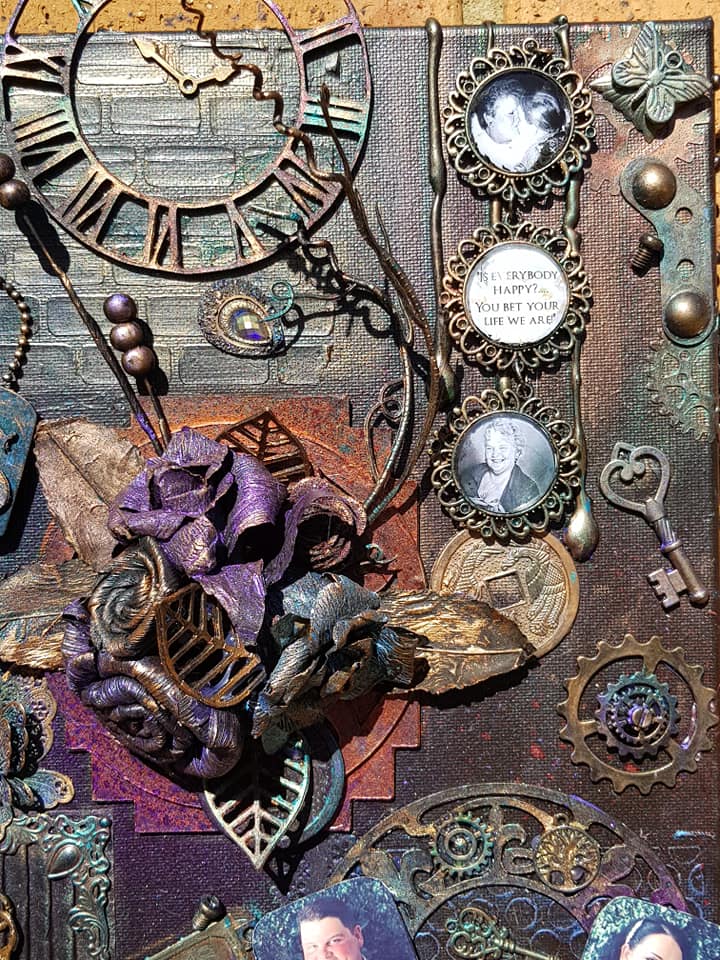 No wedding canvas would be complete without a wedding photo which I glued onto metal tiles from a supermarket promotion. I added the date that they got married.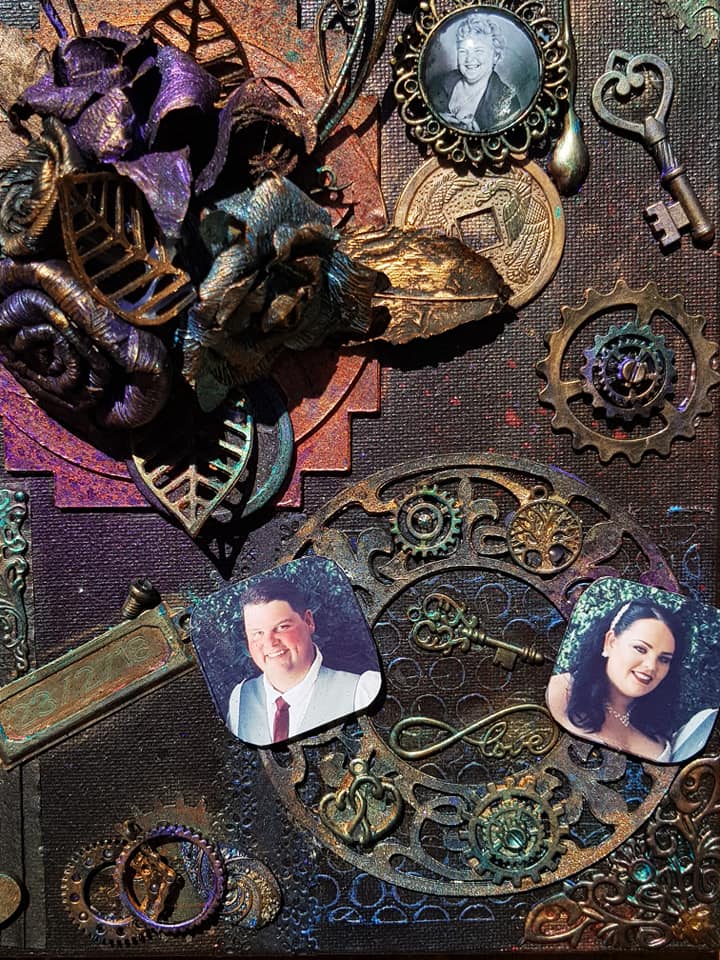 The blue charm was her "something blue" attached to her wedding bouquet charm. The key and keyhole represent their new home together. The handcuffs were added as a little joke that she was a prisoner now. The 2 heart are the two hearts that become one in marriage.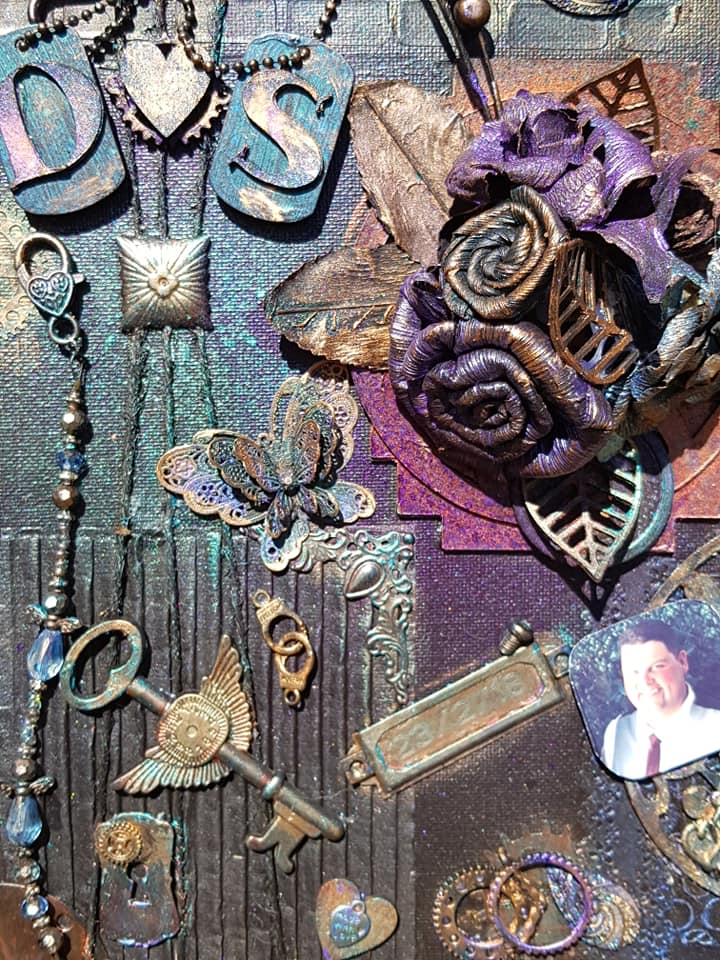 I added dog tags which she bought after "surviving" one of the theme park rides in Orlando and I added their initials.  The butterfly and lizard were added just because they were cute. I hope you like my project and it gives you the inspiration to try your own.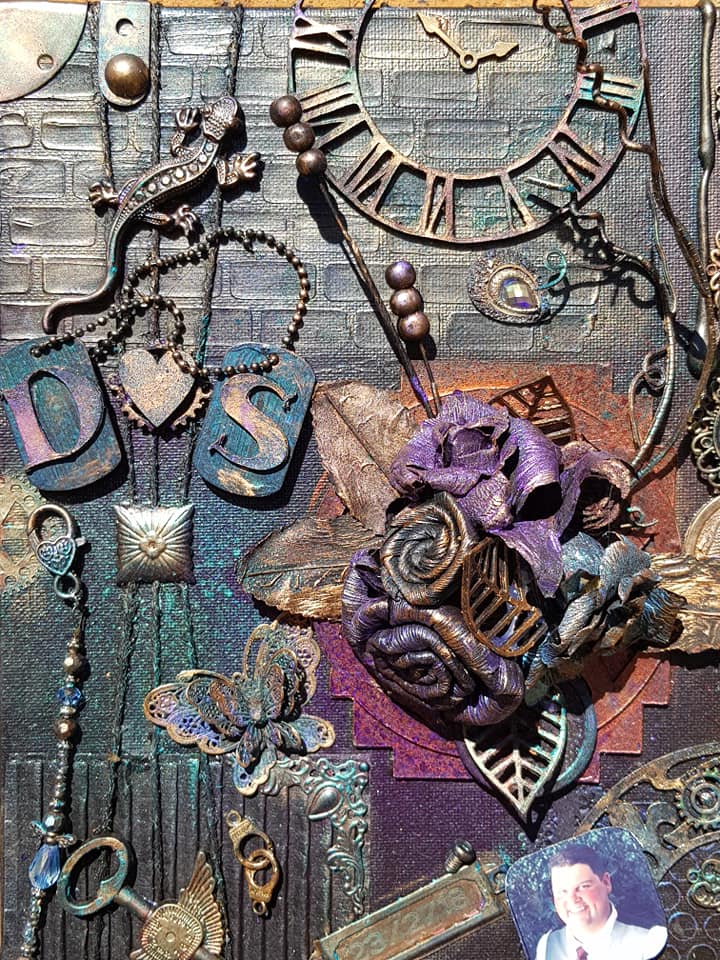 More mixed media project
For this project, I build a lamp using galvanised pipes and fitting as decorated it using mixed media technique.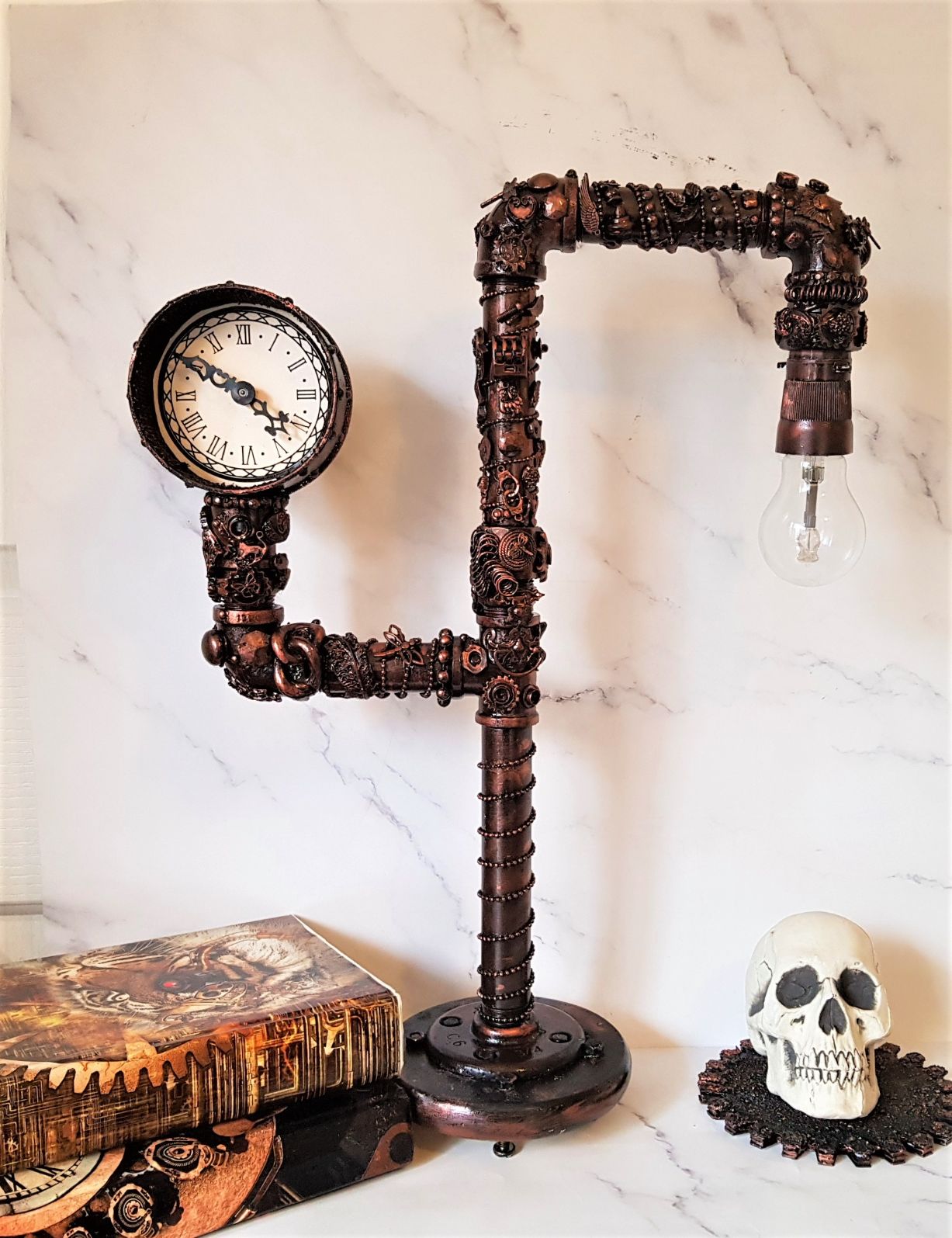 I repurposed an old book into a jewellery box and gave it a  mixed media makeover.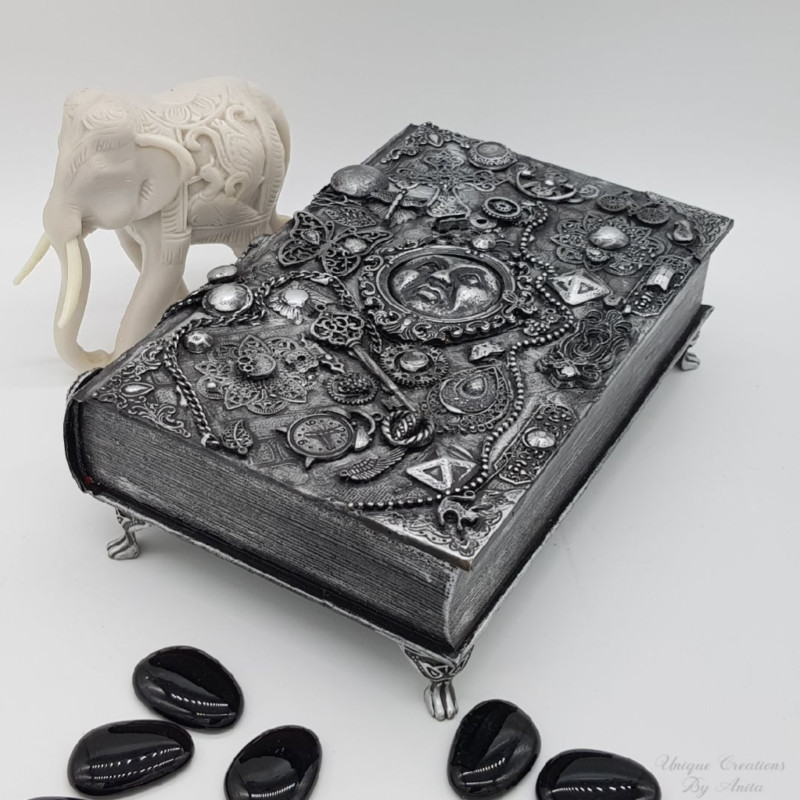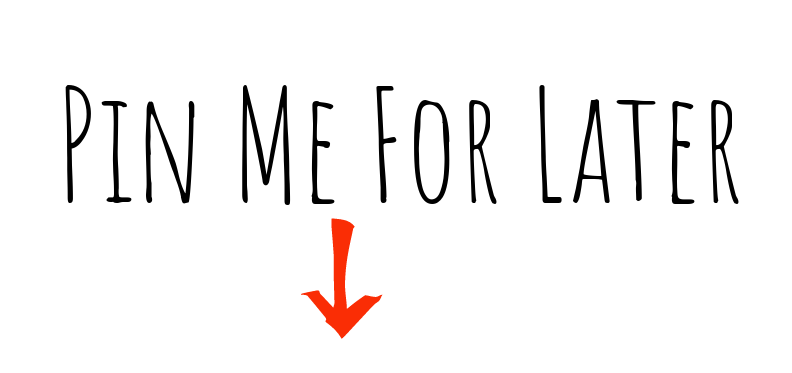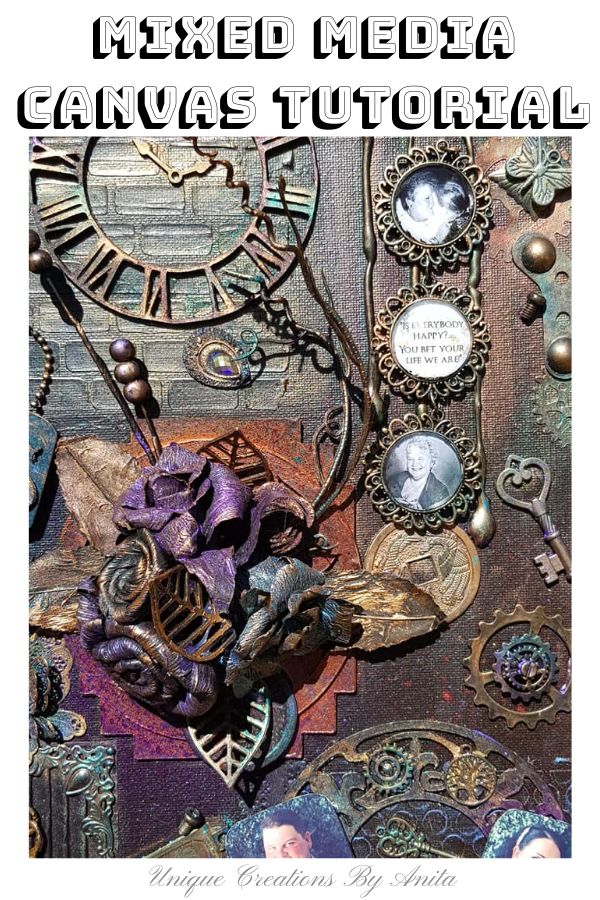 If you are looking for any of the items used in this project, please consider using our links. By clicking on the links we will earn a small commission at no extra cost to you.  Which helps us come up with new and exciting ideas to share with you.