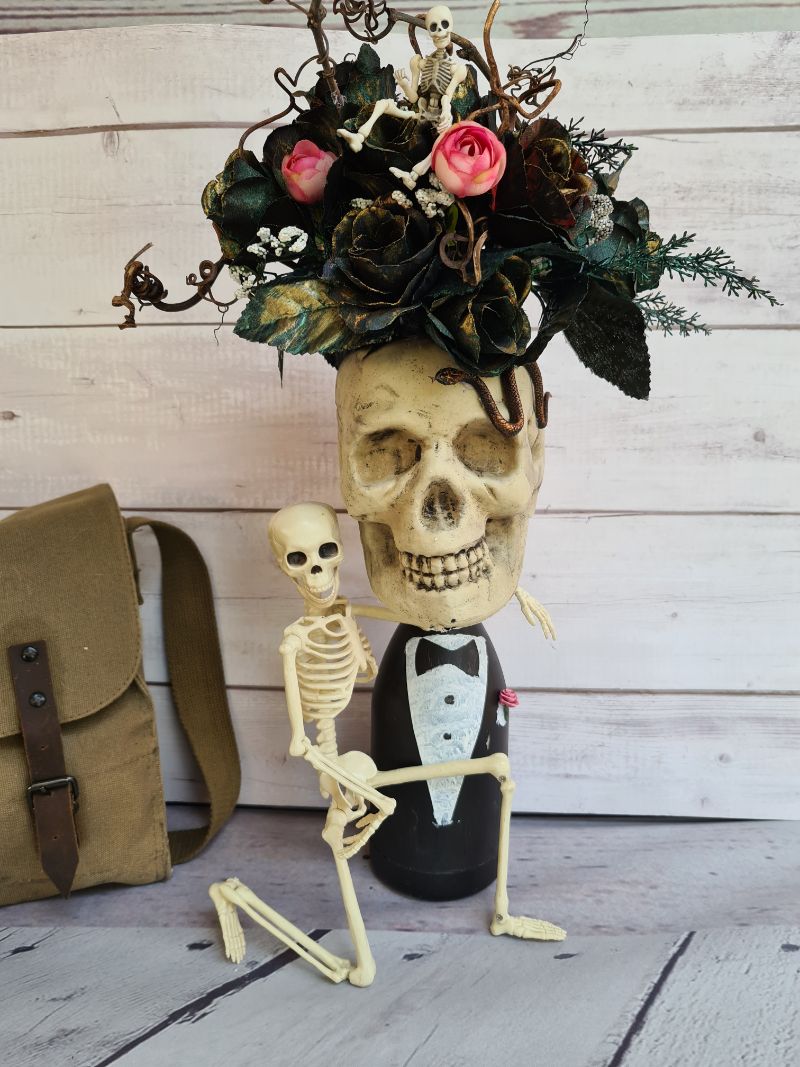 YAY, It is nearly Halloween and my favourite time of year for crafting.  I love Halloween because it is the one time of the year you can let your creepy side out to play. In this post, I will show you how to make this Halloween table flower arrangement for your Halloween party.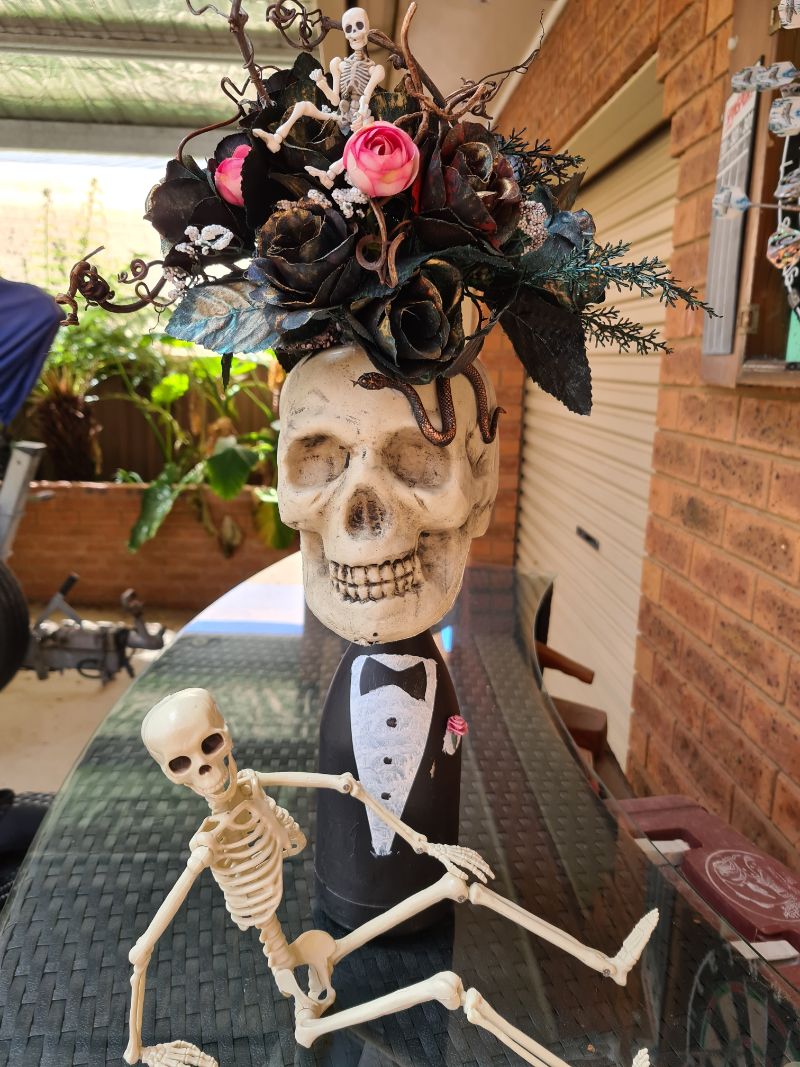 Halloween is not very big in Australia, but it is getting more popular every year.  I will also let you in on a little secret. We are that house that you find in total darkness on Halloween night. Because we are sitting in the back of the house so we don't have to keep answering the door. lol  But I am not a total party popper, I do put out some treats with a sign.  "trick or treat yourself"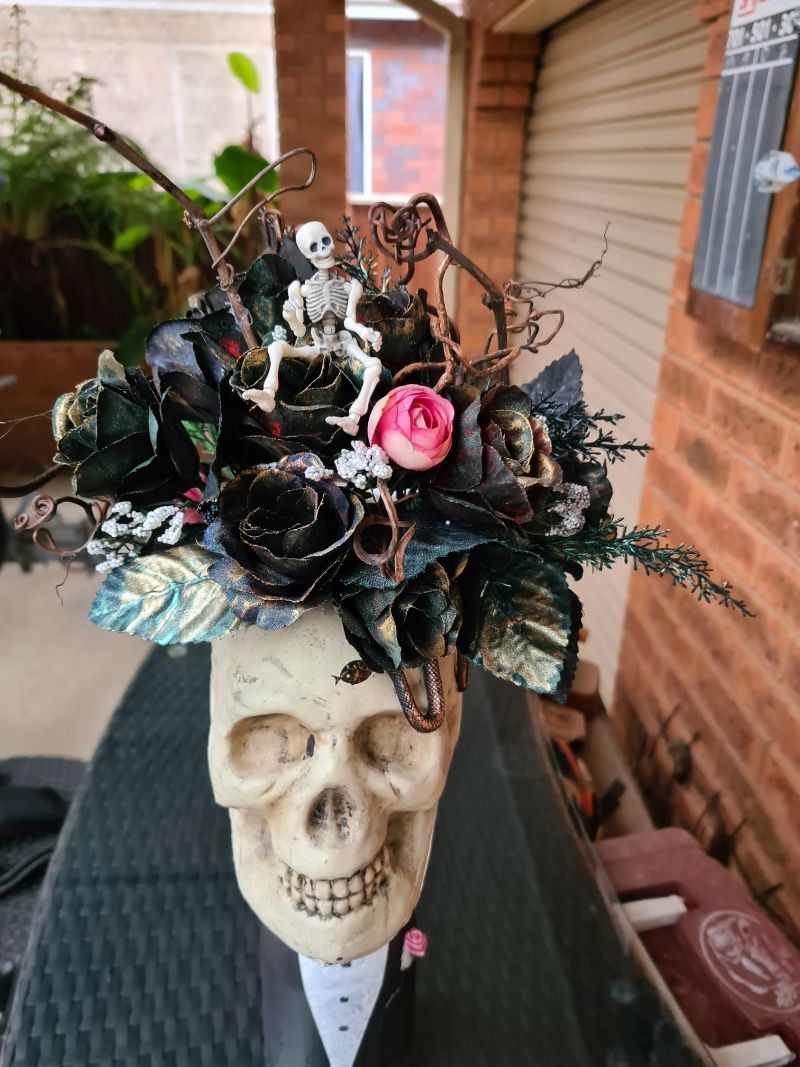 We don't celebrate Halloween because our kids are all grown up, but I still like to make the projects. It also happens to be time for our next International Blogger Club (IBC) challenge, this month's theme is "Halloween". So I am basically forced to make Halloween projects.  That is my excuse and I am sticking to it. More about IBC at the bottom of this post.
How to make a Halloween Flower Arrangement
**This post may contain affiliate links. Which means I earn a small commission on links used at no extra cost to you. Please see my disclosure policy for more information.**
Making the base
I used a plastic bottle that came full of chocolates but any wine bottle will work.  To prevent the bottle from becoming top heavy and falling over once the flowers are added.  I weighted the bottle down with some sand.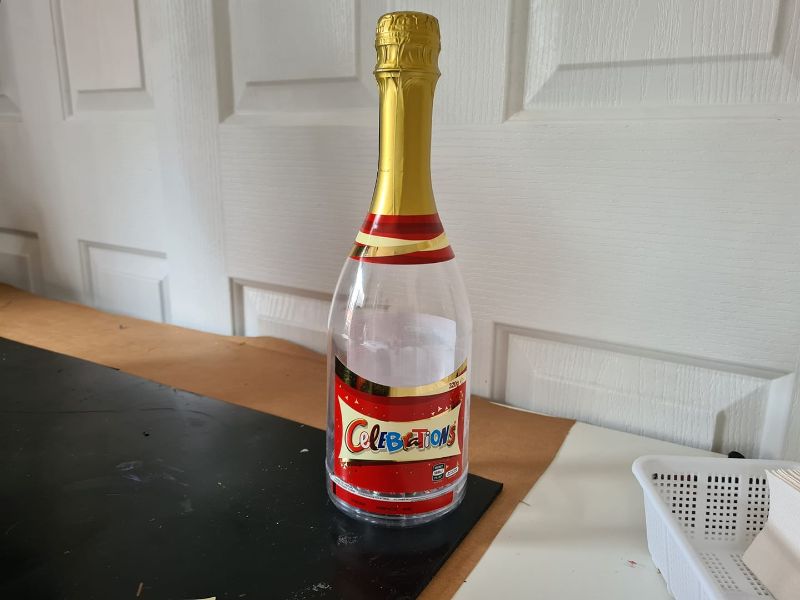 I used black and white gesso to paint the bottle.  You can use acrylic paint, gesso
was just what I have at home.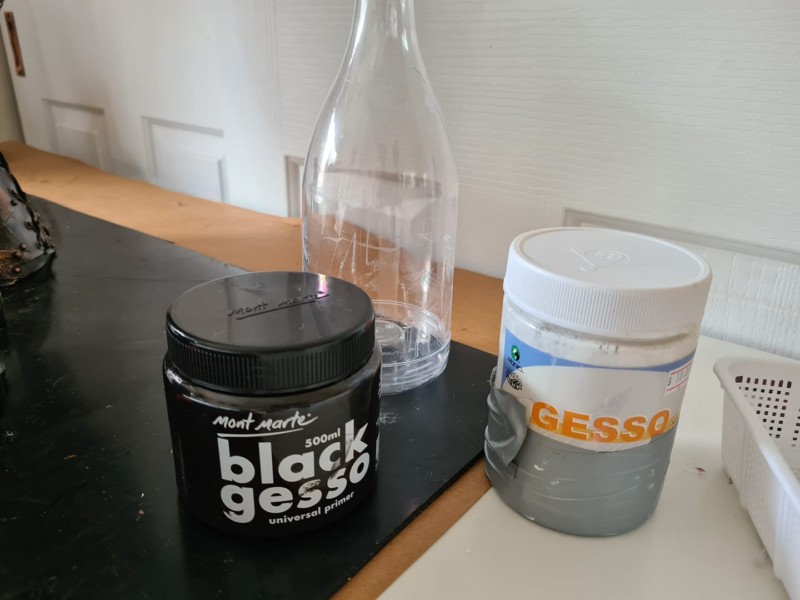 I wanted the bottom to look like he was wearing a tuxedo. So I painted the bottle black first, then painted on the shirt and pocket.  You can add a small flower for some added decoration.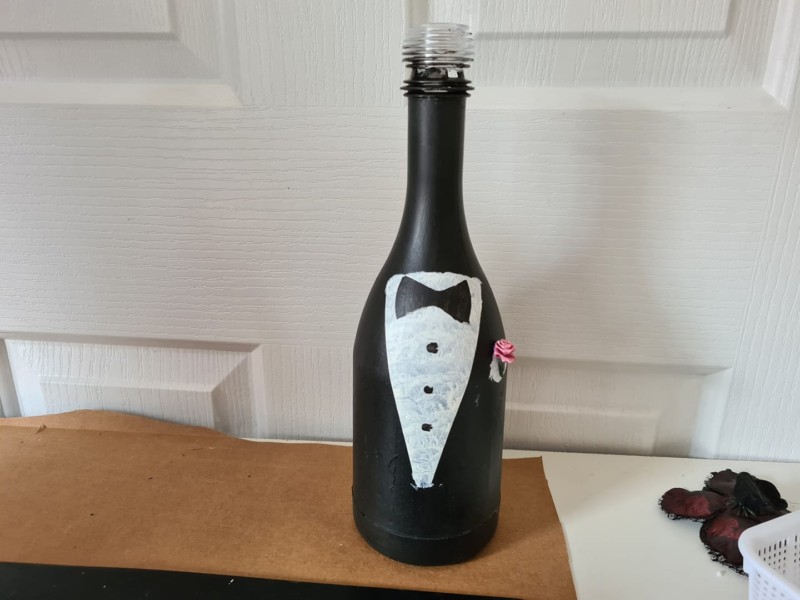 Making the flowers
You can go to your local budget store and get some silk roses. 
 I could only buy red which was not the look I had in mind.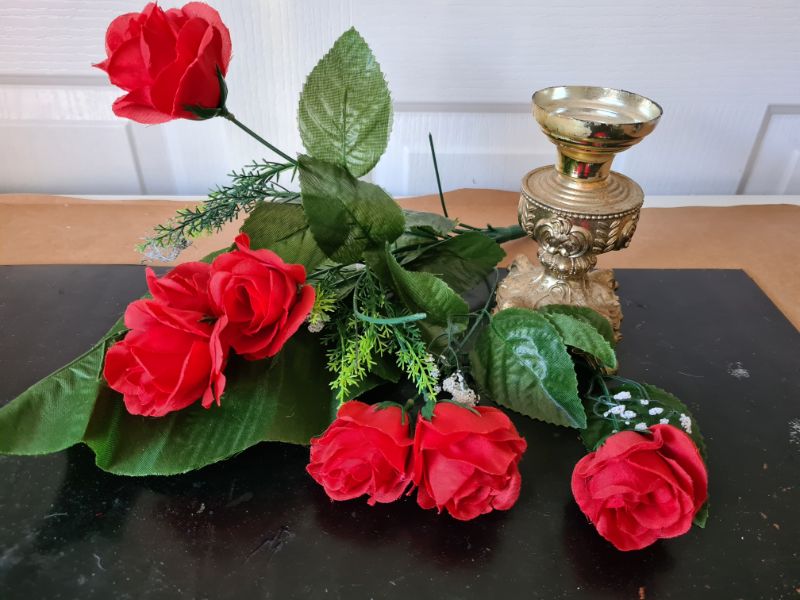 To make them more in creepy for Halloween, you can paint the black using the gesso or acrylic paint. Ignore the lampstand, I was going to use that first but it was too low to work.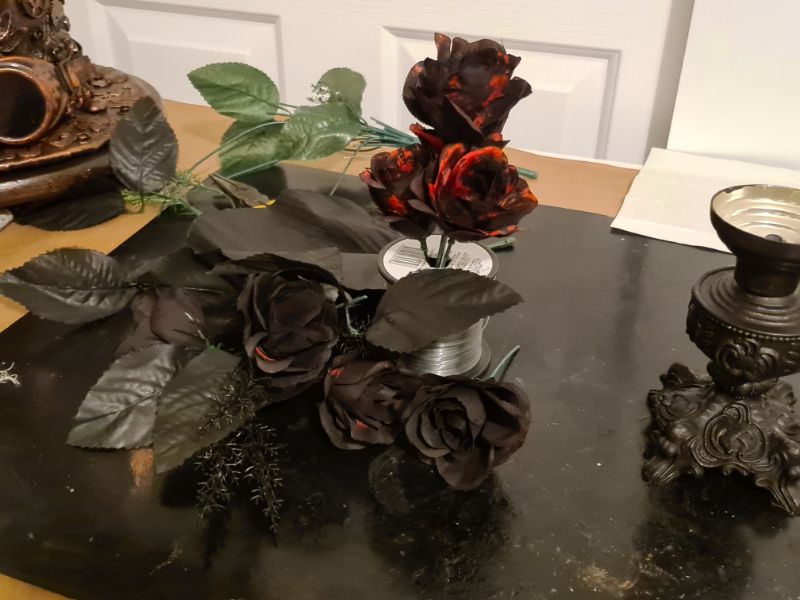 Once the paint is dry you can use some different colours to give them some more character.  I used shimmer sprays,
which gives you that sparkle effect.  Which, unfortunately, did not show up very well in the photos.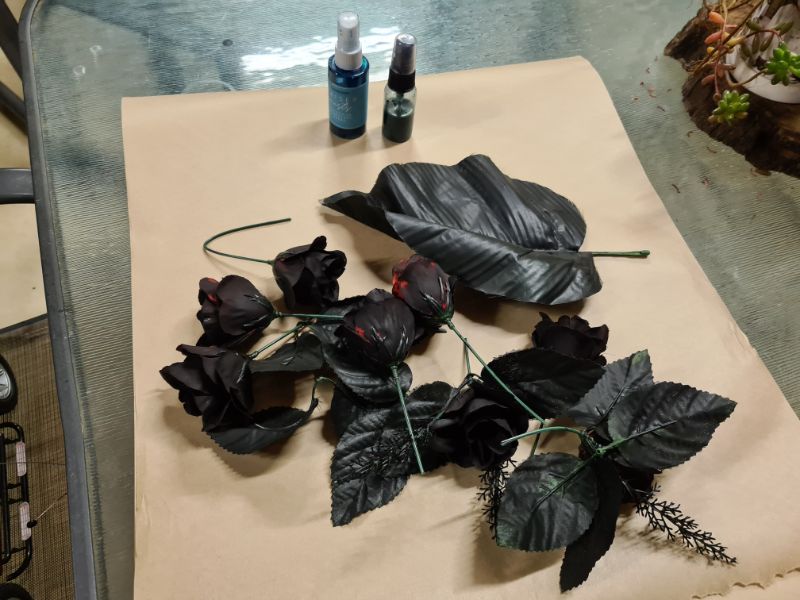 To add some more colour, I used some gold wax paste
.  You can add a small amount to the tips of the roses and the leaves.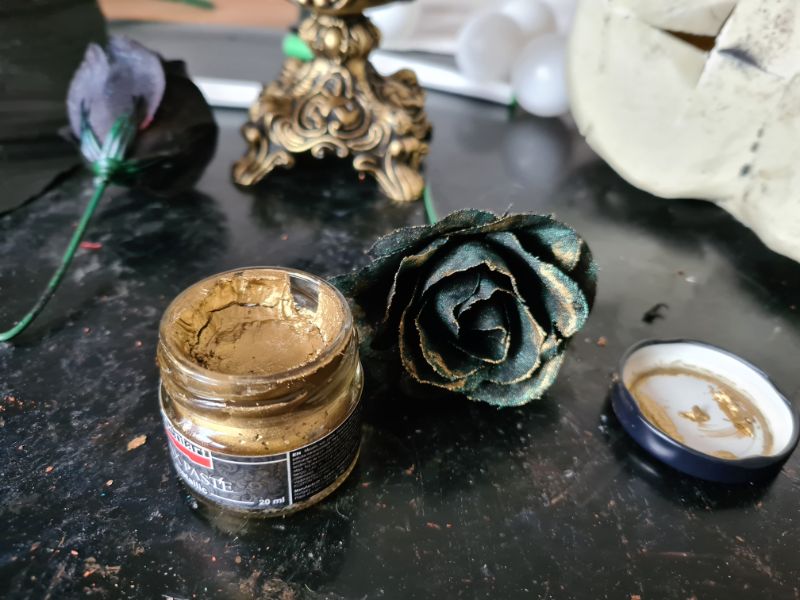 Attaching the flowers
To arrange the flowers you can use some floral foam brick.
  I used what I had laying around at home, which was some styrofoam packing. I cut away some of the foam so it sits better on the skull.  And attached it to the skull using hot glue.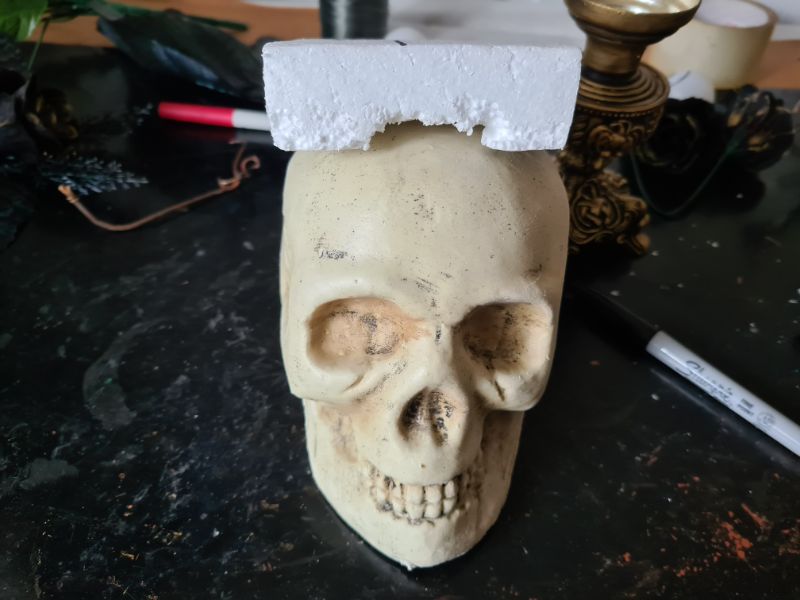 Using the black gesso again, paint the styrofoam so it is not that obvious. You can also give your skull some more character by painting it with the gesso in all the grooves.  Once you have added the gesso you can use a wet wipe to wipe away the excess.   This will give the effect of rotten teeth and dirt in the skull.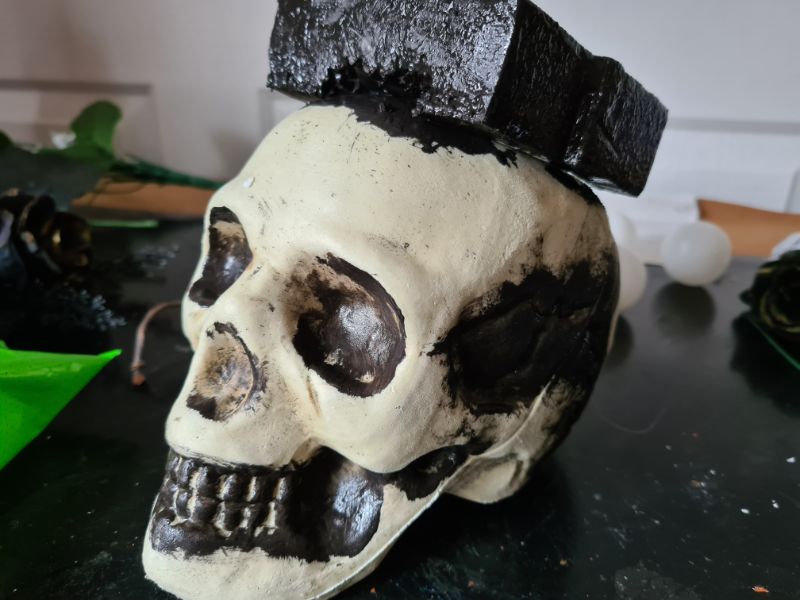 Arrange the flowers
This is where you can have some fun, I played around moving the flowers until I was happy with the look.  I added some offcuts from my grapevine, but any small branches will work.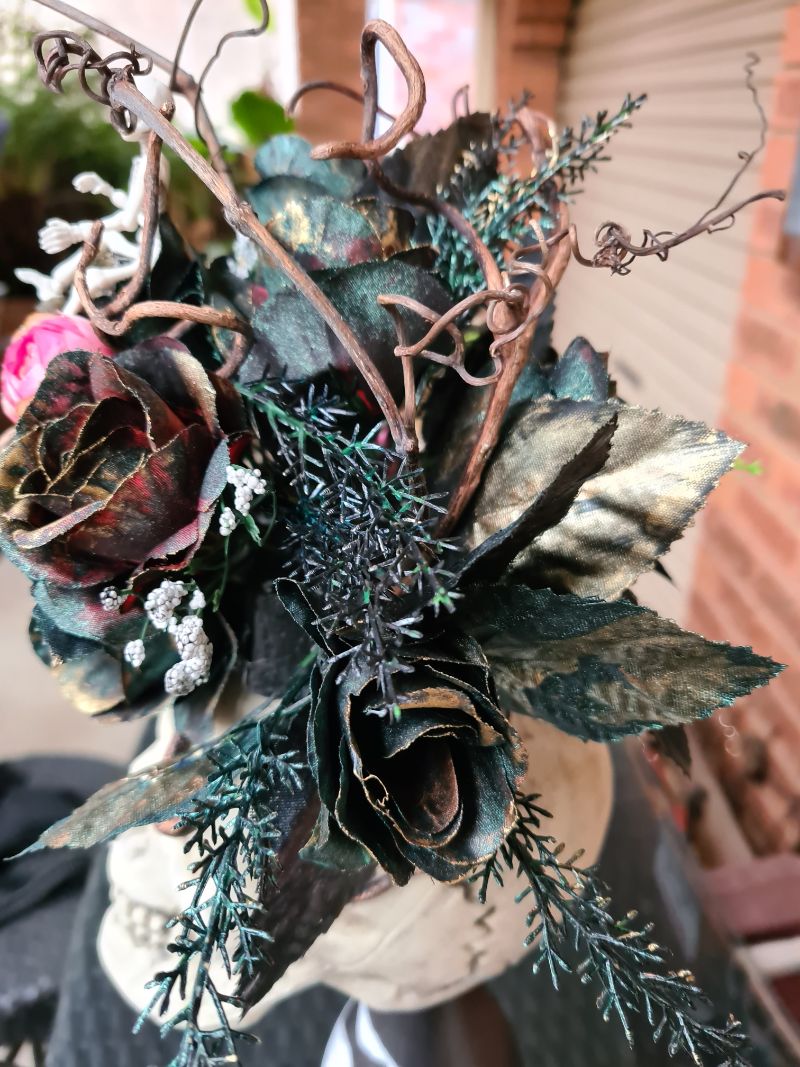 For some added fun you can add a small poseable skeleton,
some spiders or snakes. I added 2 pink flowers to add a small amount of colour.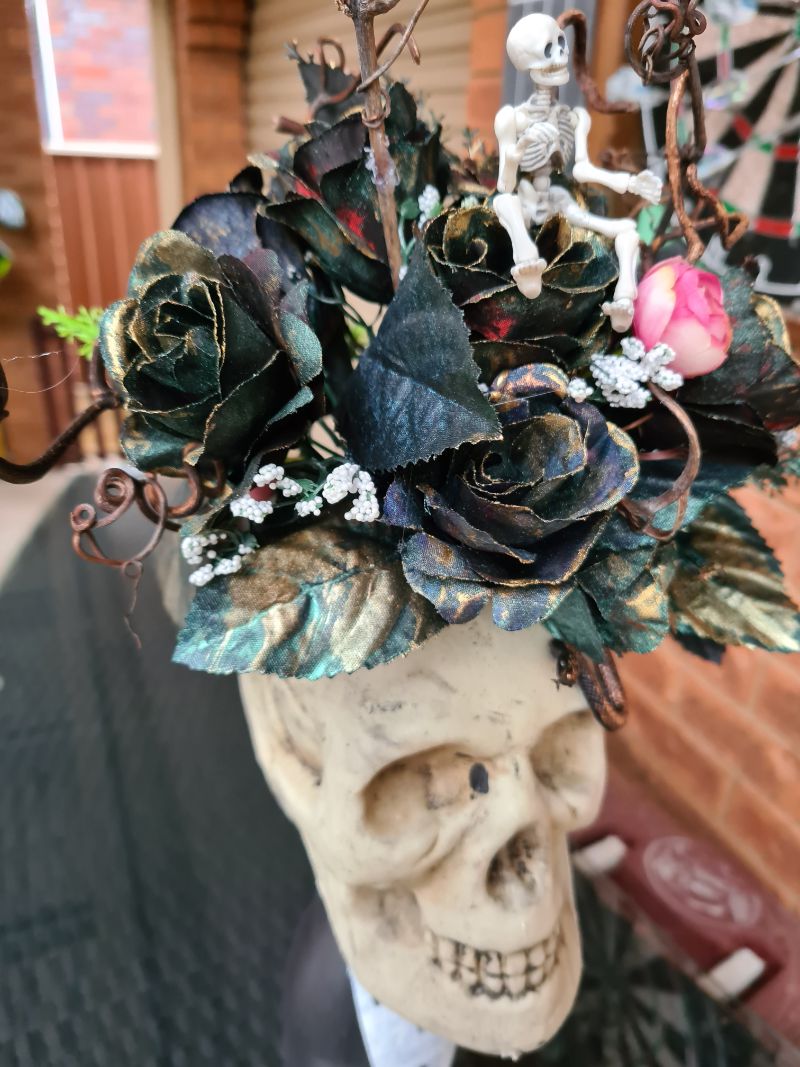 Attach the skull to the bottle
Ignore the hot glue, that was to attach it to the lampstand. Using a craft knife cut an X into the bottom of the skull and push it down onto the bottle.  The X shape will hold the skull firmly on the bottle.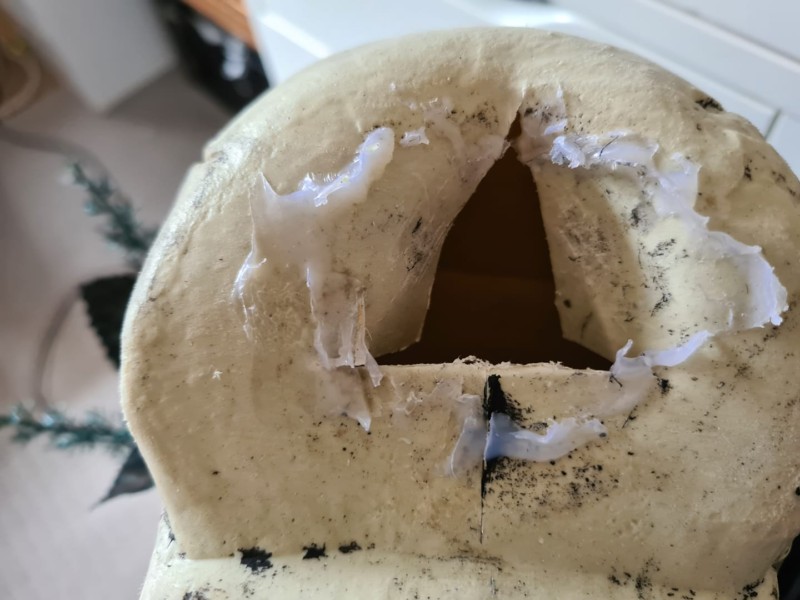 Completed Halloween flower arrangement
I had some fun taking the photos, by using a poseable skeleton.
  This can also be used with the flower arrangement.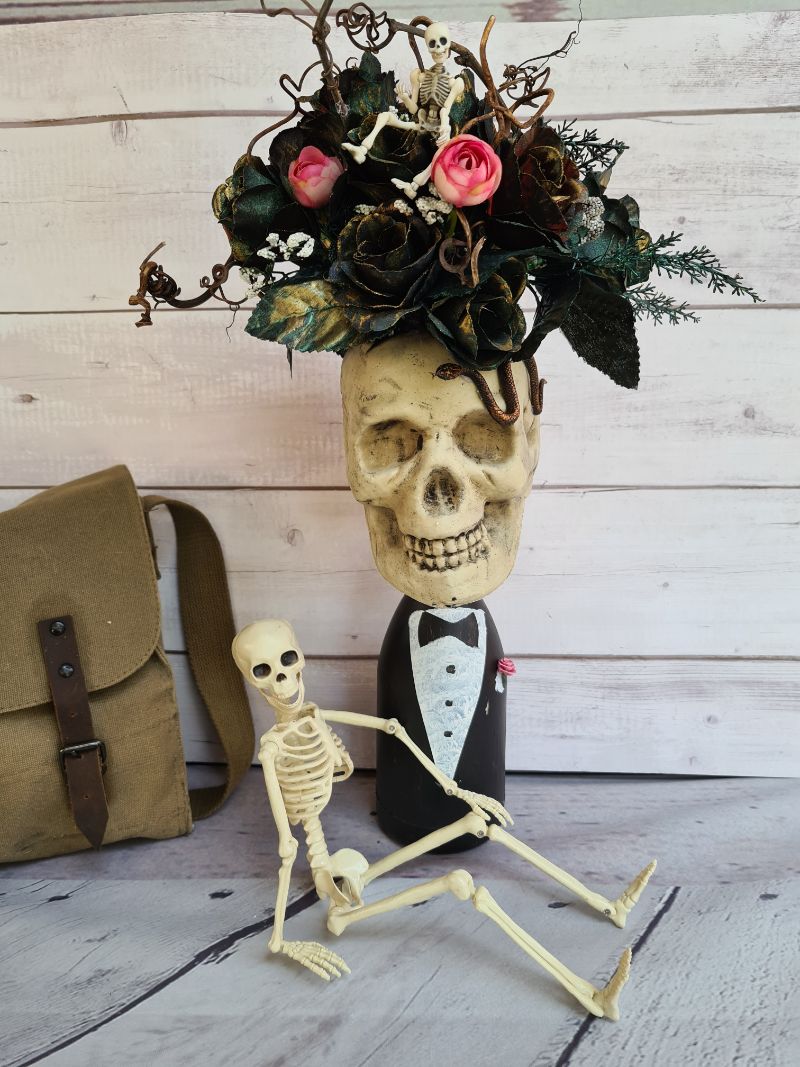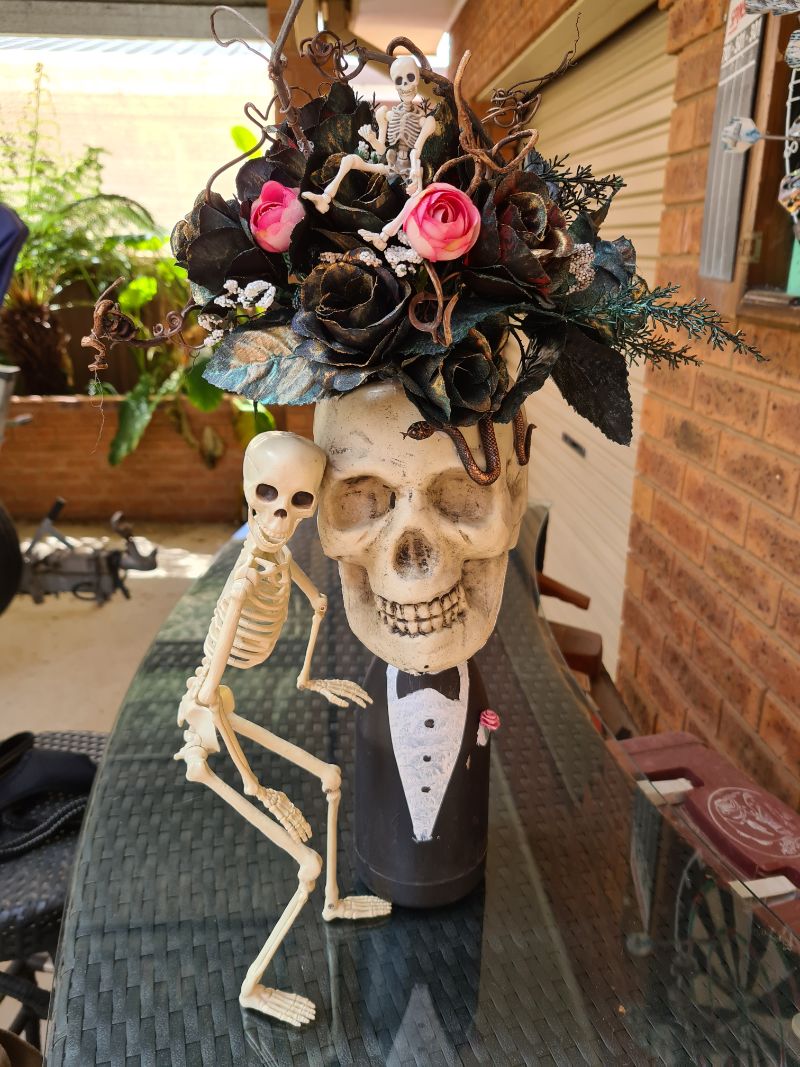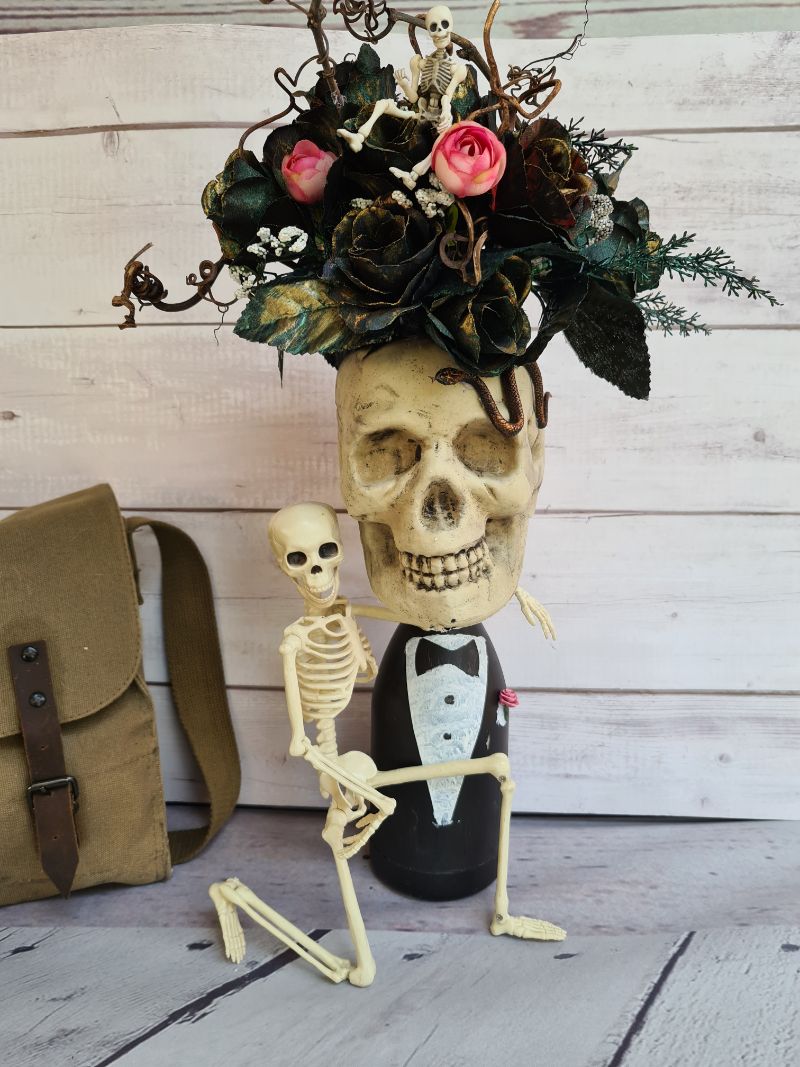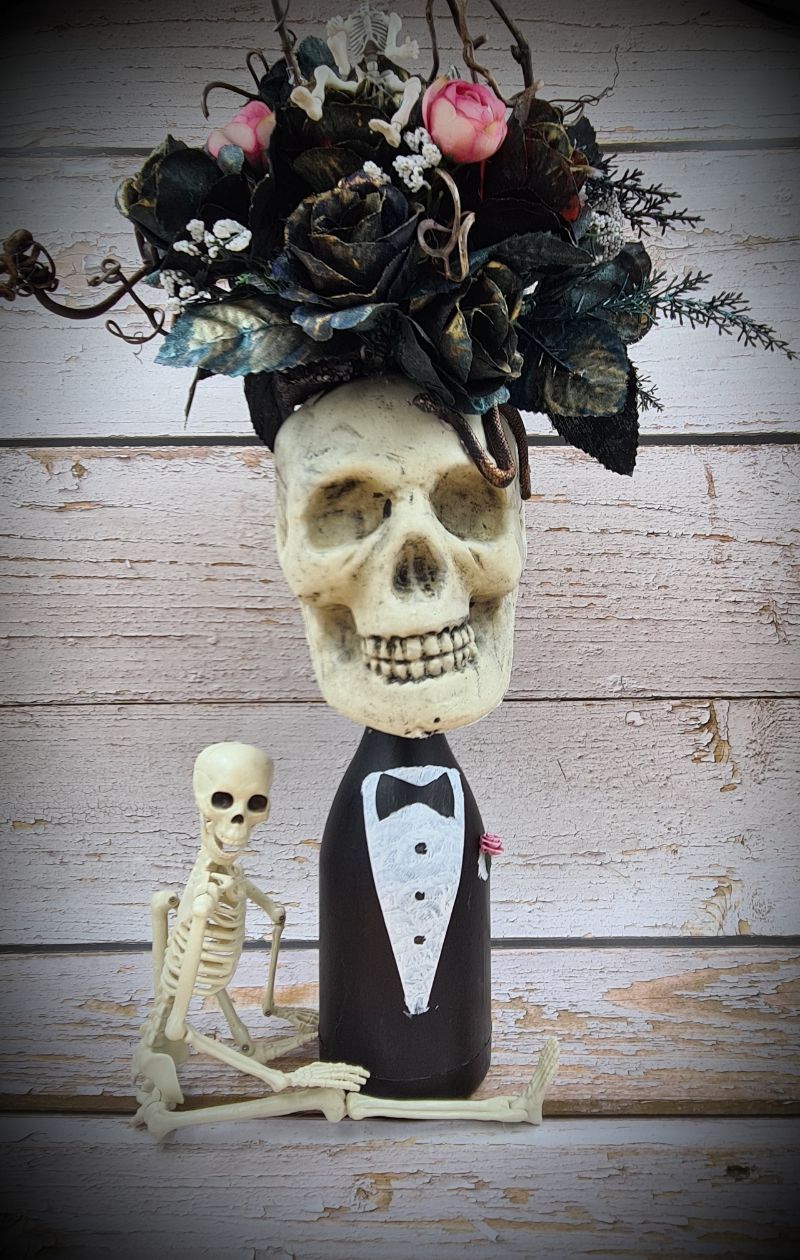 About IBC (International Bloggers Club)
If you follow my blog you will know I am part of IBC (International Bloggers Club) which is a group of talented bloggers from around the world. We have members from Spain, South Africa, Australia, the United States, and Canada. Each month we come together and create a project in a common theme.
If you missed last month's "Local Love" theme here is the link to my Australian patriotic cushion.  The contributions from my fellow bloggers for this months challenge are listed below, please feel free to jump over and give them some love.
 1. Interior Frugalista| Spooktacular upcycled Halloween diorama box
Me |Unique Creations by Anita
A Crafty Mix|Easy realistic- eyeballs
Birdz of a feather|Diy pincushion.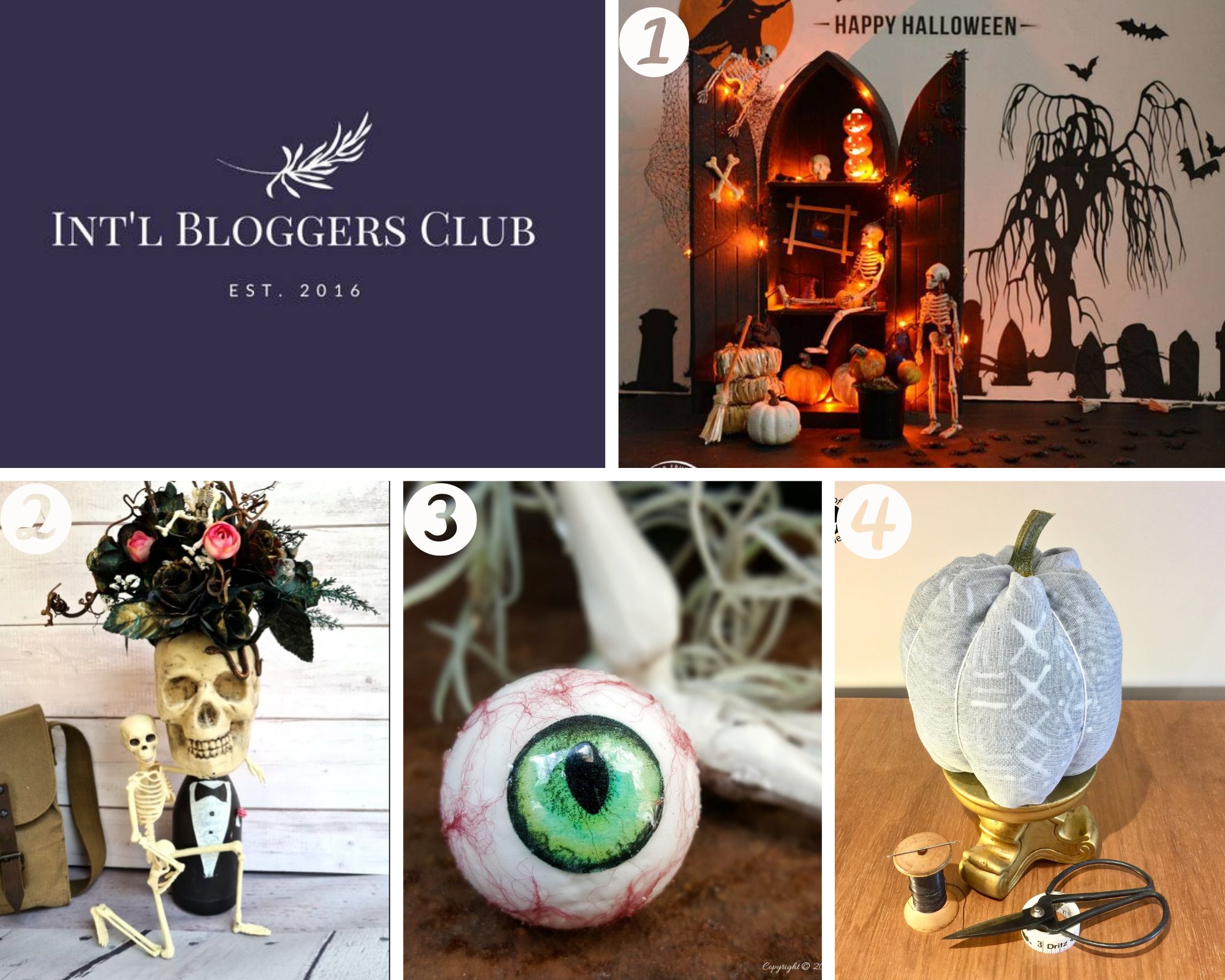 More Halloween projects for you
These Halloween bottles were made from recycled wine bottles.  They were decorated in a mixed media style.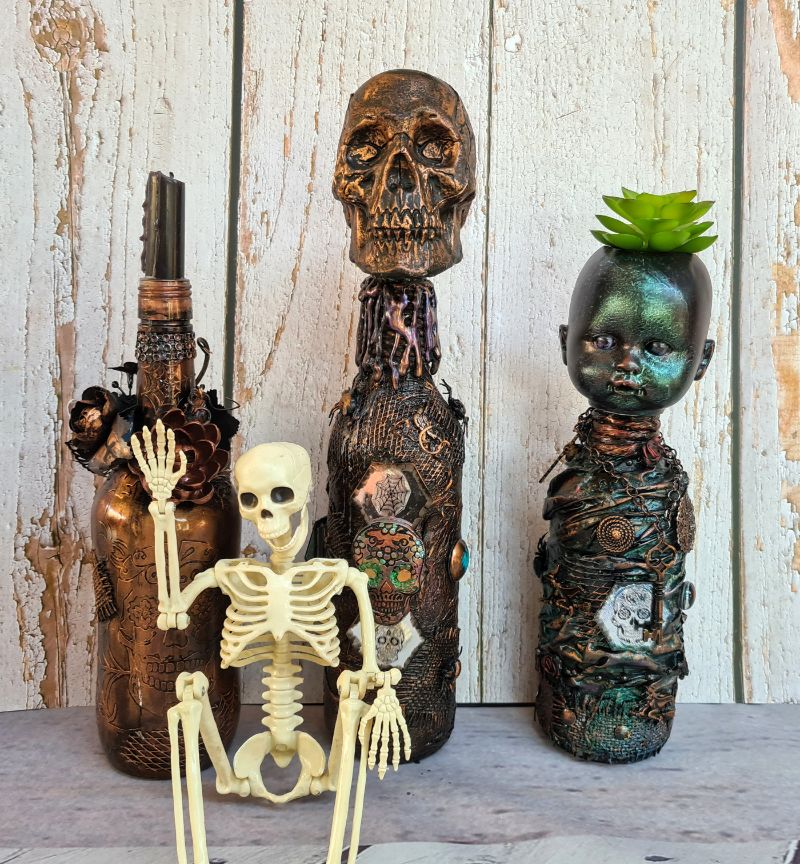 How about a creepy 3D Halloween mirror that lights up.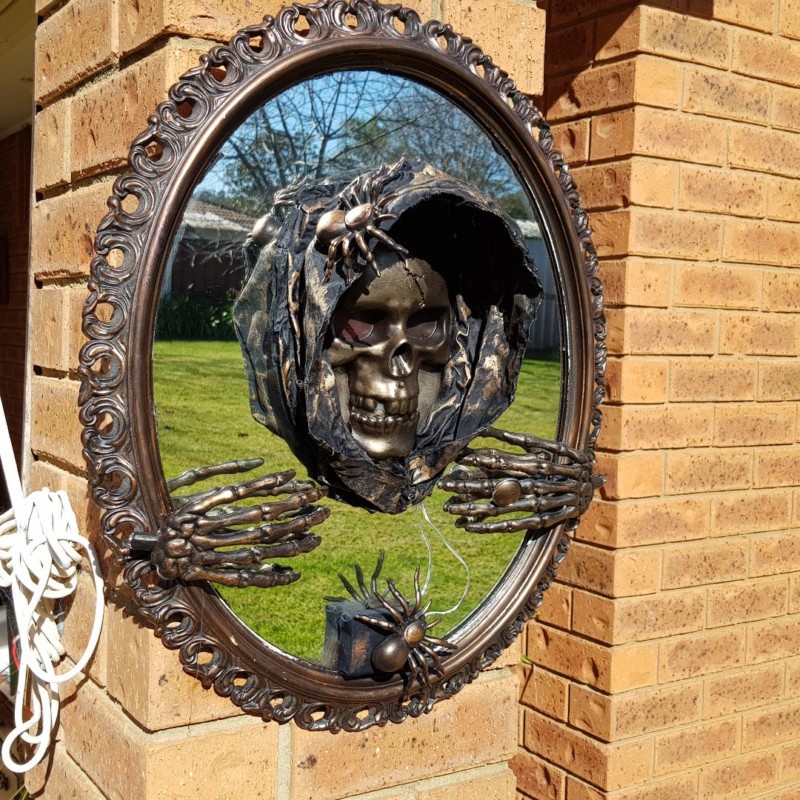 Find all my Halloween projects here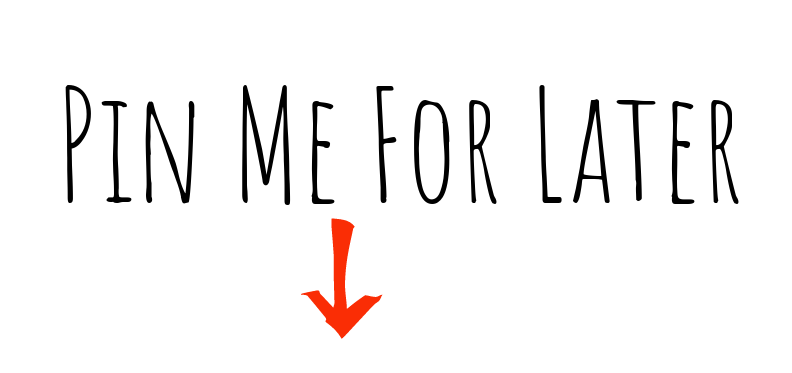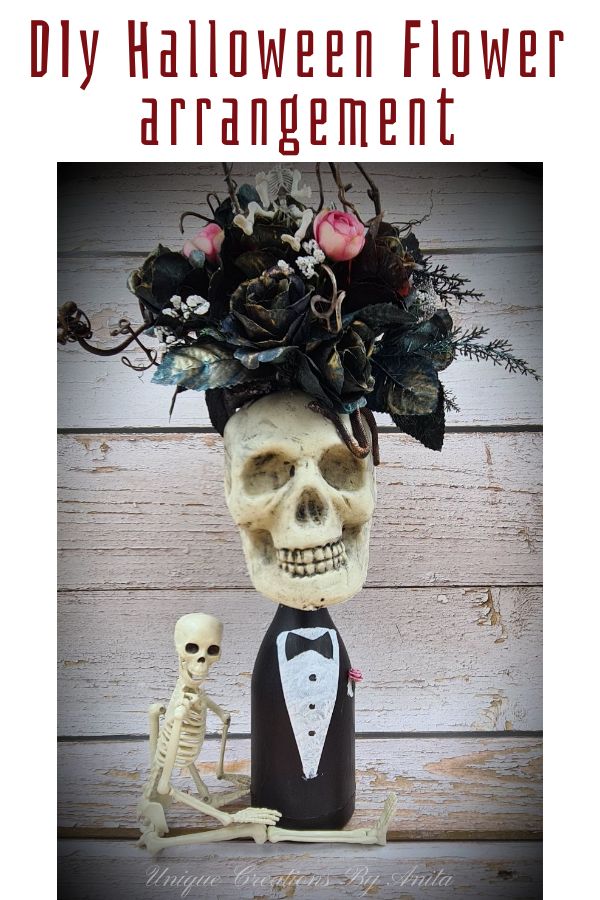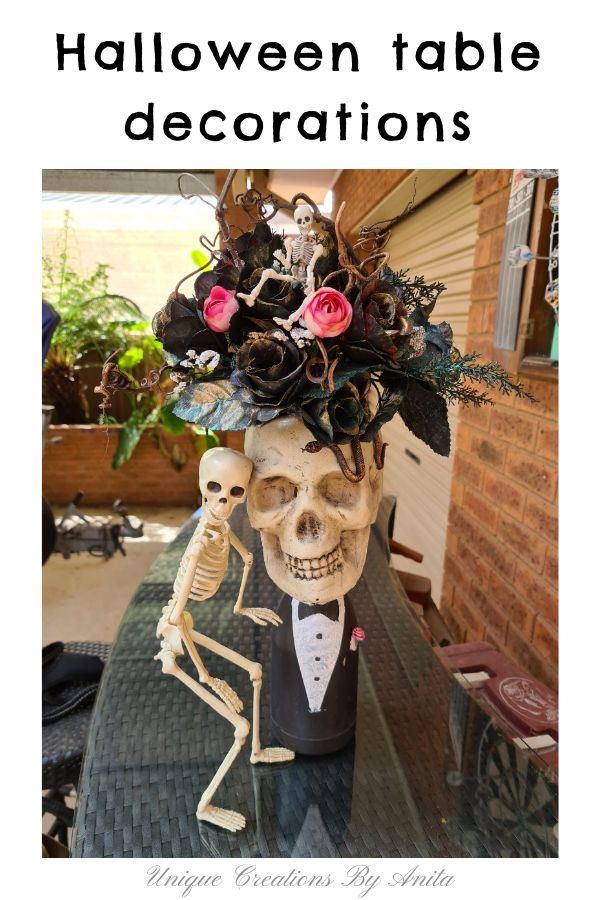 If you are looking for any of the items used in this project, please consider using our links. By clicking on the links we will earn a small commission at no extra cost to you.  Which helps us come up with new and exciting ideas to share with you.