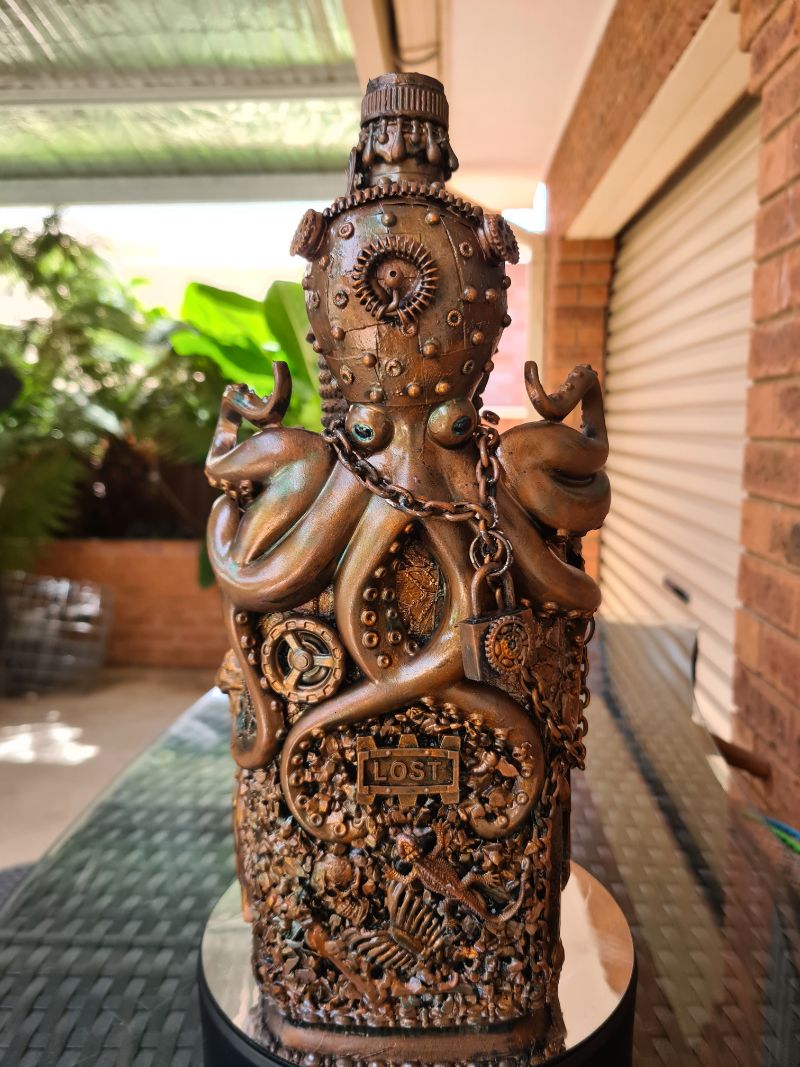 This weeks post is our next IBC (International bloggers club) Challenge. Our theme this month is "All bottled up", the challenge is to create a project using a bottle in some way.  If you follow my Facebook page you will know that doing mixed media art bottles is a hobby of mine.   I felt like I was cheating in this challenge because I felt it was going to be easy for me. More about IBC at the end of this post.
While I do find these bottles easy to make they are very time-consuming. And until you have all the supplies they can work out to be expensive. I have built up my bulk collection over the past two years, so now I don't feel the cost anymore.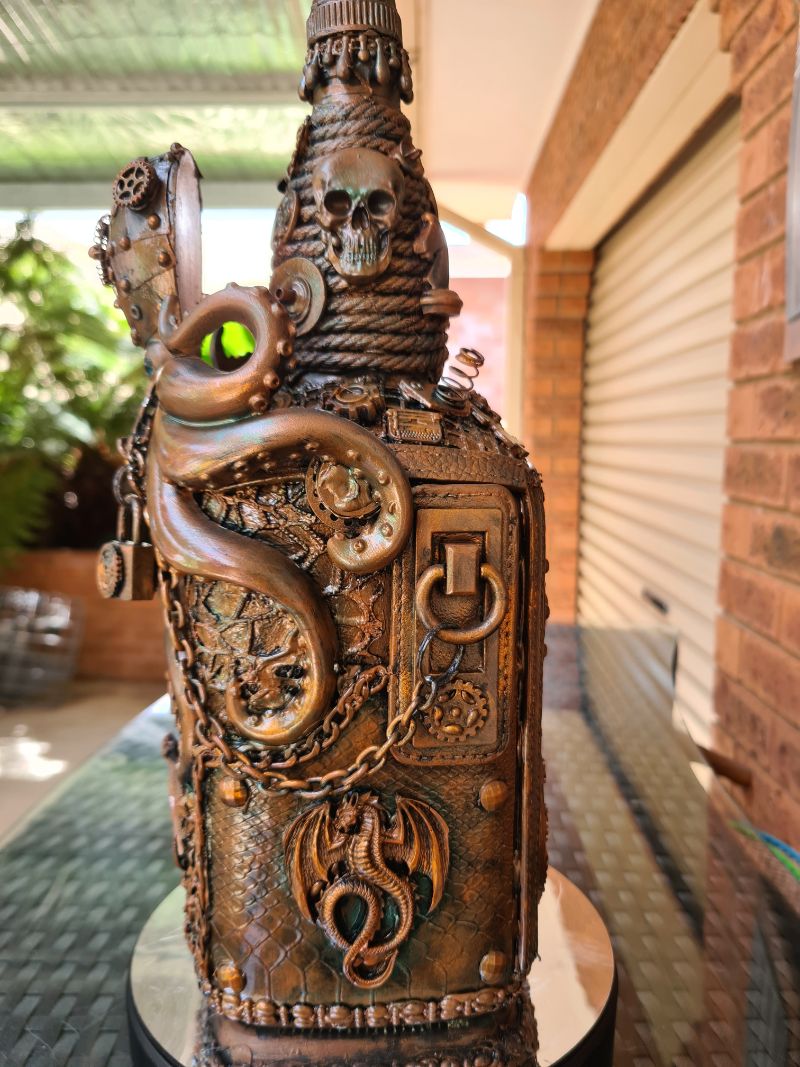 My followers often asked how I create these bottles with so much detail and will I make a Youtube video.  I am too self-conscious to do a video, so I will do the next best thing and explained the tricks that I use to create my mixed media art bottles. As with all my projects, I try and use recycled materials. And wherever possible I try and use recycled items in the creation of my bottles too.  When I create mixed media art bottles I believe that adding many textures is the secret to a great piece.  In this post, I will be sharing with you a few ways I used to add texture to my projects.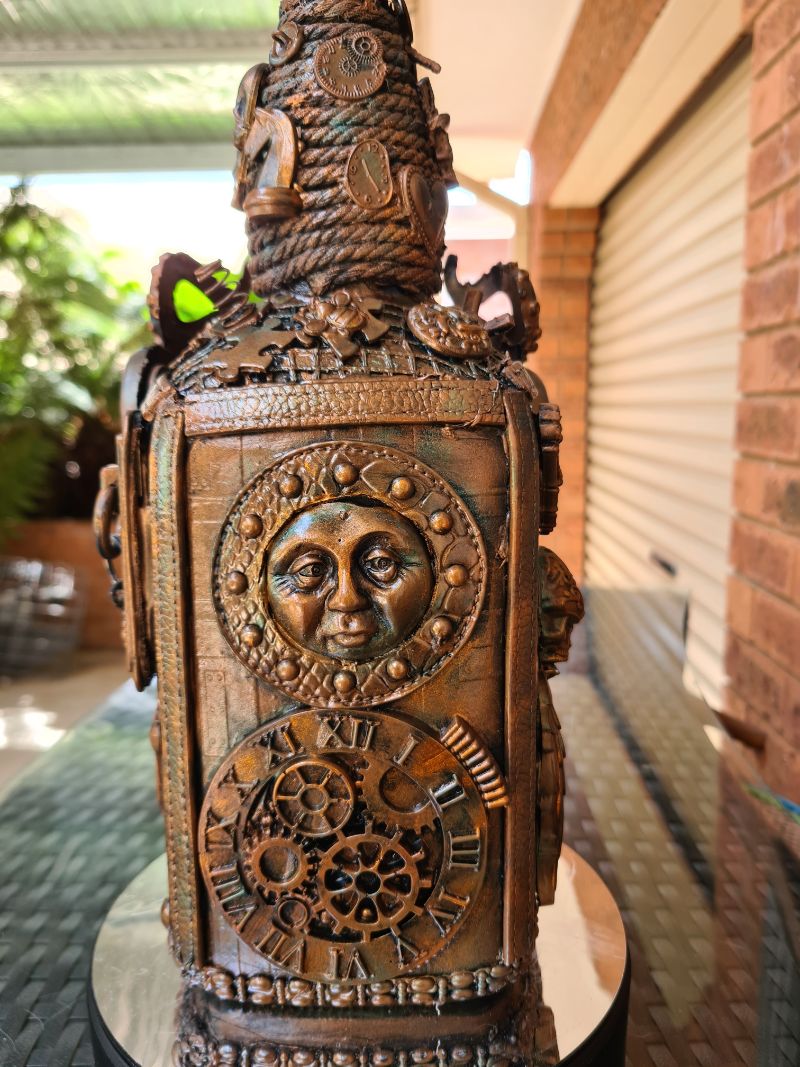 How to add texture to mixed media art
*This post may contain affiliate links. This means I earn a small commission on links used at no extra cost to you. Please see my disclosure policy for more information.**
When I create a bottle I always start by adding multiple textures to the surface.  The reason I do this is, to create a good surface for the embellishments to stick to.  I have tried many different types of glues over the years but I have not found one that will stick embellishments securely onto the glass. For the purpose of this tutorial, I will use this bottle as an example and show other bottles where these textures have been used.
1. Resin Embellishments
I have a very large collection of silicone moulds that I have collected over the years. These are really great for making 3D embellishments. This is just a small sample of my collection but you get the idea of what they look like.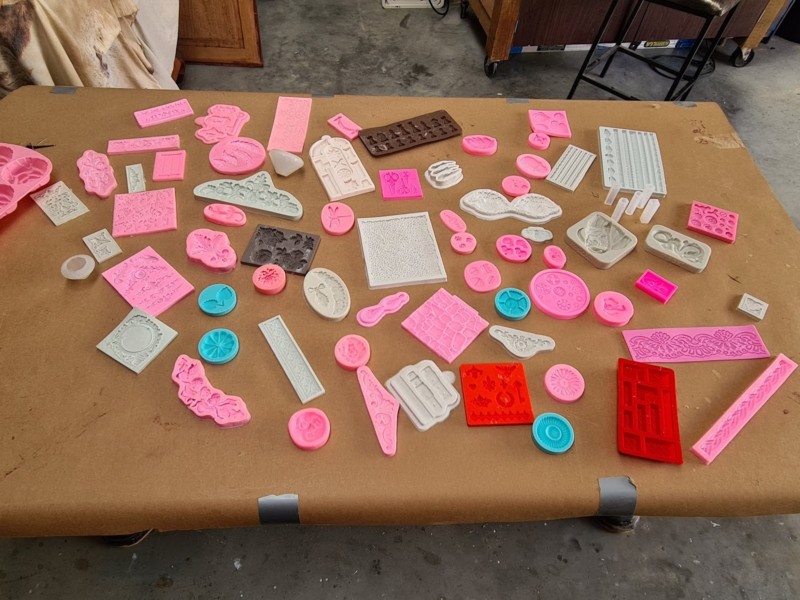 In my opinion, using epoxy resin in the moulds works best because it captures every detail in the mould. You will also find the resin is hard-wearing compared to using clay or other materials.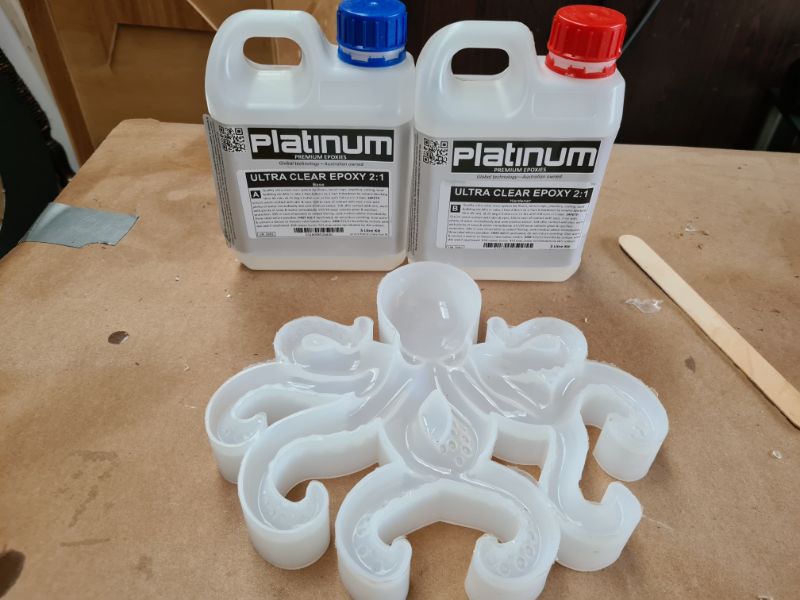 This octopus mould
was the most expensive mould I have ever bought and when it arrived it was huge. I thought I had checked the size but obviously, I was wrong. If you make a mistake with the size you can still use the mould by shaping it around the bottle.  I poured the resin into the mould and left it to sit for about 8 hours.  You want it set but still soft enough to shape it around the bottle.  I have used this method before when I created this planter/bowl.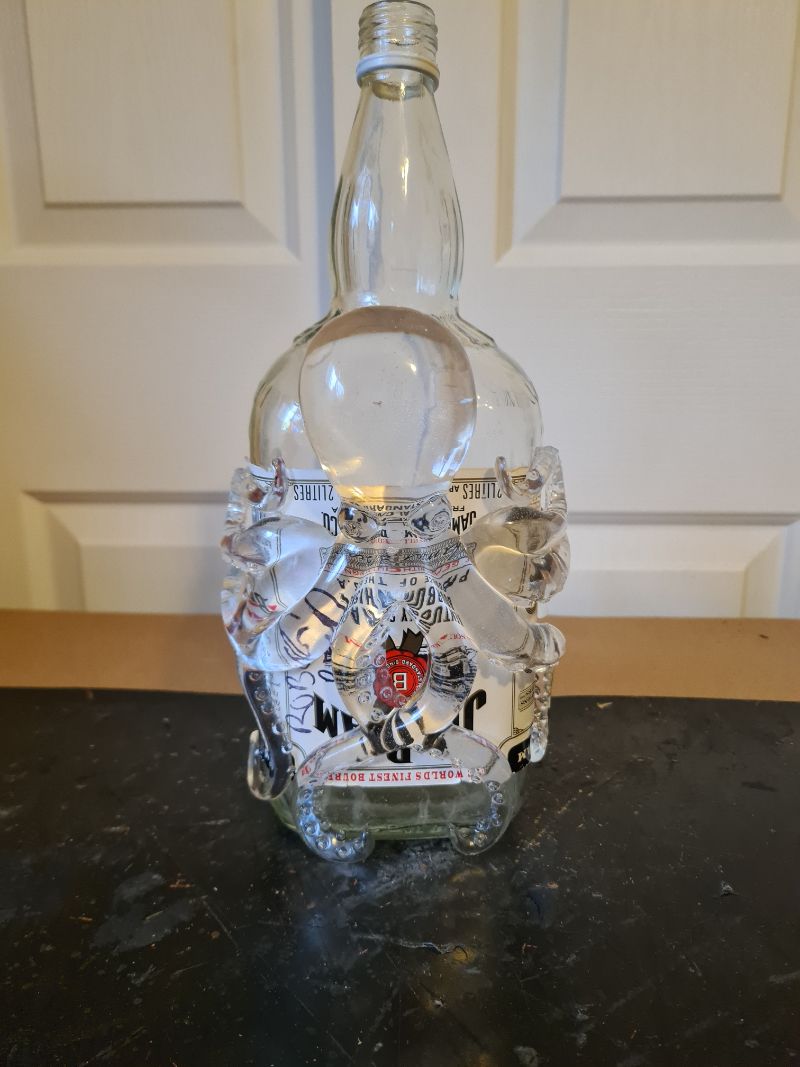 2. Fabrics
Fabrics come in so many textures and each one has its own unique look.  I like to recycle the leather, straps, clips, zippers and other accessories from old handbags for my projects. You can also use items like tapestry mesh, onion bags, burlap and lace, they all look amazing once painted.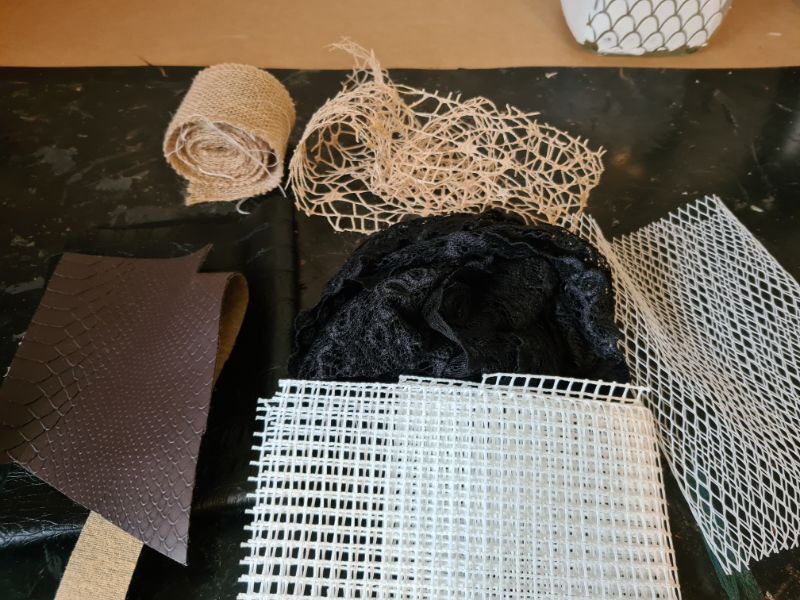 3. Embossed paper
Embossed paper is another great method because there are so many embossing folder
designs to choose from.  I bought this embossing press
second hand but even to buy new you can pick them up for about $100.  To use this press is as simple as putting card stock in the folder and putting the folder between the plates and passing it through the press. You are not limited to card stock with this embossing press.  I used recycled aluminium cans to create this wall hanging that was embossed using this method.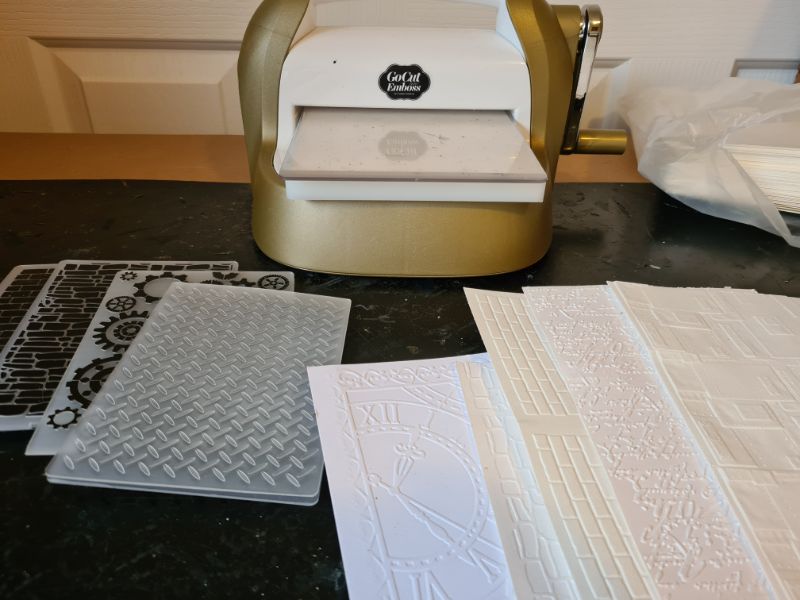 It does look messy at the moment but once painted it will look great.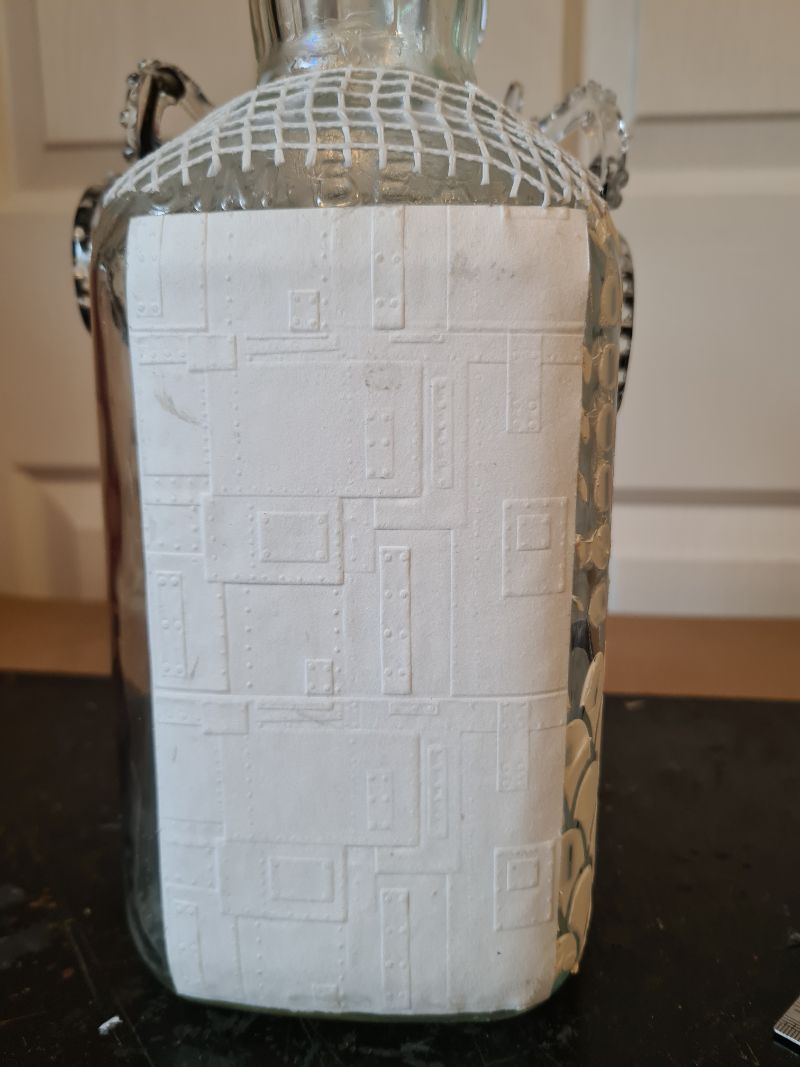 4. Modelling /Texture paste
Texture paste and stencils work great for creating slightly raised surfaces in mixed media art. You can purchase assorted packs of background stencils
.  Alternatively, you can make your own with a Cricut vinyl cutter
and mylar film
.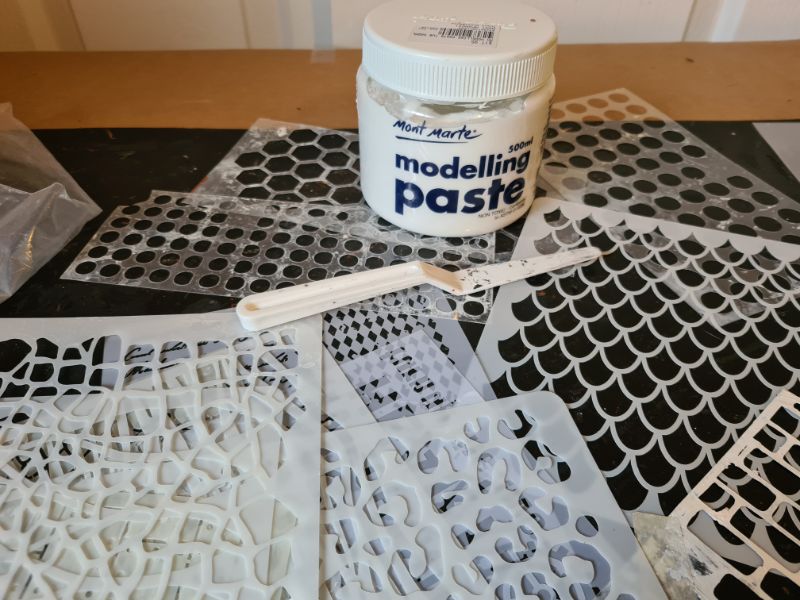 To use this method is as simple as placing the stencil over the bottles and applying the texture paste.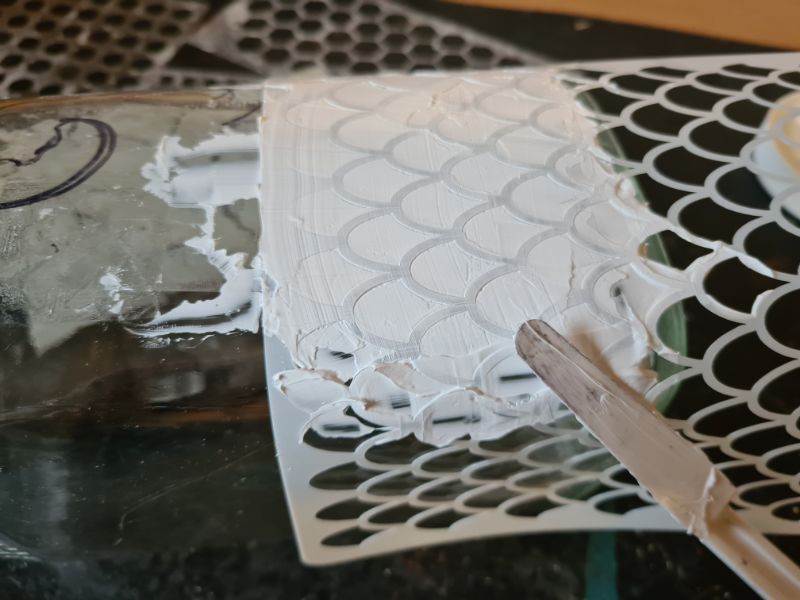 5. Ropes and cords
You can use a variety of ropes and cords.  Some are recycled from old necklaces, some are shoelaces any cheap rope will work.  I use the rope around the necks of most of my bottles because I like to add large resin embellishments to the neck.  This will create a better surface for the hot glue to adhere to.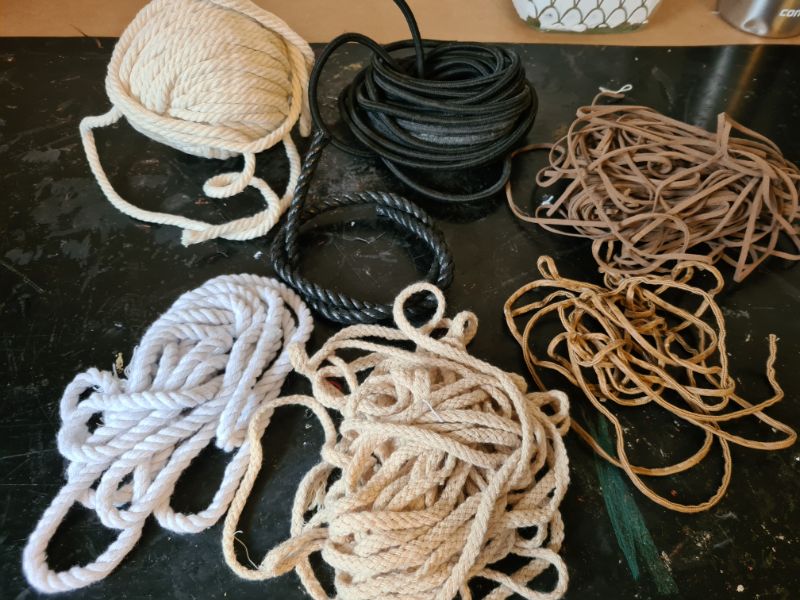 I use black hot glue to attach the rope around the neck of the bottle. From past experience, I find black hot glue
does not stand out as much as the clear.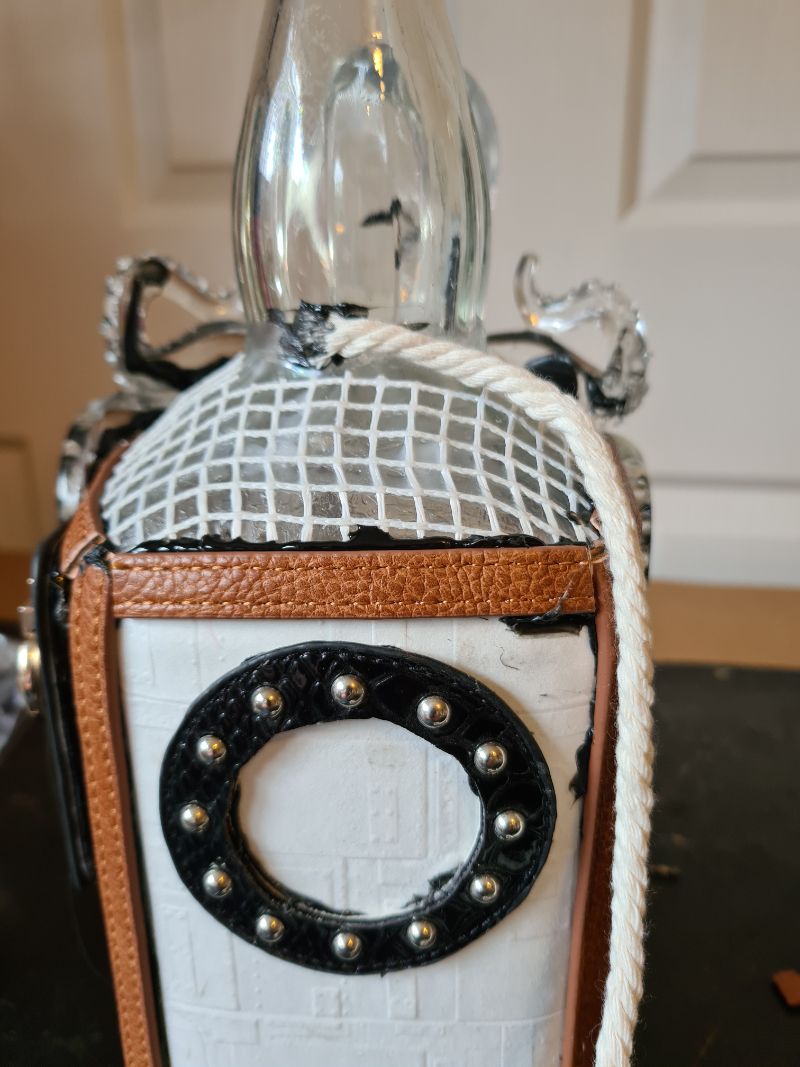 6. Chains and braids
Because I have been doing mixed media art for a couple of years now I have accumulated a large section of these.  I use an assortment of plastic beaded chains
, braided fabric trims
and chains which I buy by the metre from Aliexpress.  They have a huge section at very reasonable prices.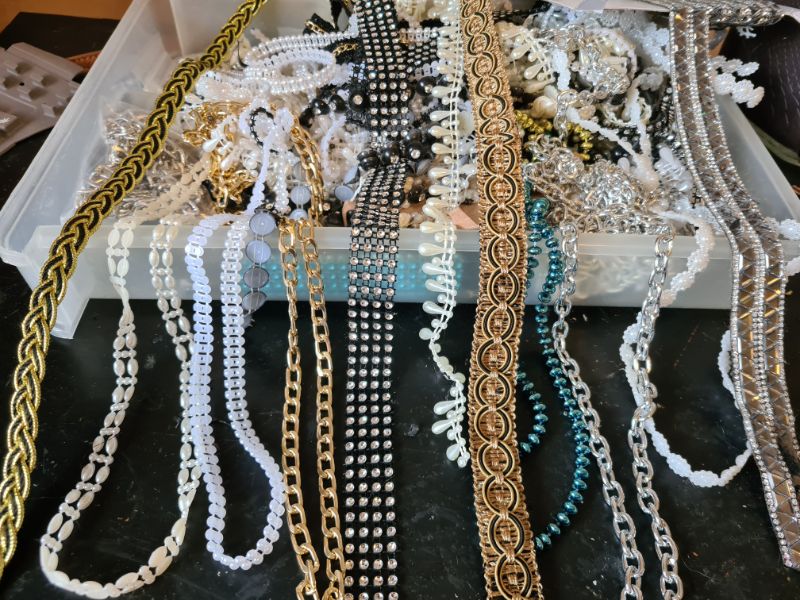 7. Belts and handbags straps
Belts and handbags straps add great texture and detail to the bottles.  I went to my local charity shop and asked them if they would keep the old belts and handbags that are not good enough for resale.  I buy these from them for next to nothing because they were going to be throwing them away.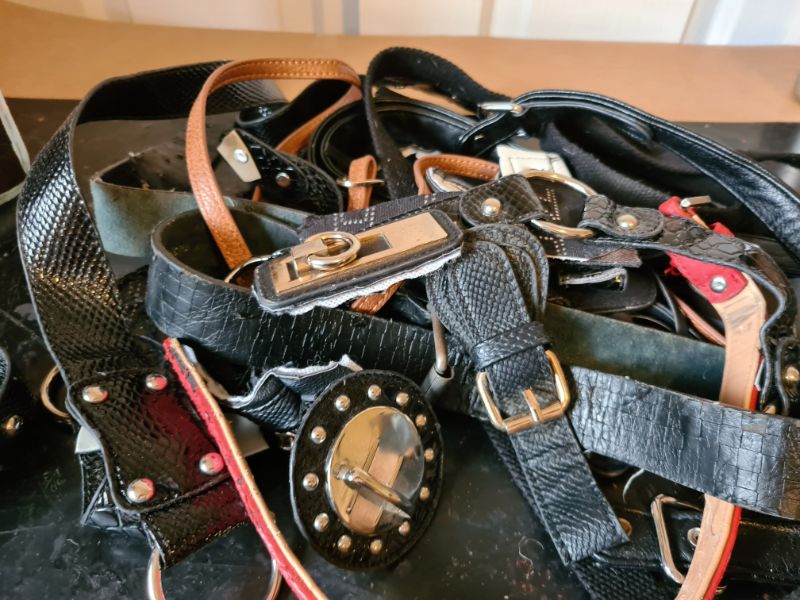 These were the parts of the old handbags I used in this project.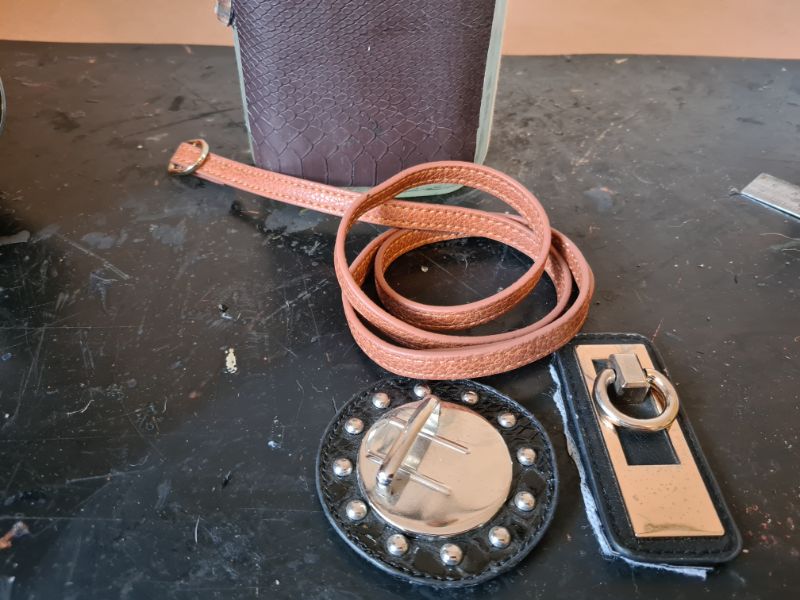 8. Glitter gravel and sand
The theme for this bottle was a monster kracken that had to be chained up after it had eaten a human and left the remains.  Creepy I know, I have no idea where I get these ideas from. I glued parts of a skeleton to the bottle and wanted it to look partly buried in the sand.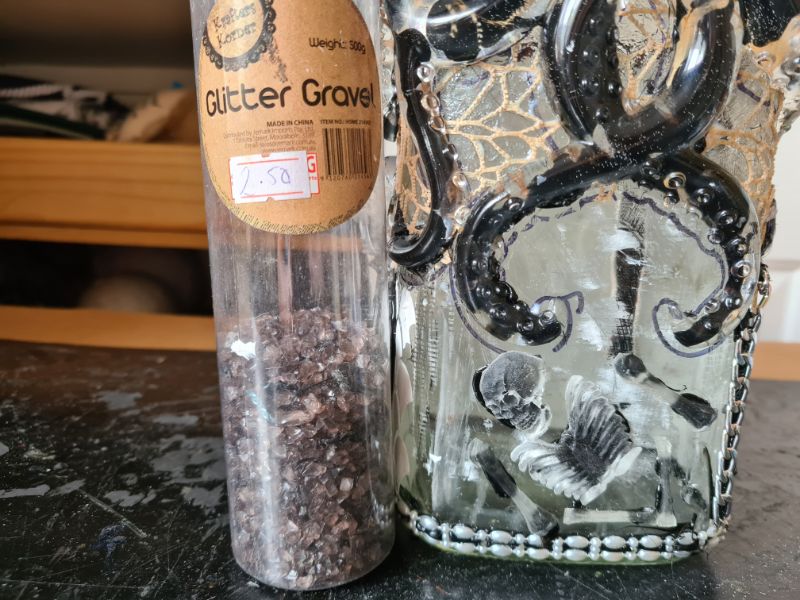 I added a generous amount of the ultimate glue
and pushed the glitter gravel into the glue and left it to set.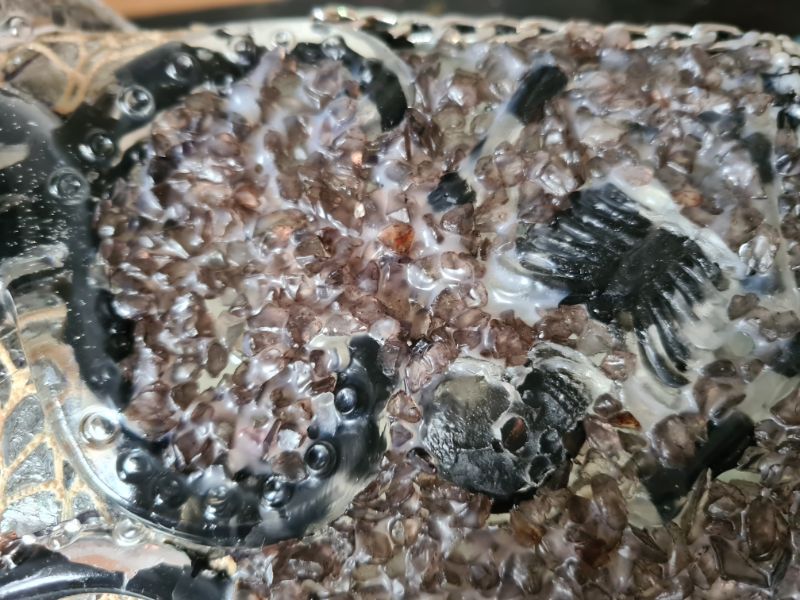 Sand is a great way to make an item look old and rusty.  I used this method when I created a steampunk Christmas tree 2 years ago. I used some sand from my niece's sandpit and pushed it into the glue to get this textured effect below.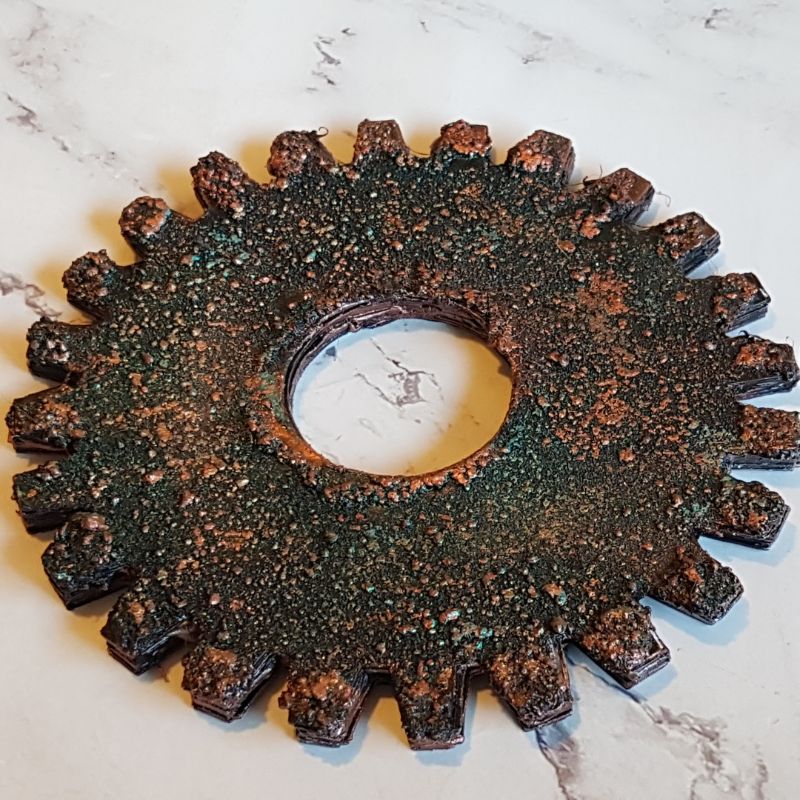 9. Charms
For most of my projects, I like to add an assortment of smaller charms to add more detail to my bottles.  I use these to fill in any gaps I think to look too bare.  These charms can be bought from Amazon and Aliexpress in bulk.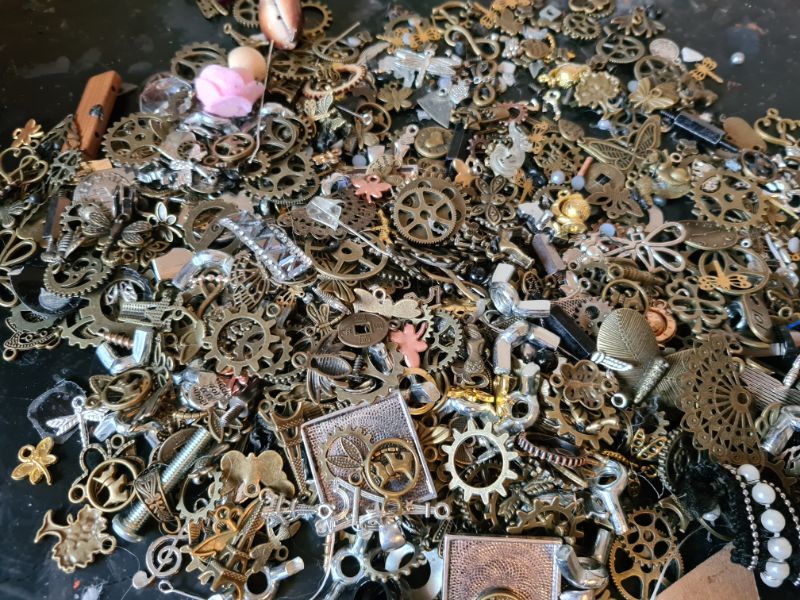 You can also use items like jigsaw puzzle pieces and buttons, any item with an interesting shape will work.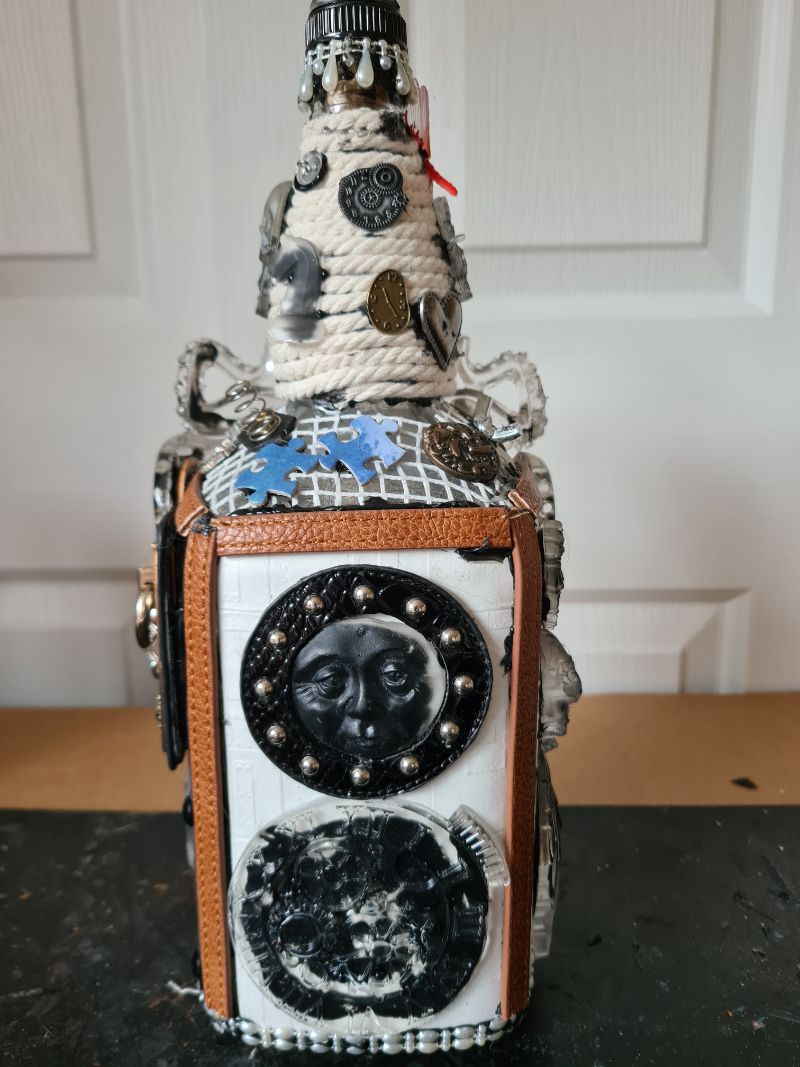 10. Broken jewellery and beads
Broken jewellery is another item I get from my local charity/thrift store.  They are happy to keep all watches, bracelets and broken jewellery and sell it to me at a very cheap price.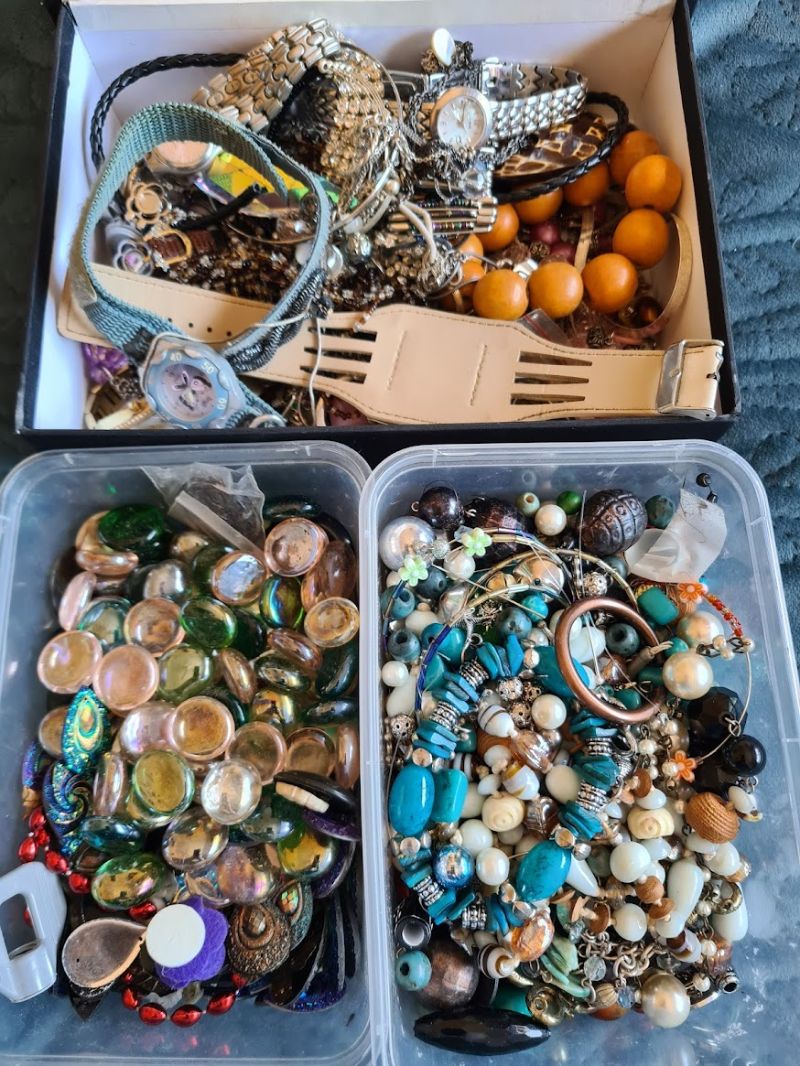 11. Kids small toys
These small toys are my favourite item to add to a decorated bottle.  I particularly love adding small cars, lego, and plastic insects.  They make the bottle look so interesting and unique. The cars and insects I buy for Kmart for a few dollars per pack which is a bargain.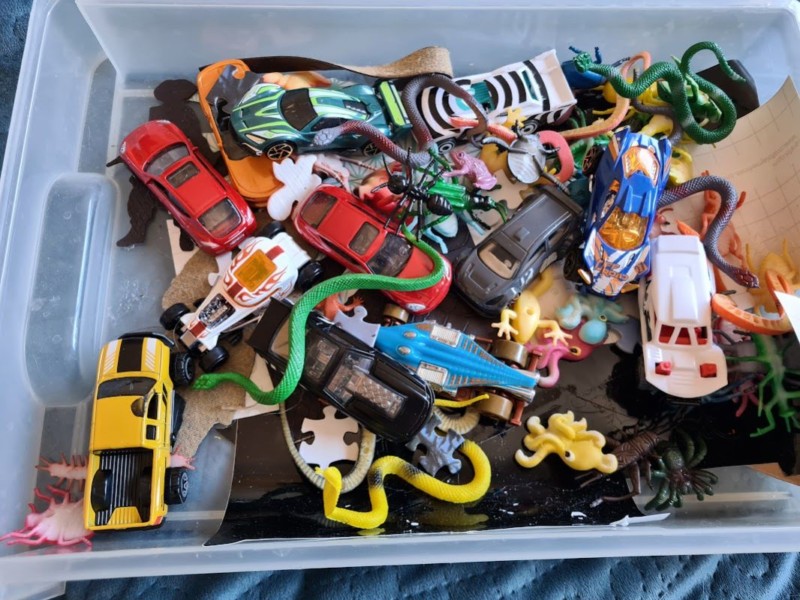 Here is an example to give you an idea of how cool they look.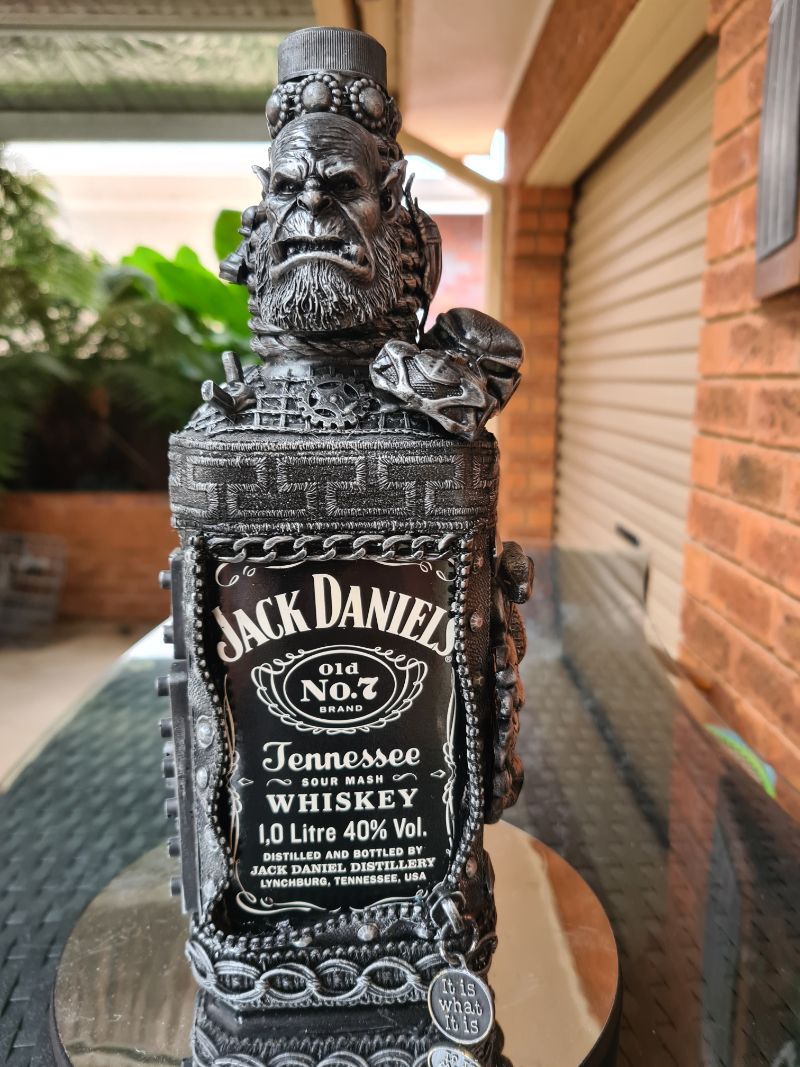 12. Bits and bobs
I also do lots of DIY so I like to use items I find in my workshop like nuts, bolts, screws, thumbtacks to name a few.  If I have a broken telephone or appliance in my home, I always take them apart and salvage any interesting parts like circuit boards and buttons. These are really great for steampunk art.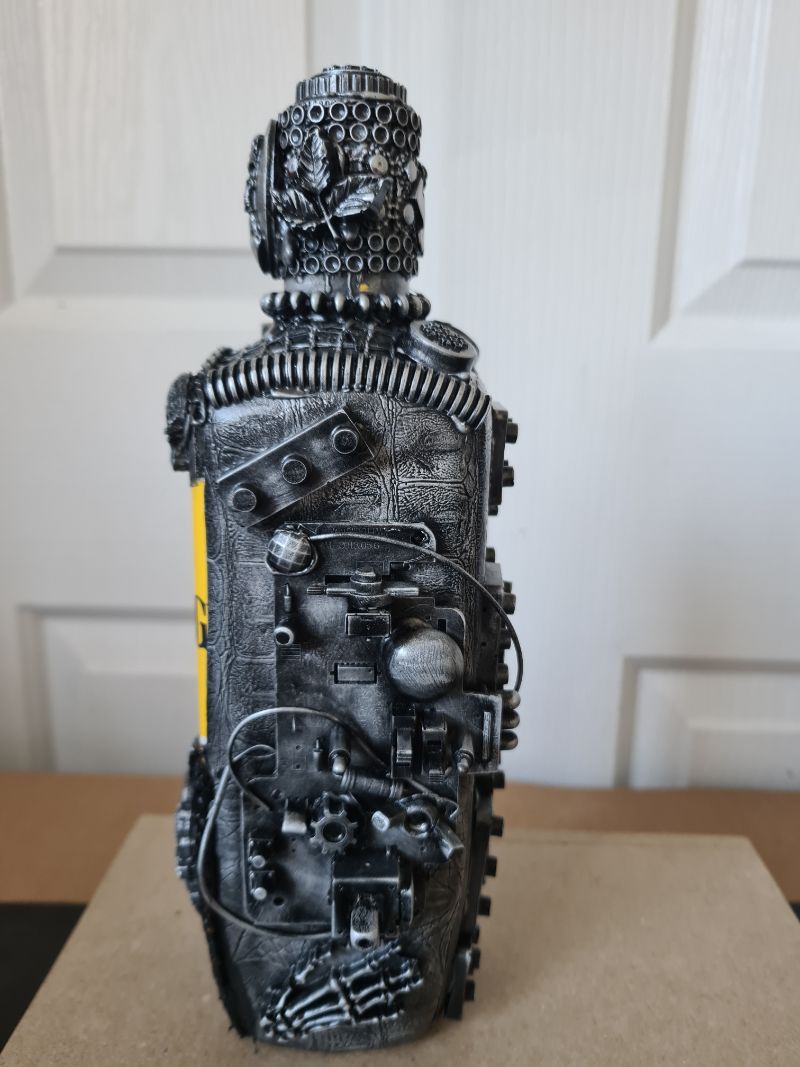 The best advice I can give when doing this type of mixed media art is to try and see past the mess. This is how my bottle looked before painting. I did go back and add some squares of paper and half pearls to the head because it looked a little plain.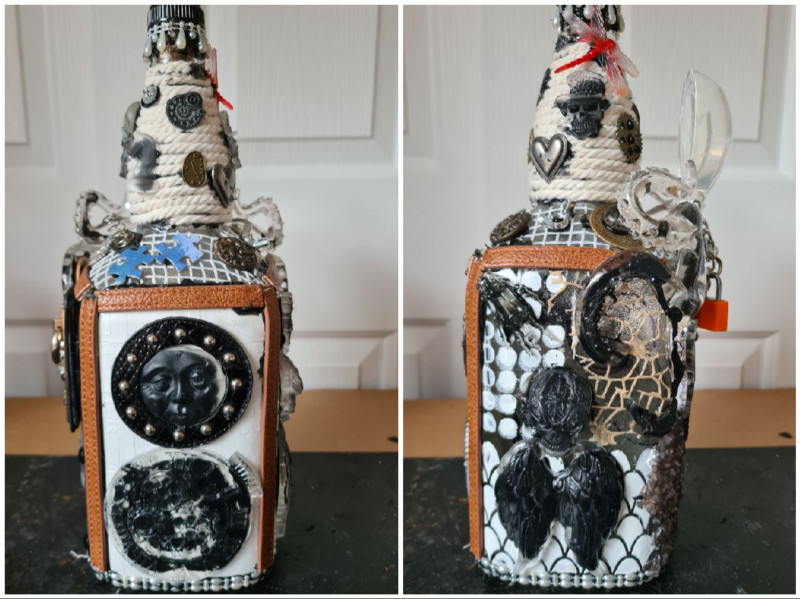 At this stage of the process, it does look like something the cat threw up.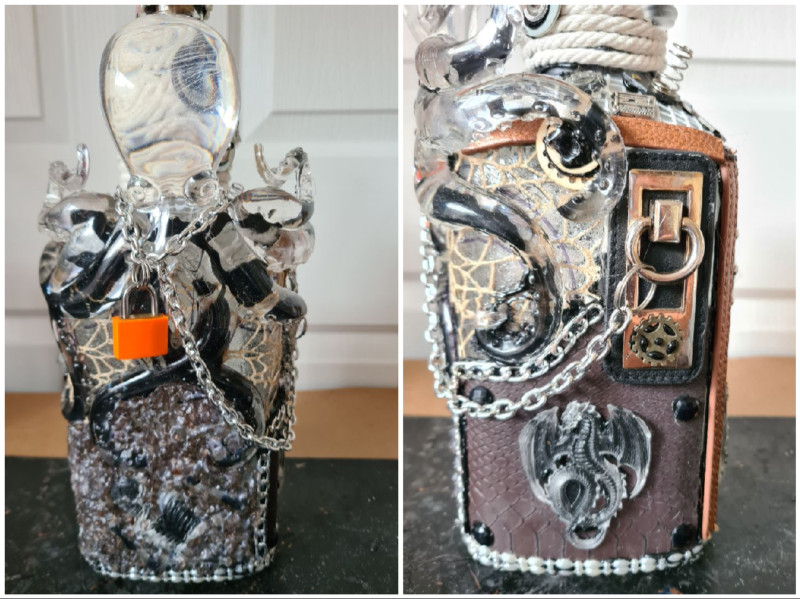 Painting the bottle
Now you can paint everything black using gesso
or acrylic paint
. Next, I used some metallic rust paint
and dabbed it over the surface using a sponge.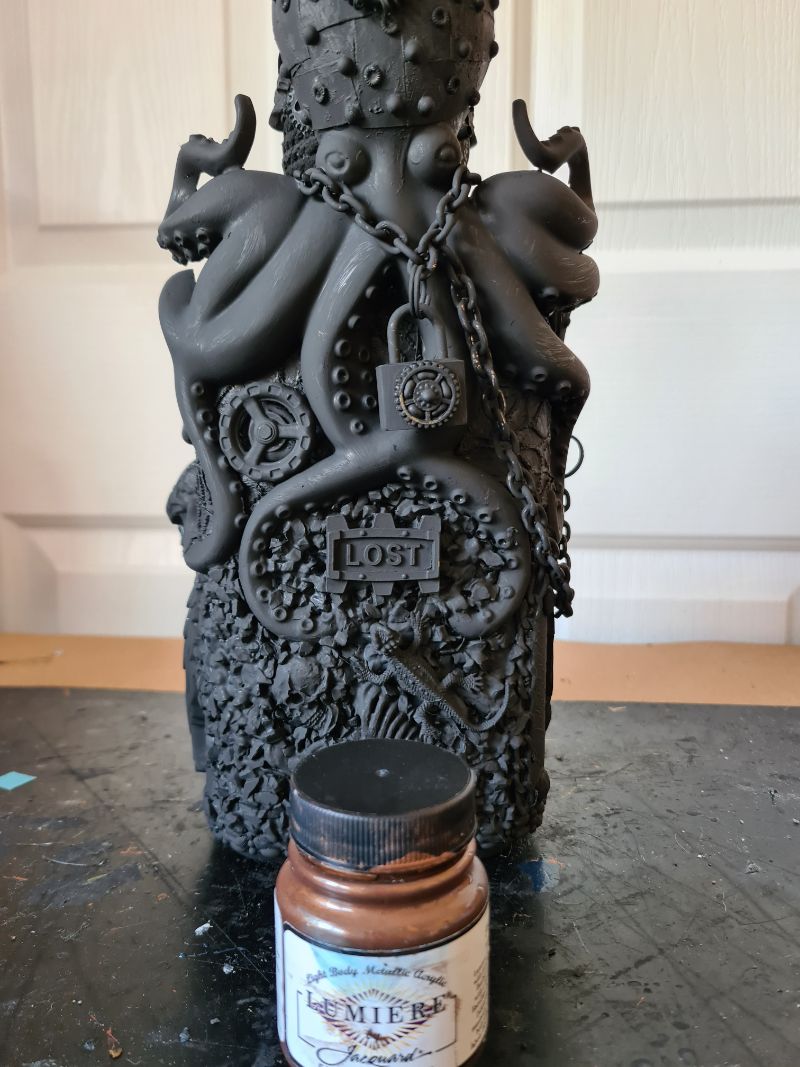 Finally, I added some highlights using orange, raw sienna and peacock
blue around some of the embellishments.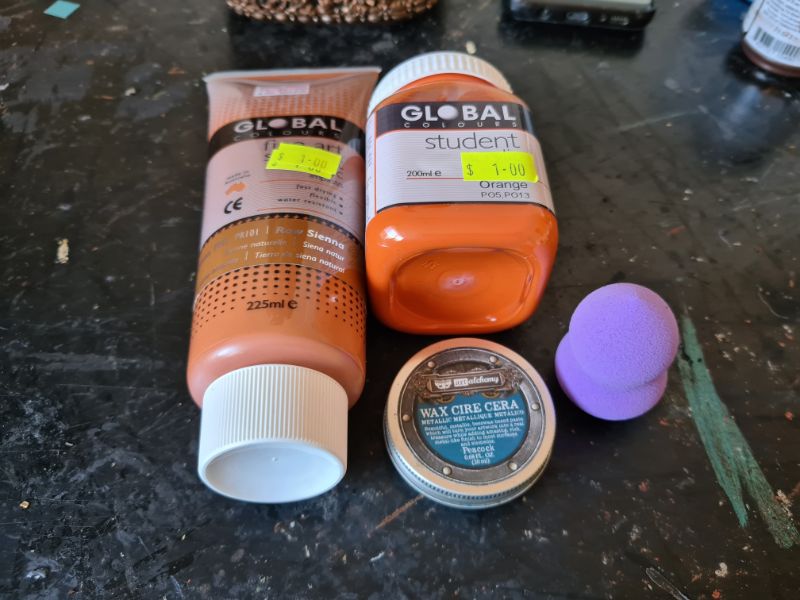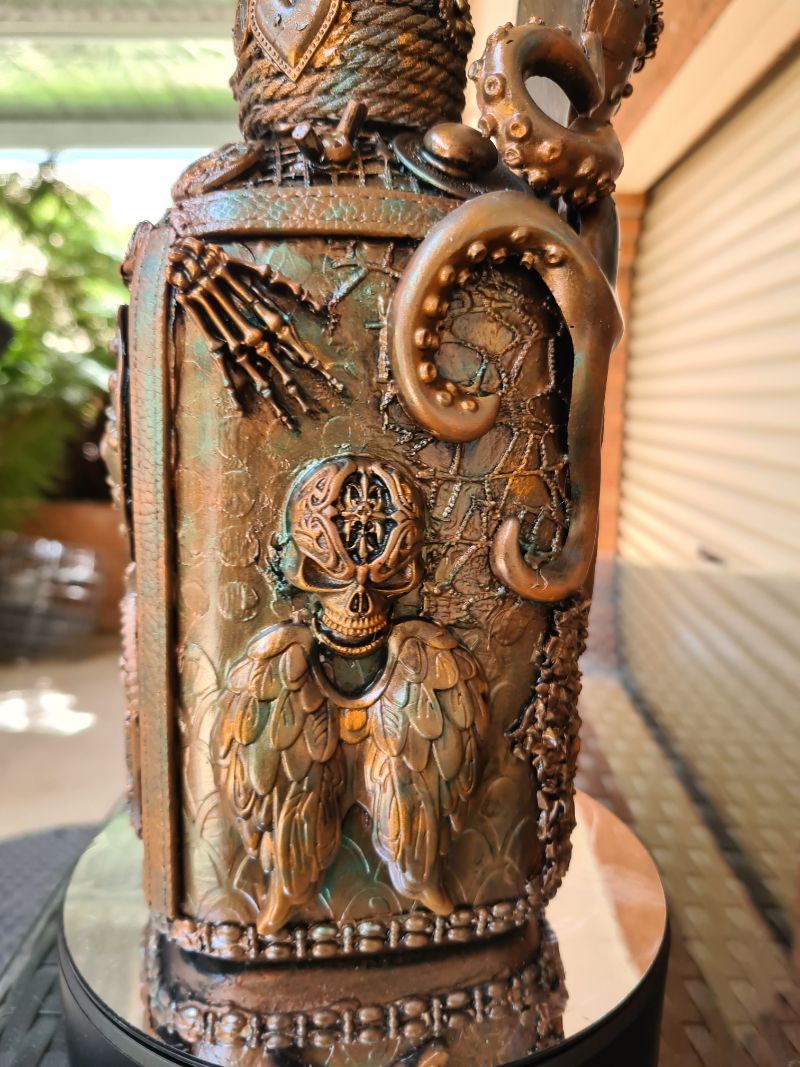 Here are  some examples of my mixed media art bottles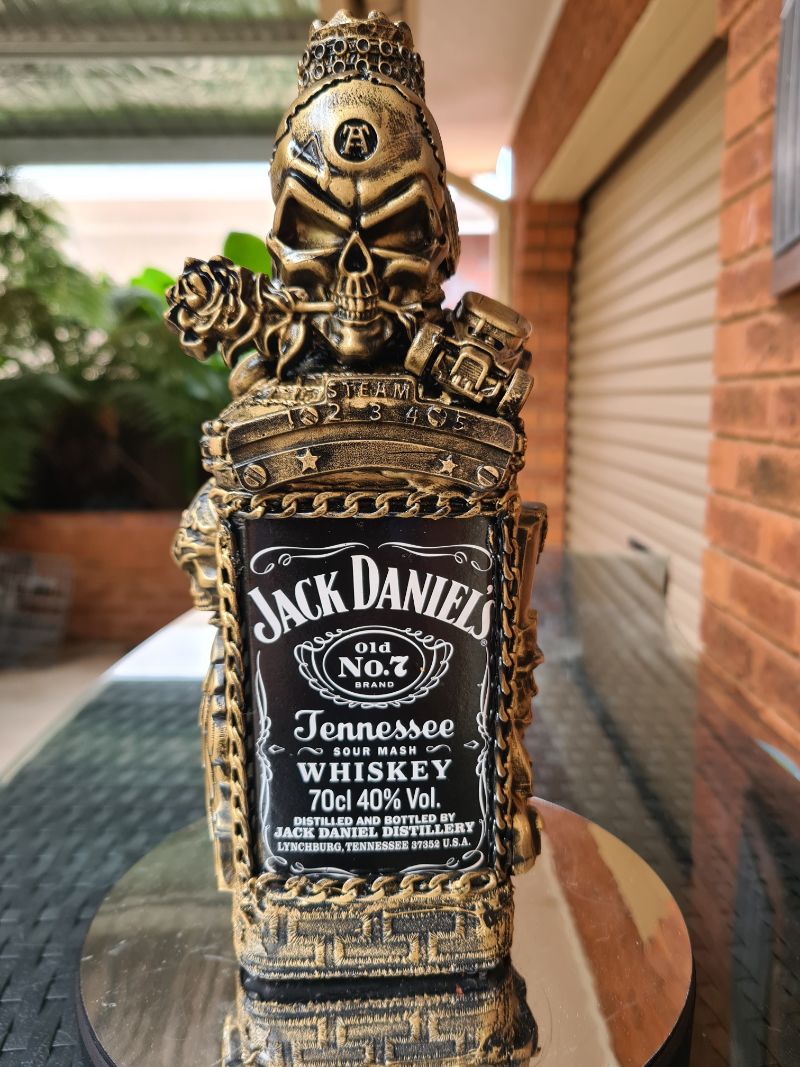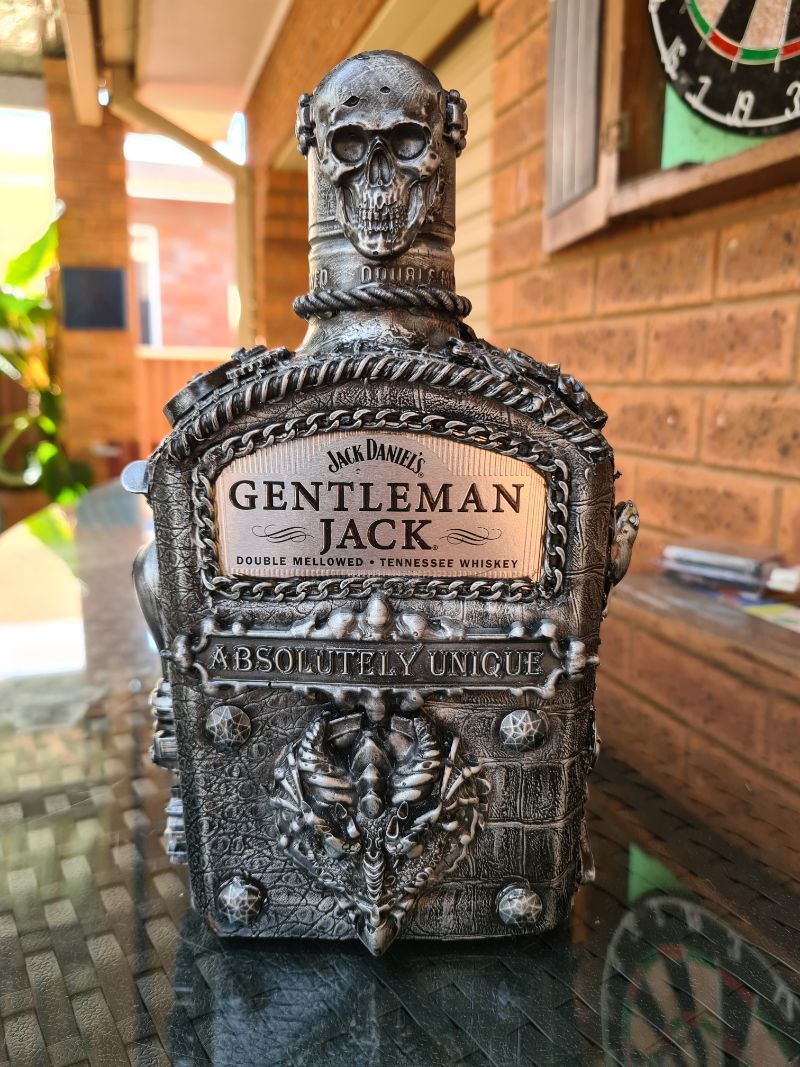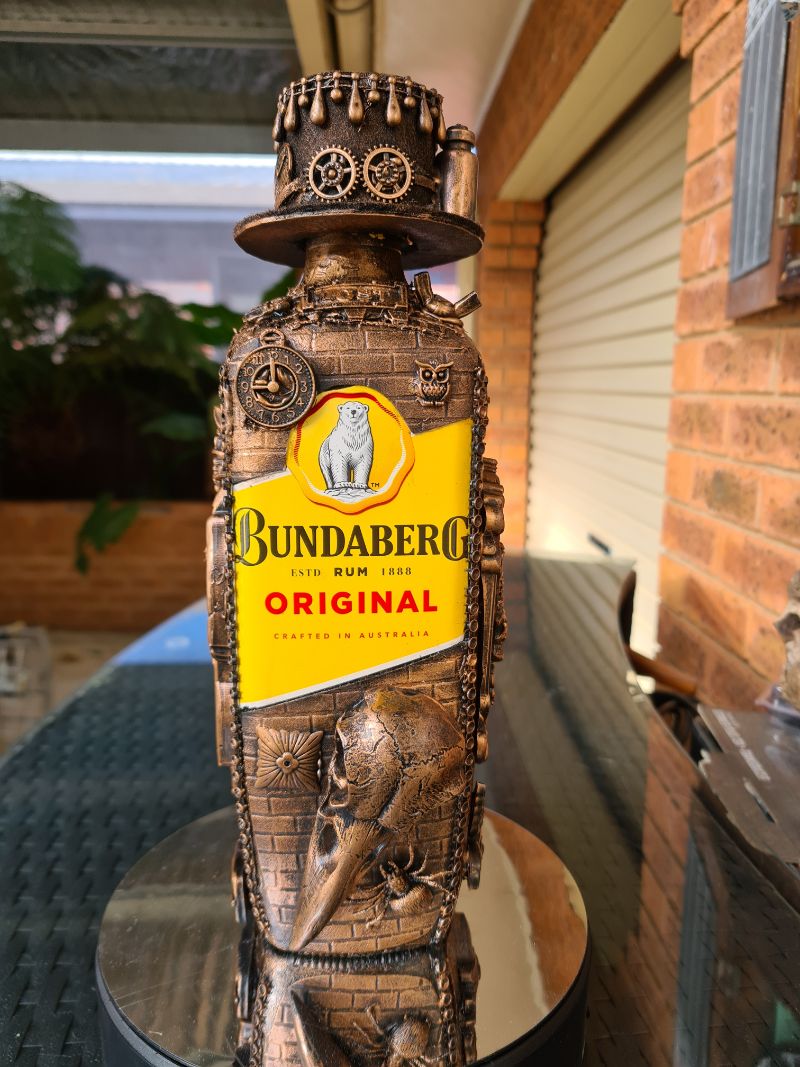 More about IBC
If you follow my blog you will know I am part of IBC (International Bloggers Club) which is a group of talented bloggers from around the world. We have members from Spain, South Africa, Australia, the United States, and Canada. Each month we come together and create a project with a common theme.
If you missed last month's "Bodacious books " theme here is the link to my Steampunk book Lamp.   The "All bottled up " contributions from my fellow bloggers for this months challenge are listed below, please feel free to jump over and give them some love.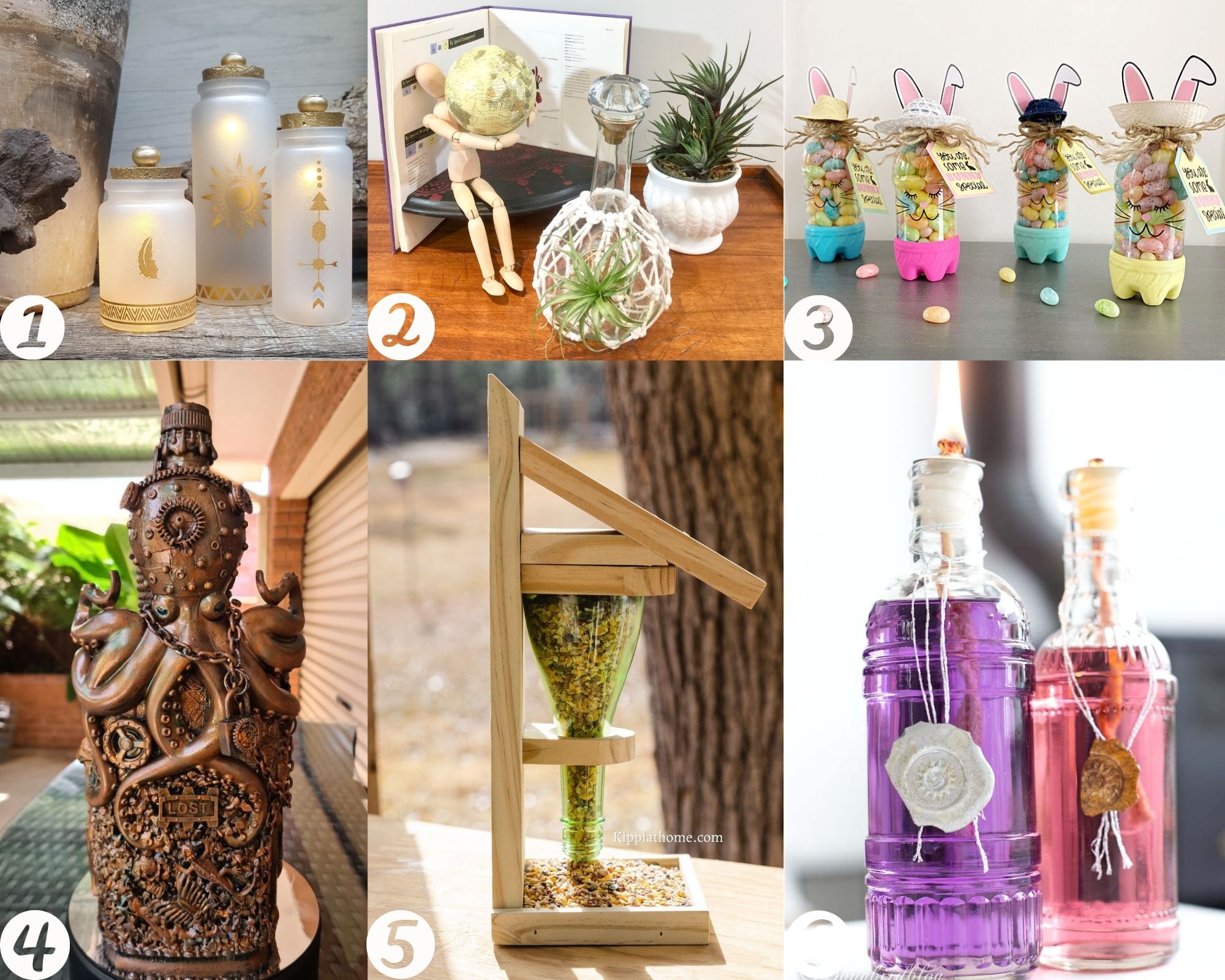 A Crafty Mix|Glass bottle lights gold accents
Birdz of a feather |Diy Air Plant holder
Interior Frugalista|Recycled soda bottle Easter bunnies 
Me
Kippi At Home| Wine bottle bird feeder
Song Bird Blog|Diy tiki torch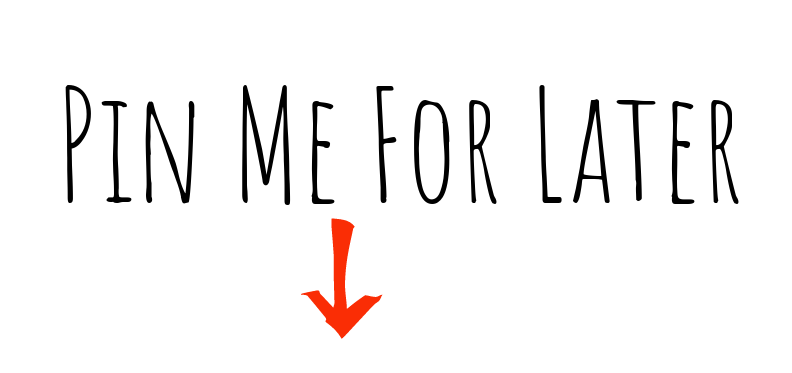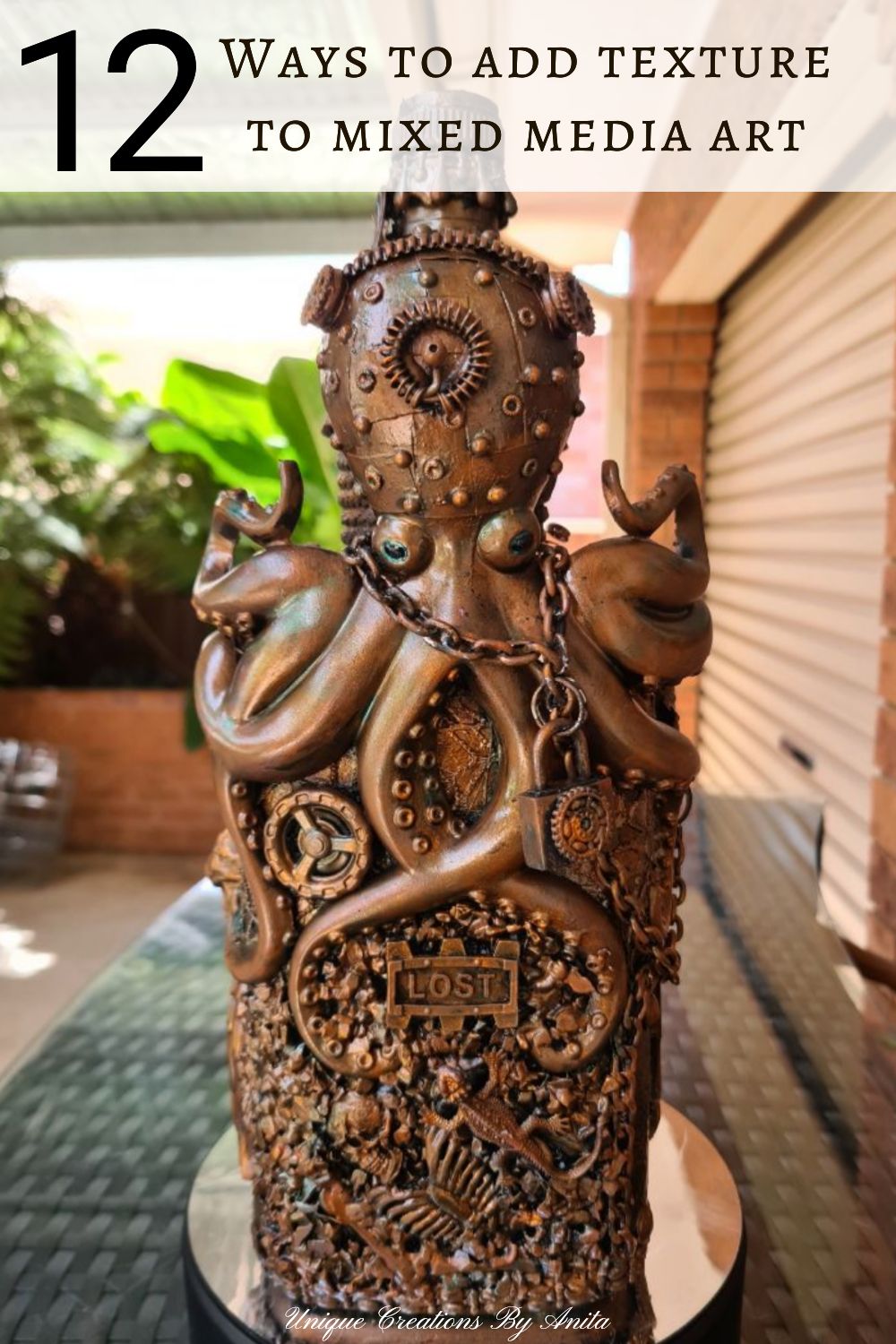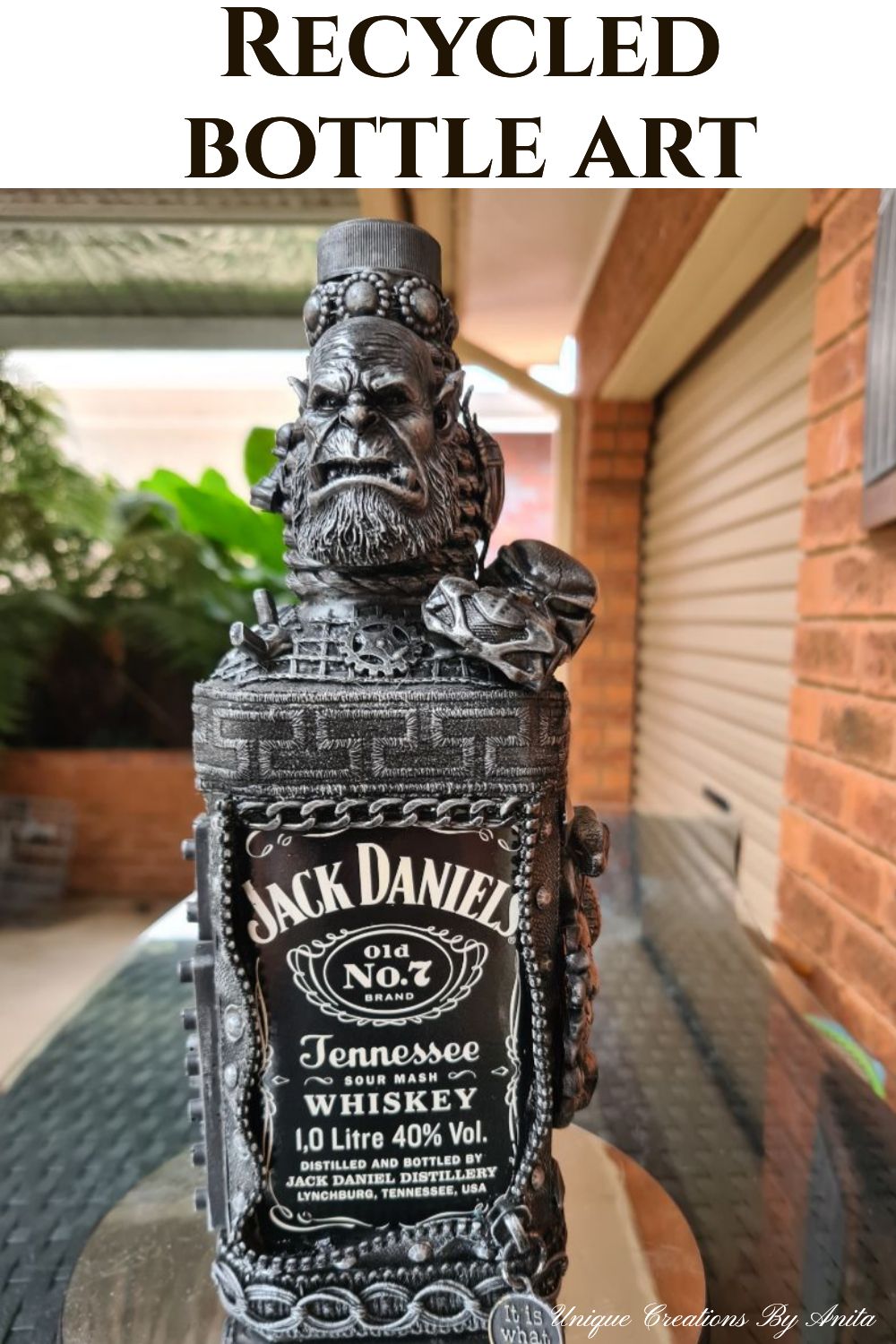 If you are looking for any of the items used in this project, please consider using our links. By clicking on the links we will earn a small commission at no extra cost to you.  Which helps us come up with new and exciting ideas to share with you. Please feel free to share or leave a comment we would love to hear your thoughts.