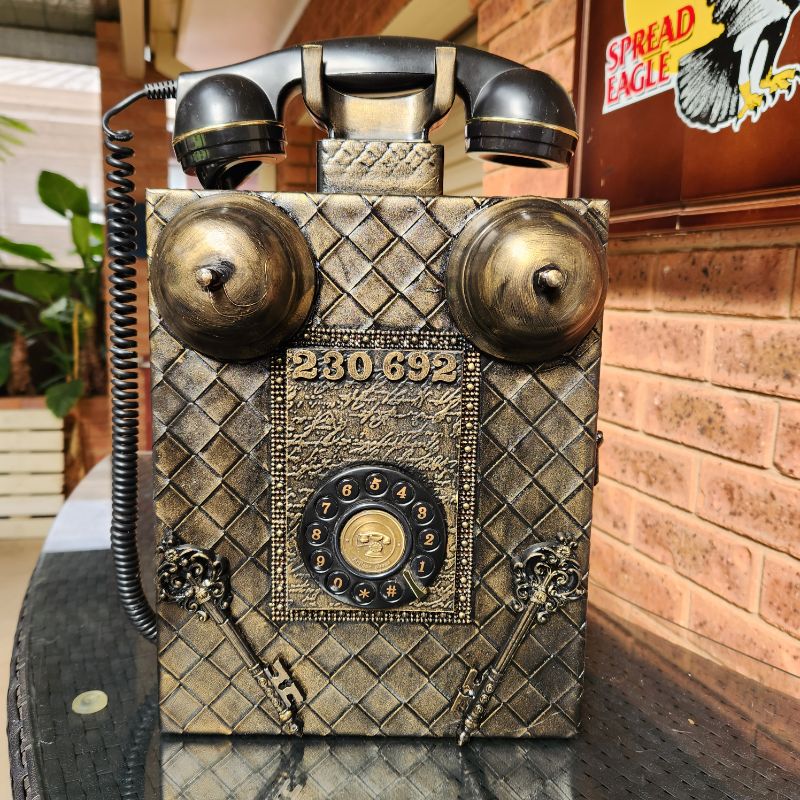 This week's post is the next challenge for our international blogger's Club (IBC).  More about IBC is at the end of this post. Our theme this month is "phone decor" which thankfully is down to interpretation.  I had an antique telephone that I found on Facebook market place which I had planned to turn into a lamp but ended up repurposing that telephone to create this telephone key rack.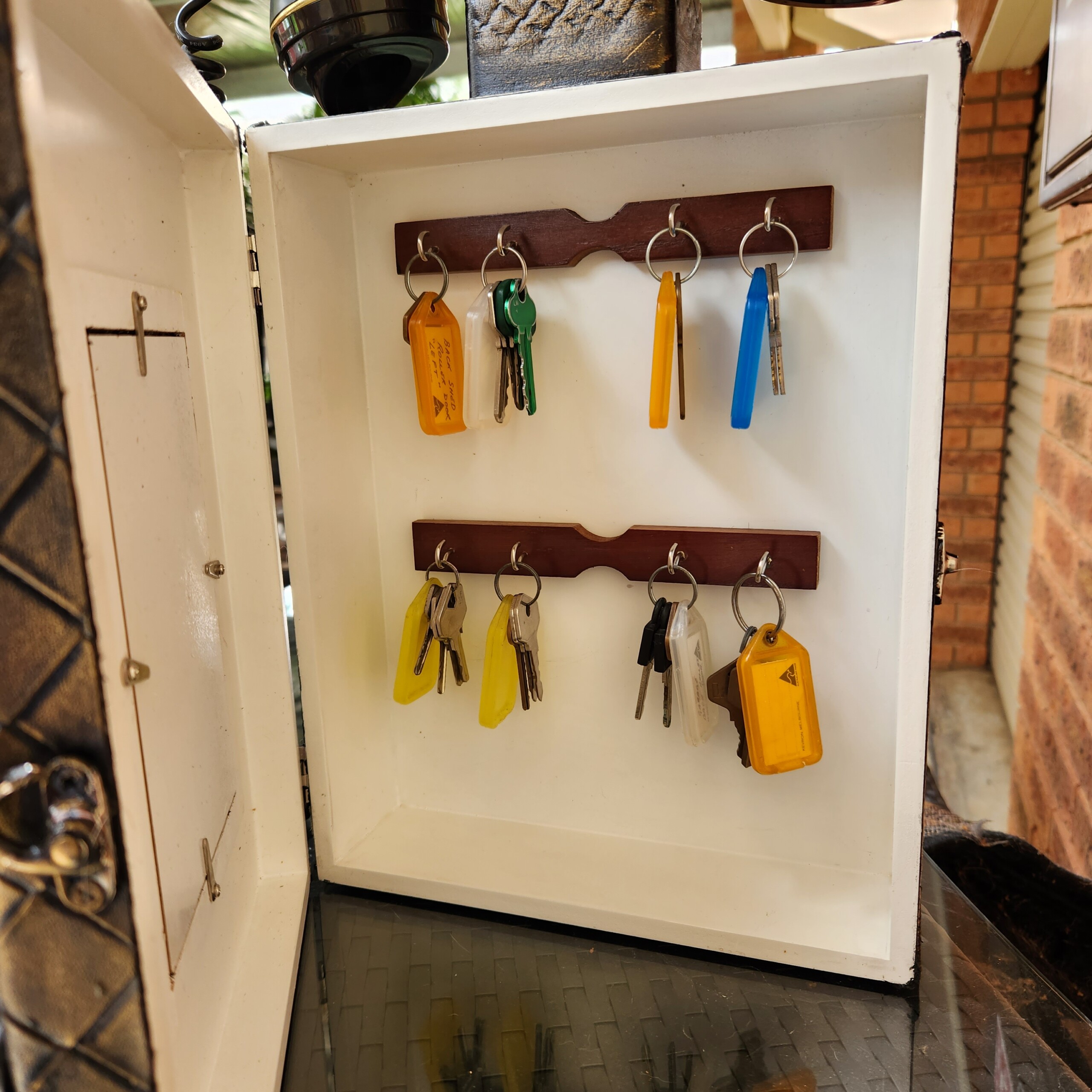 The idea behind this telephone key rack was to have a box mounted on the wall where all our keys could be stored in one place.  Our house is a nightmare because we are always looking for our keys because we don't have a designated place to put them.  Instead of just having a plain box on the wall I repurposed an old telephone and other bits and bob's to create this antique-style telephone key rack. I used mainly recycled materials to build this key storage but you can use similar items that you have at home.
How to make a telephone key rack
*This post may contain affiliate links. This means I earn a small commission on links used at no extra cost to you. Please see my disclosure policy for more information.**
Materials needed
For the base, I repurposed a keepsake box
I picked up from a local charity shop for $5.  The reception bells
were bought from kmart for $3 each.  I also need a couple of blocks of wood which were scraps from my workshop, and some scraps of textured faux leather
to cover the base.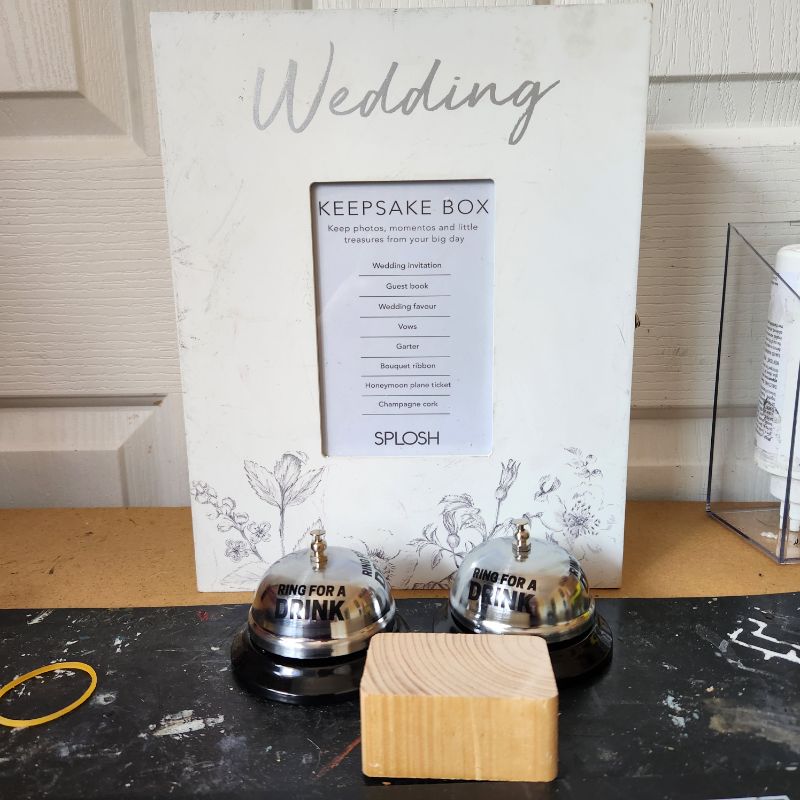 You will also need an old telephone
that you can take apart.  I bought mine from Facebook marketplace thinking I had scored an antique phone for $10 but it was just a replica.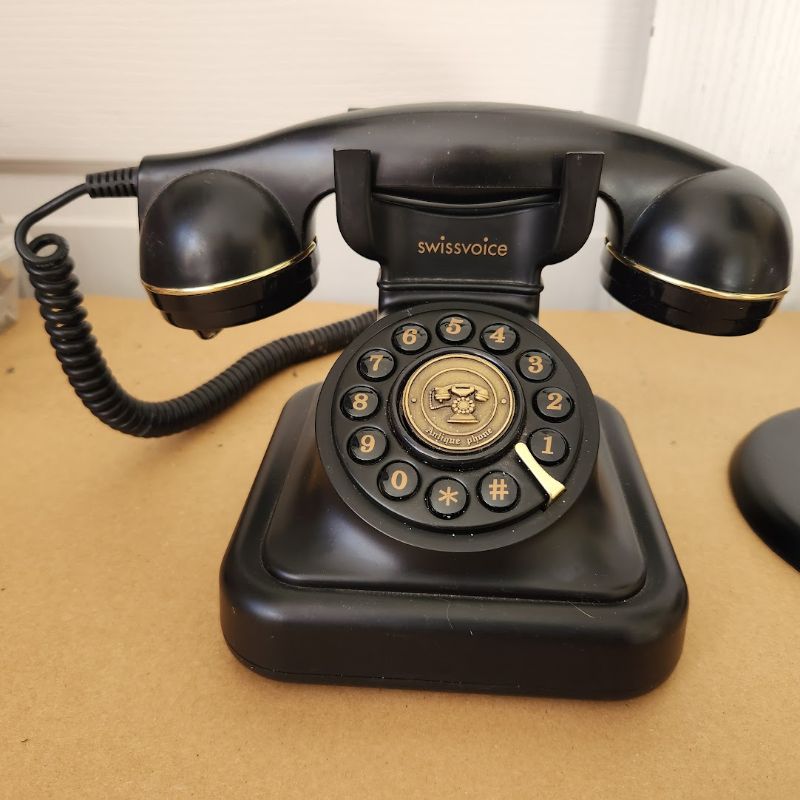 Mounting the telephone turn dial
I started by taking the telephone apart to remove the turn dial and the handset.  Because the box I used had a glass panel in the middle I removed the glass and cut some scrap plywood to fit into the gap.  I used a jigsaw and cut out the shape of the telephone number dial so that it would slot into the wood and hold it in place.  I reused the telephone handset rest which I glued to the block of wood this will be glued on the top of the box.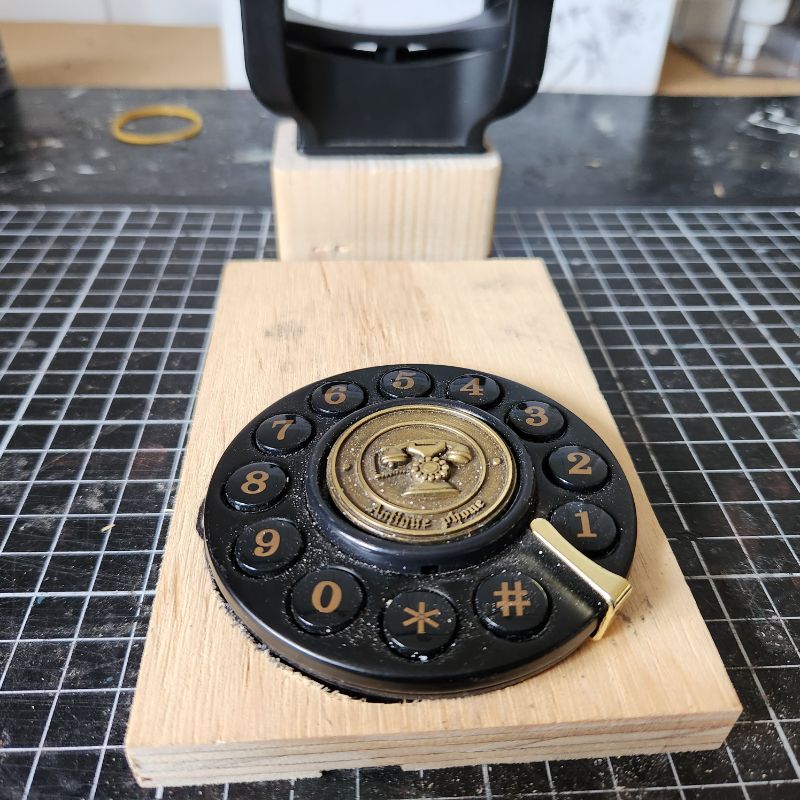 To hide the ugly plywood I used some cardstock that I embossed using an embossing press
and embossing folder.
These embossing machines are great for creating textures for projects like this.  I have even used this technique to emboss soda cans to create a wall hanging and on my mannequin art.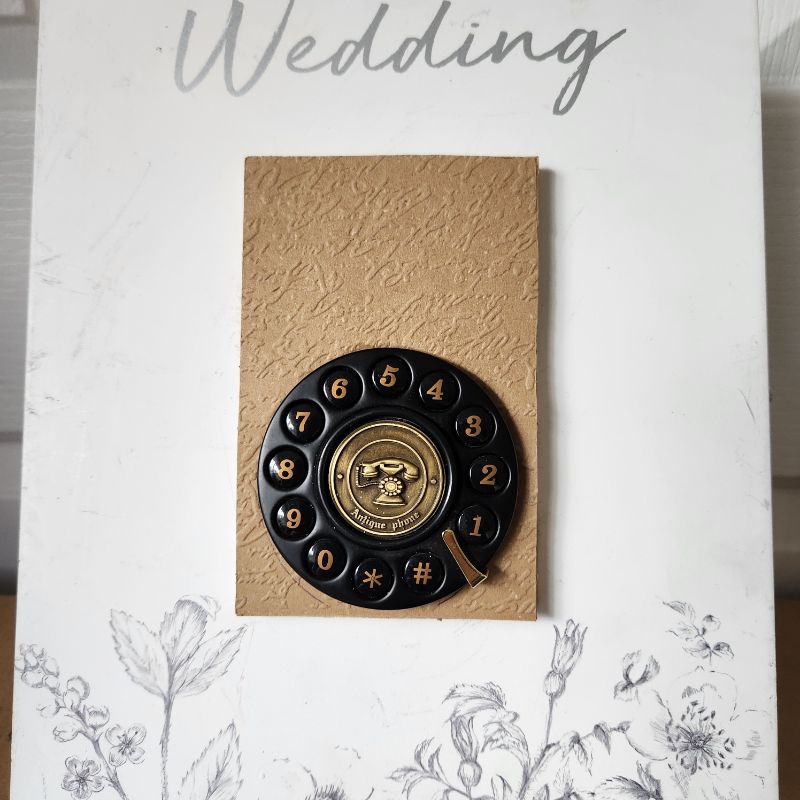 Covering the box
Back in the day, these antique telephones were actually made from wood, but I wanted mine to look unique so I used faux leather. I chose to cover the top with textured faux leather because I planned to paint the leather and highlight the texture using wax a vintage gold wax paste. The best glue I have found for this is the crafter's "ultimate" glue
. You can also use decoupage paper
or any similar product.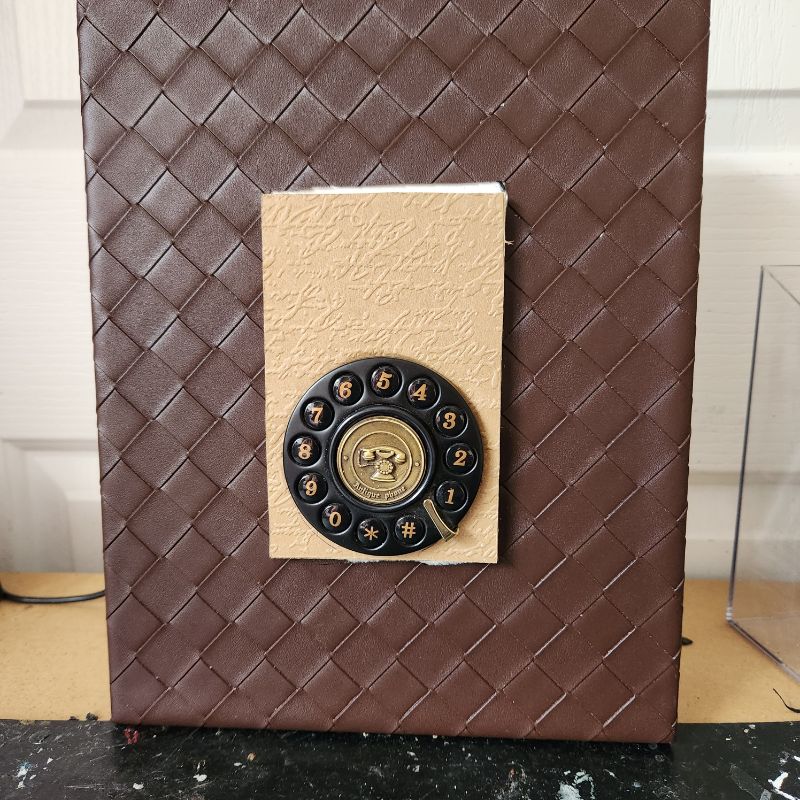 I used the same embossed cardstock to cover the sides of my box.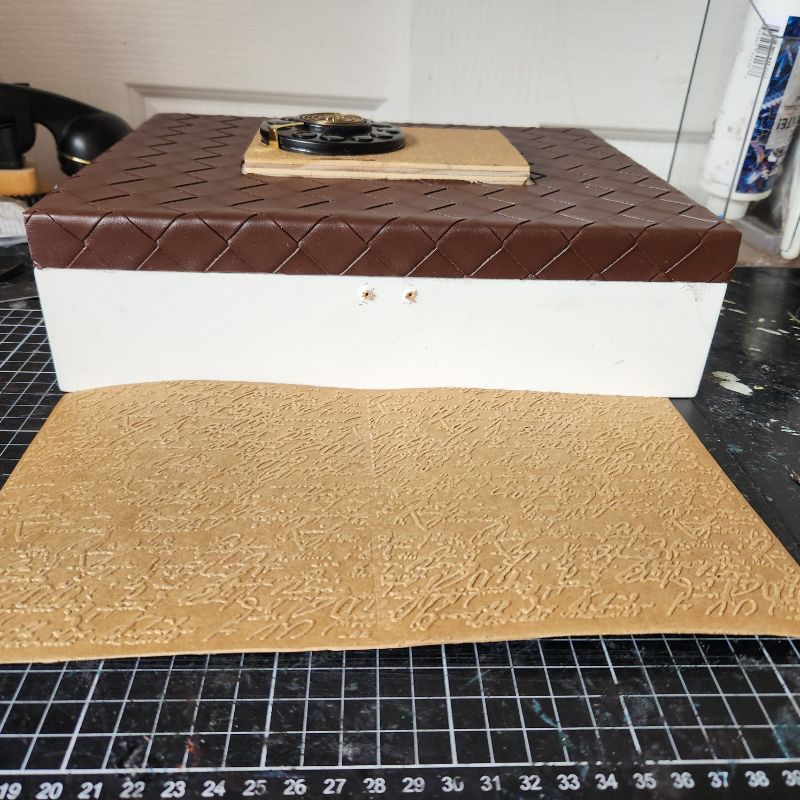 I messed up when I was cutting the leather and I had a gap around the wood.  To fill this gap I used some plastic bead trim strips
which I glued in place.  I thought it was a happy mistake in the end.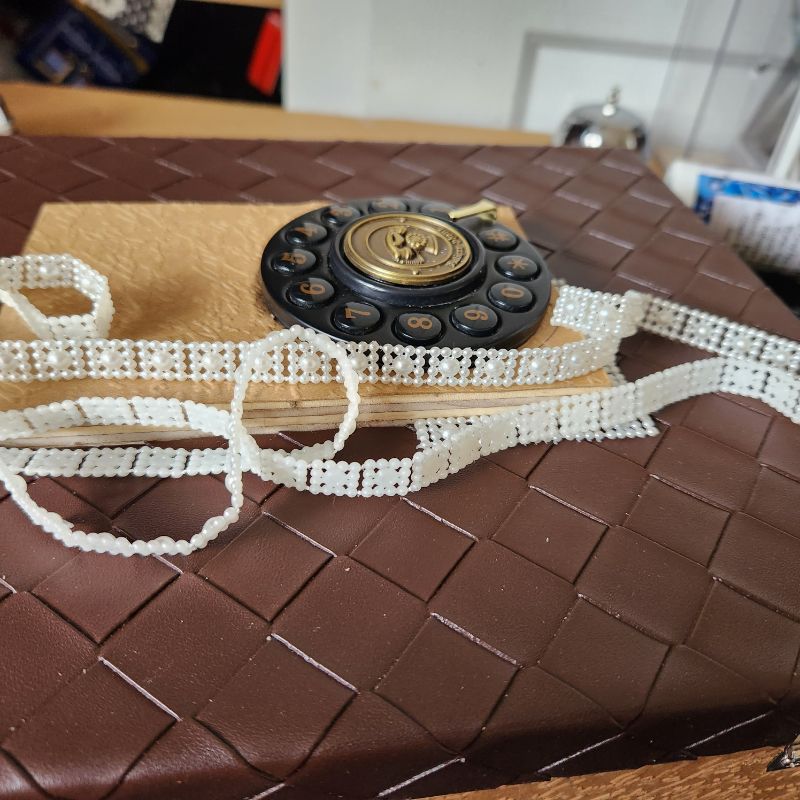 Adding the reception bells
The reception bells are supposed to represent the ringing bells on an old antique telephone. I did have an issue getting them to stick to the faux leather because the bells were hollow underneath.  To solve this I glued some thick cardstock to the inside of the bell.  This gave me a larger area to add the glue to. I used some small wooden numbers
from my craft stash for the phone number on the front.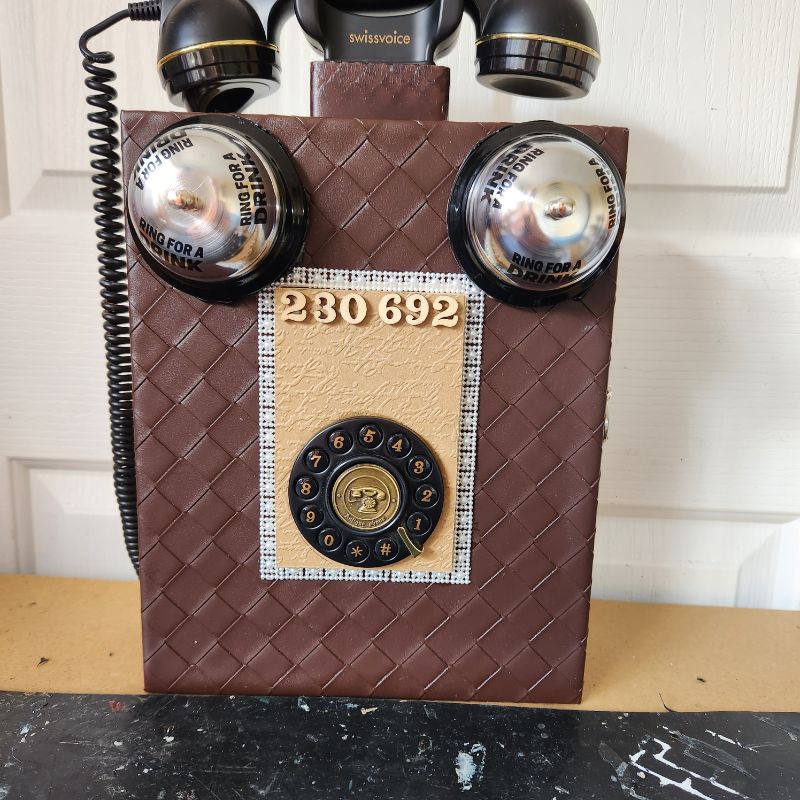 Making the keys
I wanted to add some detail on the front of the key rack, and keys were the most obvious thing to add.  I do a lot of mixed-media art and I have a large selection of silicone moulds.
  For a quick project like this, instead of using resin in the mould I use hot glue.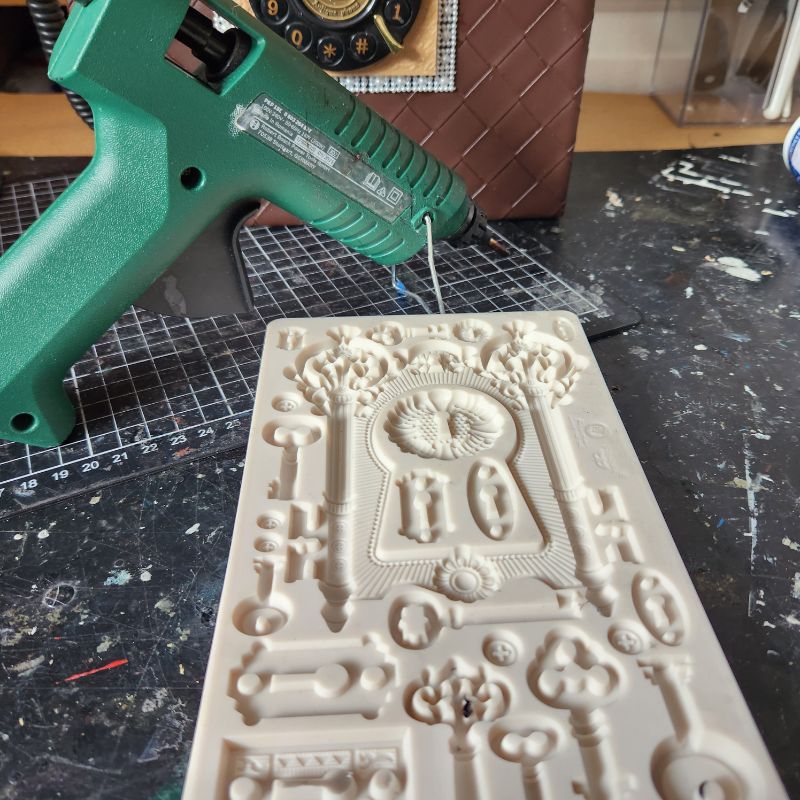 Painting the key rack
Next, I paint the whole box using black acrylic paint
.  This will make everything look like it all belongs together and not just foreign items are thrown together.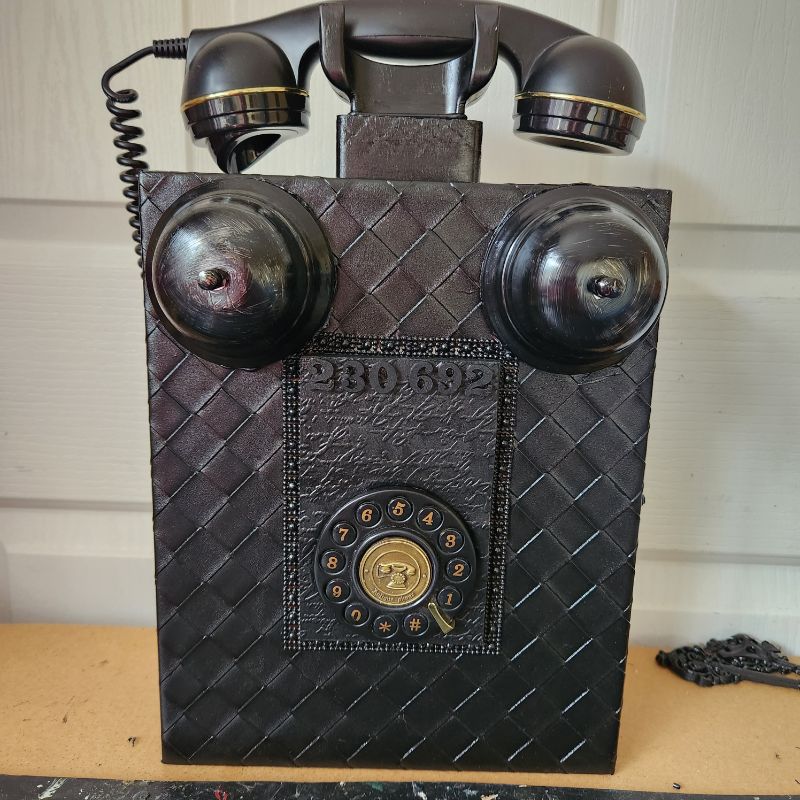 Adding the metallic wax paste
I wanted the surface to look like metal so I used a vintage gold wax paste to highlight the surface. This wax paste come in lots of different colours so you are not limited.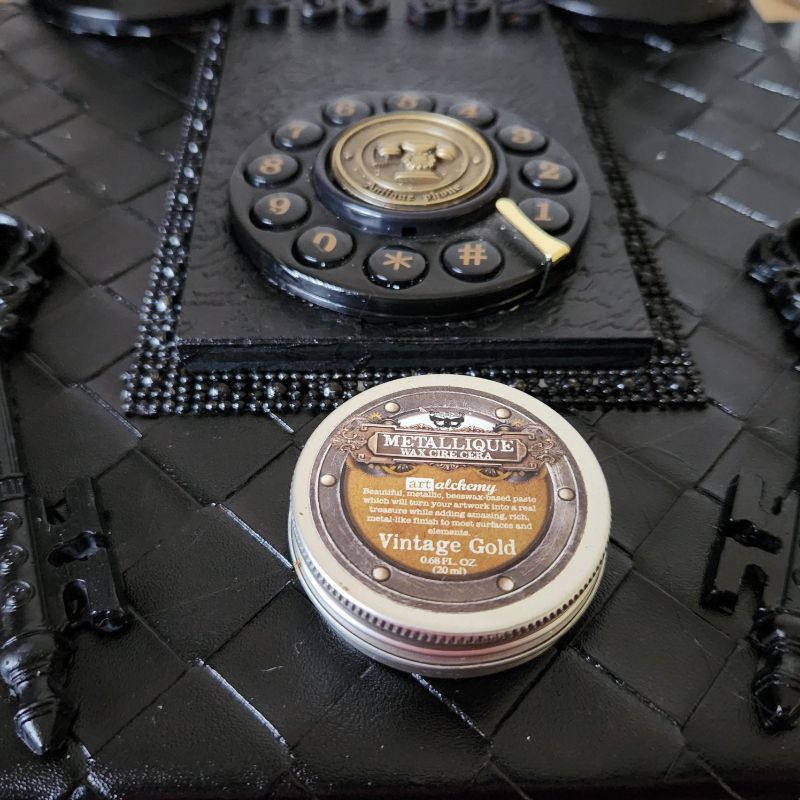 To apply the wax paste you touch the surface of the wax with your finger and rub it gently over the raised surfaces.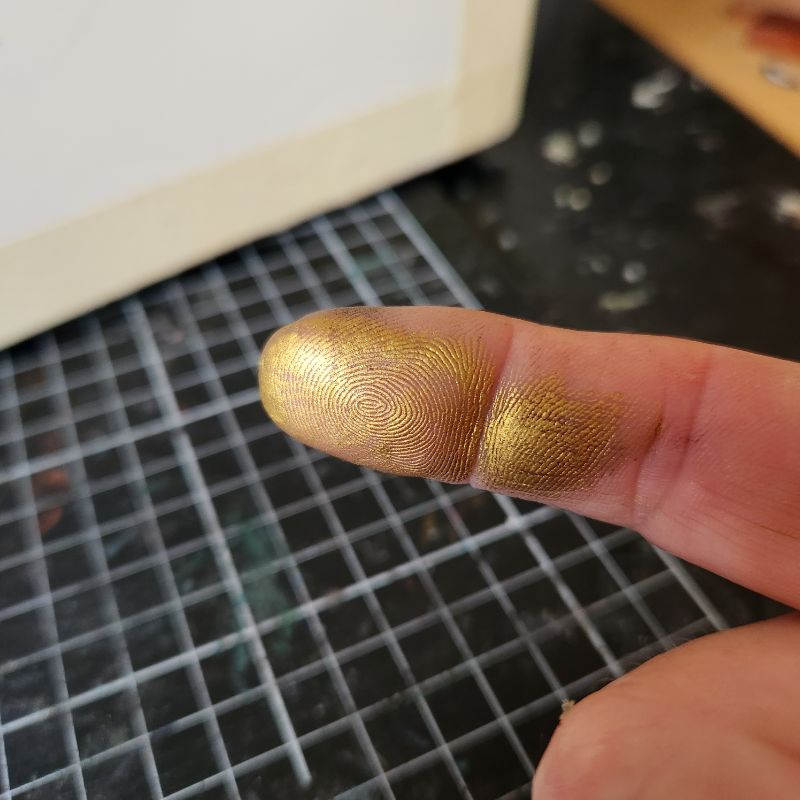 The idea is to highlight the black but still leave some showing through. This wax will also highlight all the paintbrush marks which make the bells look distressed.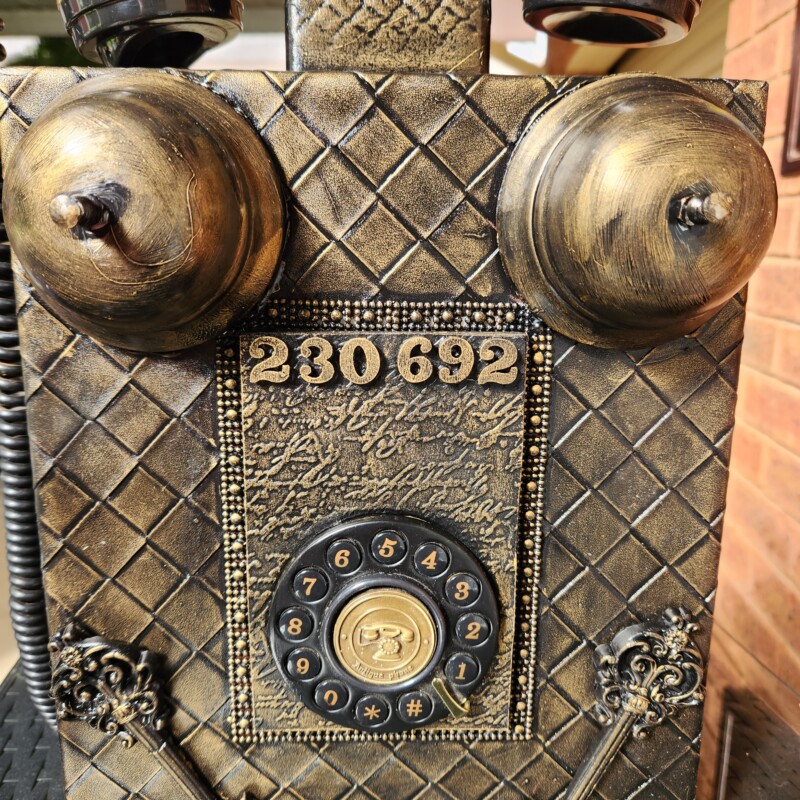 Making the key rack
To make the key rack for the inside you will need some small strips of wood.  The ones I used for scraps from a previous project.  To secure the wood on the inside of the key rack I used some hot glue.  If you are one of those people who have a large number of keys on your key ring you can add a screw from the back into the wood to make it more secure.
Finally, add some hooks to hang the keys on. Because my key rack is for individual keys I will be going back and adding another rack at some stage.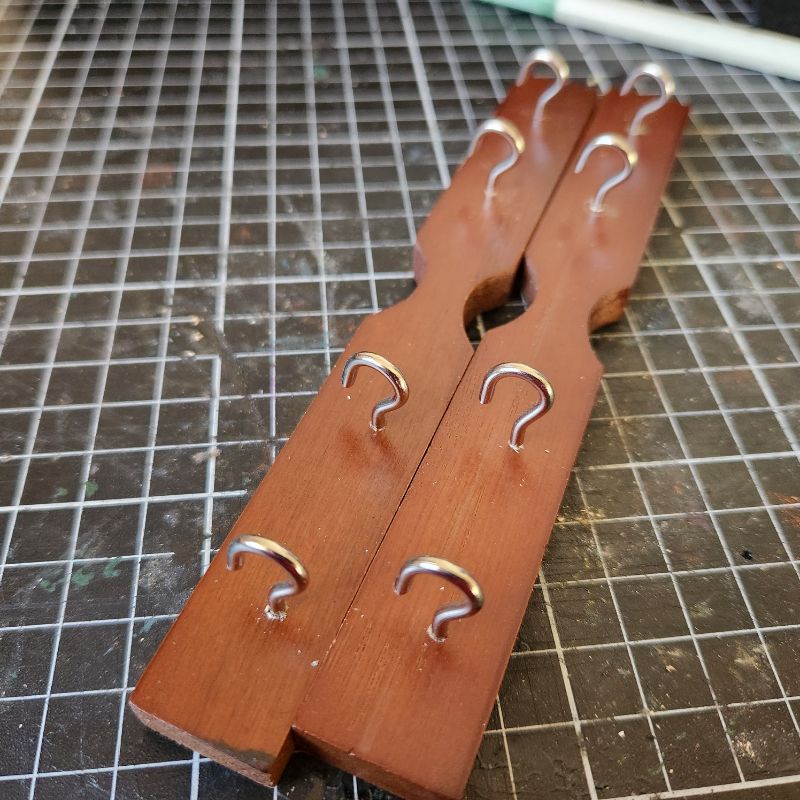 Up close view of my key rack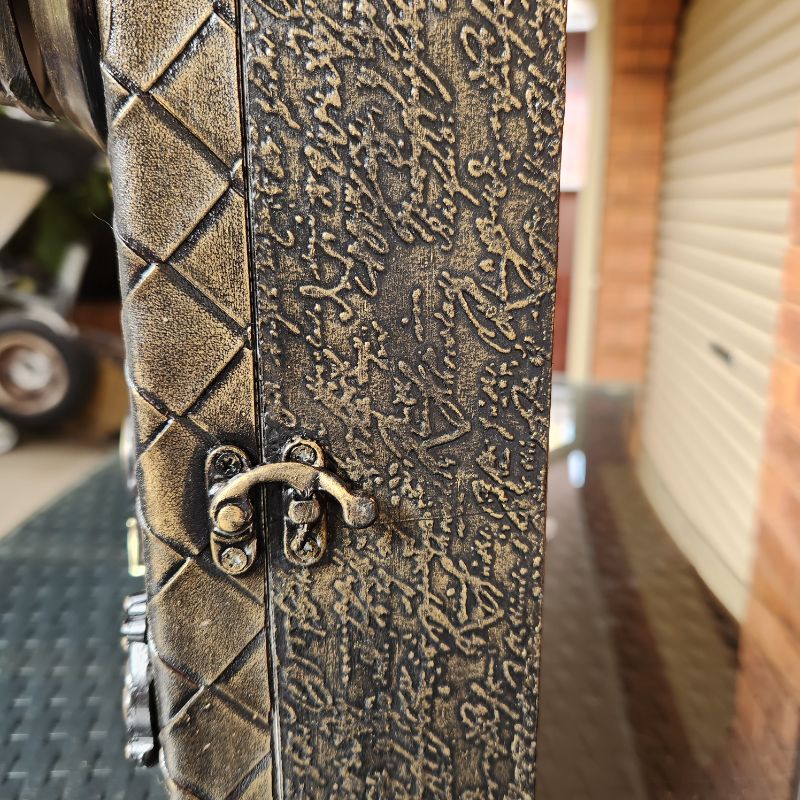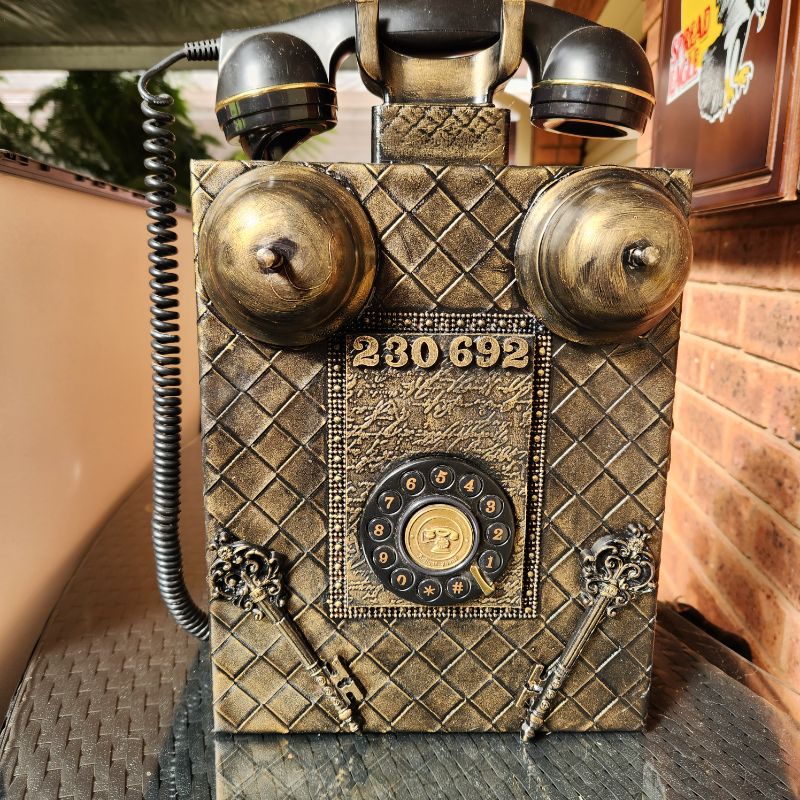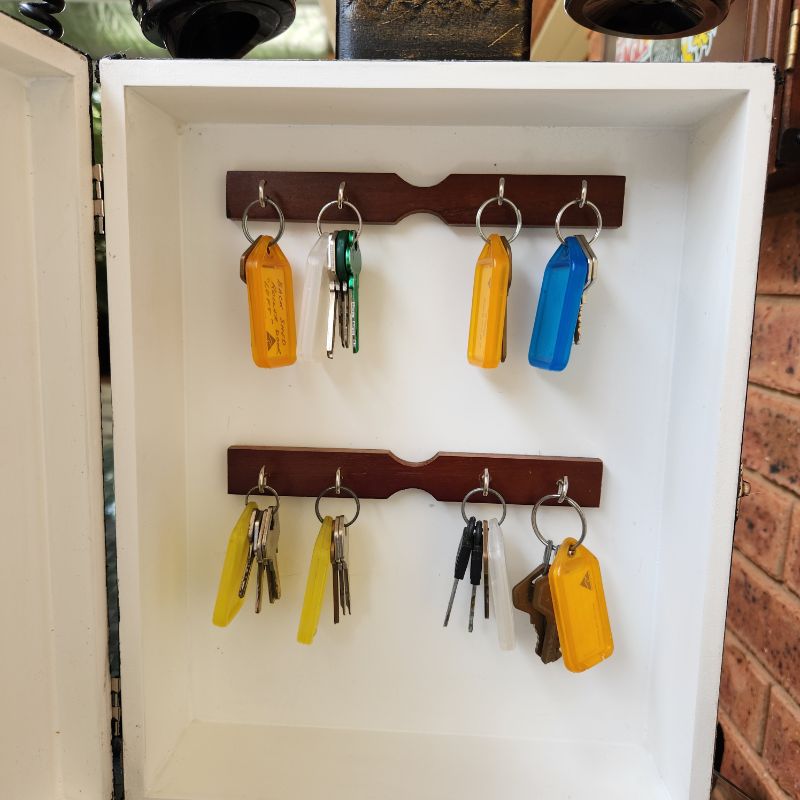 More about IBC
If you follow my blog you will know I am part of IBC (International Bloggers Club) which is a group of talented bloggers from around the world. We have members from Spain, South Africa, Australia, the United States, and Canada. Each month we come together and create a project with a common theme.
If you missed last month's "Glass etching " theme here is the link to my glass safety decals post.  The "Telephone decor " contributions from my fellow bloggers for this month's challenge are listed below, please feel free to jump over and give them some love.
Sara from Birdz of a feather created these super cute grinch phone cases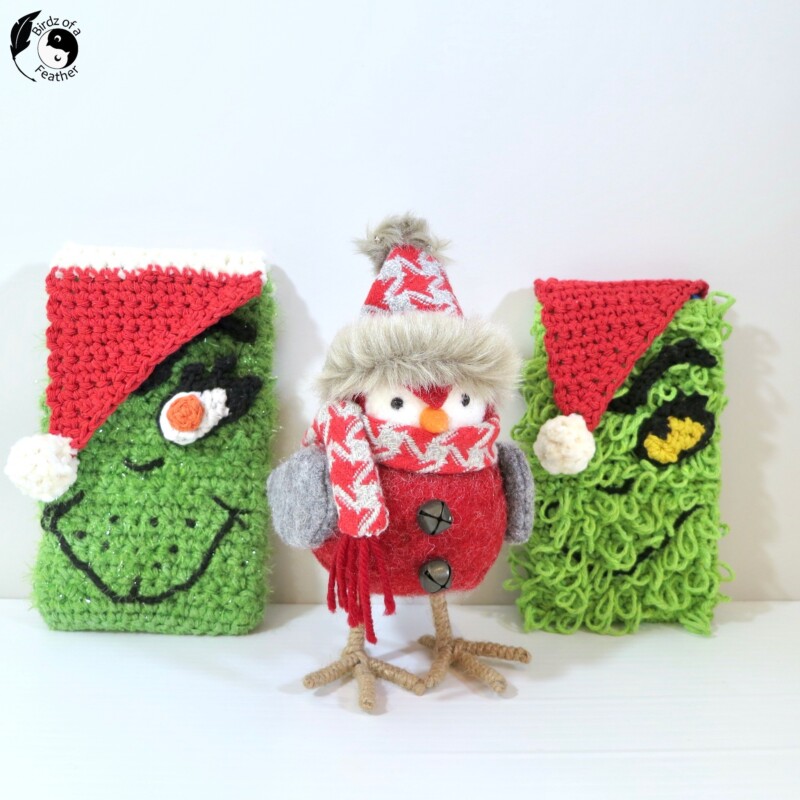 Michelle from A craft mix made this amazing USB charging station, no more ugly wires everywhere.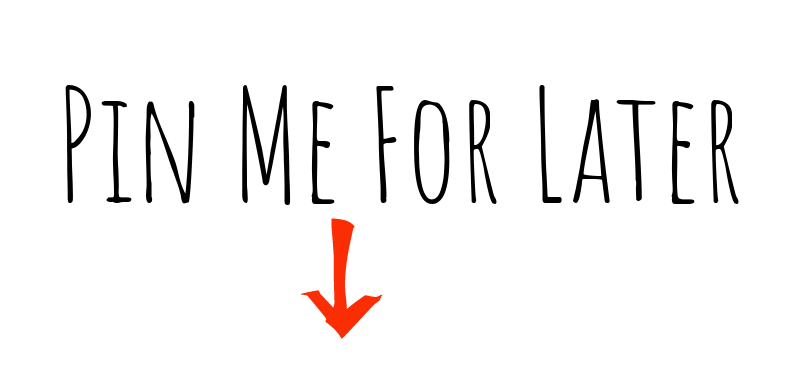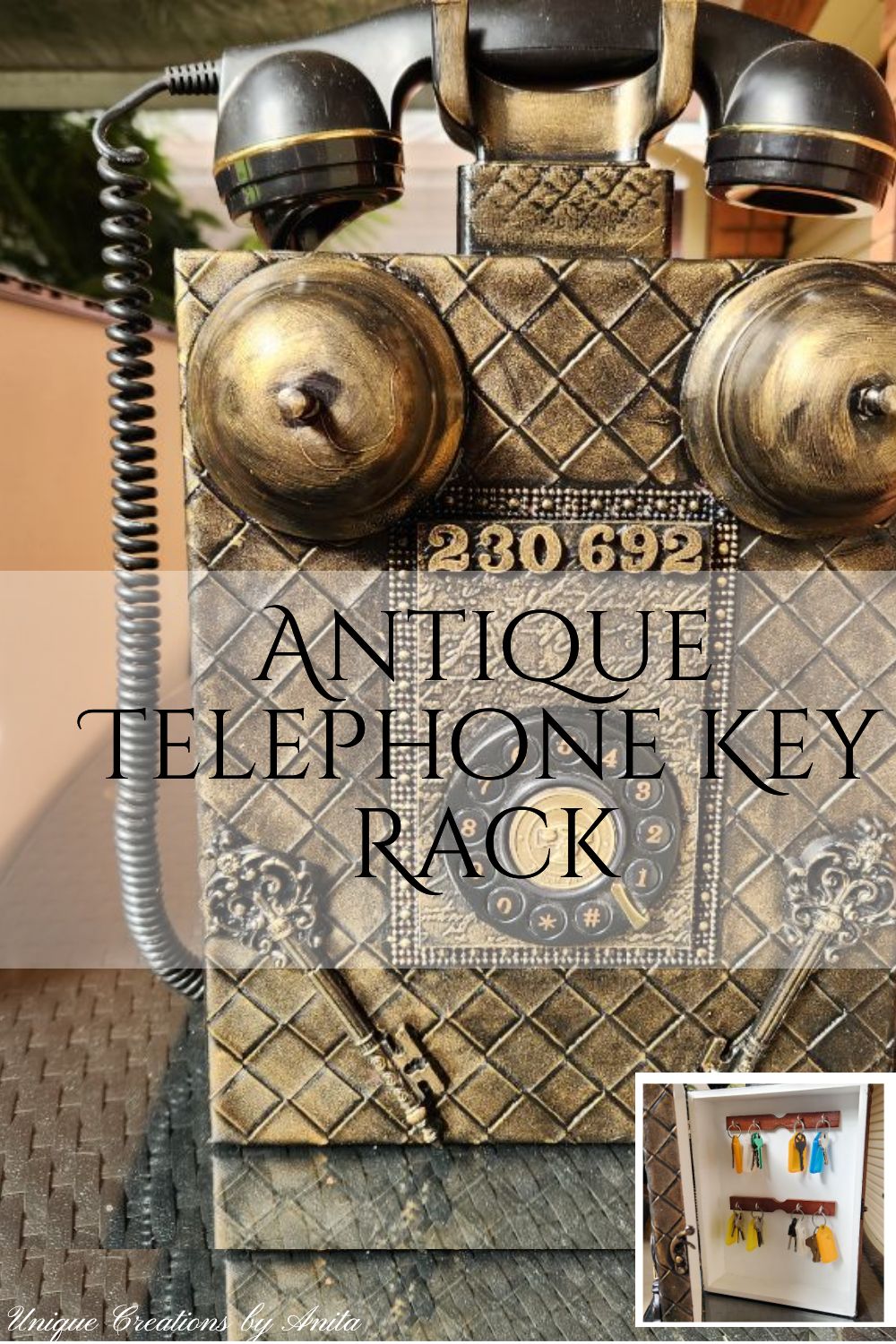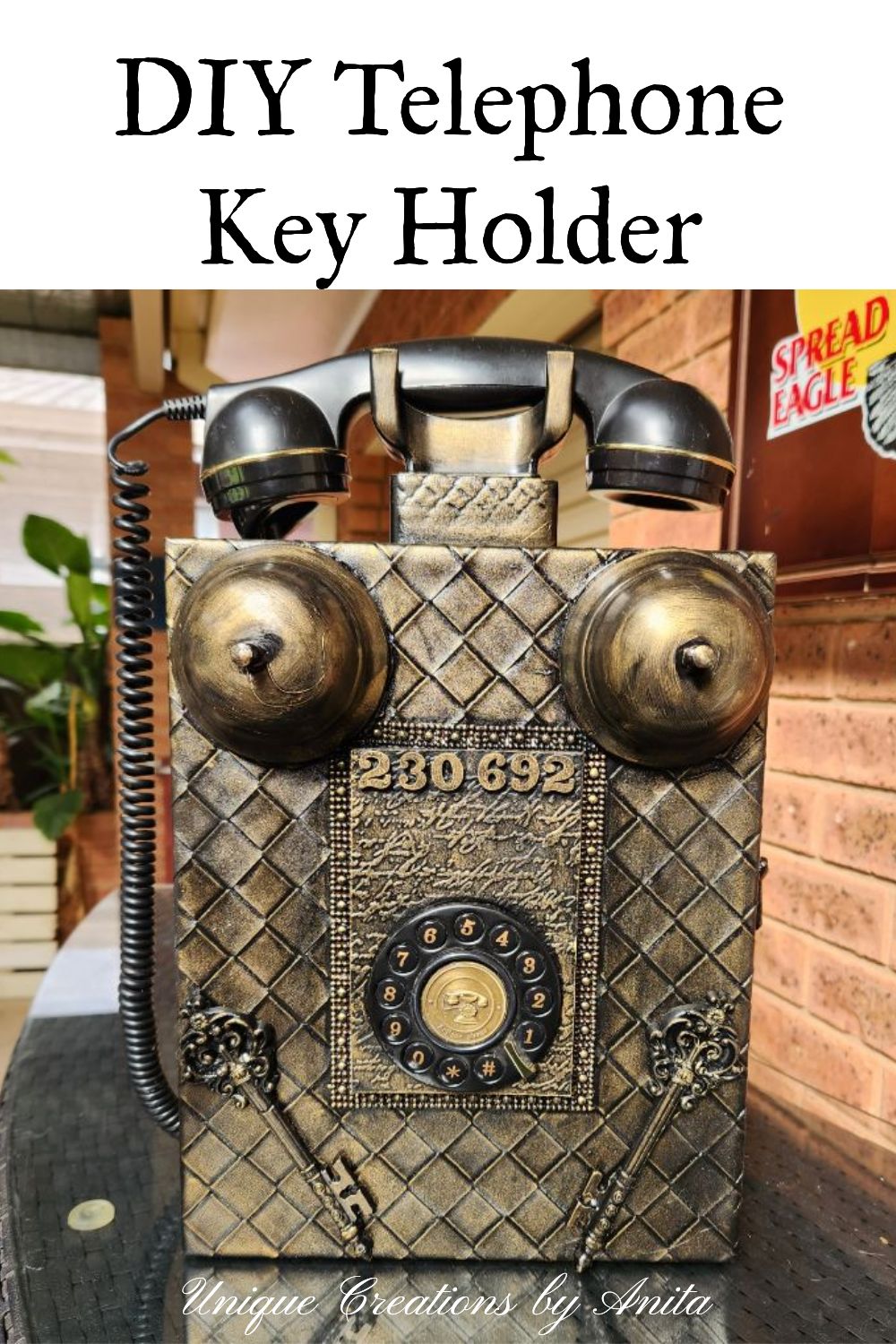 If you are looking for any of the items used in this project, please consider using our links. By clicking on the links we will earn a small commission at no extra cost to you.  Which helps us come up with new and exciting ideas to share with you. Please feel free to share or leave a comment we would love to hear your thoughts.