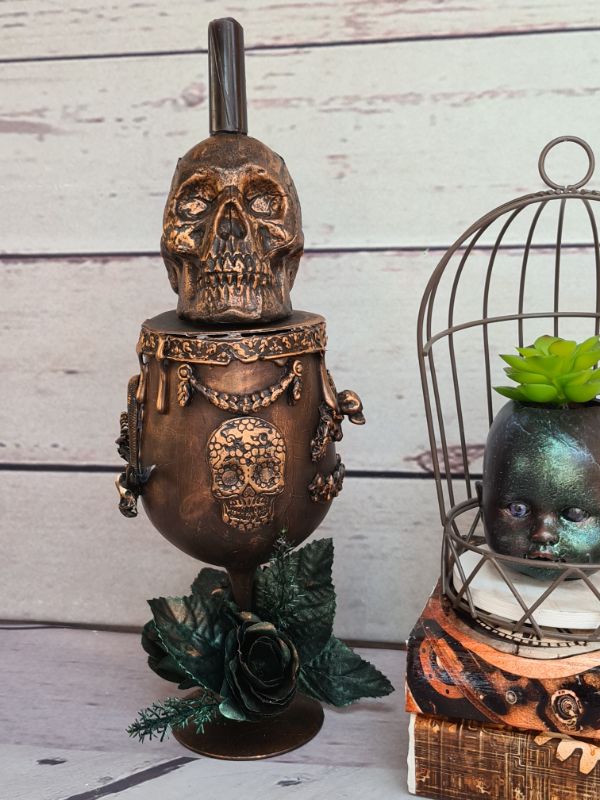 I always like to joke that I love wine and that they don't make a glass big enough for me.  So a few years back my friends bought me two of theses 1-litre wine glasses as a joke gift. The funny thing was the glasses were too big and heavy for me to hold, so they got pushed to the back of the cupboard. So with Halloween coming up, I thought I would upcycle them into A Halloween skull goblet that can be used a decoration on the table.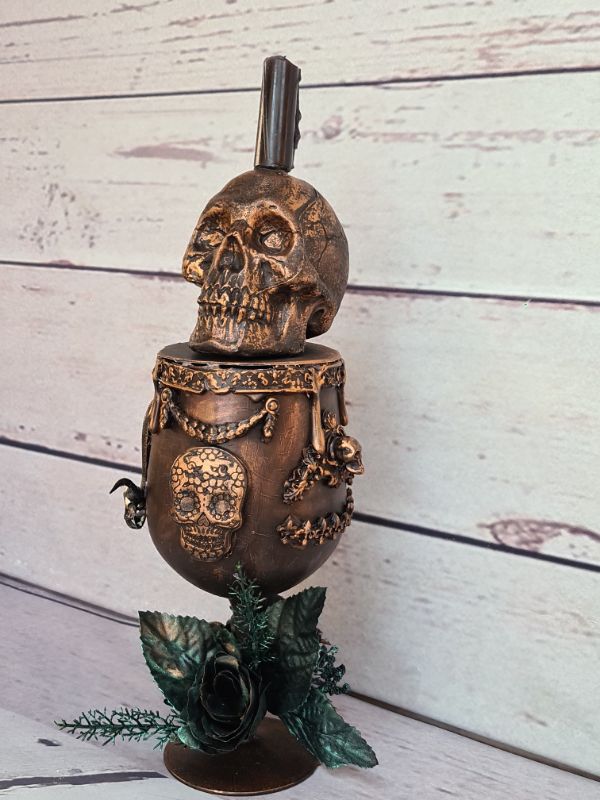 If you are not a die-hard Halloween fan and only want the decorations for a couple of functions that is no problem.  All the product that I used can be washed off or sealed if you chose. I got the idea about doing temporary decorations when I made these Halloween wine glasses. The idea of having themed glasses for an occasion that could be soaked off after was appealing to me.  No more cupboards that are full of glasses that never get used.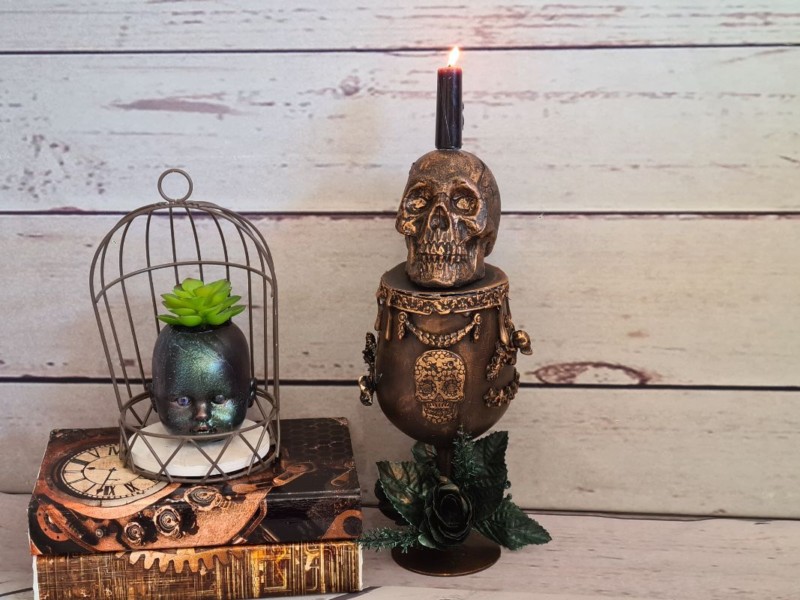 How to make a Skull Goblet
**This post may contain affiliate links. Which means I earn a small commission on links used at no extra cost to you. Please see my disclosure policy for more information.**
Find a suitable glass
It should not be too hard to find these large wine glasses nowadays.  You should be able to find them in most home decor or novelty stores.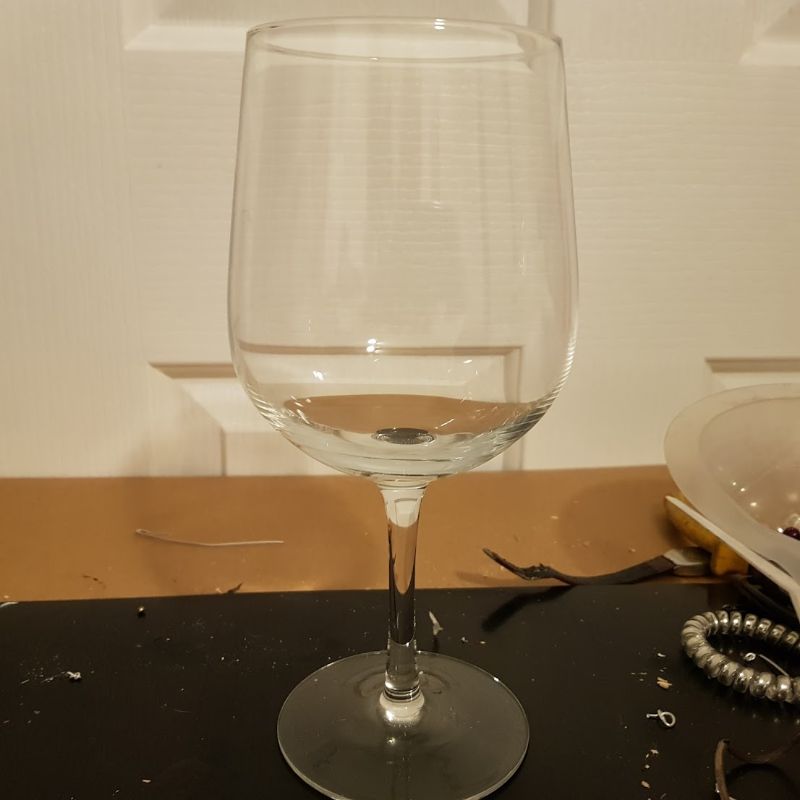 Start by painting the goblet with black gesso.  I prefer Gesso
to acrylic paint because I find I get a nicer finish. Gesso is a primer so it makes adding embellishments to the surface easier. When you paint the goblet it does not need to be perfect, the flaws will be highlighted with the gold wax for added effect.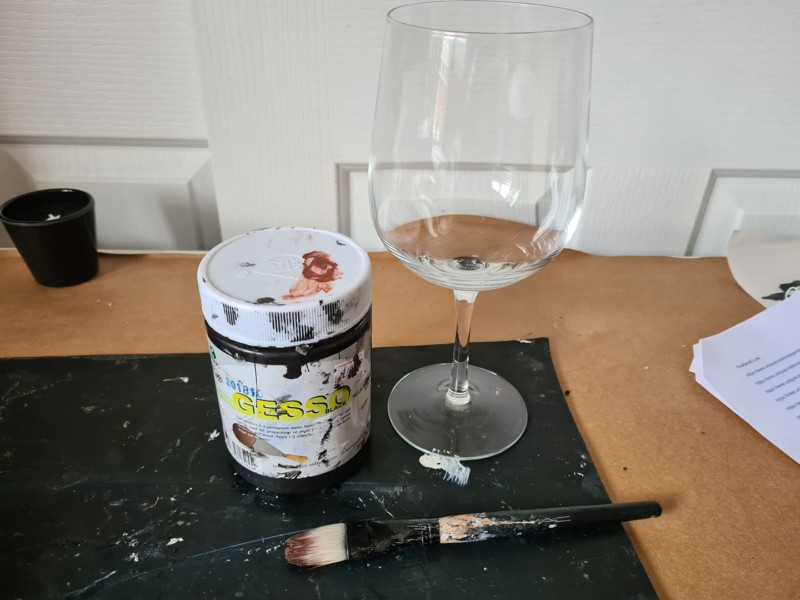 Making the embellishments
To make all my embellishments I used silicone moulds
and hot glue.  I would usually use resin but for a small project like this using hot glue
is much quicker.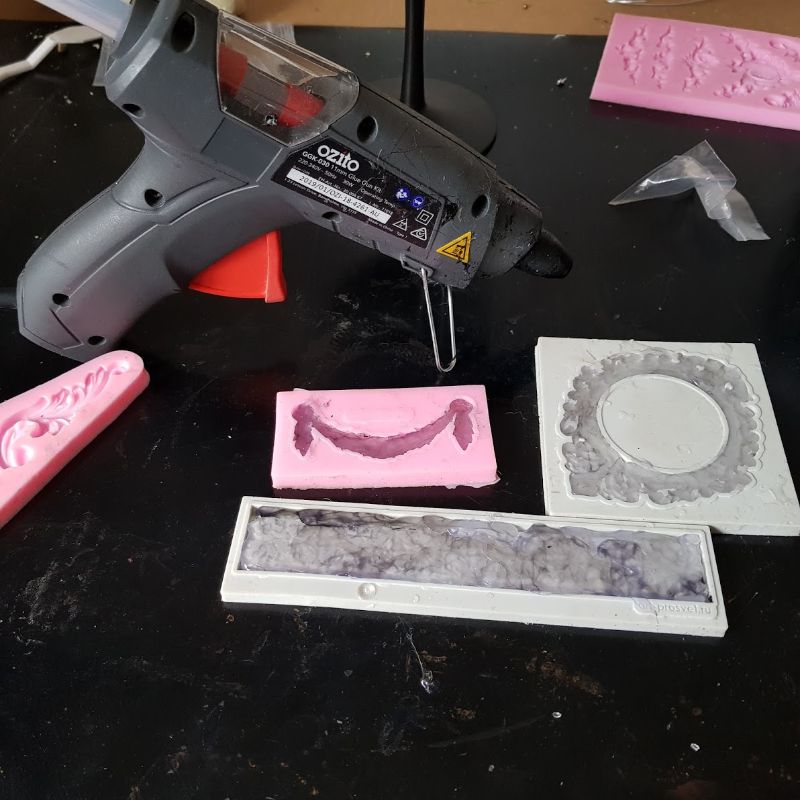 It is as simple as filling the moulds with the hot glue.  To smooth out the surface, I find it easier to wet my finger and smooth over the surface while still hot. The water will prevent any burning.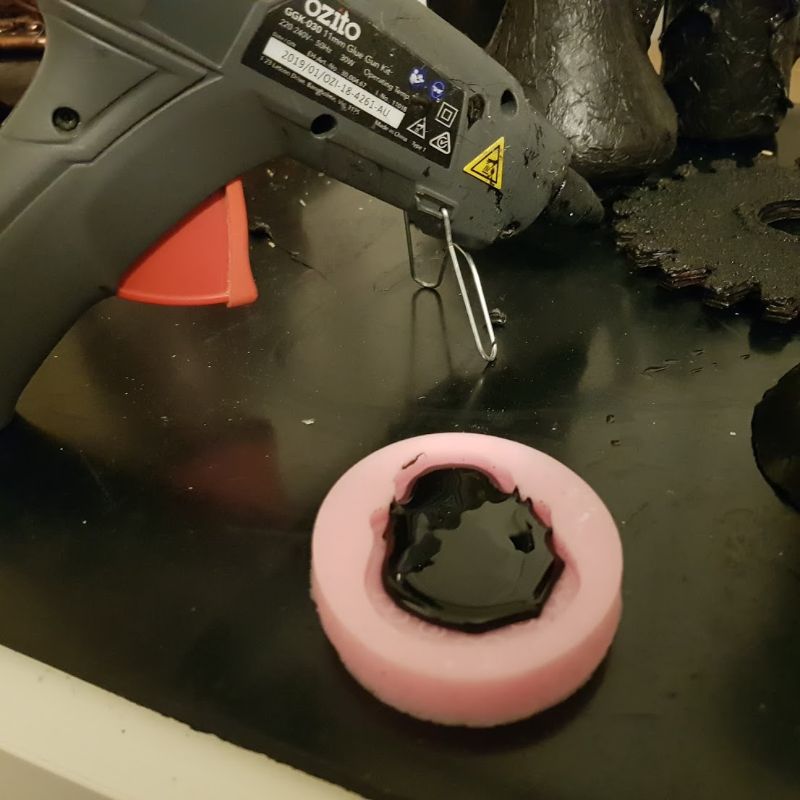 To stick all the embellishment to the glass, I also used the hot glue.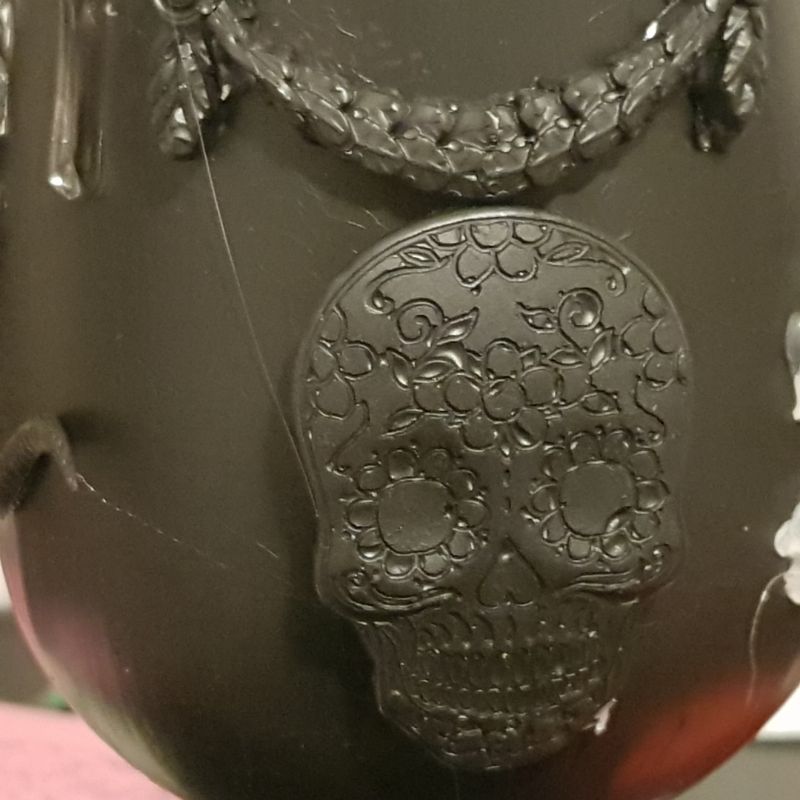 If you can get your hands on some small skeletons you can glue them to the glass too. I was trying to bend one of mine straight, but it snapped so I glue the broken parts onto the glass.   I used bits of old decorations to decorate this goblet which I thought went with the creepy theme.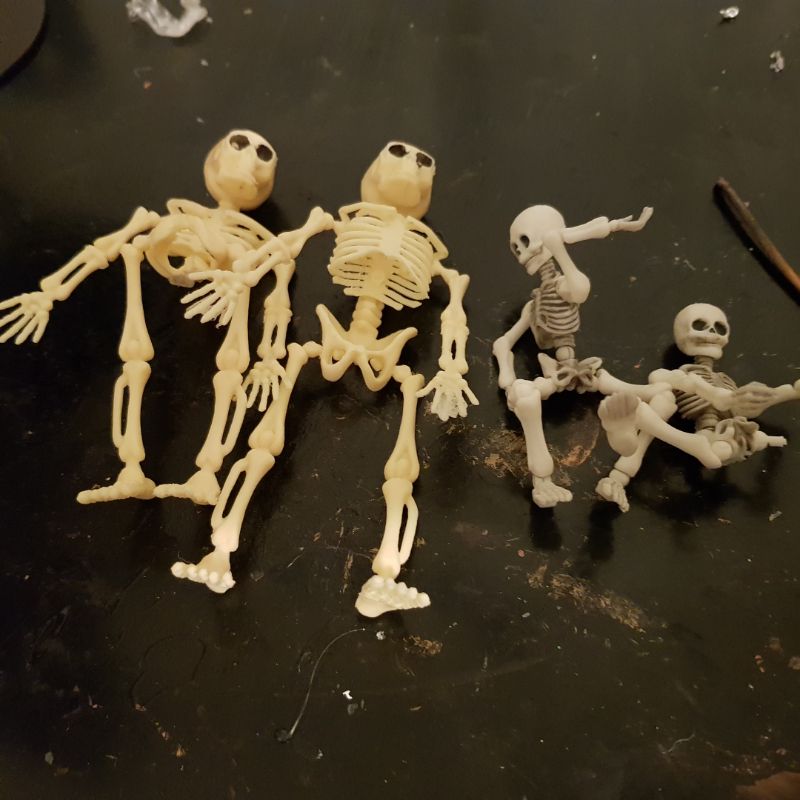 To add to the creepy theme, I used some hot glue and let it run down the sides of the rim.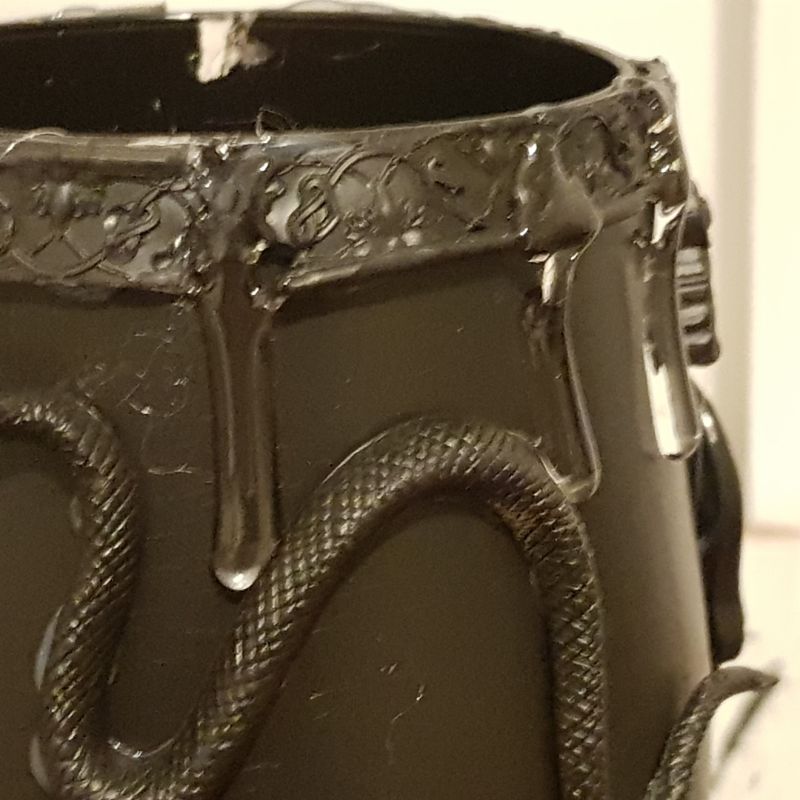 Highlight the black paint
If you follow my projects you will know I am a huge fan of this style of mixed media.  Painting your project black and highlighting it with the metallic wax paste
can make any junk look classy.  Check out this cool cow skull I decorated using this technique, I can guarantee you have never seen one decorated like this.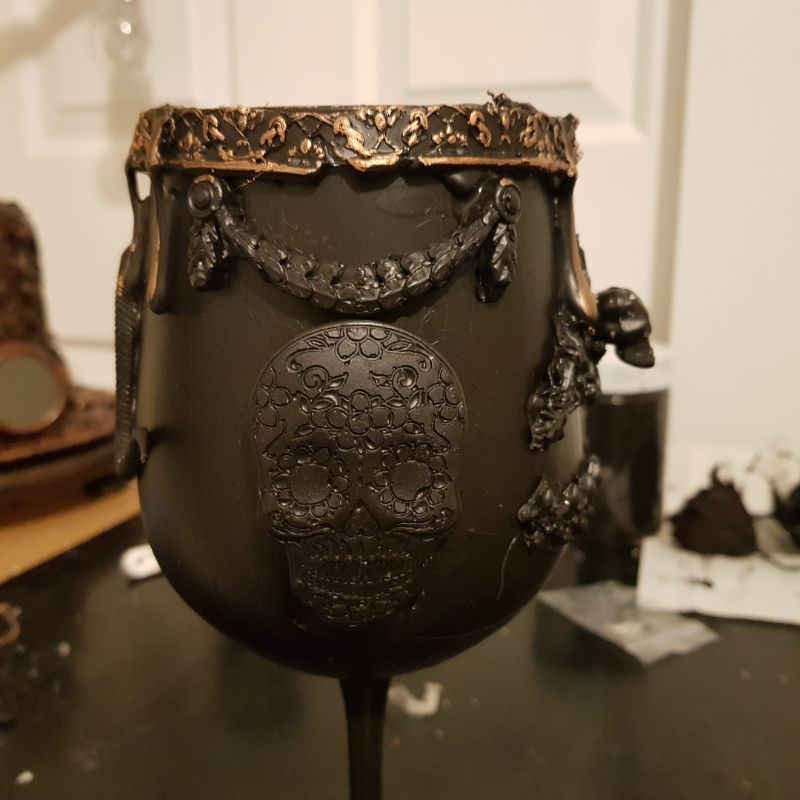 To apply the wax paste you just dip your finger into the wax and rub it over the raised embellishments.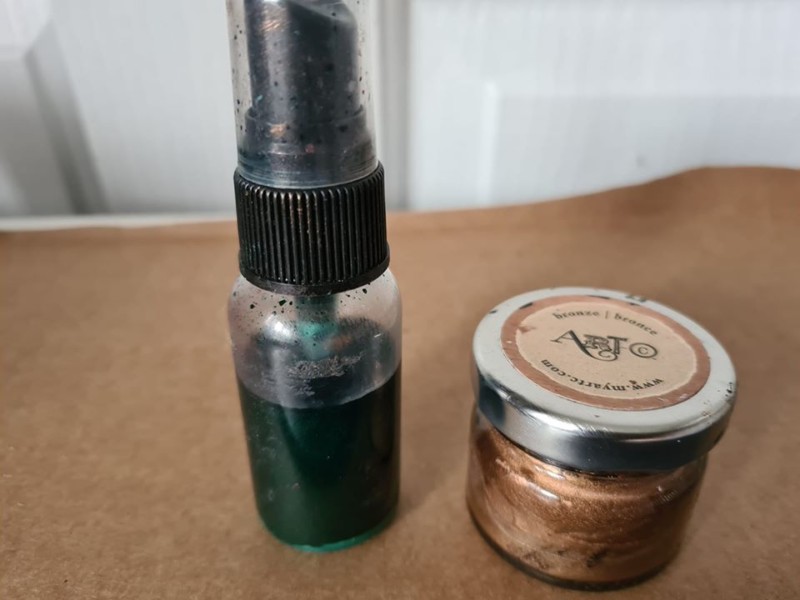 This will make the embellishments stand out. To highlight more of the black you can use a small paintbrush and rub a very light coat of the gold wax paste over the surface. The image below shows how the flaws in the painting improve the overall effect.
Leave some black because will give you a nicer affect.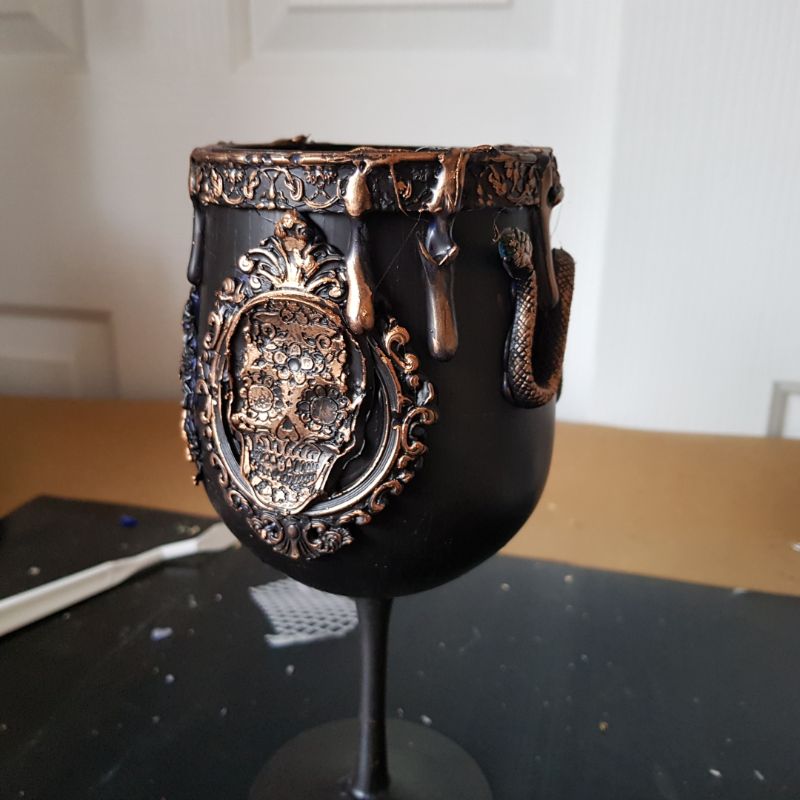 Add some flowers
I always get cheap fabric roses
and flowers from my local budget store.  They are usually very naff and cheap looking.  But with a little paint and some shimmer spray, they will look great.  I painted them black with the gesso first, this will hide the red you see below.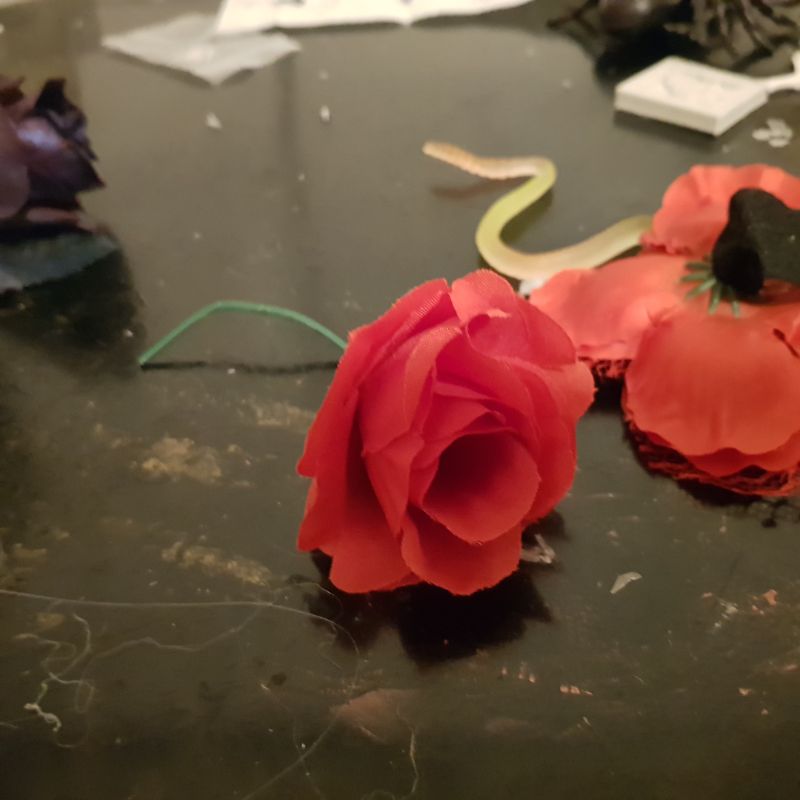 Once the gesso is dry you can add the shimmer spray
.  This is a very messy job and the shimmer spray will stain everything, so doing this outside is a good idea.  When I first started doing mixed media I ordered a couple of waxes and shimmer sprays to get me started. Once I started using them I felt I would be able to make my own.  Here is how I made them if you are interested.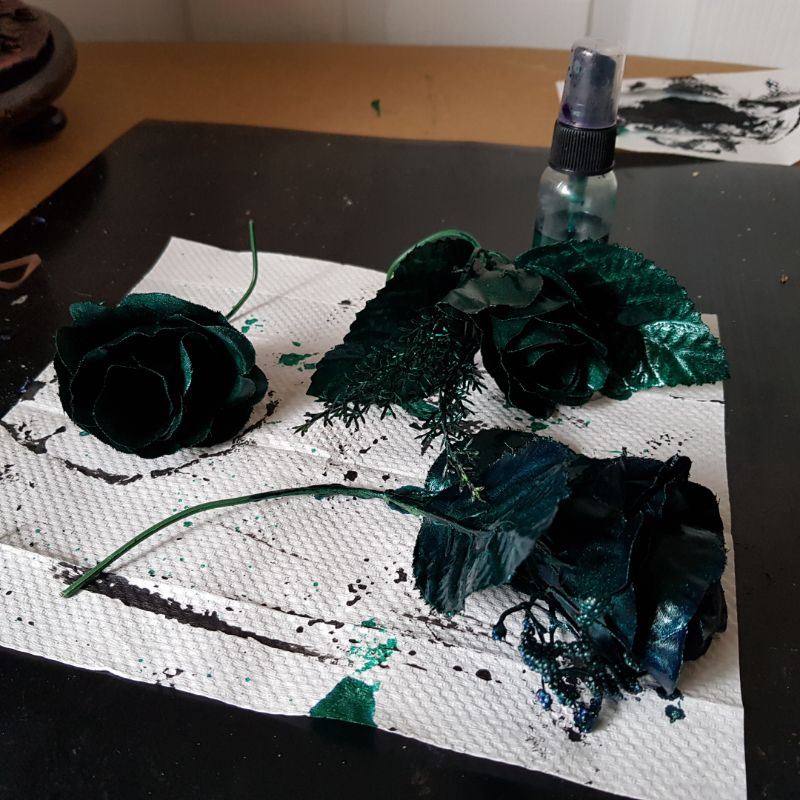 To attach the flowers I used so hot glue.  You can also highlight the ends of the flowers with the gold wax for added effect.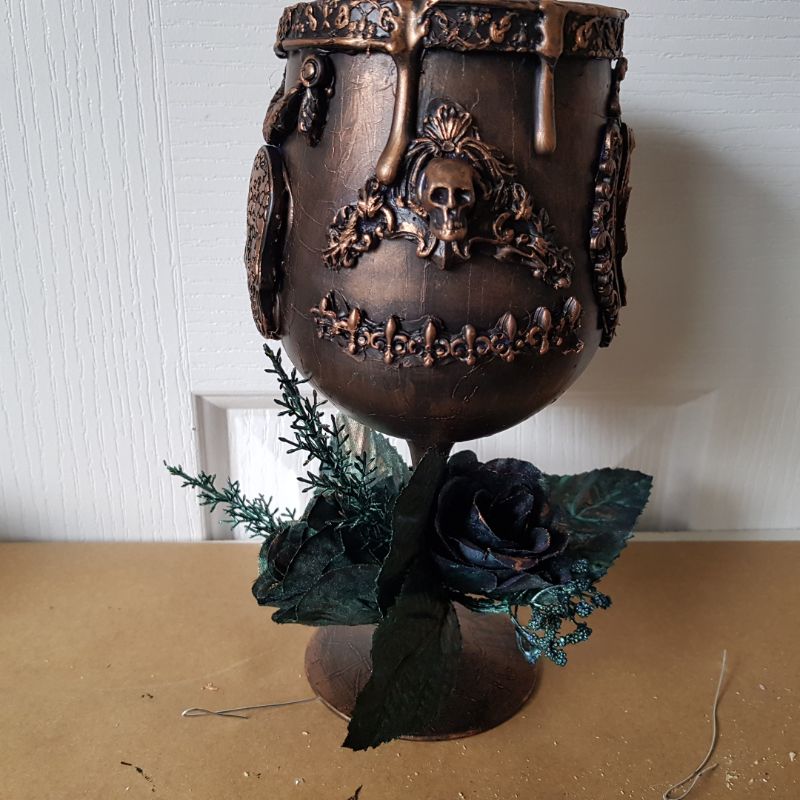 To make a platform for the skull to sit on, I cut some cardboard and glued it to the rim.  The skull was then glued to the top of the cardboard. You could add some battery operated lights to the inside if you wanted to or just glue a candle to the skulls head.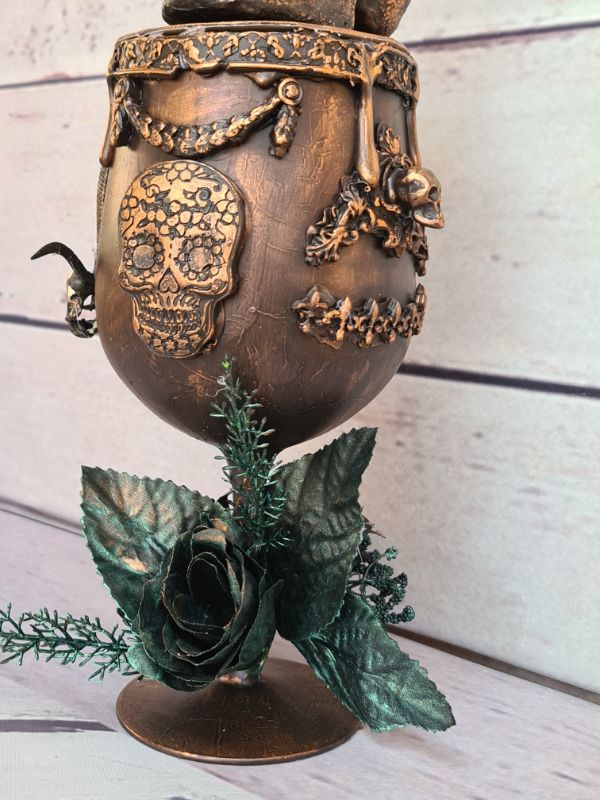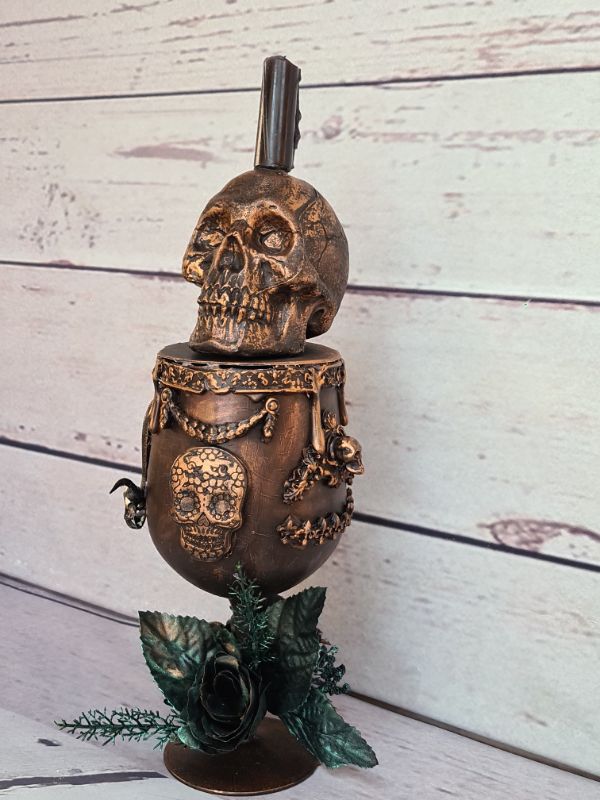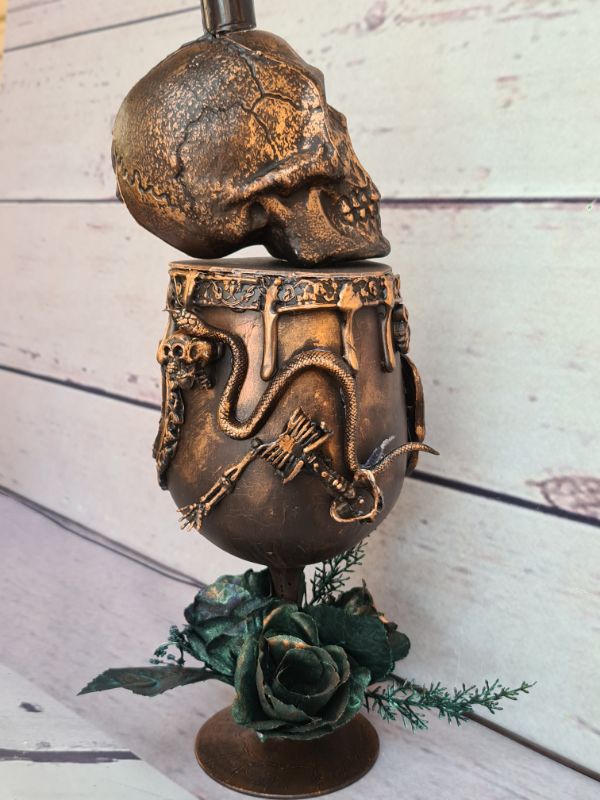 My Amazon Picks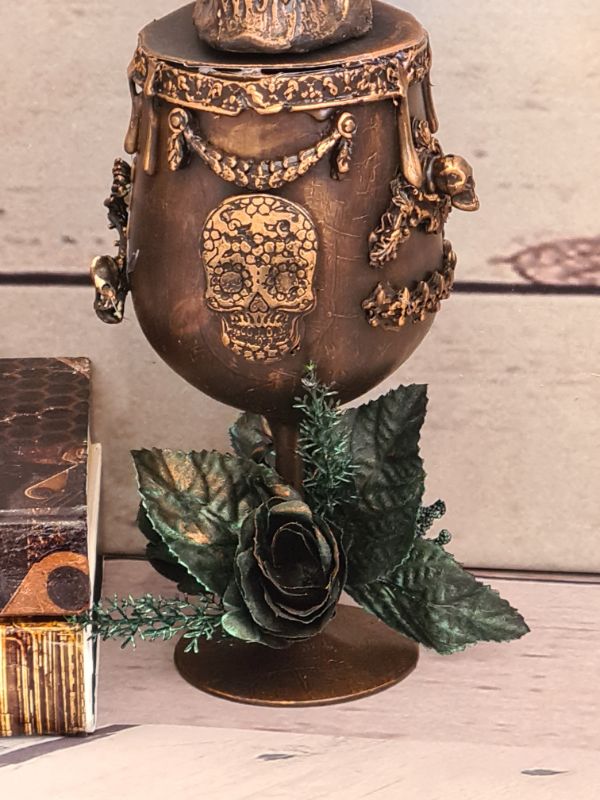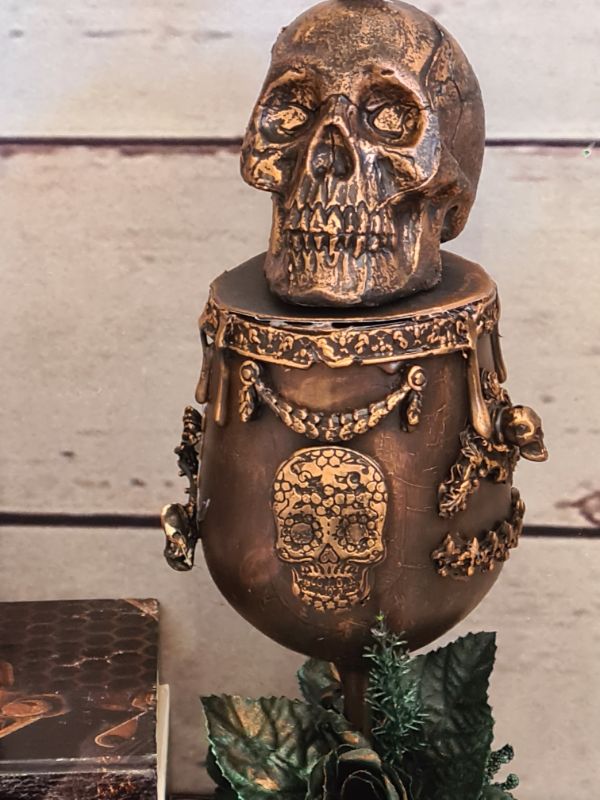 More great projects for you
I used a similar technique to recycle some wine bottles.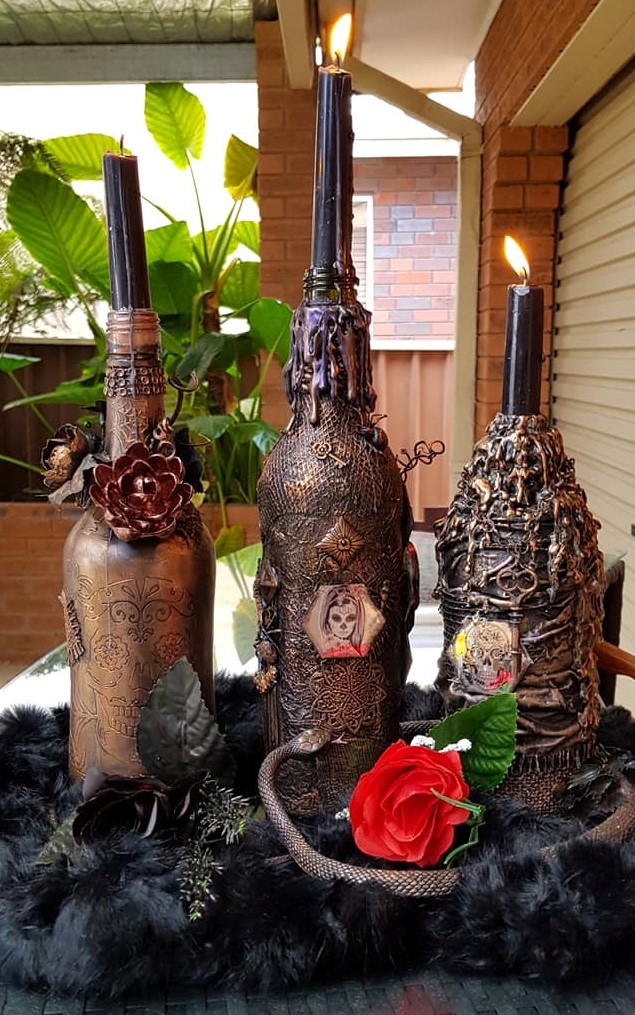 And this creepy Halloween mirror.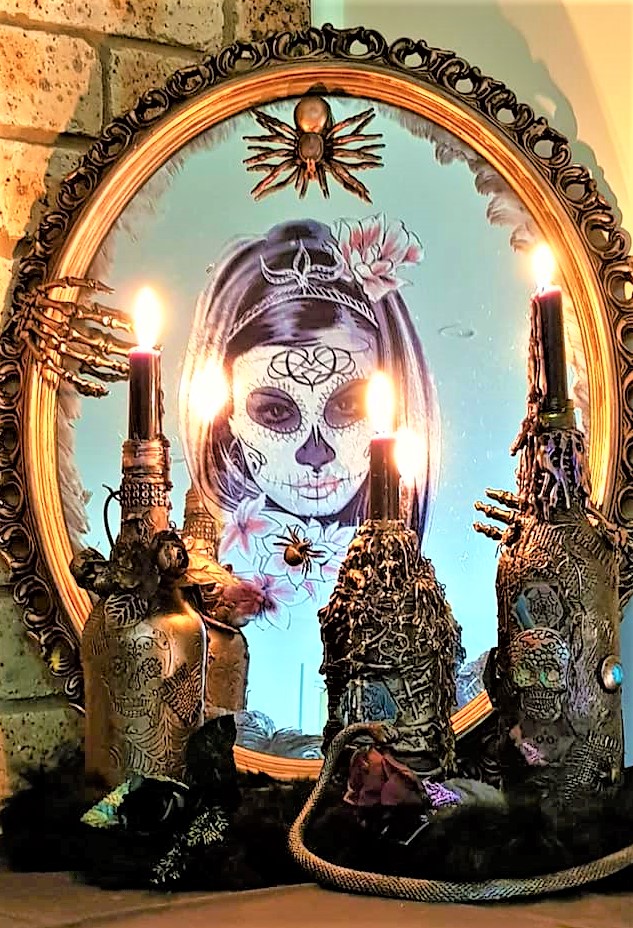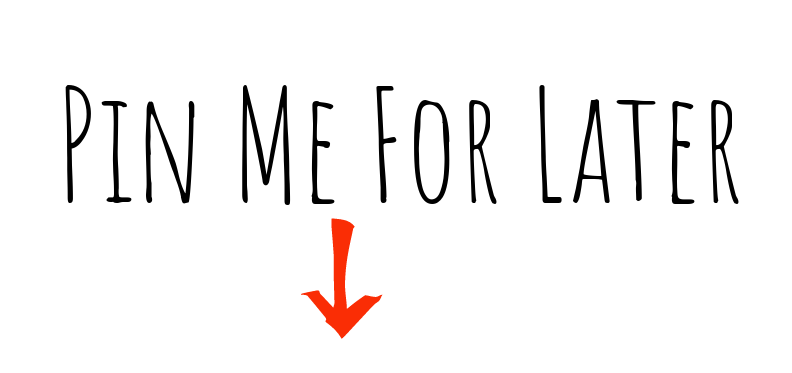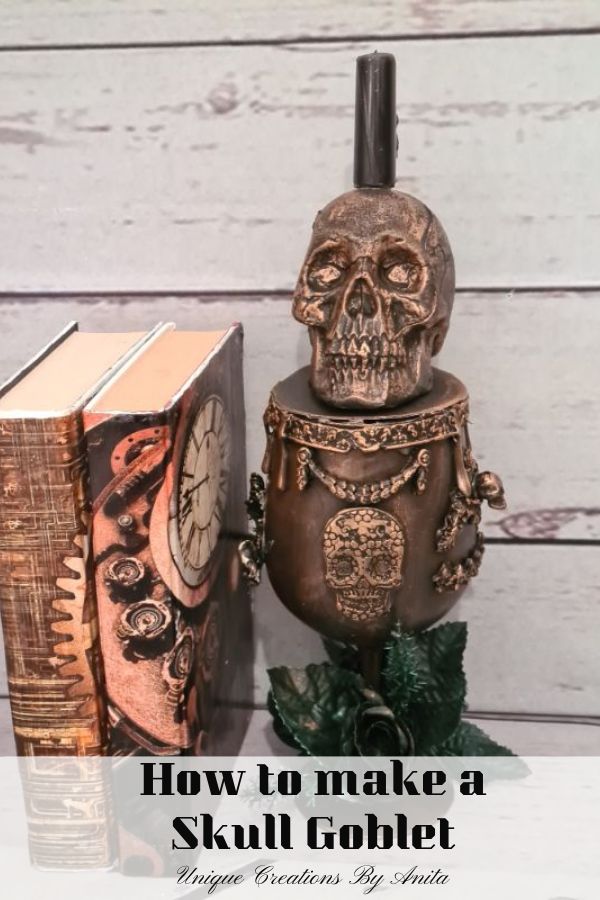 If you are looking for any of the items used in this project, please consider using our links. By clicking on the links we will earn a small commission at no extra cost to you.  Which helps us come up with new and exciting ideas to share with you.