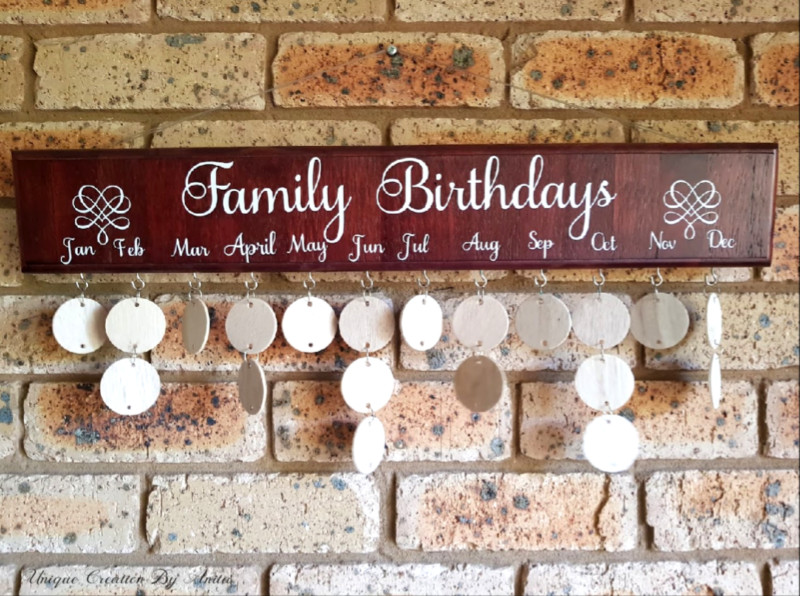 With so many crafters now having a Cricut or Silhouette vinyl cutting machines, we are always on the lookout for new project ideas. 
We are all trying to make a craft that will sell and make us some extra money.  If this is you this project is a must.  I made this Wooden Disc Birthday Calendar for the residents in our aged care home. One of our residents birthdays got missed and she was heartbroken that no one wished her happy birthday.  To avoid this happening again I made this calendar for all to see.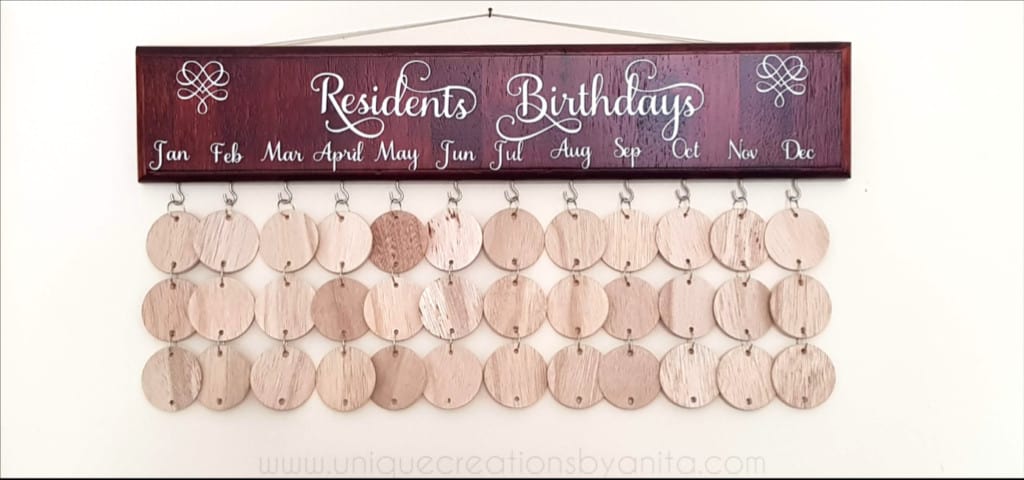 How to make a wooden disc wall calendar
**This post may contain affiliate links. Which means I earn a small commission on links used at no extra cost to you. Please see my disclosure policy for more information.**
Make your calendar base
You will need a base for your calendar, mine was an offcut from a tabletop. If you are not into the woodworking side, you can buy wooden boards from Walmart/Kmart or hardware stores. Next, sand the surface smooth to remove all the rough edges.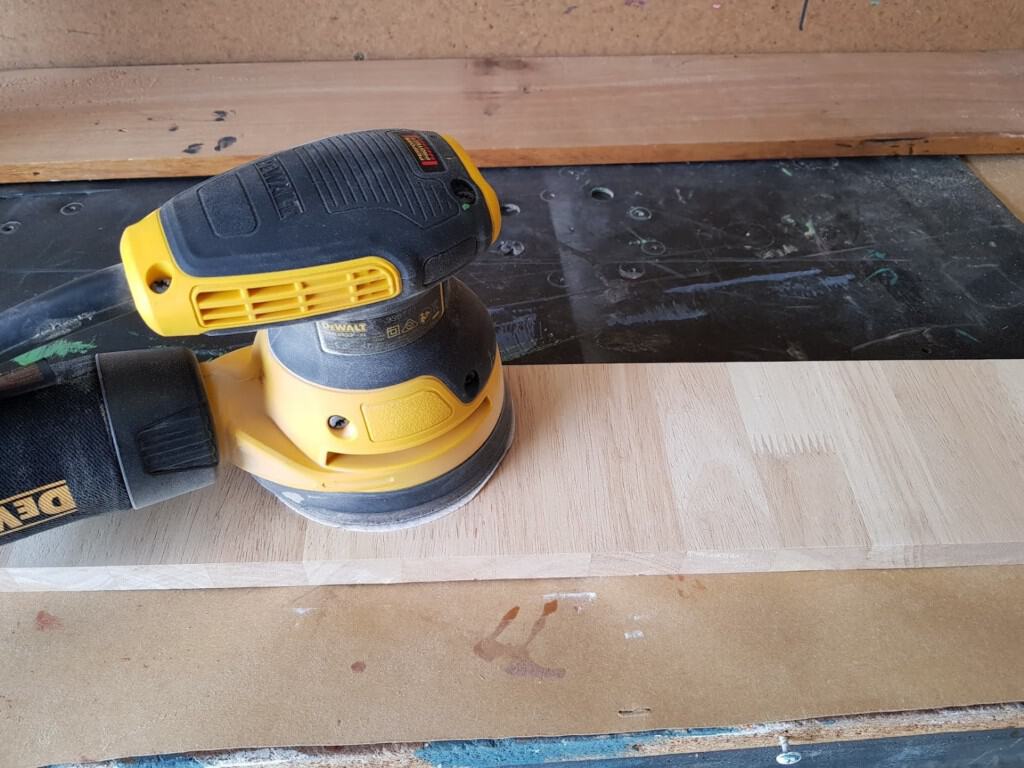 Using a router with a round-over router bit, remove all the edges.  This is not necessary it just gives a better cosmetic look in my opinion. Smooth over the edges with the sander or sandpaper.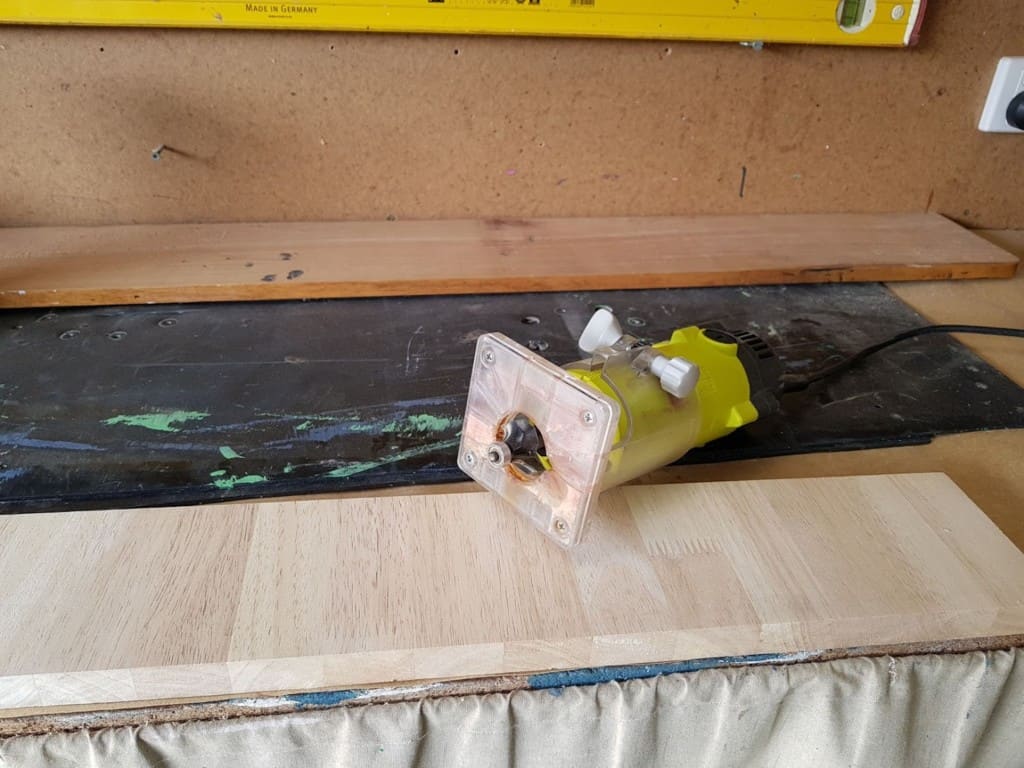 Next, you can stain the wood with a wood stain, mine is dark mahogany.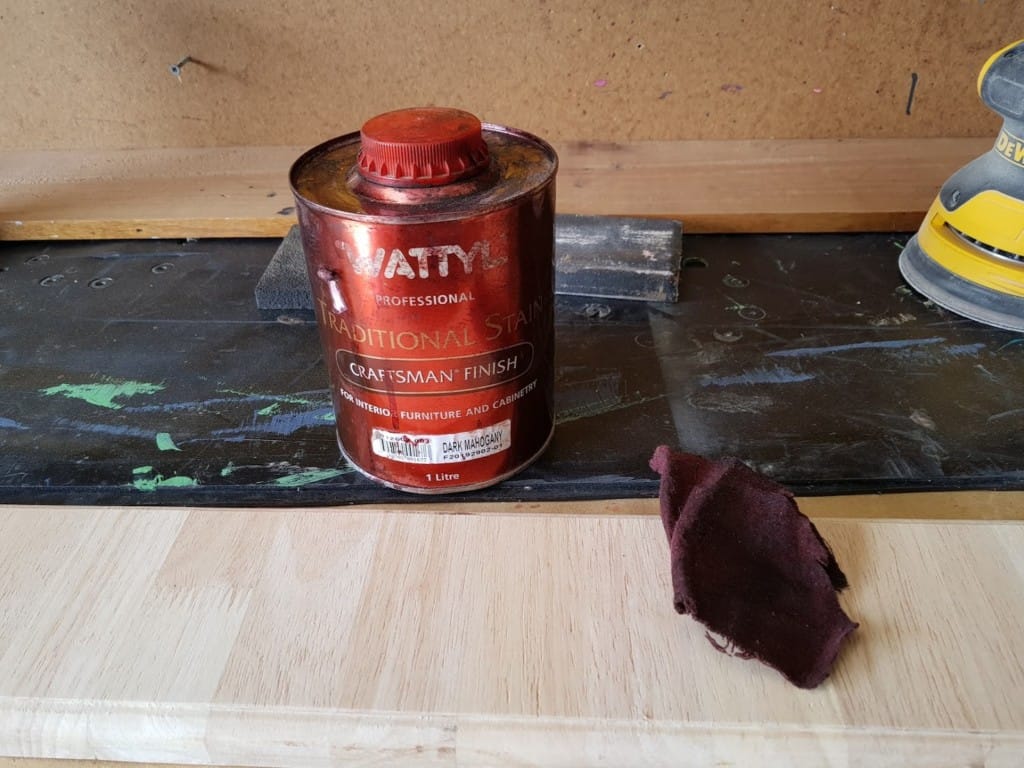 Add two layers of polyurethane or varnish.  Past experience has shown that the vinyl decals do not stick to the unsealed wood very well.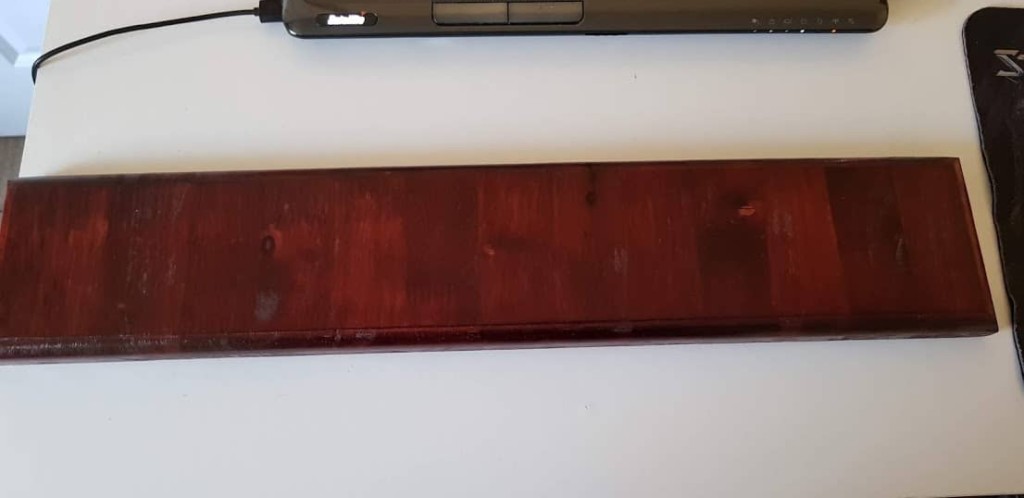 To add the hooks to the base you need to measure the length of your board and divide it by 12 to get the measurements for the gaps.  Your first hook is the measurement of the gap divided by 2 to get even spaces for the first and last hook.  Took me a while to figure this out.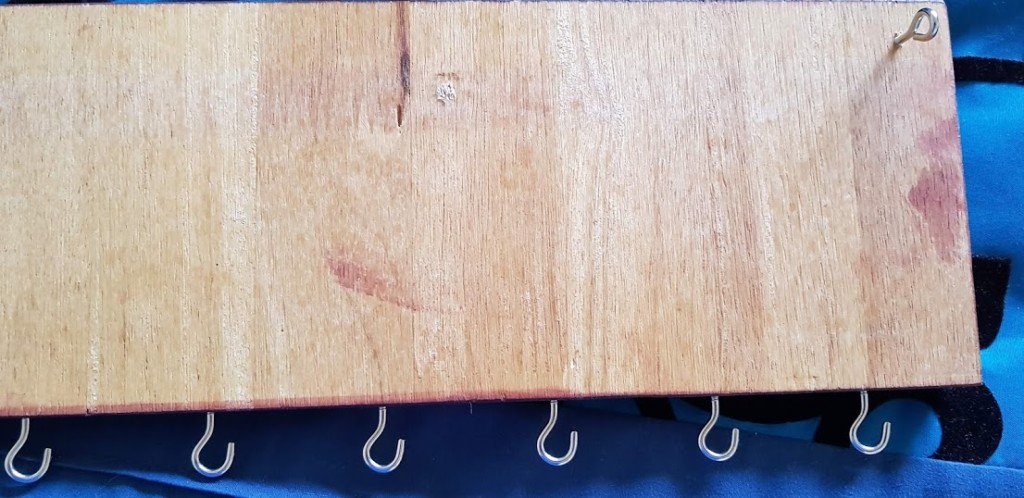 Making your graphics
To do the vinyl decals I used a Cricut explore air 2, which I would highly recommend.  The projects that can be done with this machine is incredible. Check out this Game of thrones lamp I made with mine.  Using Cricut design space type up all the words you want for the calendar. For this one, I used a font called Samantha which comes with lots of scroll designs.  To avoid wasting vinyl use up all the space by moving the graphics around.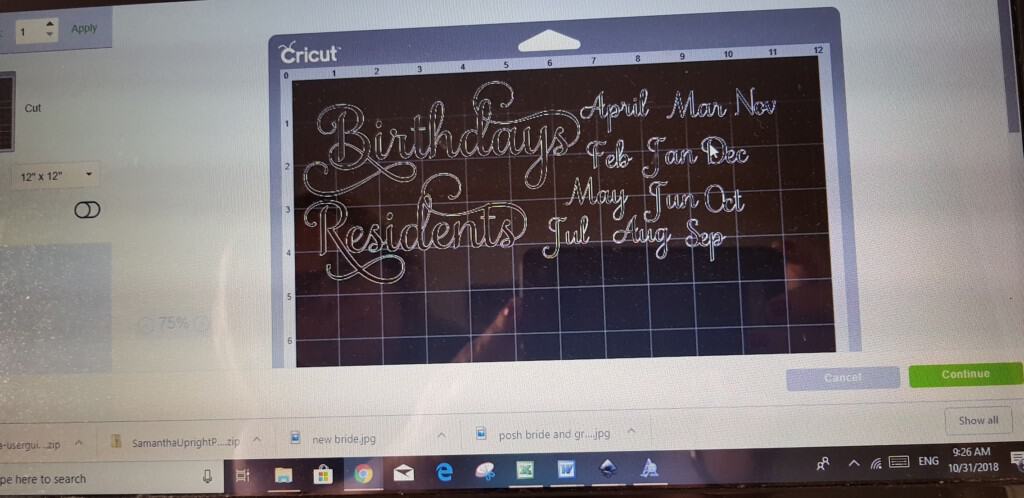 Remove all the excess vinyl using a weeding tool or craft knife.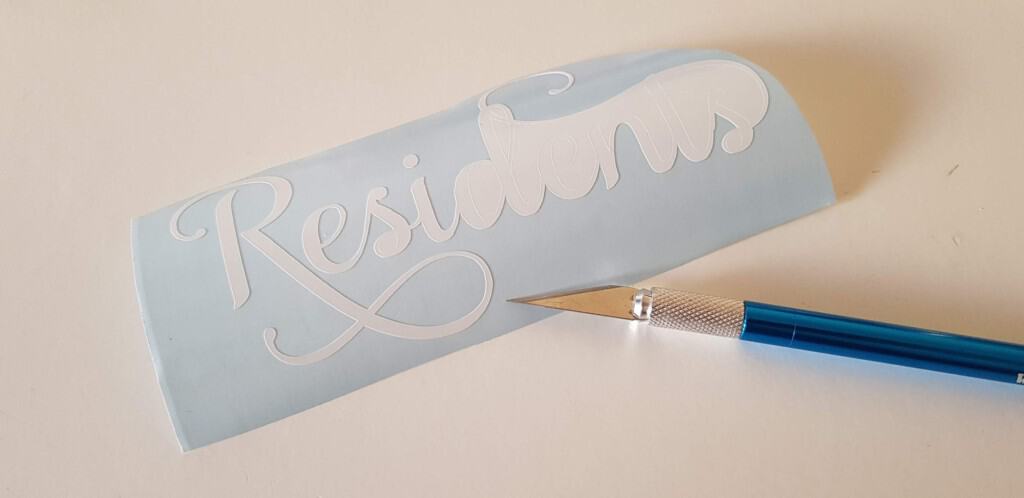 Place the transfer tape over the vinyl decal and rub with a scraper to make sure all the vinyl transfers. Remove the backing paper and transfer the decal to the wood.  Using a scraper again rub firmly over the decal to transfer it over to the wood.  Remove the transfer tape slowly.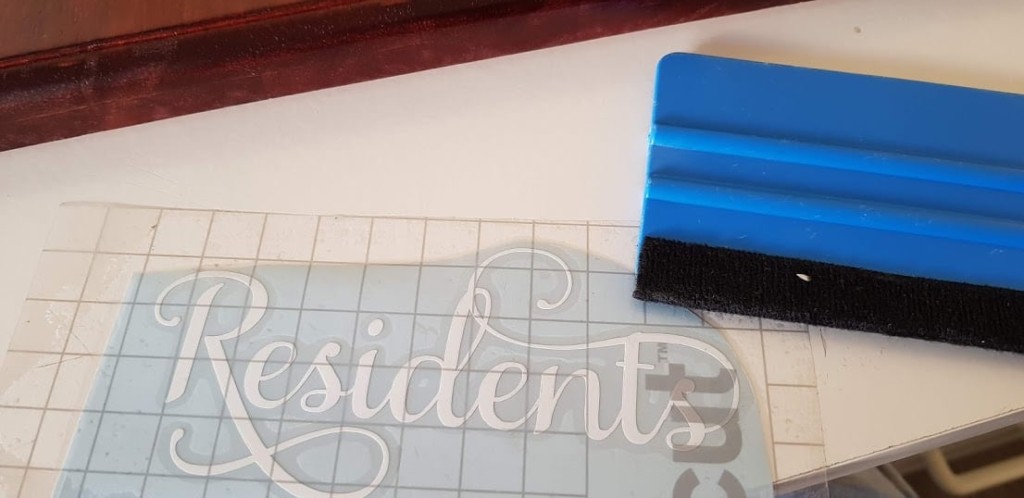 And that is the base done.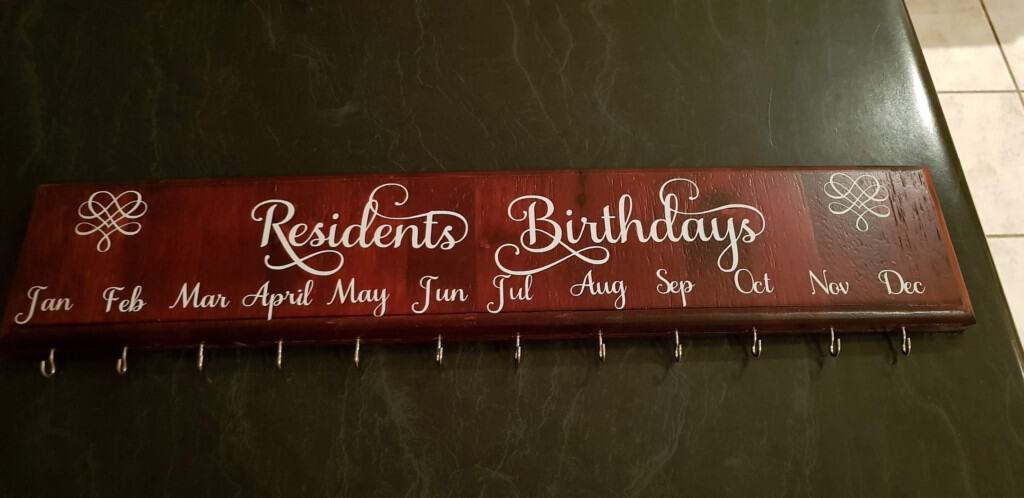 Adding the discs
Cutting discs for this project would be so much work and so time-consuming, it is easier and cheaper to buy them.  Because our residents do not have the best eyesight I chose large discs.   The discs come pre-drilled and with all the hoops.  It was as simple as hooking them together and hanging them on the hooks.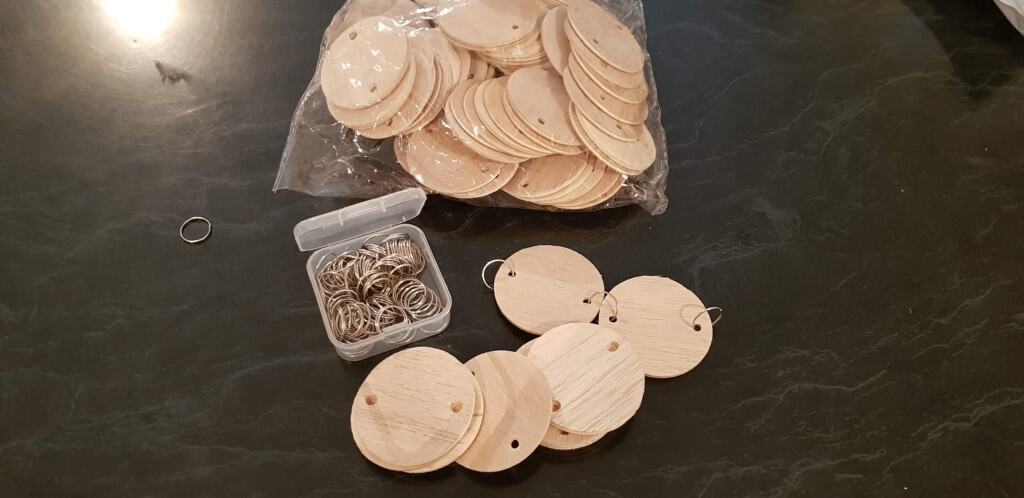 And that is your wooden disc birthday calendar all done.  If you are looking for more great project ideas using your Cricut. Check out these custom suitcase protector covers to identify and protect your suitcases on your next vacation.  Or this reverse canvas man cave sign.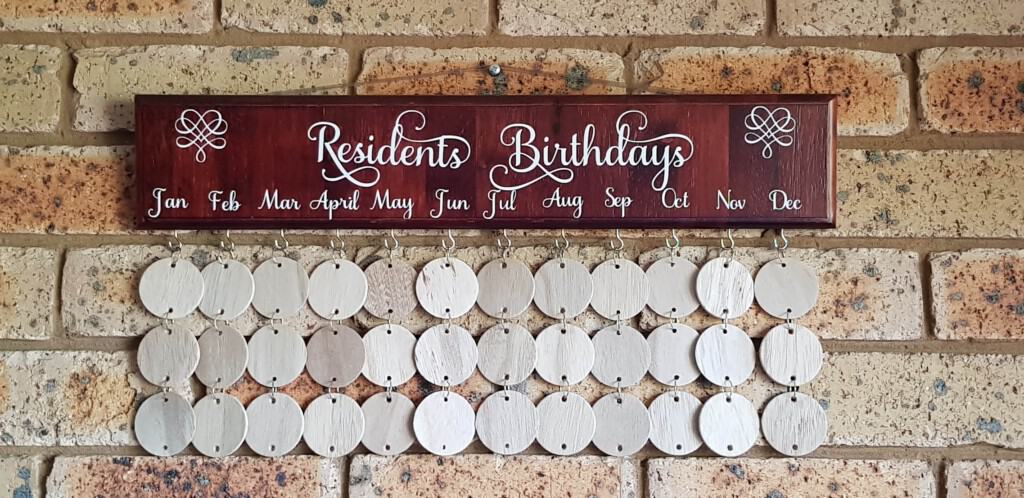 If you love the idea of a wooden disc birthday calendar but you are not a crafty person you can buy one below.
Please feel free to leave a comment and share this post. If you are in need of any of the products in this post please can you use my links to buy them at no extra cost to yourself?  The small commission I earn helps with the costs to run this site