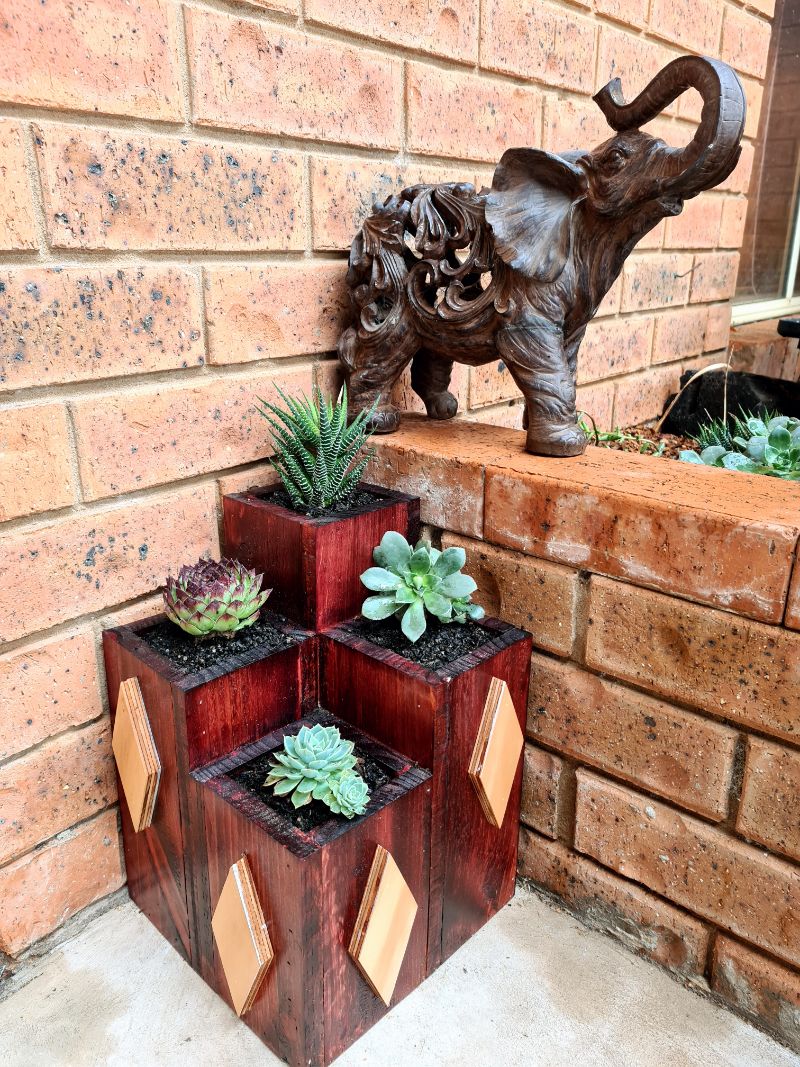 I was recently given a few wooden pallets to make projects out from. They are a very cheap way to make projects because most of the time you can get the pallets for free. But there is a downside to working with them, the main one is you need to be Hercules to get them apart.  I always thought I was strong until I tackled a pallet.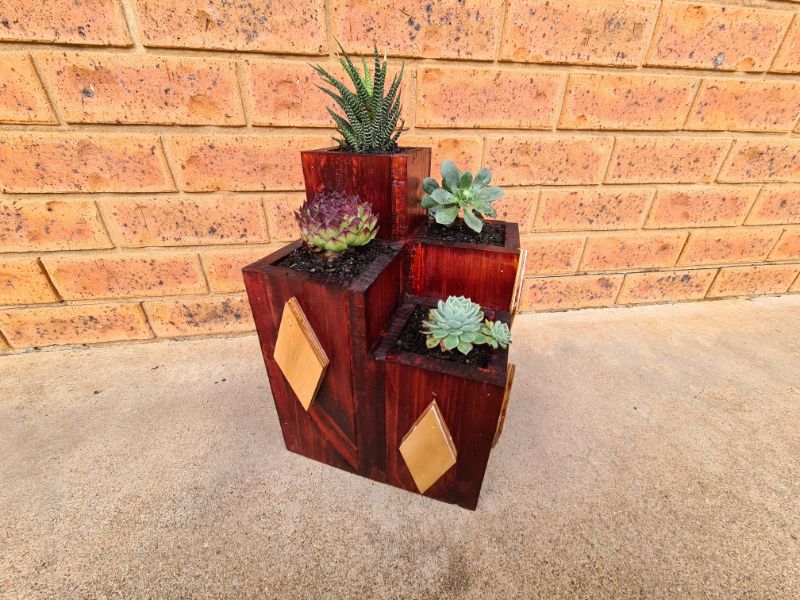 The first project I tried was a request from my daughter for a wall-mounted pallet bar with a dropdown counter which worked perfectly in the end. When I had finished this project I was still left with bits of pallet wood to use up. Not wanting to waste the wood I went for the most obvious project for me which was the garden planter.
How to make a pallet wood planter
**This post may contain affiliate links. Which means I earn a small commission on links used at no extra cost to you. Please see my disclosure policy for more information.**
Gather your wood
I tired a few methods to take the pallets apart but in the end, I was not strong enough. So I went for the easiest methods of using a jigsaw and just cutting between the support beams. This does work great but it will limit the size of the planter that you can make.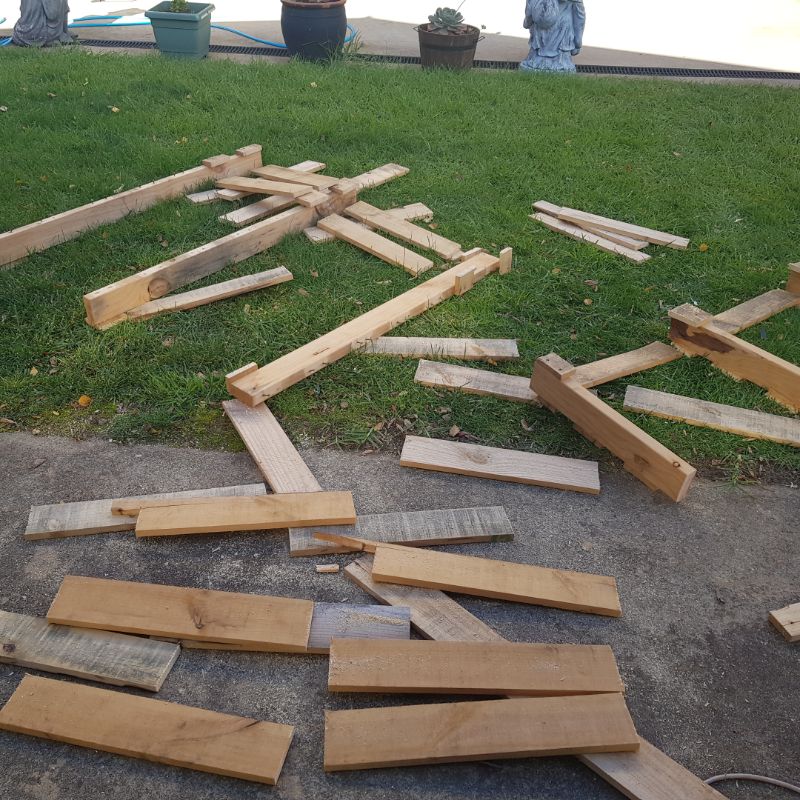 If you have a wood planer you will be able to clean up your pallet wood in no time. The alternative is to use a sander and sand them up by hand. To remove the rough edges from the sides I used a table saw to remove a small amount from each side.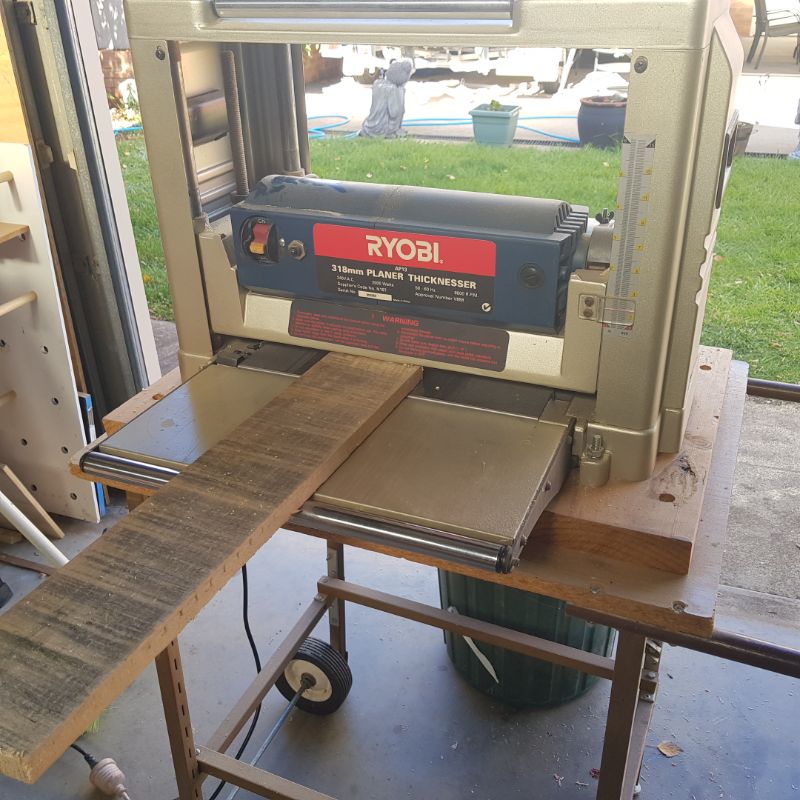 Cutting the wood to size
To duplicate this planter the sizes are as follows
4 x 180 mm
4 x 250 mm
8 x 330 mm
4 x 85 mm x 85 mm Approximately (I say approximately because pallet wood is not all straight or standard)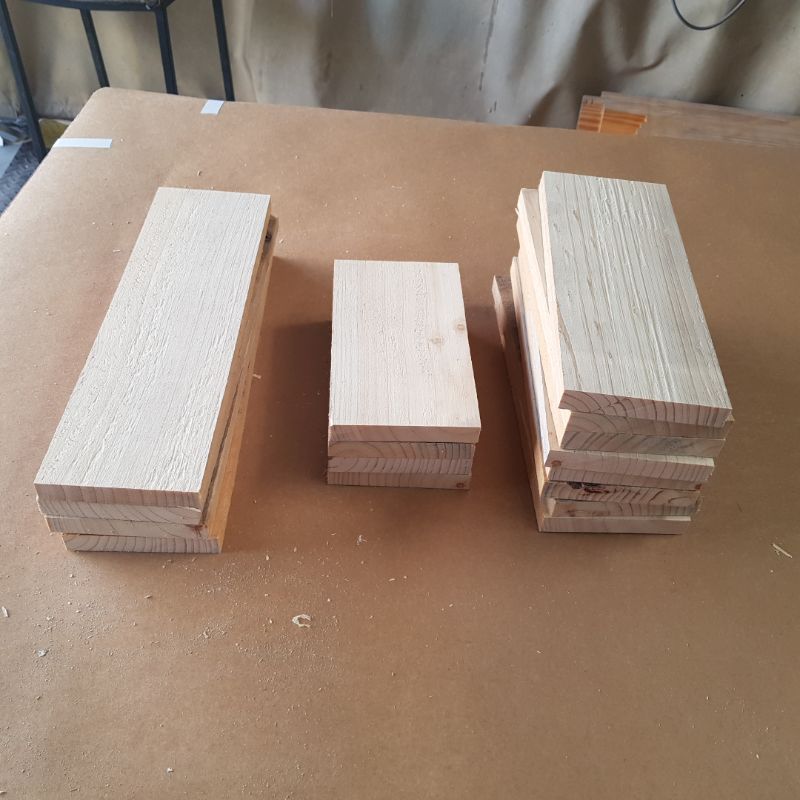 Assemble the planter
Make a box shape with the pallet wood, I chose to overlap the wood like the image below.  This will give you a more square look.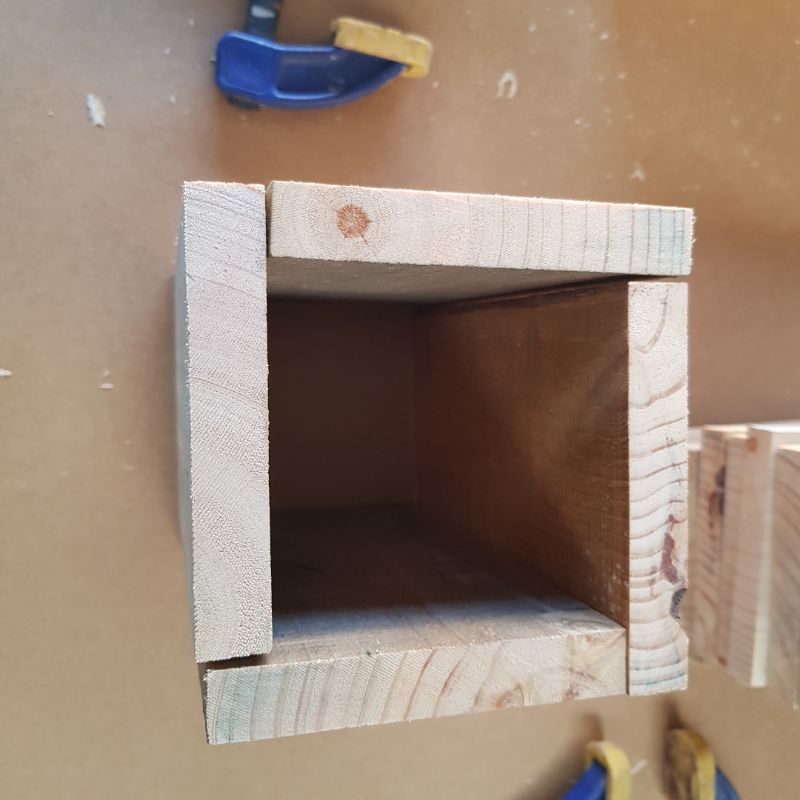 This shape is your other option.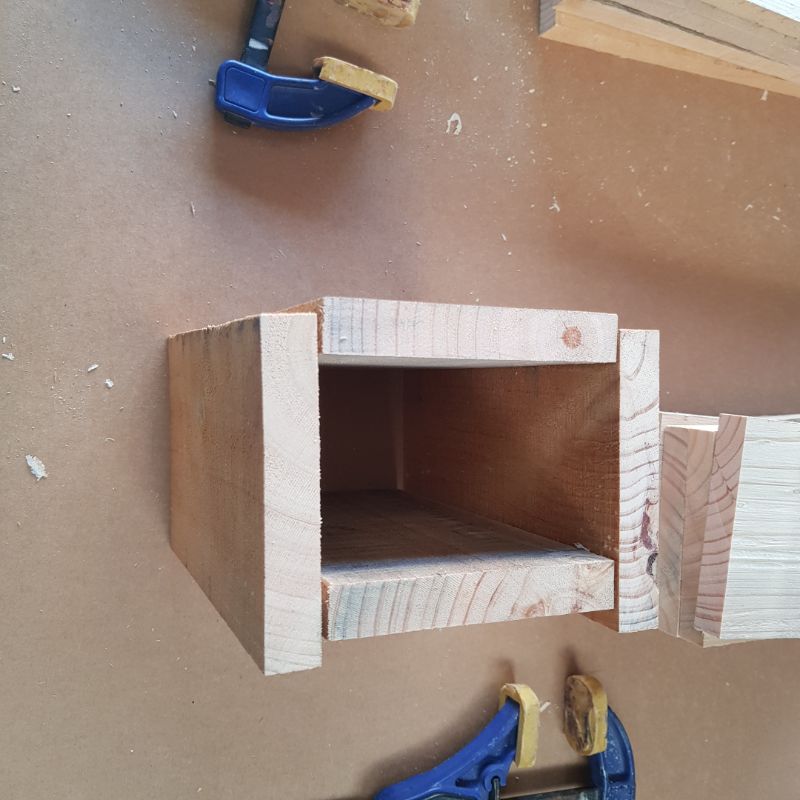 Build the biggest one first, by glueing the sides together and securing them with a nail gun. It is a good idea to clamp the wood while the glue is drying because of pallet wood not being straight.  You can drill holes and use screws if you don't mind the look of the screws showing.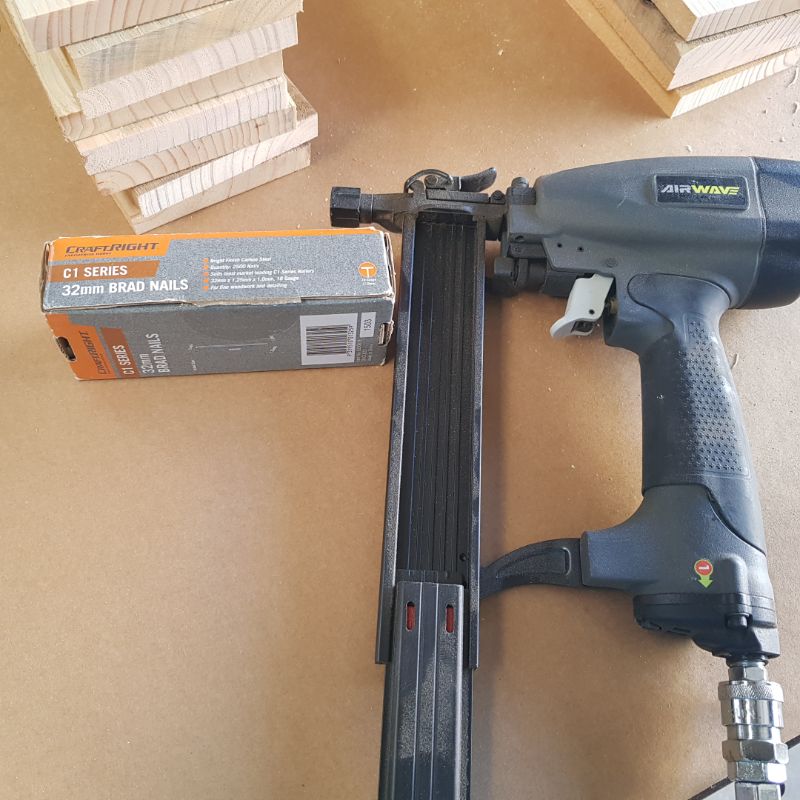 Next, glue the remainder of the wood into L shapes ready to be attached to the first one. You can use glue as well as screws to keep them in place.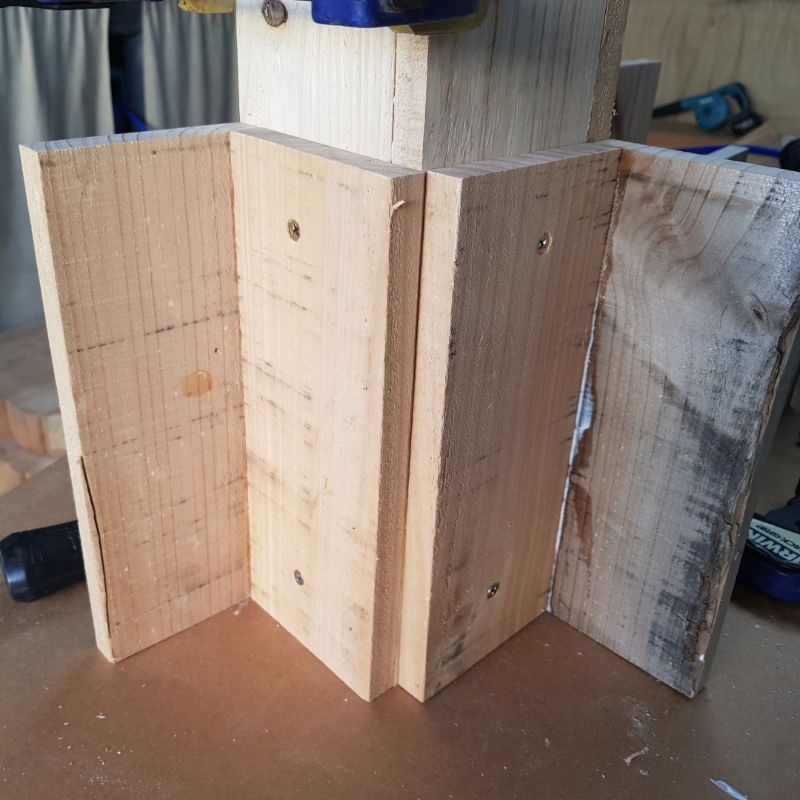 Add glue to the L shape and clamp it in place while the glue dries. Do this with both sides.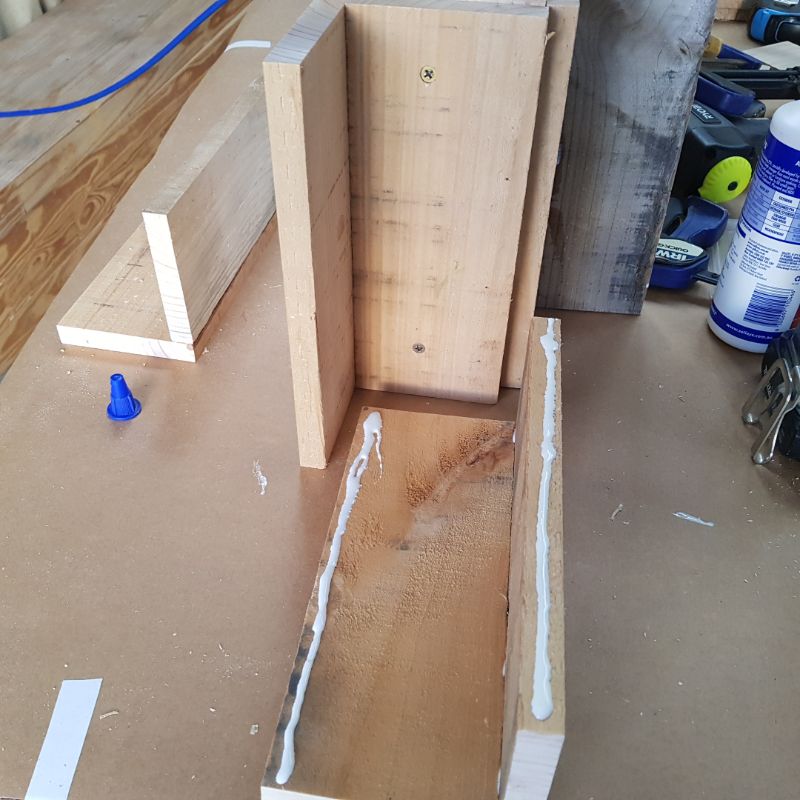 This was how mine was all clamped up, it looked like a game of twister.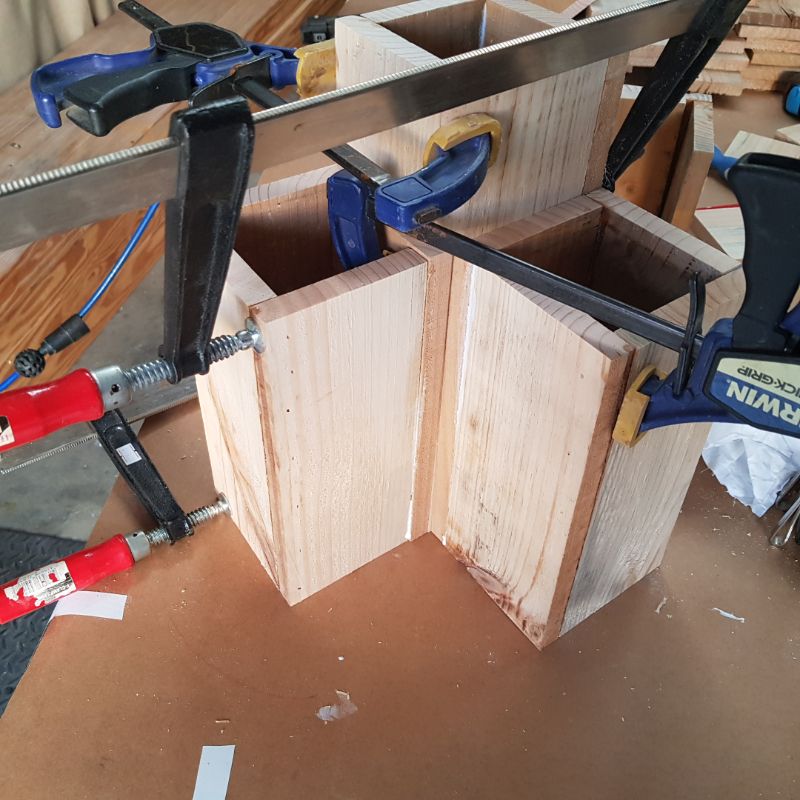 The smaller L shape is glued in place and screwed for extra strength like the previous two.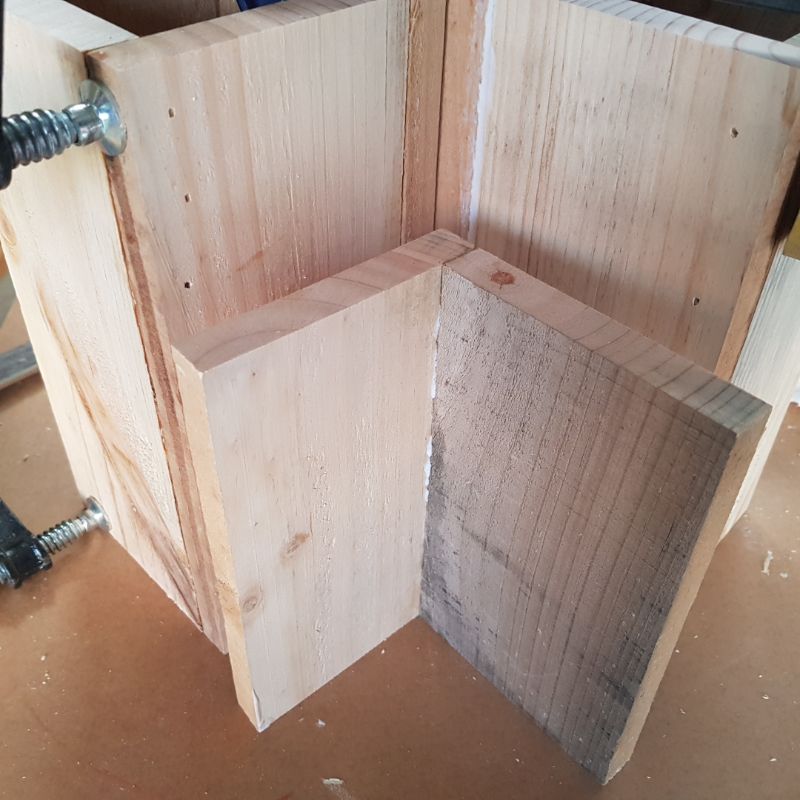 The last piece is then added and clamped in place.  If you are using a nail gun you don't have to wait for each piece to dry because the nails will hold it in place.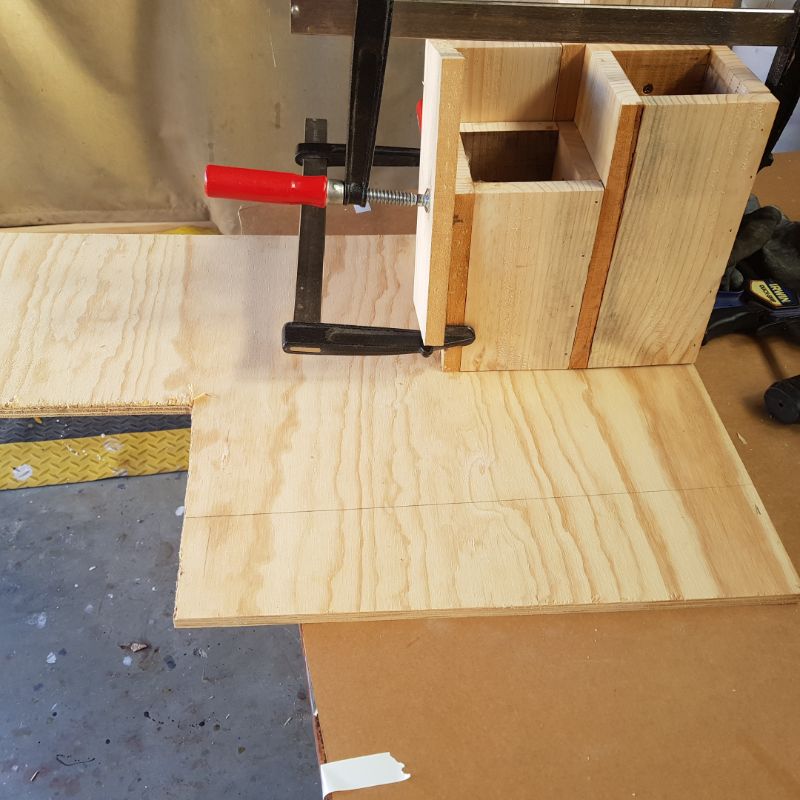 Adding the bottom
Believe it or not, adding the bottom took me longer to do than building the whole planter. I cut 4 squares thinking they would just pop in the bottom.  Nope, not one of them just popped in.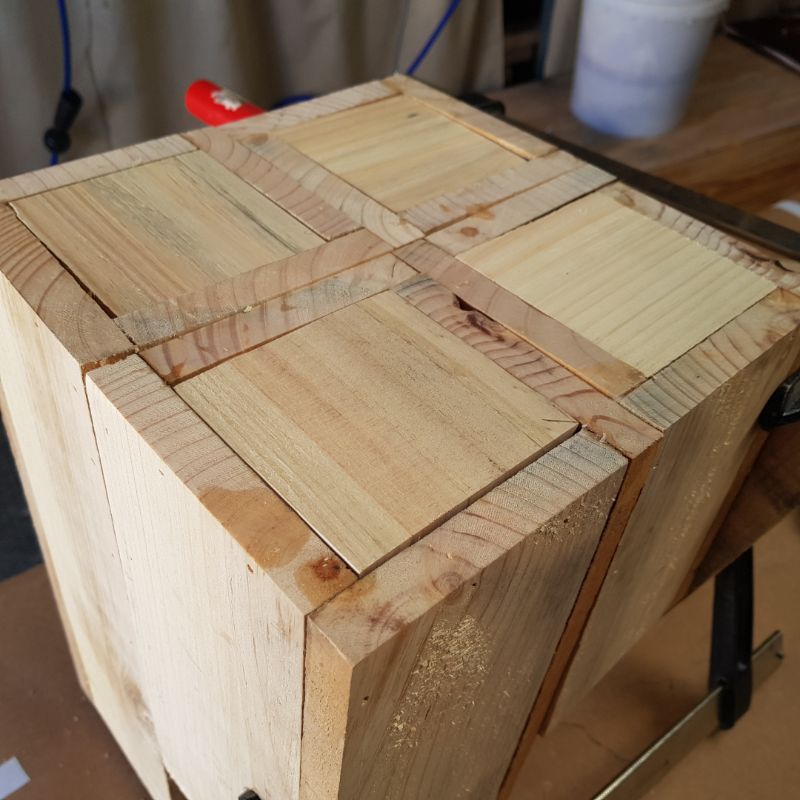 I had to keep measuring and removing the excess with a tabletop sander to get them to fit. I suppose you are not really going to see the bottom, you just need the gaps to be small enough that all the soil does not fall out.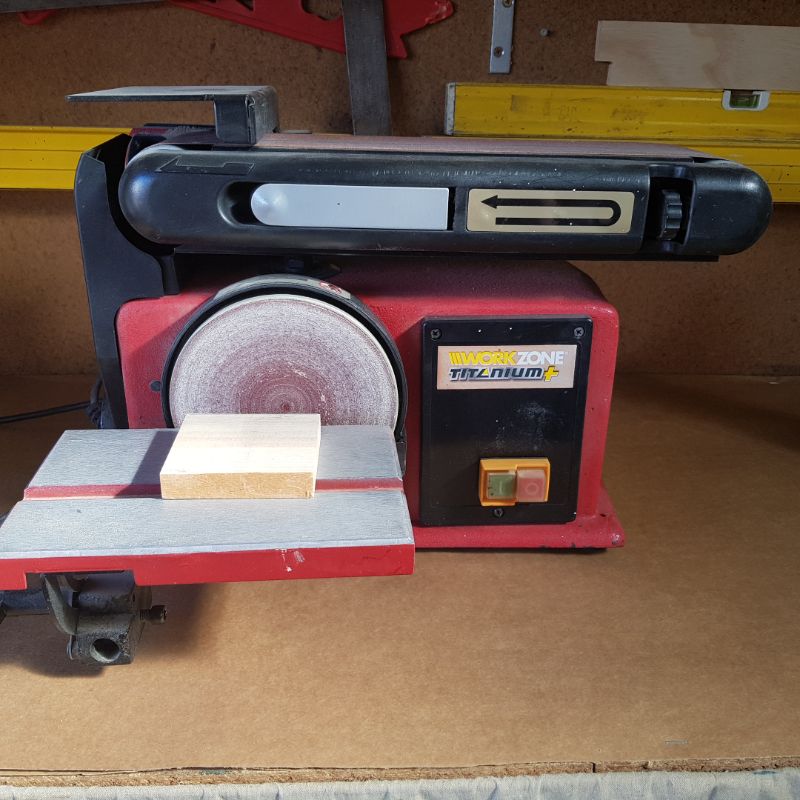 After a while, I gave up trying to get a perfect square because I did not mark which one went into which hole then kept getting mixed up.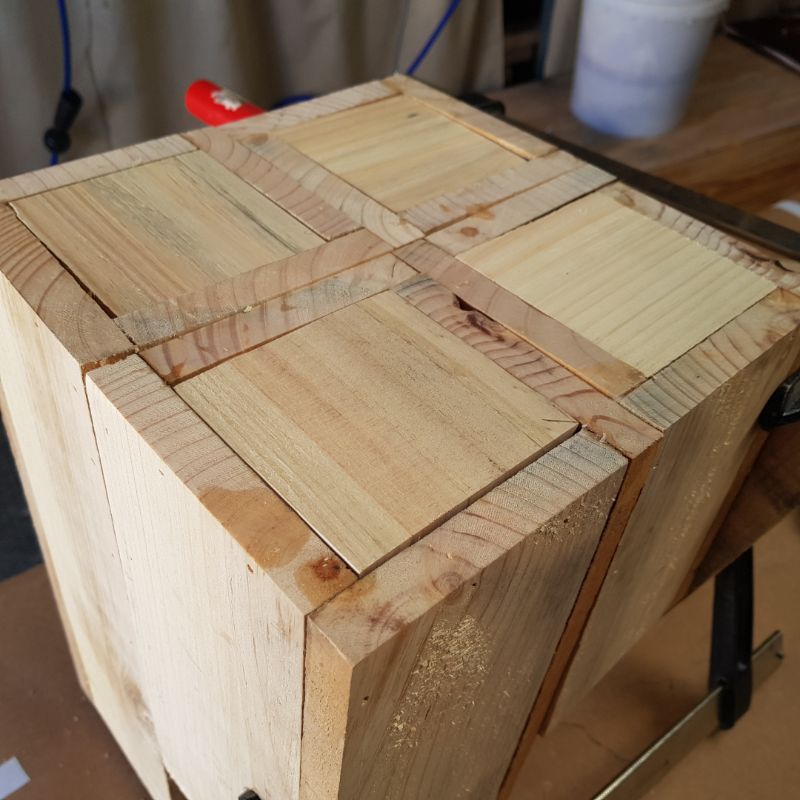 Sand and stain the planter
I gave the planter another quick sand with an orbital sander to remove any edges that were sticking out.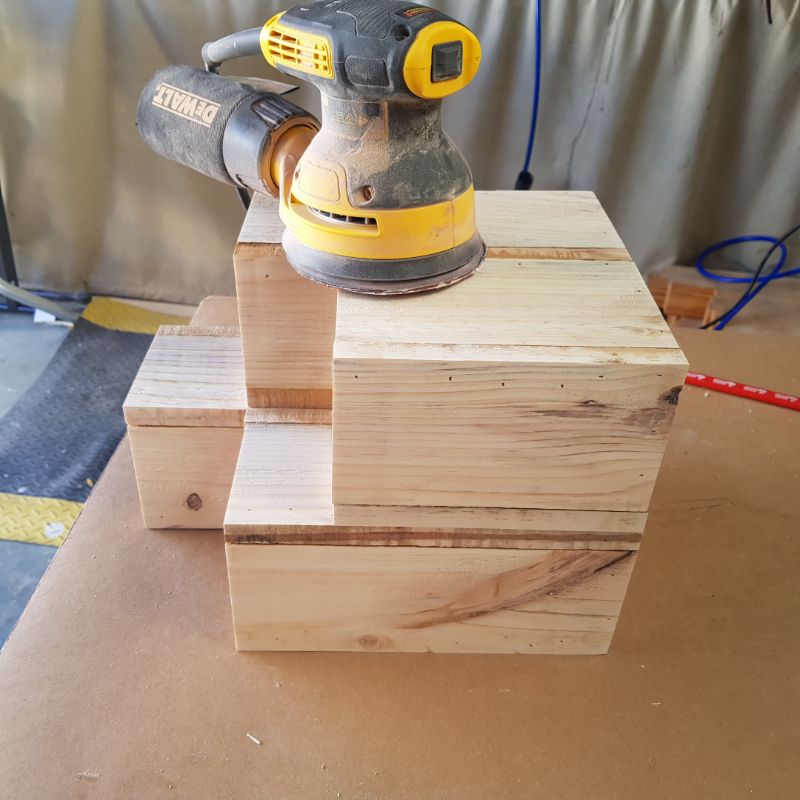 You can now stain or paint your planter, I used a dark mahogany stain for this one.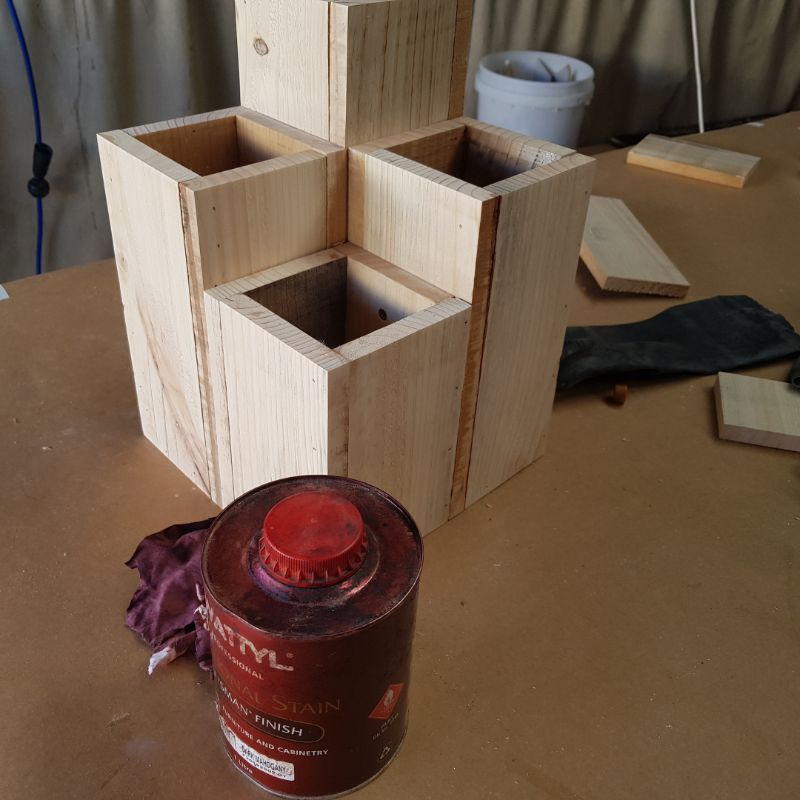 I sealed the planter with 2 coats of exterior varnish to protect it from the weather. I had some scraps of wood leftover from a barn quilt I recently made, which were nailed onto the front for decoration.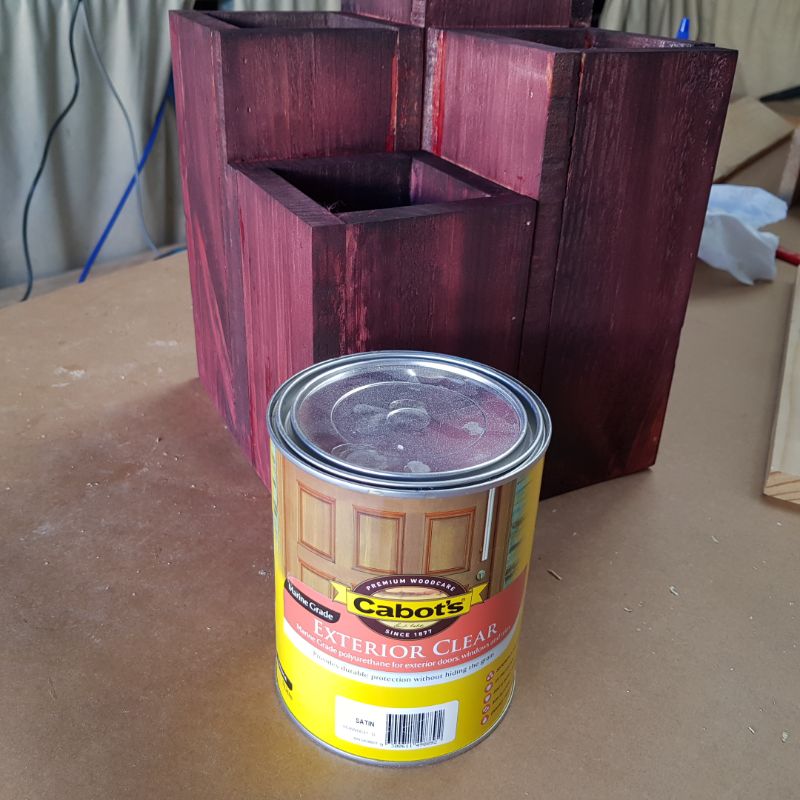 Adding you plants
I thought it was a big waste of soil to fill the whole planter.  I filled  3/4's of the planter with small stones first, then cut some styrofoam to the size of the gap and pushed it down onto the stones to hold the soil.  You can now add the soil and the plants.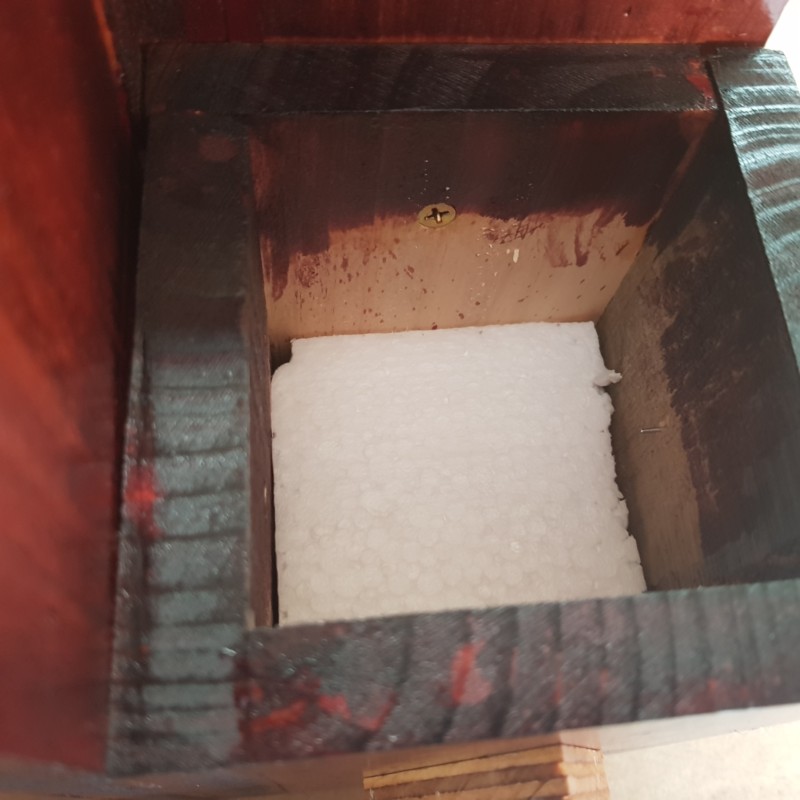 And that is your planter completed.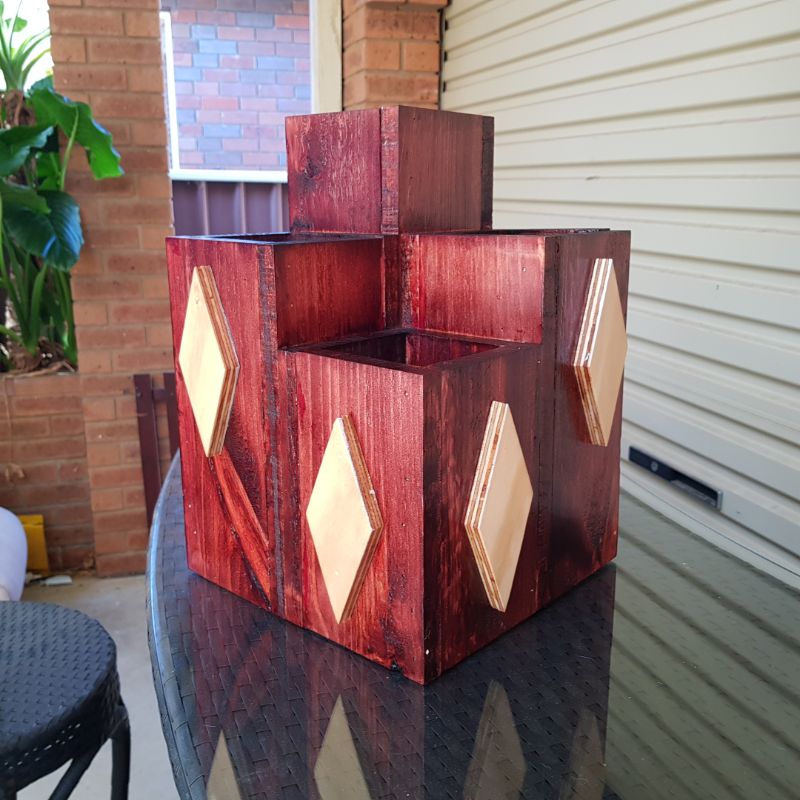 I chose to add succulents because they don't need much water to survive, but you will need to split them up from time to time.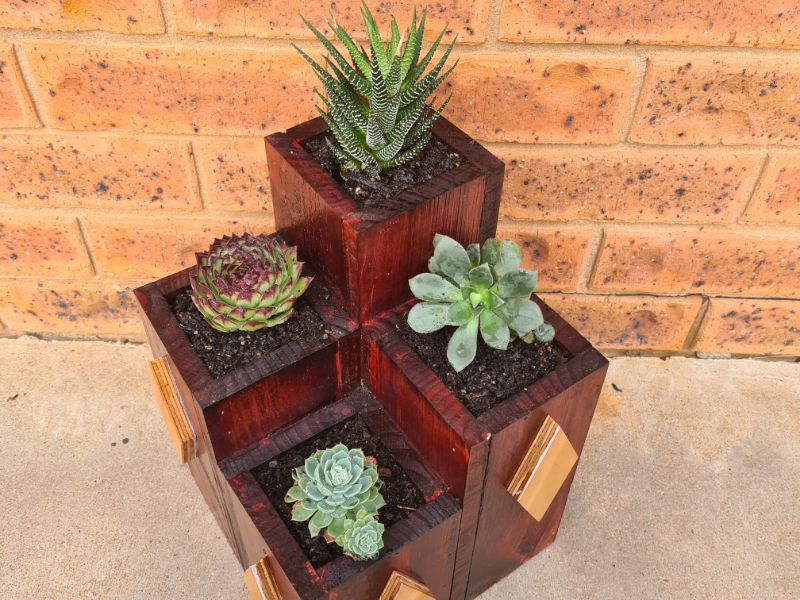 The shape of these planters makes them perfect for fitting into small corners.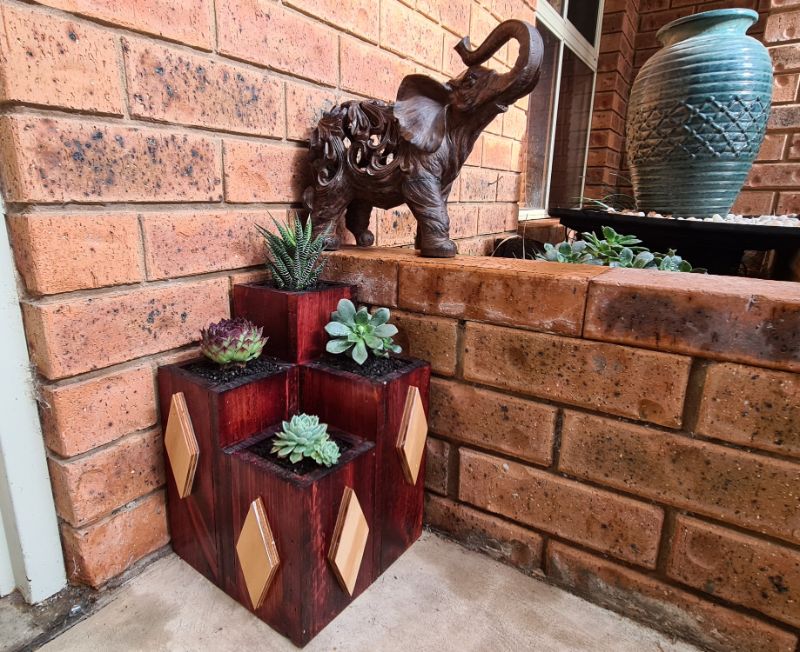 More Great projects for you
How about a succulent tree made from a dead tree fern.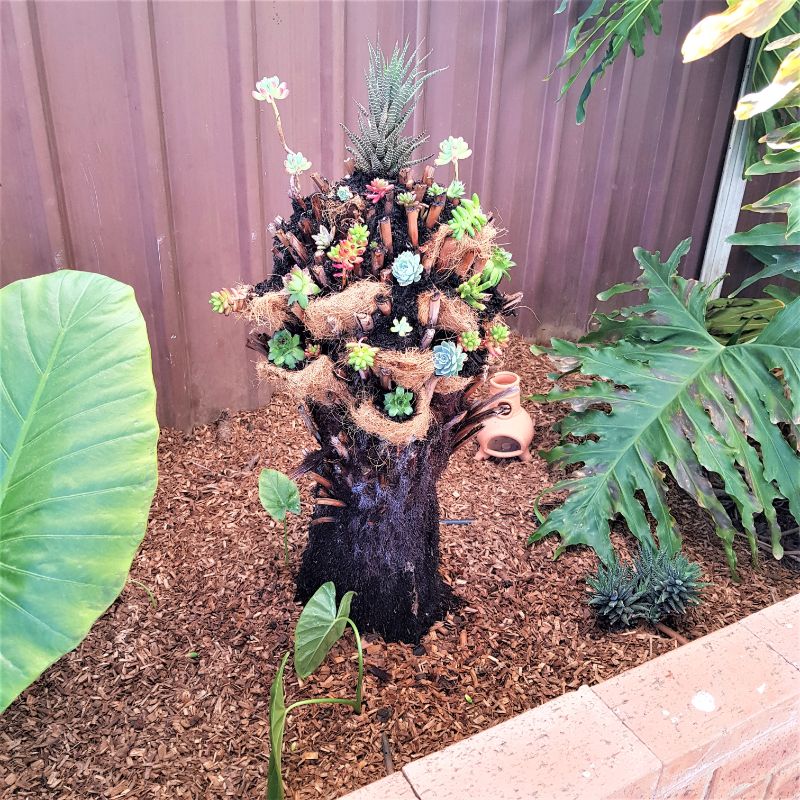 My Amazon Picks
Or how about this lovely planter showcased by my 2 furry friends.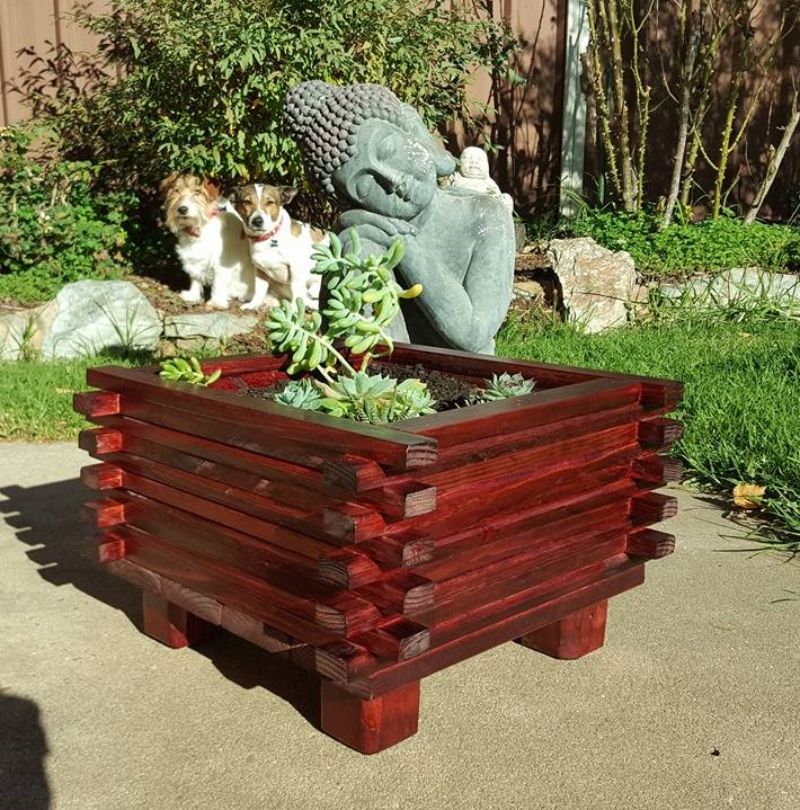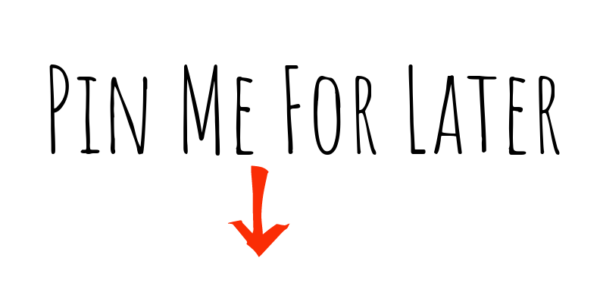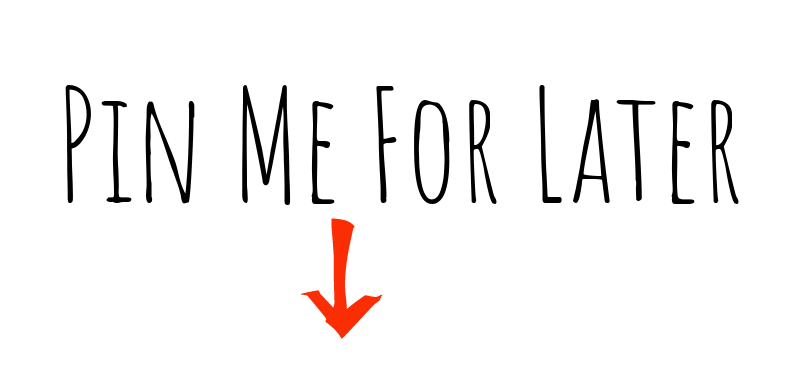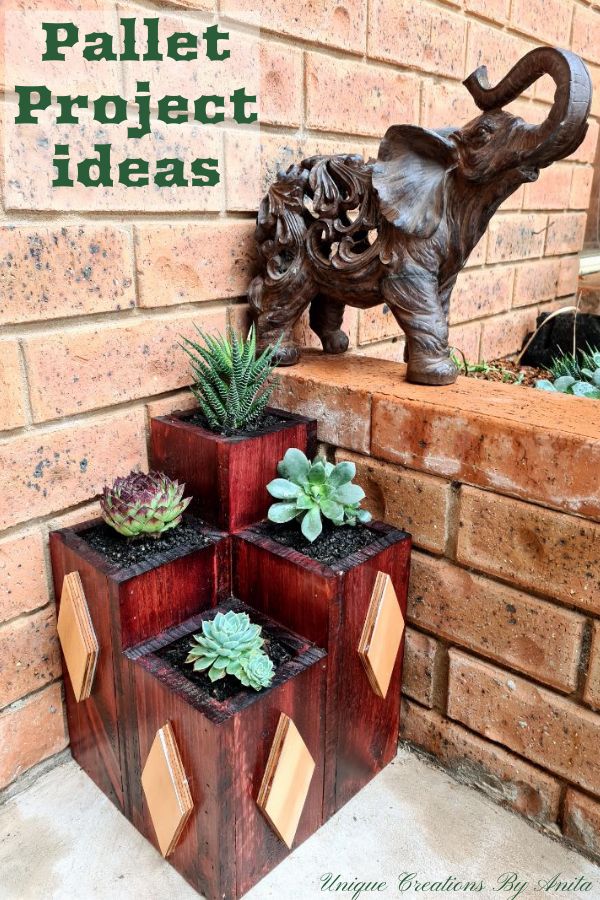 If you are looking for any of the items used in this project, please consider using our links. By clicking on the links we will earn a small commission at no extra cost to you.  Which helps us come up with new and exciting ideas to share with you.