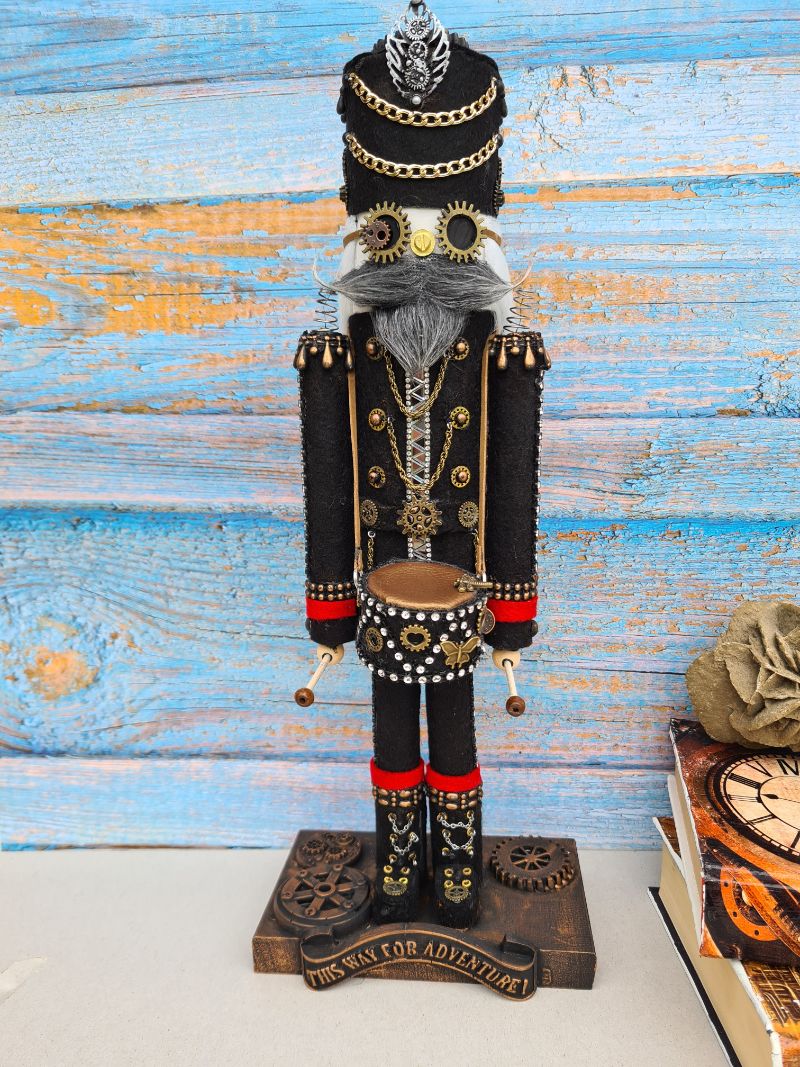 It is time for our next international blogger challenge (IBC) and the topic this month is "Felted fixation".  I chose to make a steampunk nutcracker. The challenge is to create a project using felt in any way shape or form. More about (IBC) at the bottom of this post.
To be honest I was totally stumped at first and could not think of a project to make. I spend hours on Pinterest looking for inspiration and it seemed to be mainly items crafted for children, which I don't do.  If you are a regular follower you will know I am a huge steampunk fan. When I get stuck I always revert back to steampunk projects because they come naturally to me.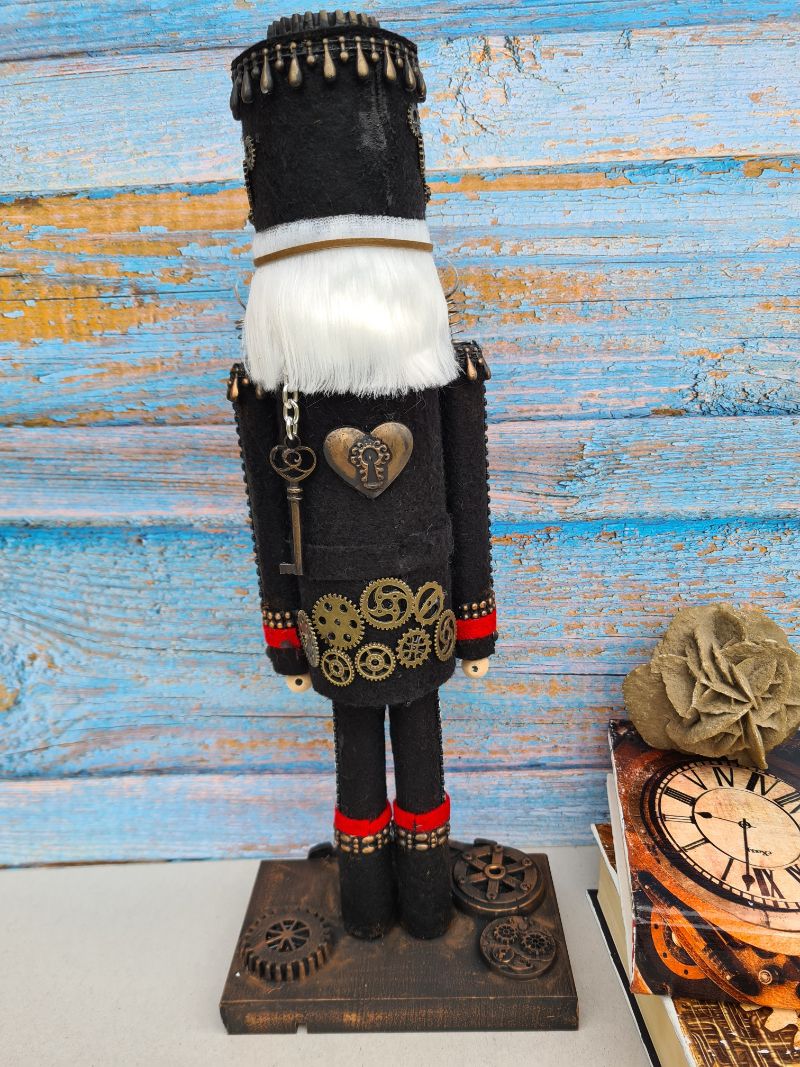 For valentines day I made the steampunk heart and on Halloween, I made the steampunk upcycled teapot. So the most obvious next step would be a Christmas steampunk project.  This year I chose to pick on the nutcracker. I am sharing how I made the nutcracker using mainly recycled materials.  While it only took 15 minutes to make the nutcracker, it did take me 3 hours plus to decorate him.  I kept coming up with more ideas and adding to him, you can decorate yours to suit your style.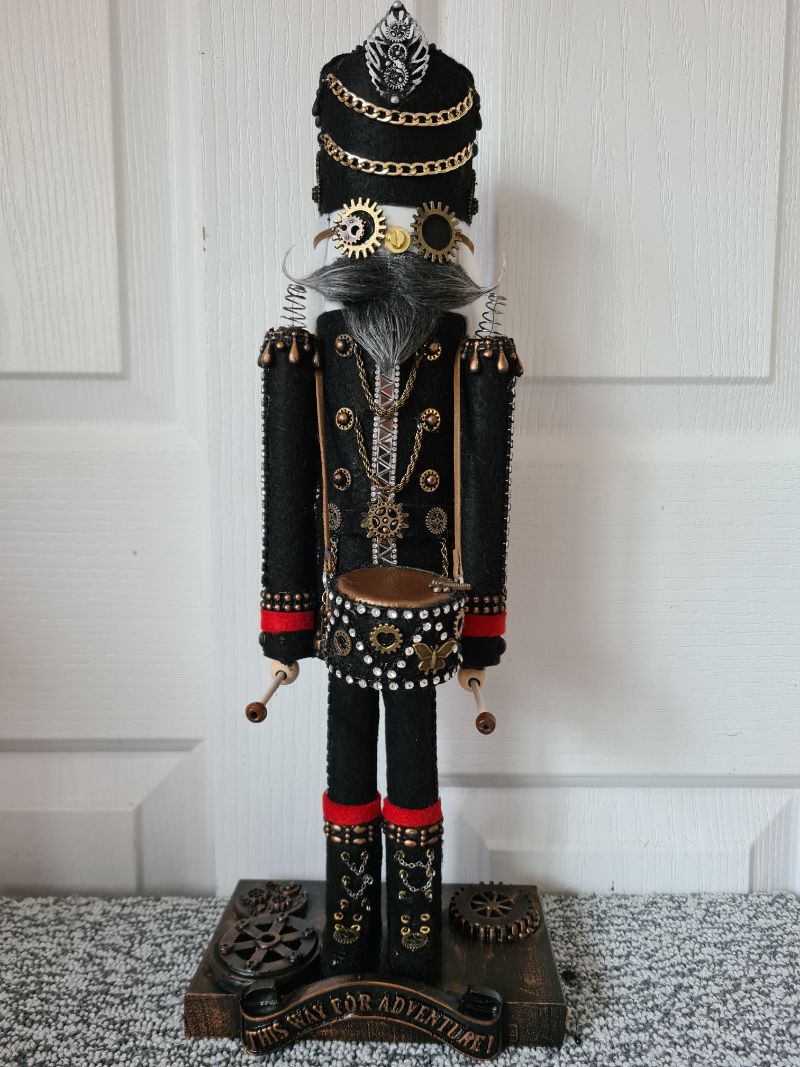 How to make a steampunk Nutcracker
*This post may contain affiliate links. This means I earn a small commission on links used at no extra cost to you. Please see my disclosure policy for more information.**
Materials needed
I used mainly recycled materials that I found laying around at home. My first choice was to use some PVC pipe and postal tubes for the arms and legs.  These are great if you want to make a larger nutcracker to sit on a porch. The total height on mine is 45Cm and below are the products I used.
Postal tube approximately  30cm
4 x wooden dowels 14cm long x 2m thick
2 x A4 sheets of felt
Acrylic paint
Hot glue gun
Wooden block 16cm x 10cm x 2cm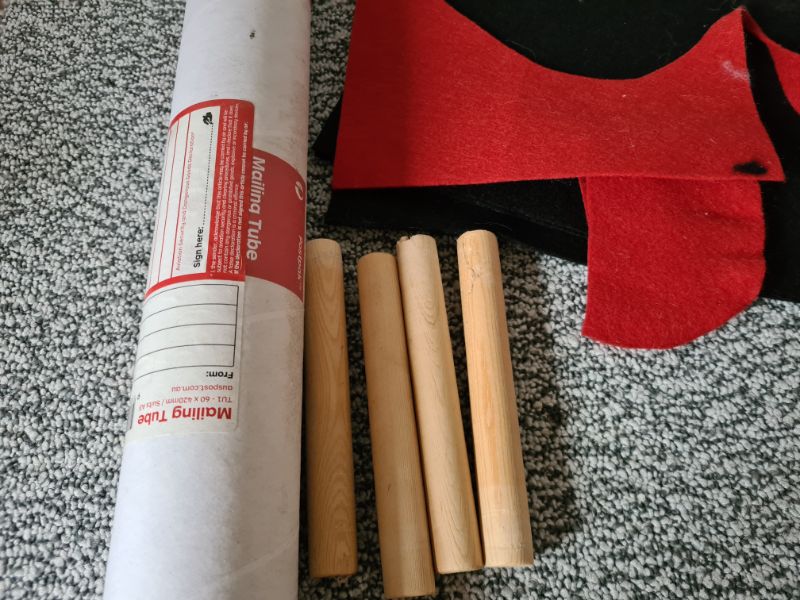 Making the nutcracker body
Start, by cutting the postal tube to the size you want. Because I used recycled materials I had to use what I had at home.  The dowel pegs were from an old pegboard so I cut my postal tube to be in proportion with the dowel pegs.  This was 26cm long.  You can buy A4 pieces of felt
from a budget store for about a dollar. I used 2 for this project.  Next, using the hot glue gun, attach the felt to the tube at the top and bottom leaving a gap for the face.  You can use some white acrylic paint
to paint over the gap so you have a clean area for the face.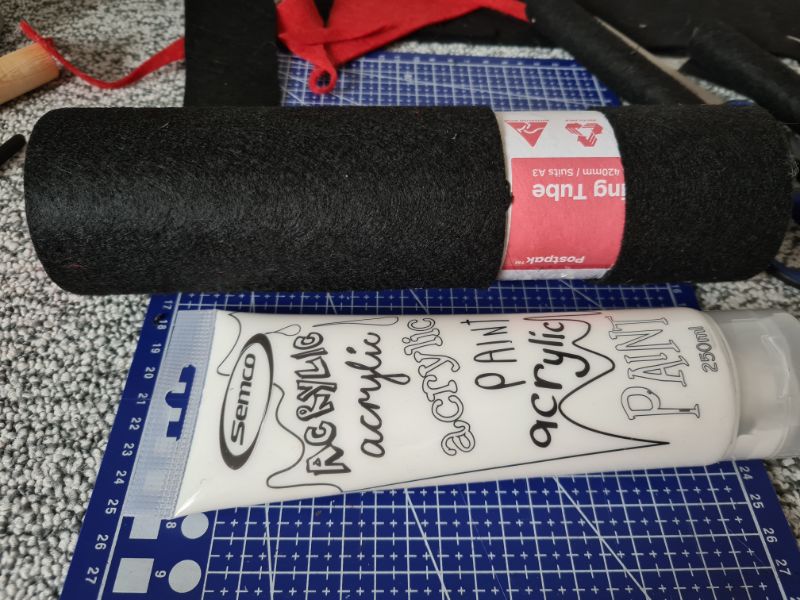 Cover the arms and legs
An easy way to cover the dowels is to put a line of hot glue down the dowel and line it up with the edge of the felt.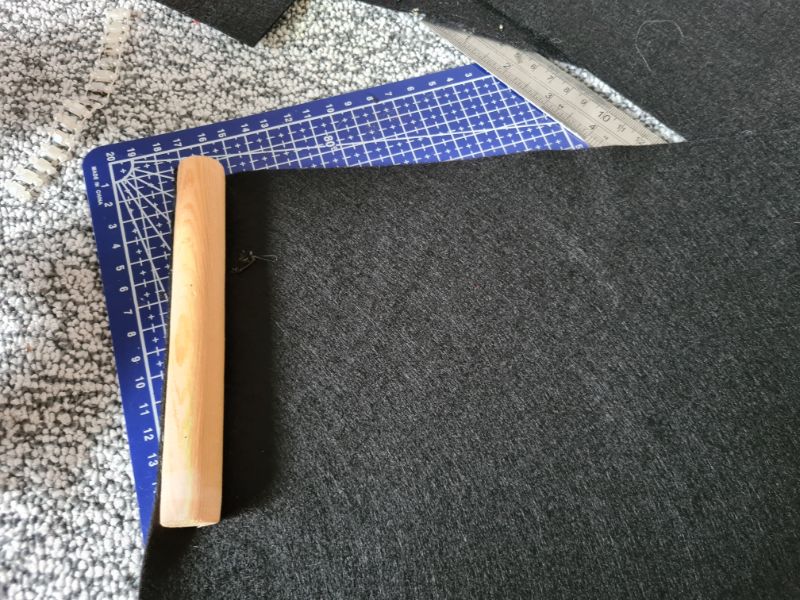 Then just roll the dowel in the felt until the edges meet, then cut away the excess.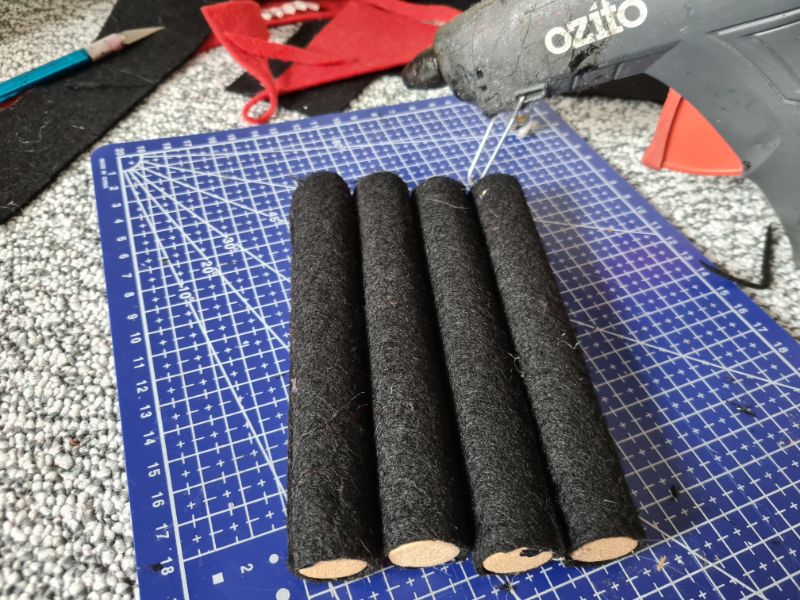 You can cut small strips of felt to make some cuffs and a belt for your nutcracker.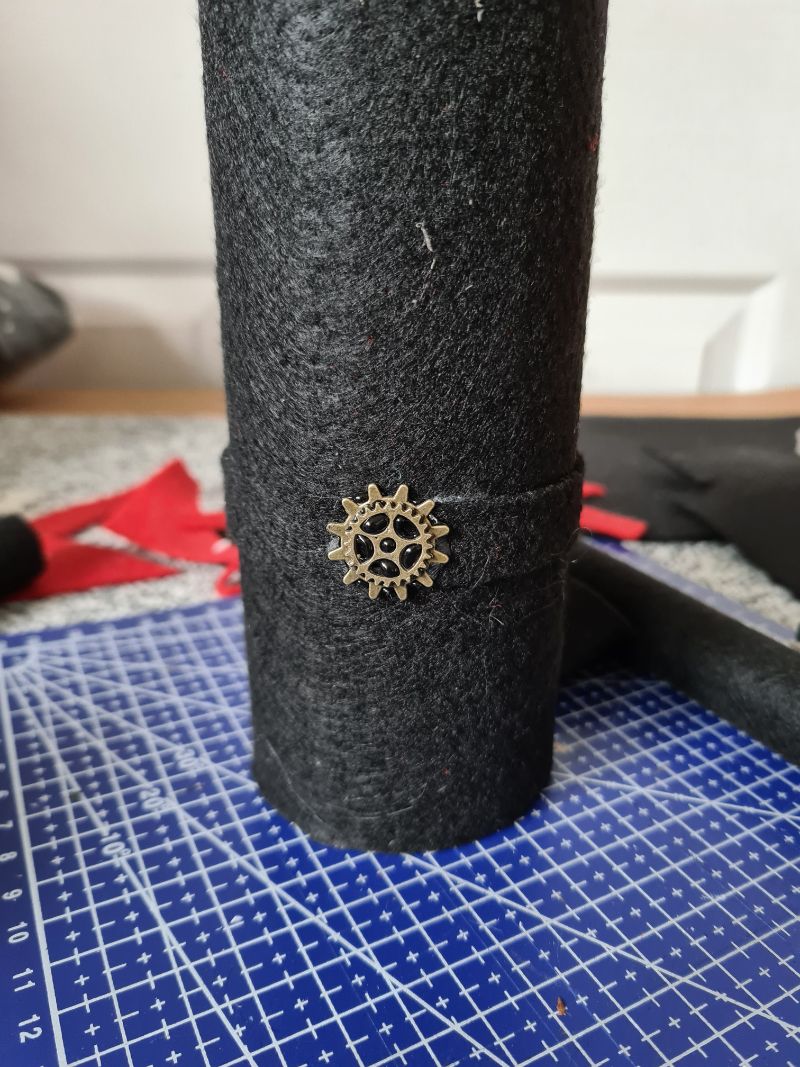 I layered the felt so it was obvious that he was wearing boots.  You can just paint them on if you so choose.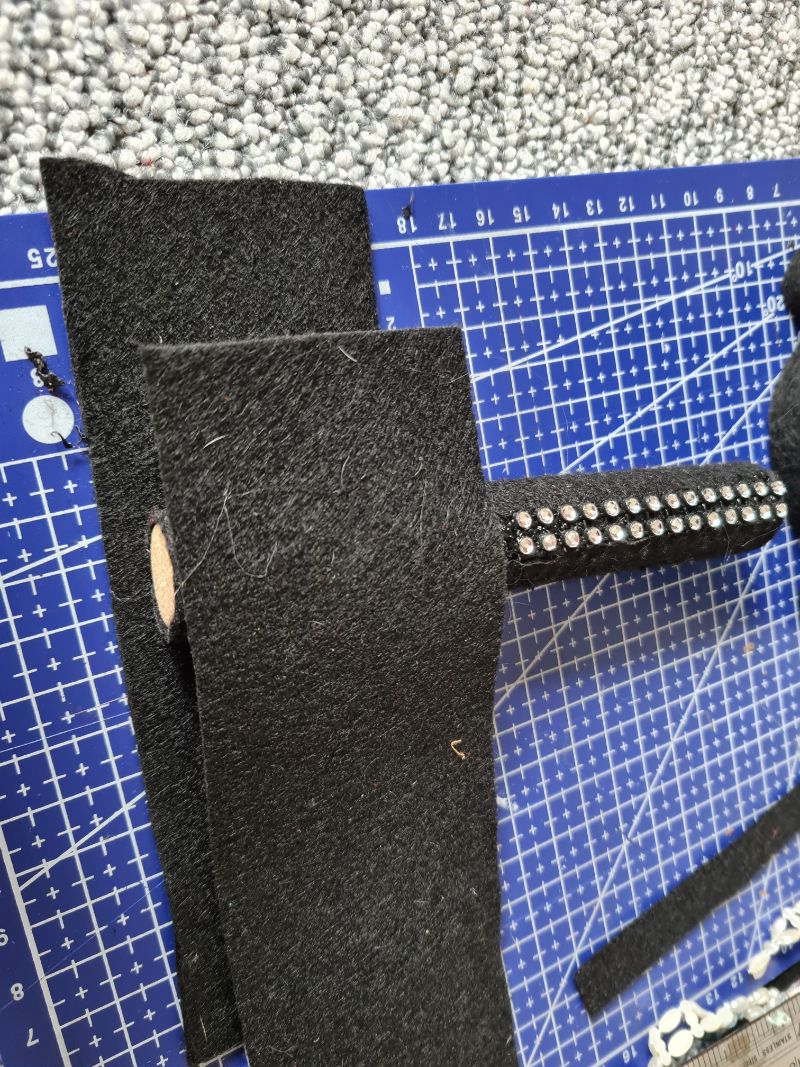 Attaching the arms and legs
If you are using black felt I would recommend using black hot glue
so the glue is not so obvious. The clear glue will stick out like a sure thumb.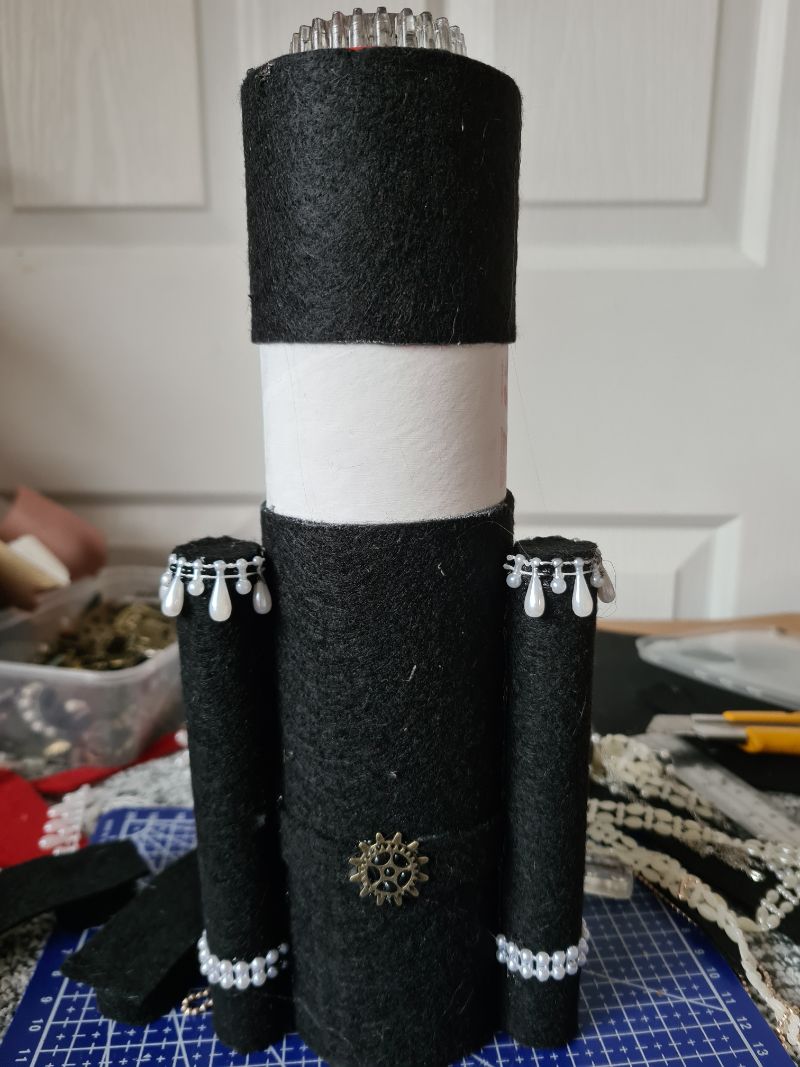 The legs were a bit trickier to attach.  Because of the height of the nutcracker, I did not think hot glue would be strong enough to hold him upright. To solve this problem I cut two small pieces of wood, one to go inside the tube lid and one for outside because the lid was hollow.  I drilled a pilot hole and added a screw through both to hold them all together.
Next, I drilled a pilot hole at the end of each dowel. Using a screw long enough, screw through the wood and into the dowel. This will hold the legs firmly in place. The lid with the legs attached can now be glued back into the postal tube.  I got so involved I did not take a picture of this.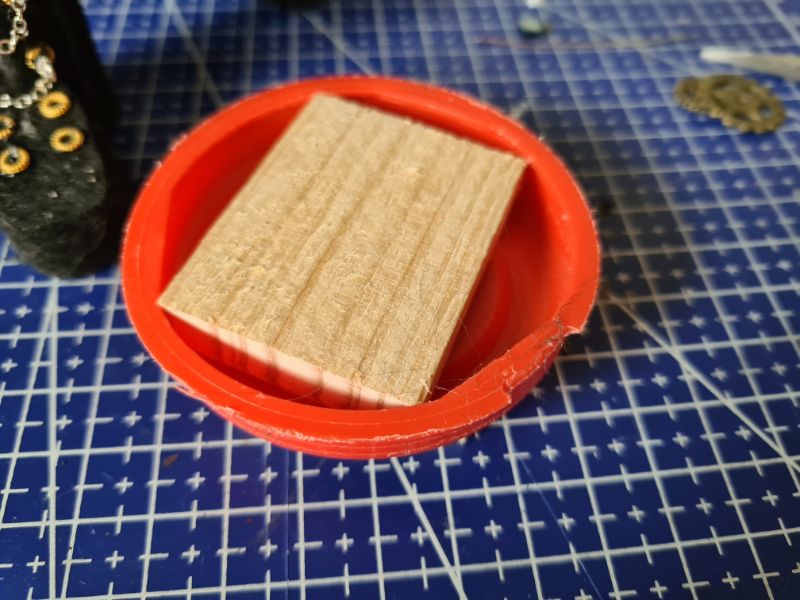 To attach the nutcracker to the block of wood, you can drill pilot holes at the end of the dowels.  This is to prevent the dowels from splitting when you add the screws.  Drill matching holes into the wood and add screws from the bottom into the dowels.  This will make your nutcracker very secure.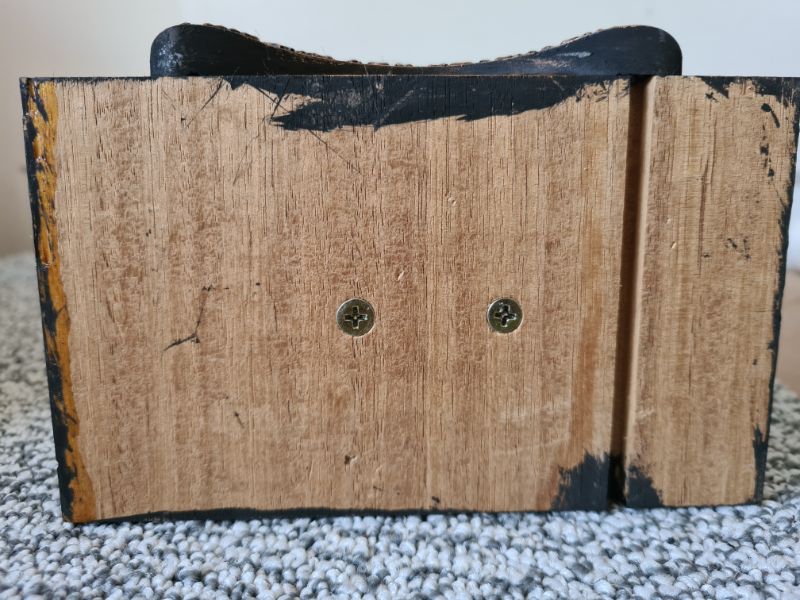 Decorating the nutcracker
Because I chose a steampunk theme I was able to use bits and bobs from my craft supplies. As always I tend to go overboard to make my projects unique, you can decorate yours whichever way you chose. If you want to create one similar to mine I will briefly explain what is used.  All the chains I used were from broken junk jewellery. The springs were from a broken battery toy, but you can make some by wrapping some wire
around a pen. The shoelace holes were spacer beads from a beaded bracelet. The white pearls are trim
you buy by the metre and they come in many designs.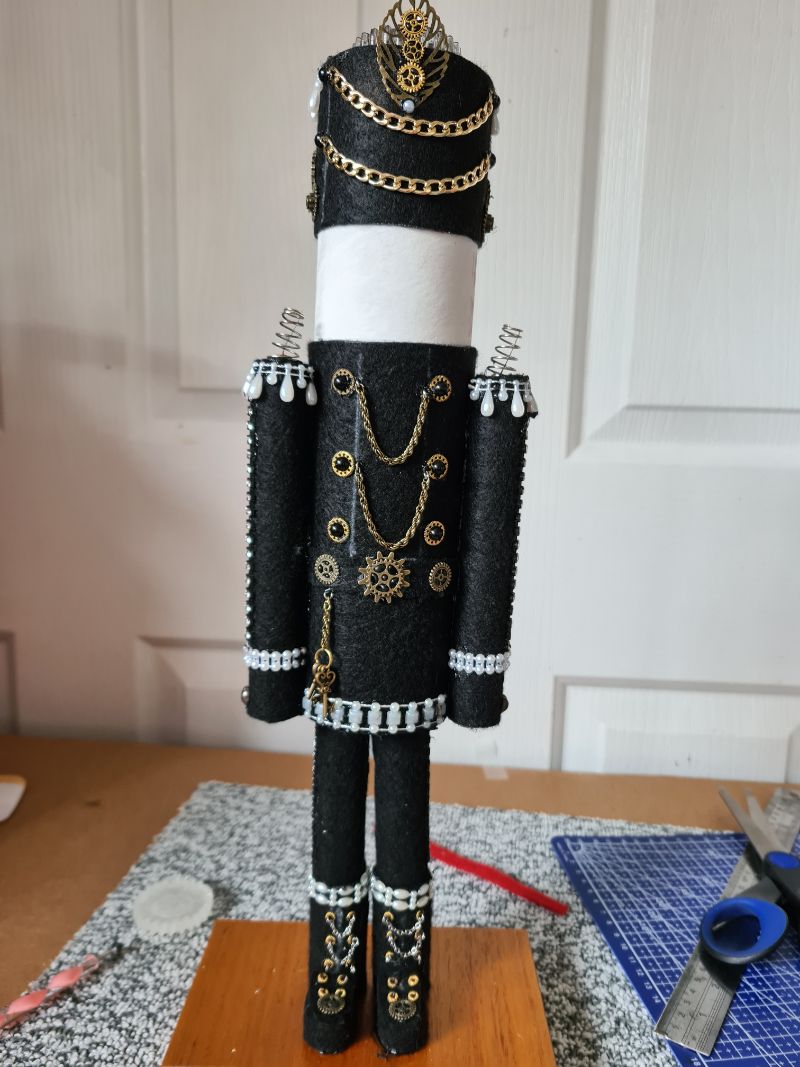 Making the beard and moustache
I am a very creative person but I can not draw to save my life.  I had a few attempts at drawing on a face and they were all hideous. Safe to say drawing is not my thing. To get around not being able to draw the face, I decided to try and cover most of the face with accessories. I used some Mongolian fur
to make him a moustache and beard.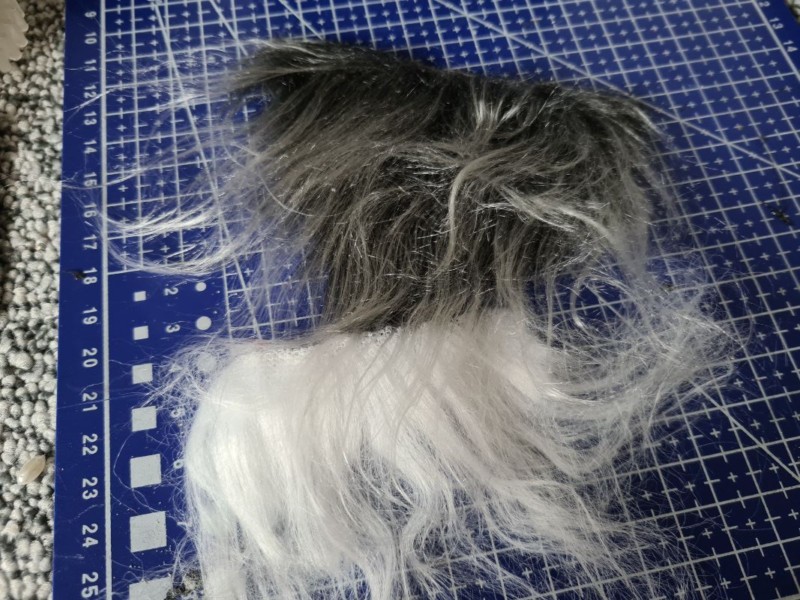 For the beard, I cut a small triangle using an Exacto knife.  Turn the fur over and cut the back lining only, this will prevent you from getting the straight cut in the fur.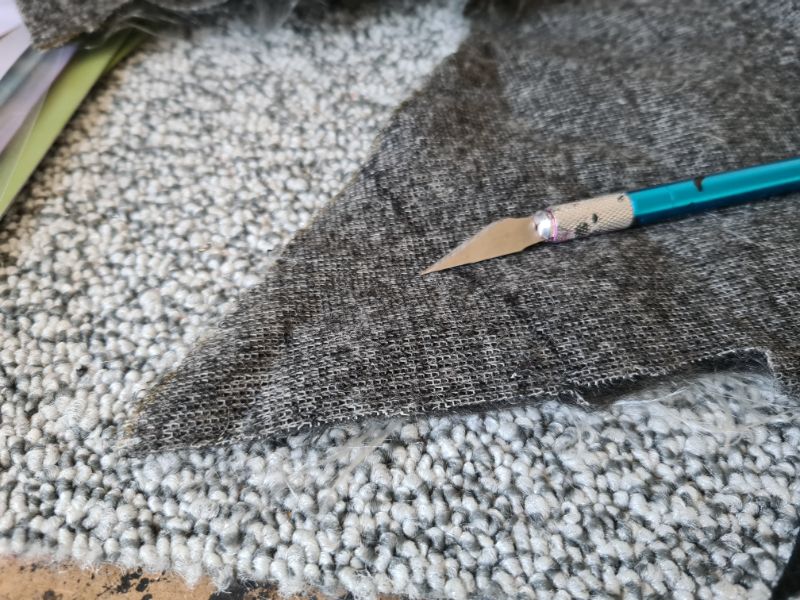 You can use a comb to part the beard and the moustache.  Mine was a bit too bushy so I gave it a trim and used hairspray to hold the style in place.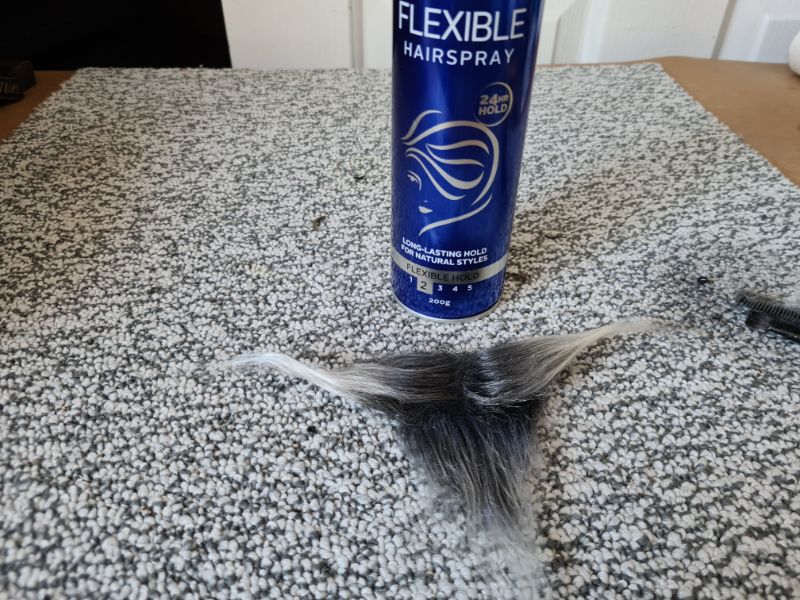 The steampunk glasses were made using washers and steampunk gears
.  I added some plastic film between the two layers so I could paint it black to hide the fact that my nutcracker had no eyes. He got a screw head as a nose.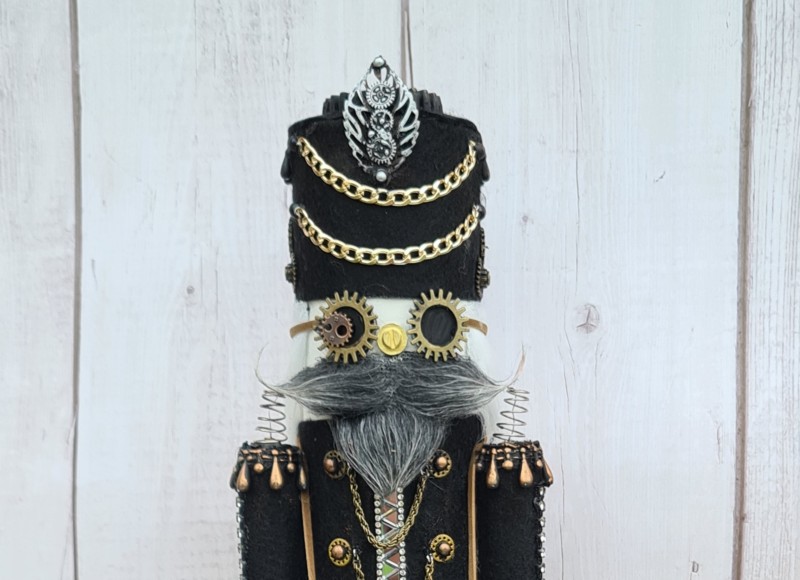 I used some air dry clay and made some shoes which were pretty naff too. To hide my failed attempt at shoes I covered them in felt which worked well. These were glued to the wooden base with hot glue.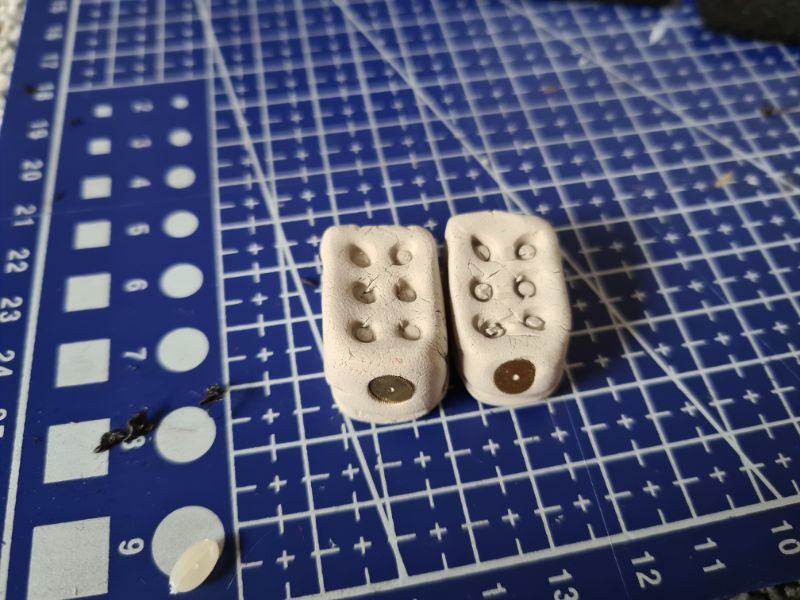 I did not like the look of the white beaded trim so I painted them all black and added some bronze wax paste. The hands were wooded beads
that I glued to the base of the dowels.
Making the drum
If you want the drum you can add some match sticks with beads on the ends as drumsticks.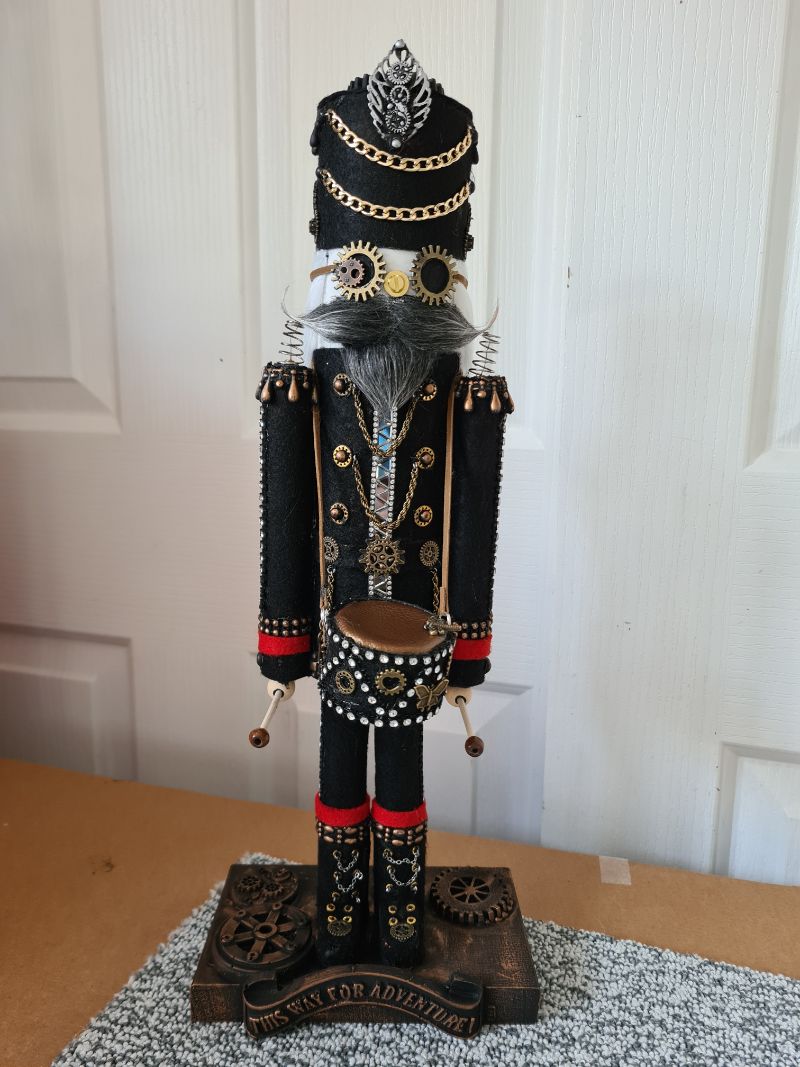 To make the drum, I repurposed a small paint tub and covered it with felt.  I used some rhinestone wrap
which I cut and glued to the drum.  You can use some leather laces for the strap for the drum. Lastly, to decorate the base I used some stamperia moulds
and resin
to make the sign and embellishments.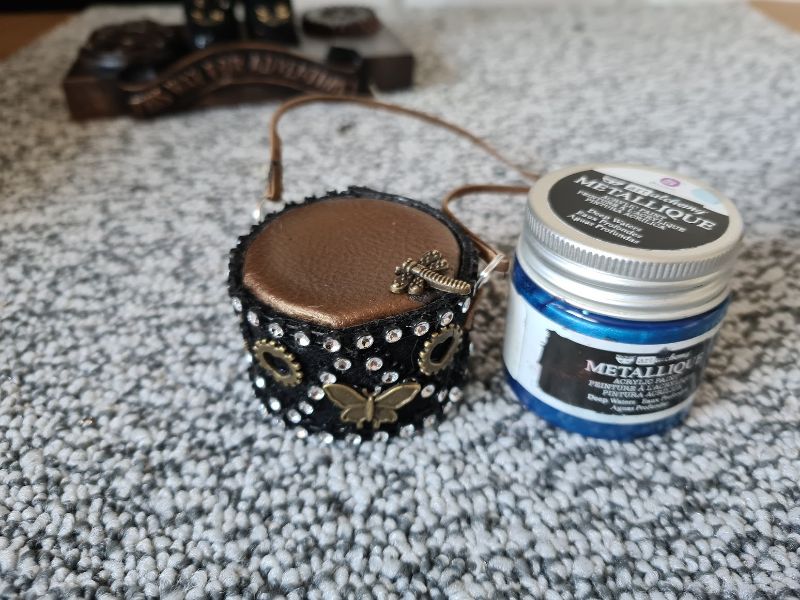 I hope you enjoyed seeing how my steampunk nutcracker was made, here are some more images so you can see all the details.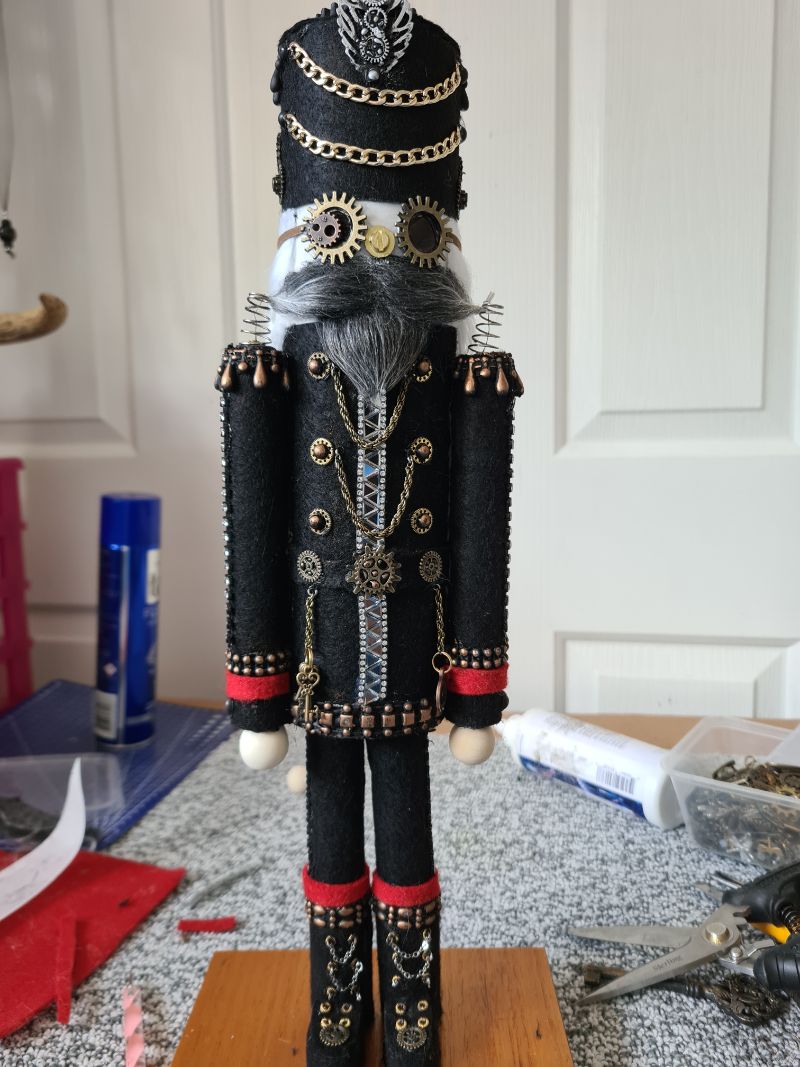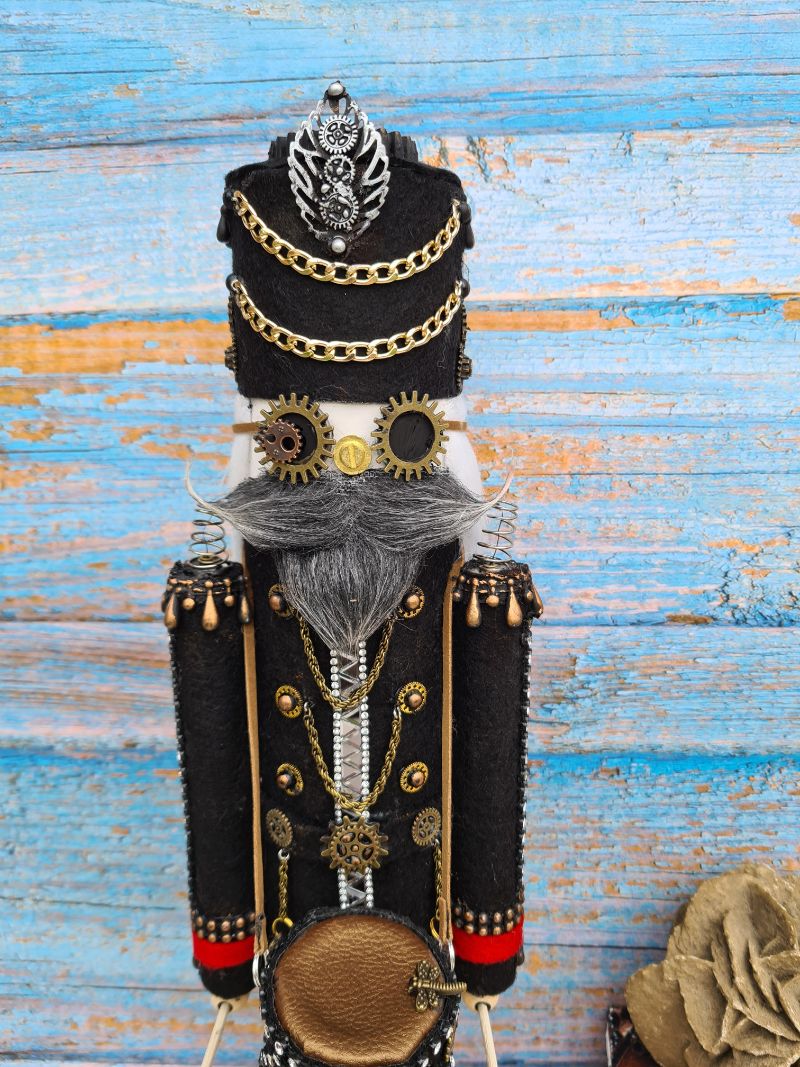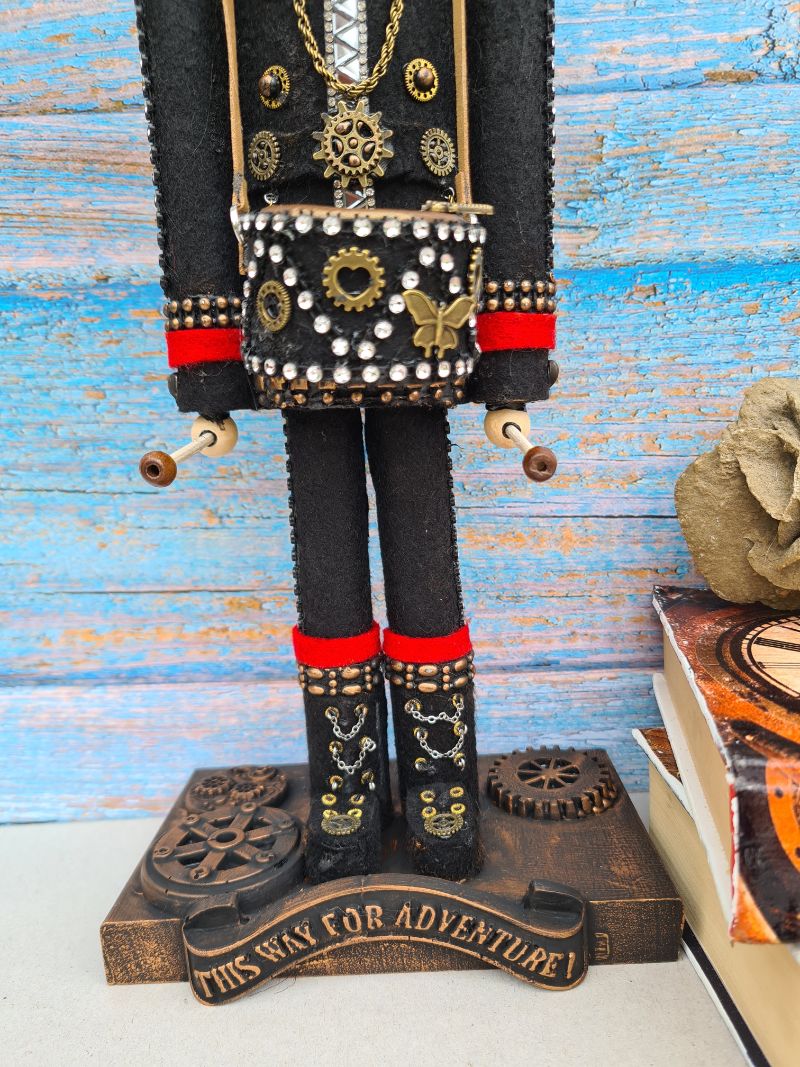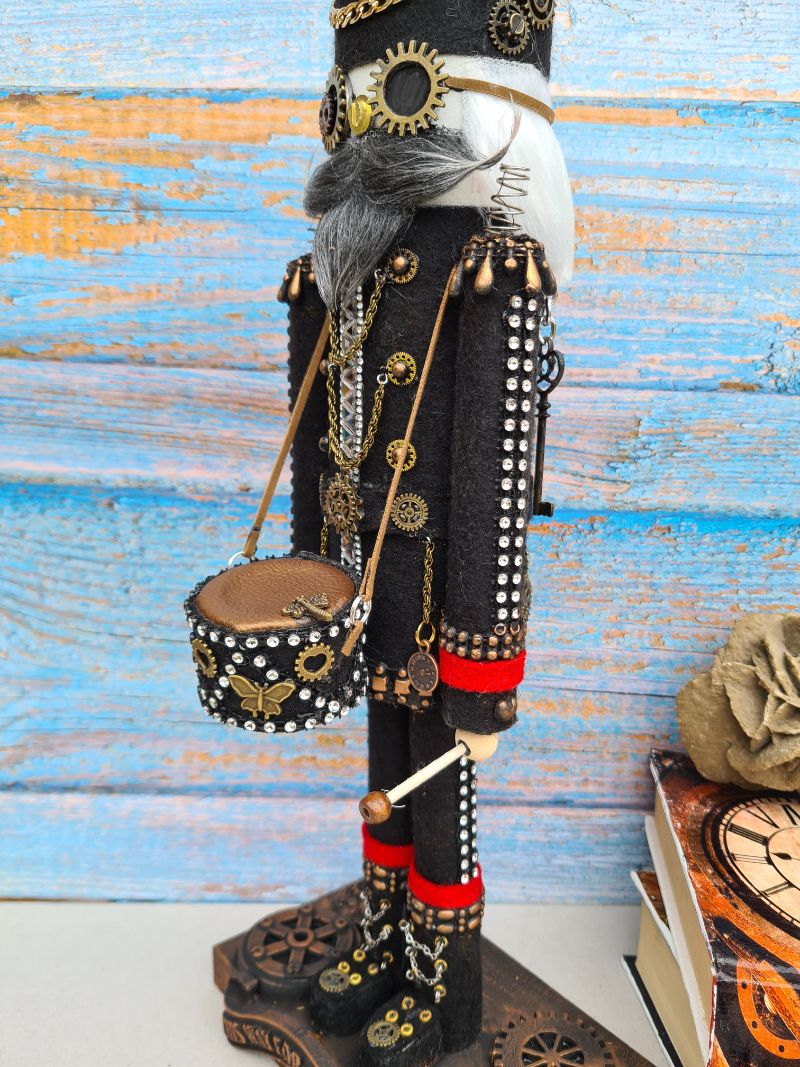 More project ideas for you
If you are a steampunk fan here are two projects I made last year for Christmas. I made this steampunk Christmas tree from mainly recycled materials.
And how cute are these steampunk gnomes, who can resist having a go at making them?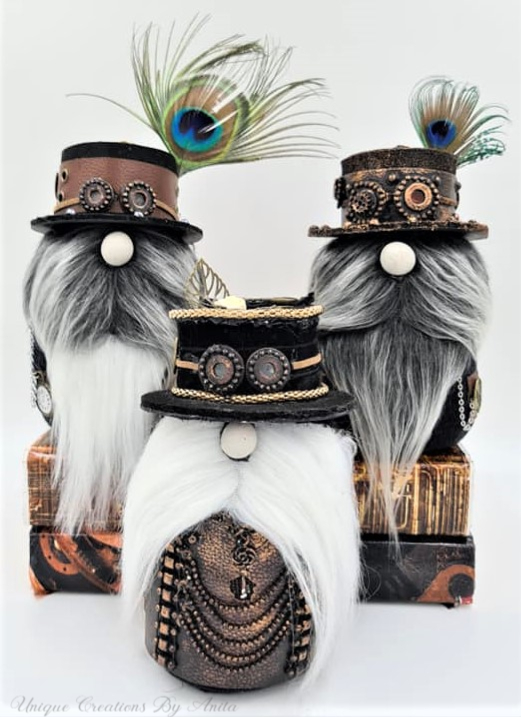 More about IBC
If you follow my blog you will know I am part of IBC (International Bloggers Club) which is a group of talented bloggers from around the world. We have members from Spain, South Africa, Australia, the United States, and Canada. Each month we come together and create a project with a common theme.
If you missed last month's "Beads Galore " theme here is the link to my Beaded wall hanging  The "Felted fixation " contributions from my fellow bloggers for this months challenge are listed below, please feel free to jump over and give them some love.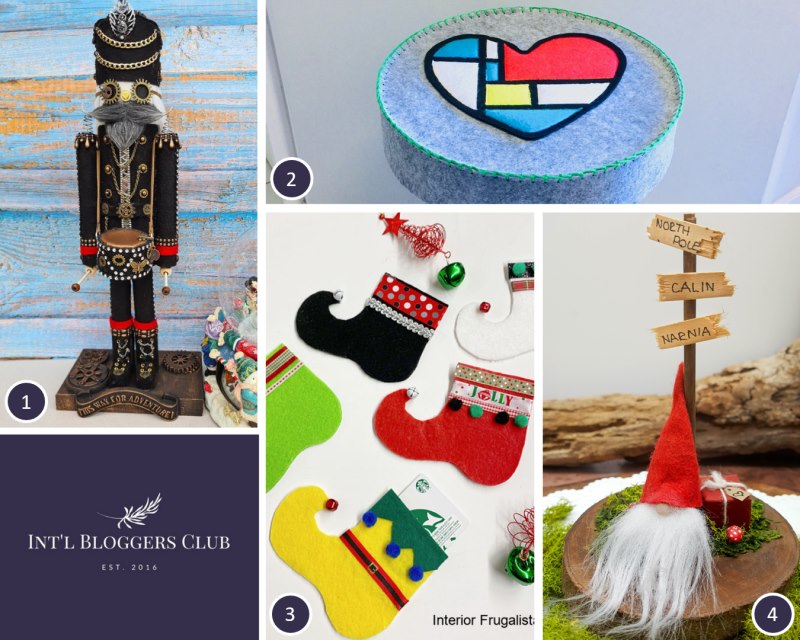 Me
Birdz of a feather |Felt Applique
Interior Frugalista|No Sew felt elf shoe gift cardholders
A Crafty Mix|Miniature Sock Gnome Place Card-holders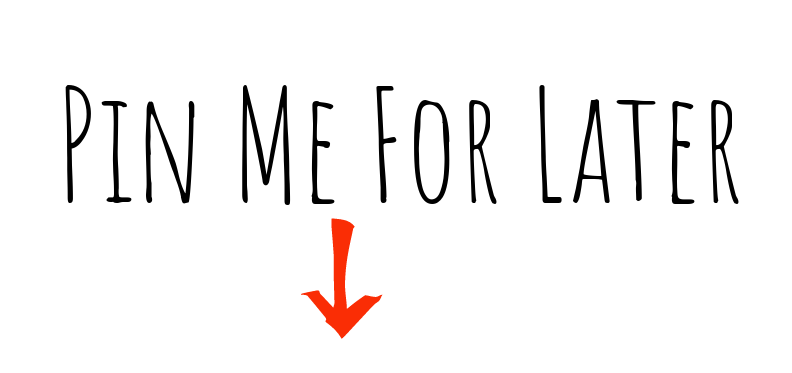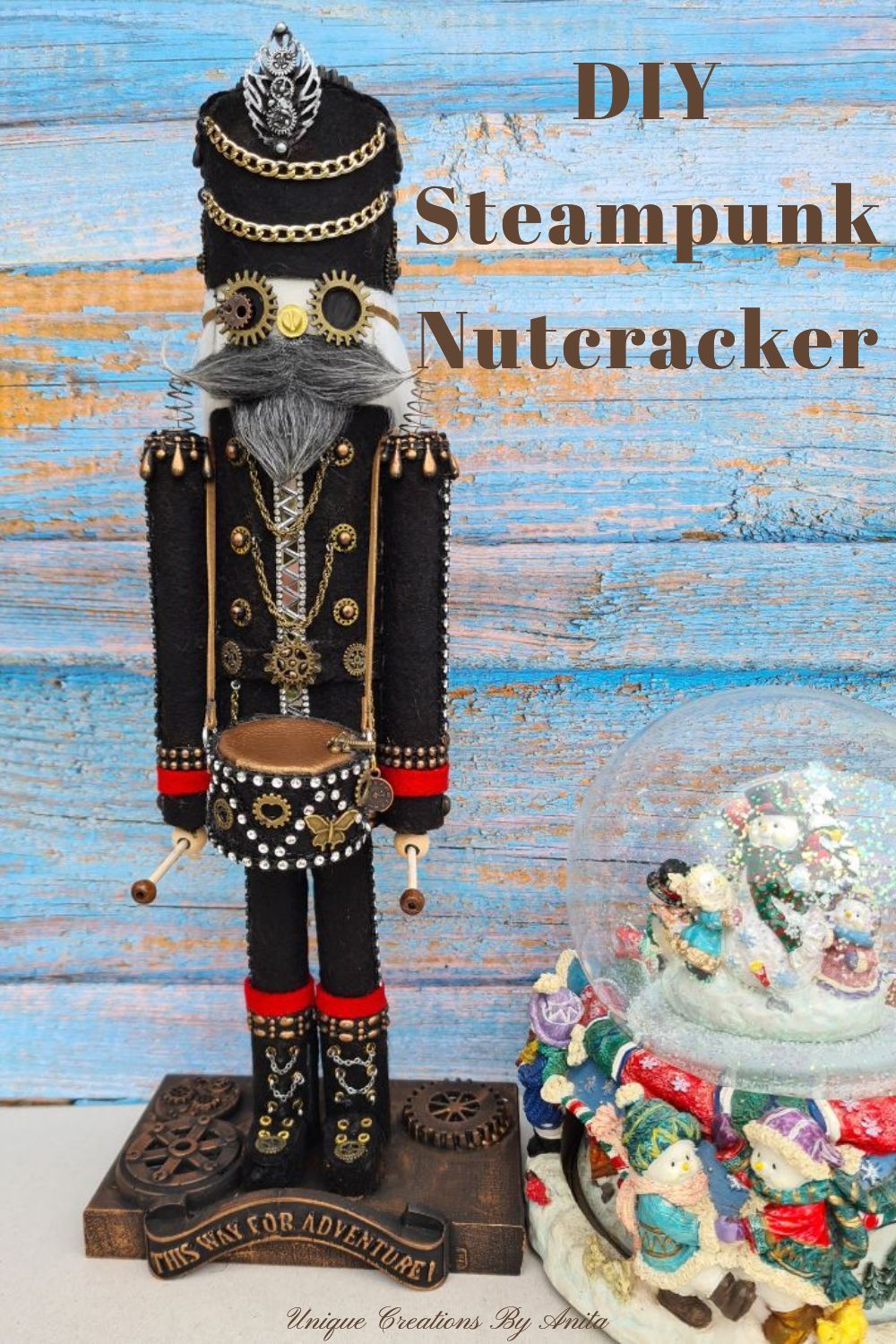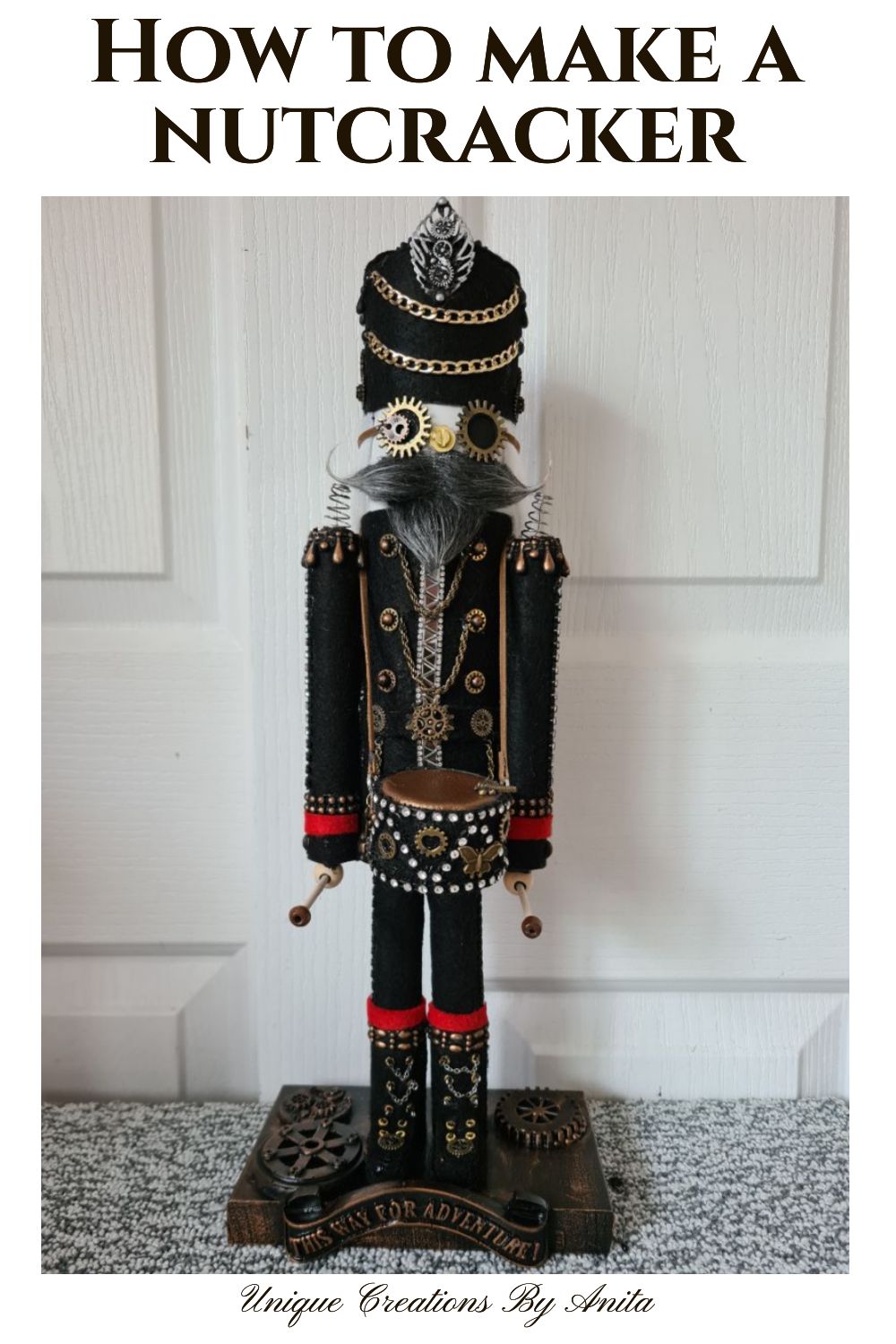 If you are looking for any of the items used in this project, please consider using our links. By clicking on the links we will earn a small commission at no extra cost to you.  Which helps us come up with new and exciting ideas to share with you. Please feel free to share or leave a comment we would love to hear your thoughts.