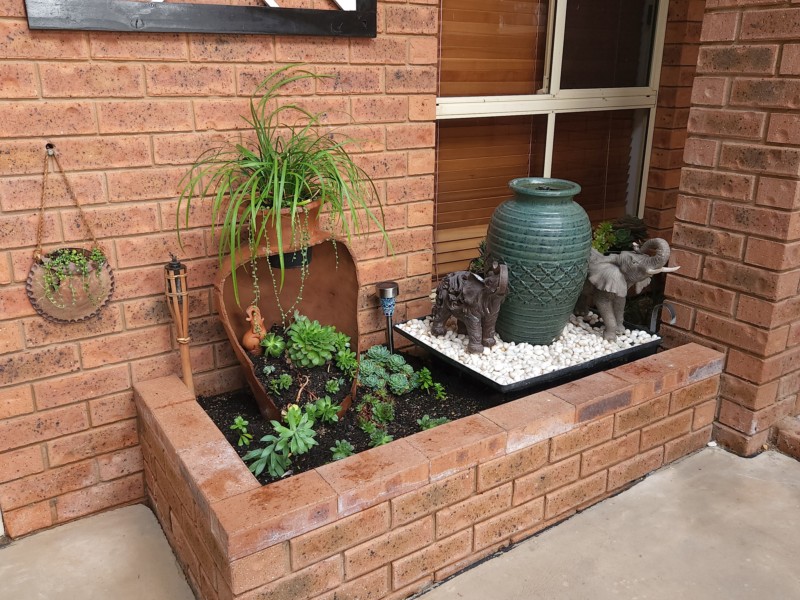 They have done it again! The latest victim of my two Jack Russell terrorists was my beautiful terracotta pot. It has become a regular occurrence for them to destroy things around our home.  I was hoping they would have outgrown that destructive stage by now, but no such luck.  On a positive note, they do keep me in project ideas. And converting that broken terracotta pot into a planter was my next project.
It is also time for our next blog hop for  'Do It Over' Designers so this project was the perfect do-over.  We are a group of bloggers who come together to share our latest recycle/upcycle/DIY project. Be sure to visit the other talented bloggers who are participating this month in the links at the end of this post.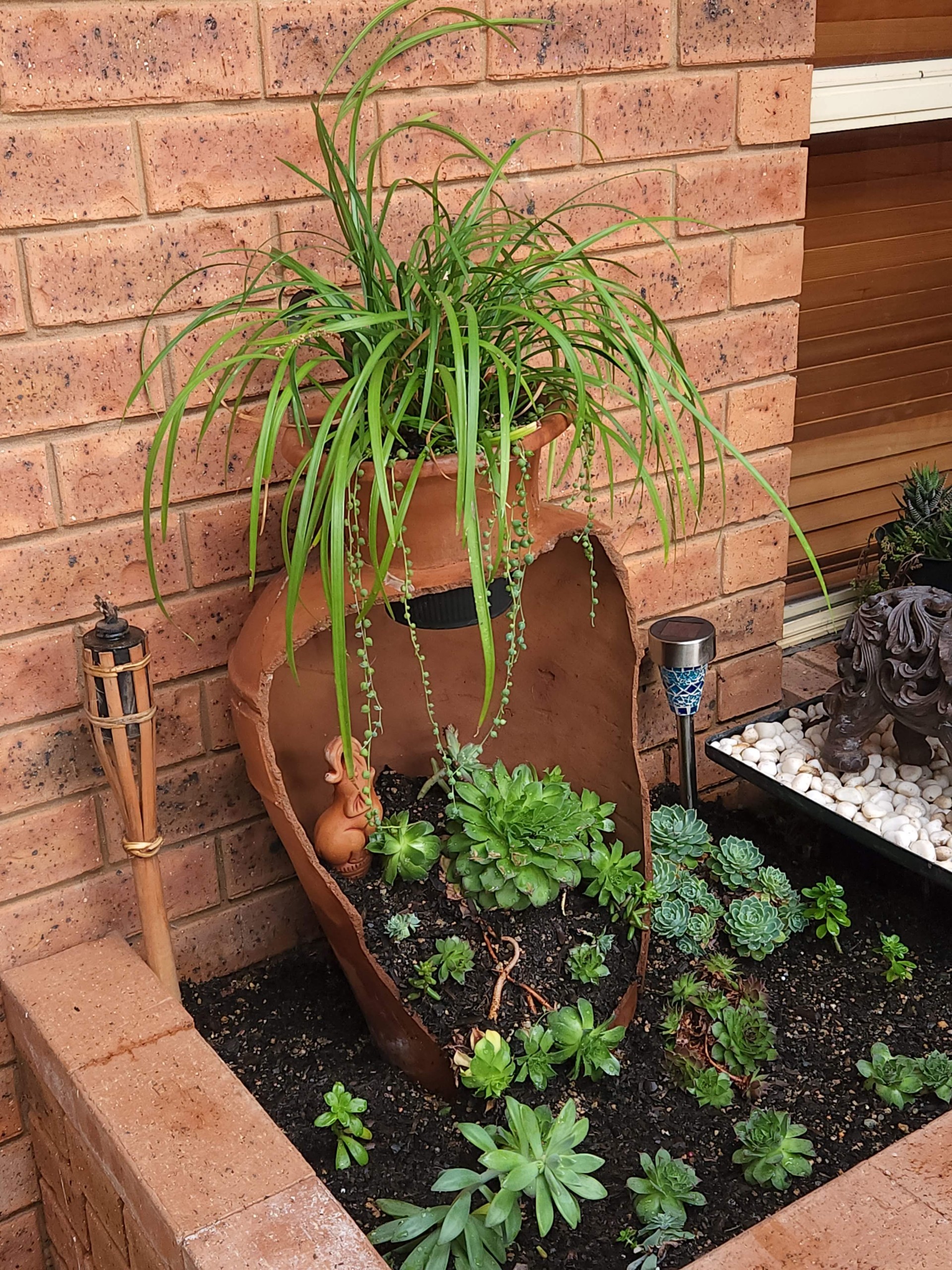 This is how it went down. I get parcels delivered a few times a week and my two terrorists now get so excited when they hear the postie's motorbike.  As soon as he rings the doorbell, it is game on. No matter where they are in the house or garden they always come running at high speed to get to the front door to greet him.
On this day they were outside when he arrive and it was a race between them who would get there first.  They both came screeching into the kitchen sliding on the floor tiles and lost control, slamming into my terracotta pot. We have all seen those funny movies where the pot tips and spins on one side while the person tries to catch it before it falls and smashes.  This was me but I was too slow and the vase fell over and smashed. And to make matters even funnier this is the doormat I made for my front door about a year ago, true story.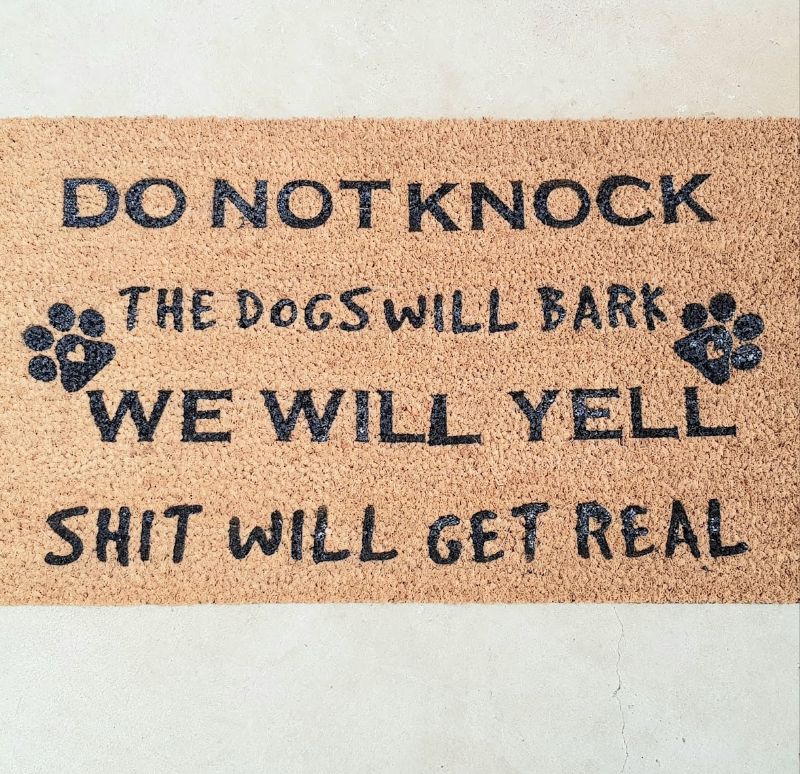 Repurpose a broken terracotta pot
*This post may contain affiliate links. This means I earn a small commission on links used at no extra cost to you. Please see my disclosure policy for more information.**
I do not have a before photo because I had no idea I was going to be doing this project. But basically, it looked like this pot but one side was not broken. As soon as I saw how the pot broke I knew I could upcycle it into a planter. I did glue some of the bigger cracks in the top to stop them from breaking altogether.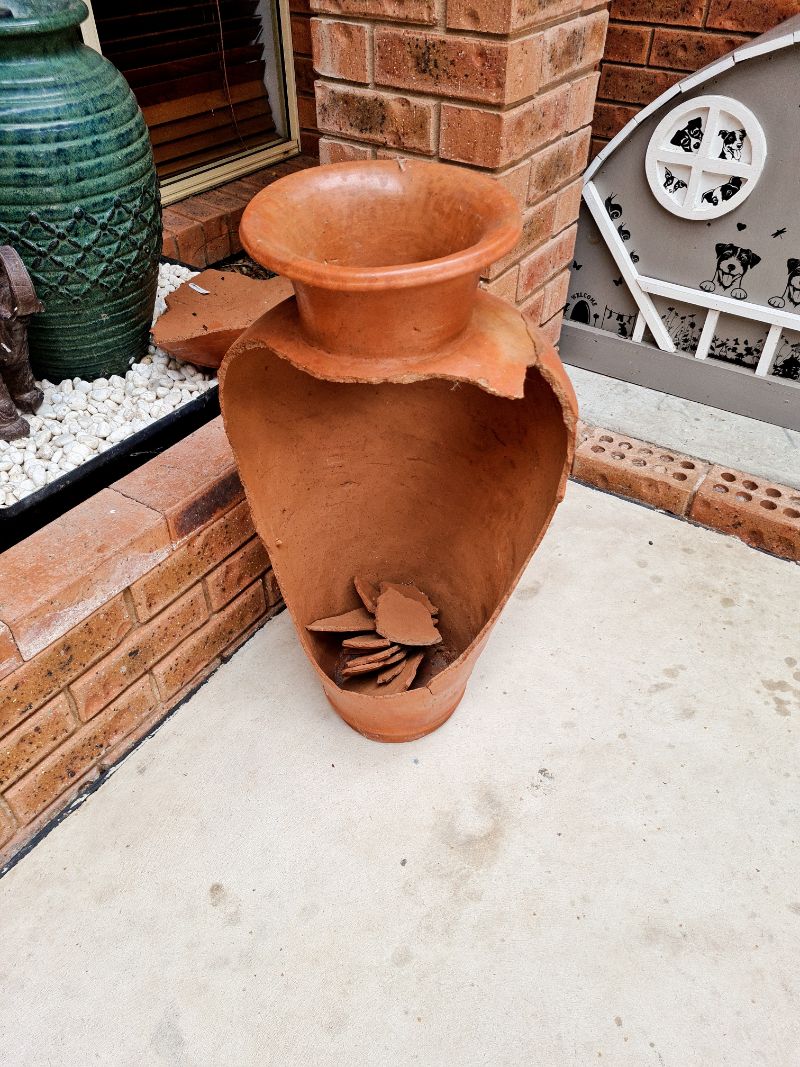 Under my entertainment pergola, I have this large built-in planter. It has been empty for the past year because my puppies kept digging up my plants.   I was hoping that now they are a little older they would stop this destructive behaviour. It is also a perfect spot for succulents because there is a skylight above this area. Which makes it a great spot to store my pot plants in winter to protect them from the frost.
Prepare the pot
The idea I had in mind was to have succulents in the terracotta pot and have some scattered around the bottom.  I wanted it to look like they were spilling out of the terracotta pot. It is a good idea to partially bury the terracotta pot to prevent it from falling over. I left the stones that were already inside the planter to use as drainage and added some inside the pot to weigh it down.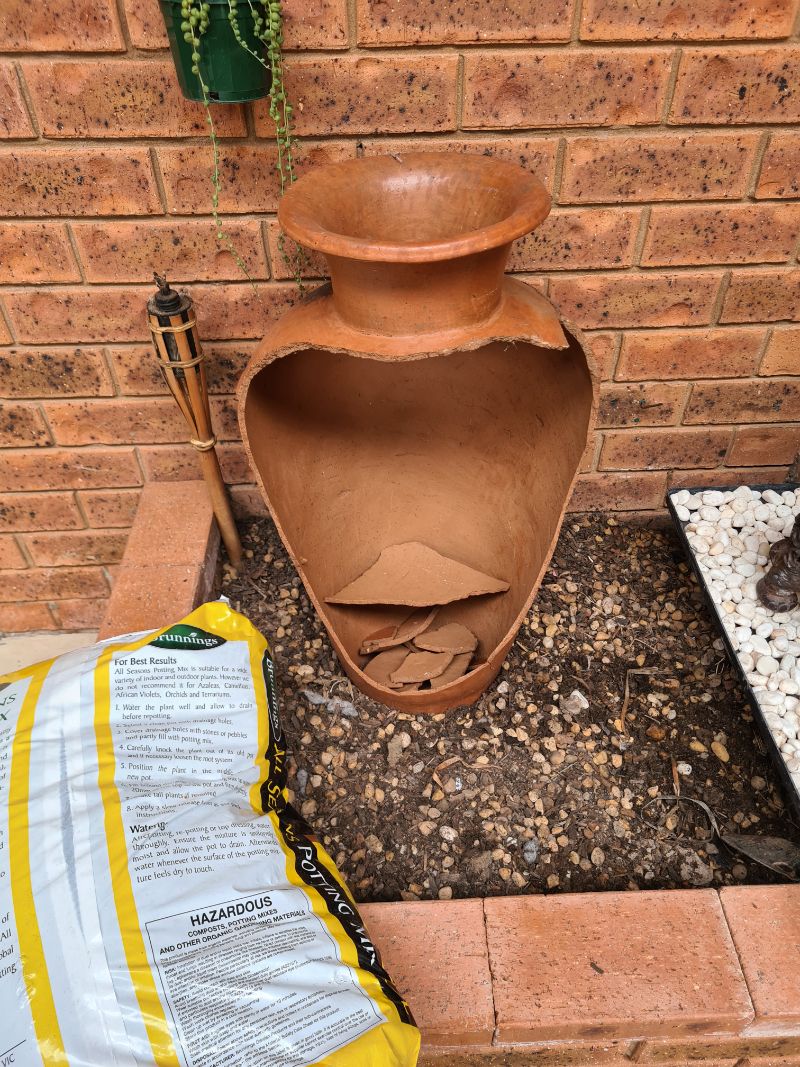 Next, I added suitable soil before adding the succulents. The image below was what I had in mind from the start but low and behold they dug them up soon as I turned my back. I think I need to accept I can't have nice things anymore.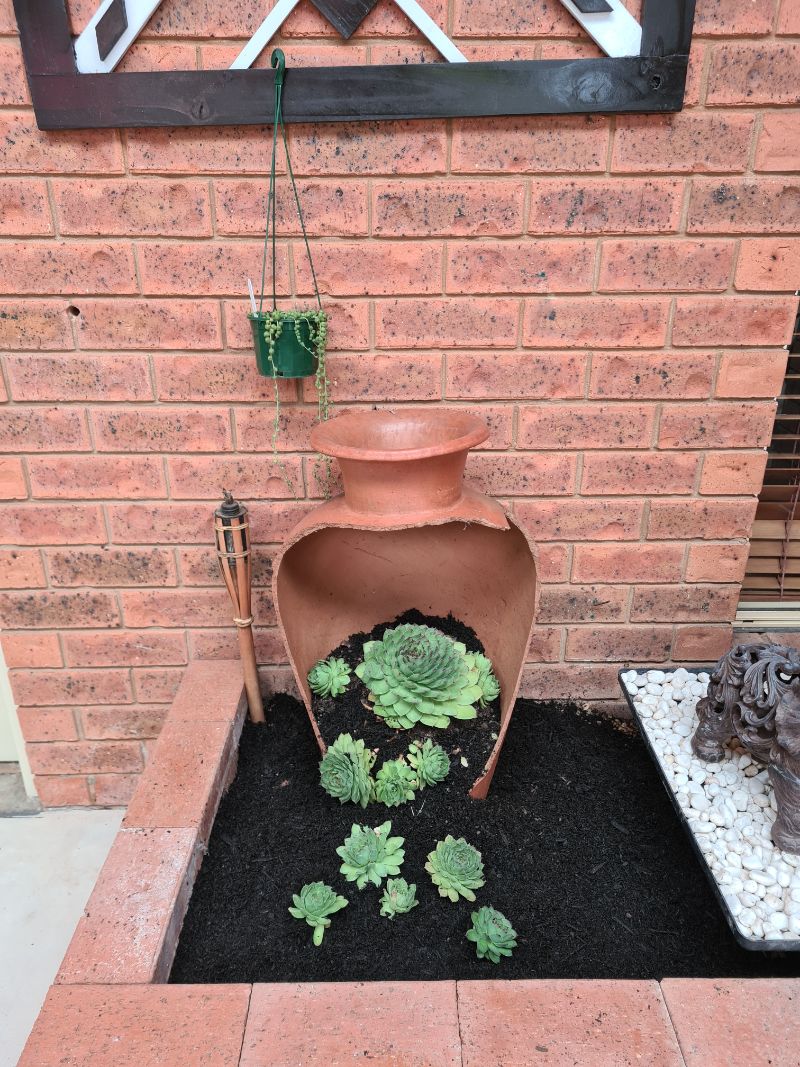 They do seem to have a favourite succulent which they like to destroy, so I replaced the broken ones with the type they don't seem to bother with.
Add some finishing touches
I found this cool terracotta self-watering spike
. They are really great, you can tell at a glance if you need to water your succulents.  If the terracotta elephant is light in colour you know the soil is very dry.  As soon as you add water to the soil the elephant will become darker in colour.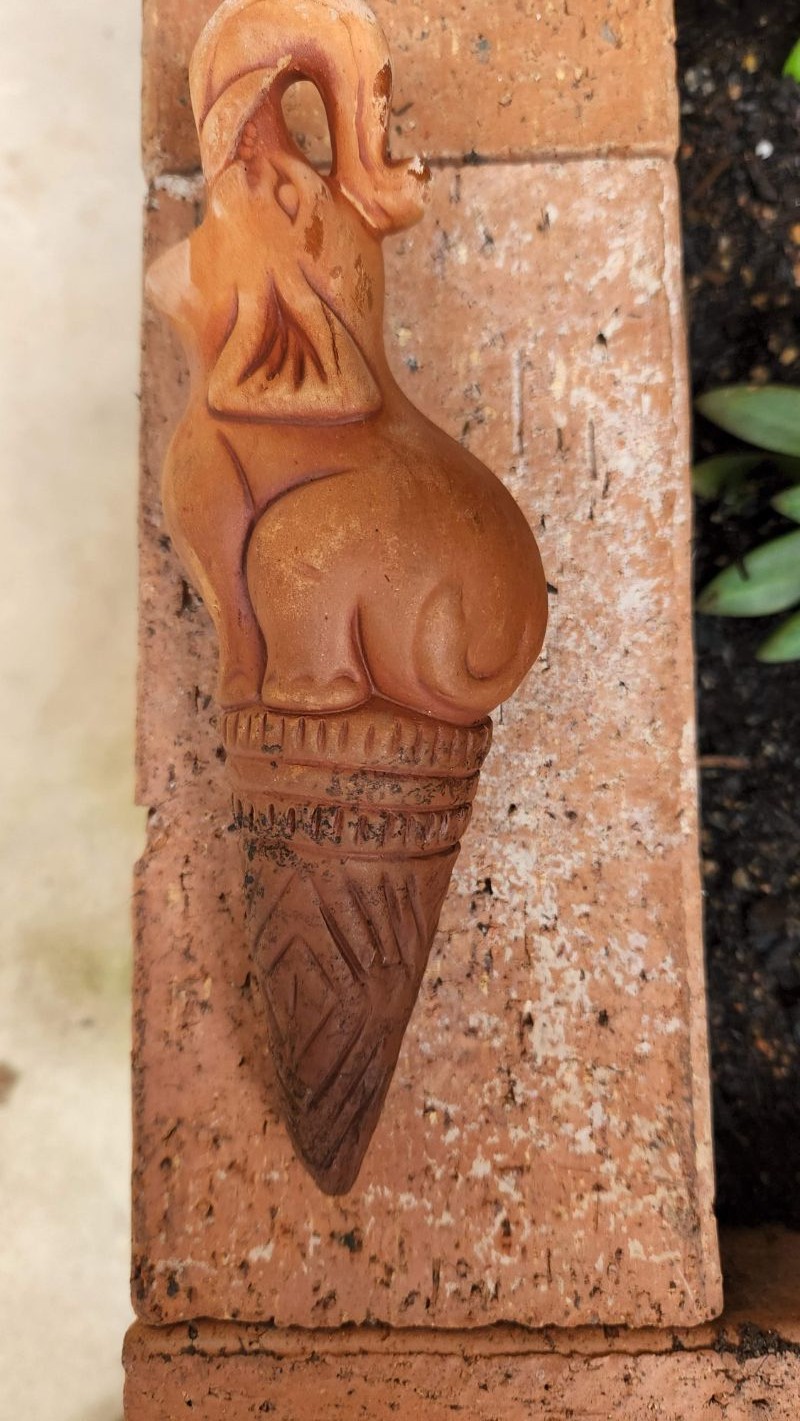 The instructions say to add the water to the inside of the elephant but for succulents, I use it this way.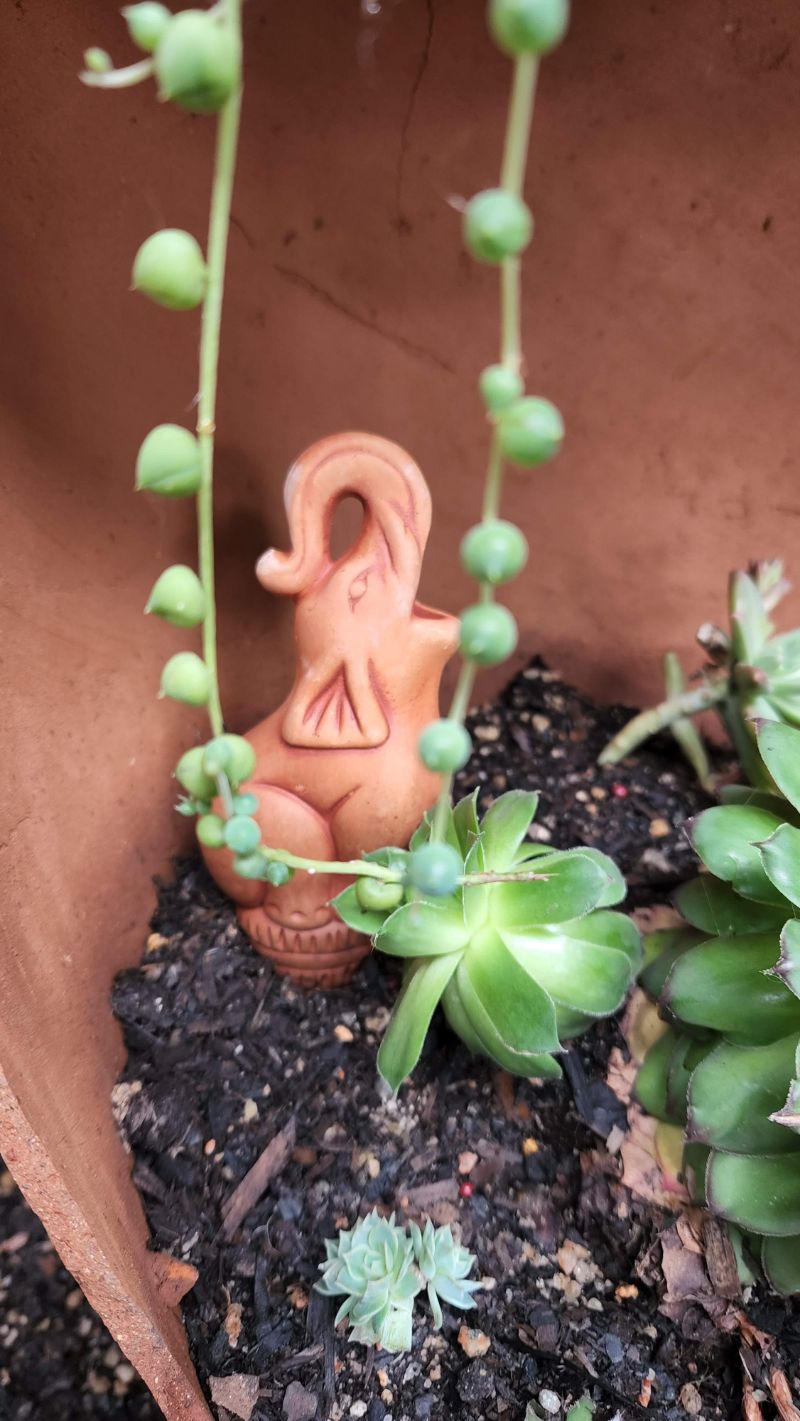 To finish off the look I added a grass-type plant in the top opening.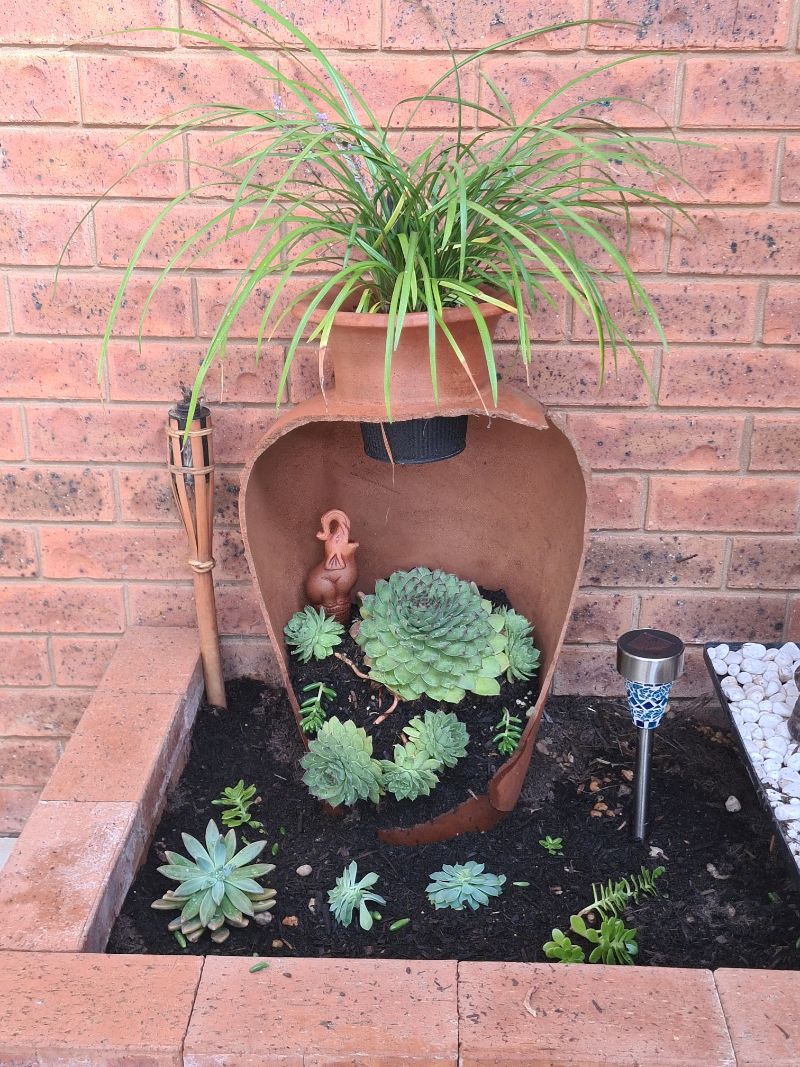 I left this project sit for a few months hoping the novelty would wear off and sure enough, it did.  After they noticed I was no longer busy in that planter they just stopped.  So every now and then I would just add another plant to finish off the look.  The string of pearls was added to the top and will hopefully spread over time.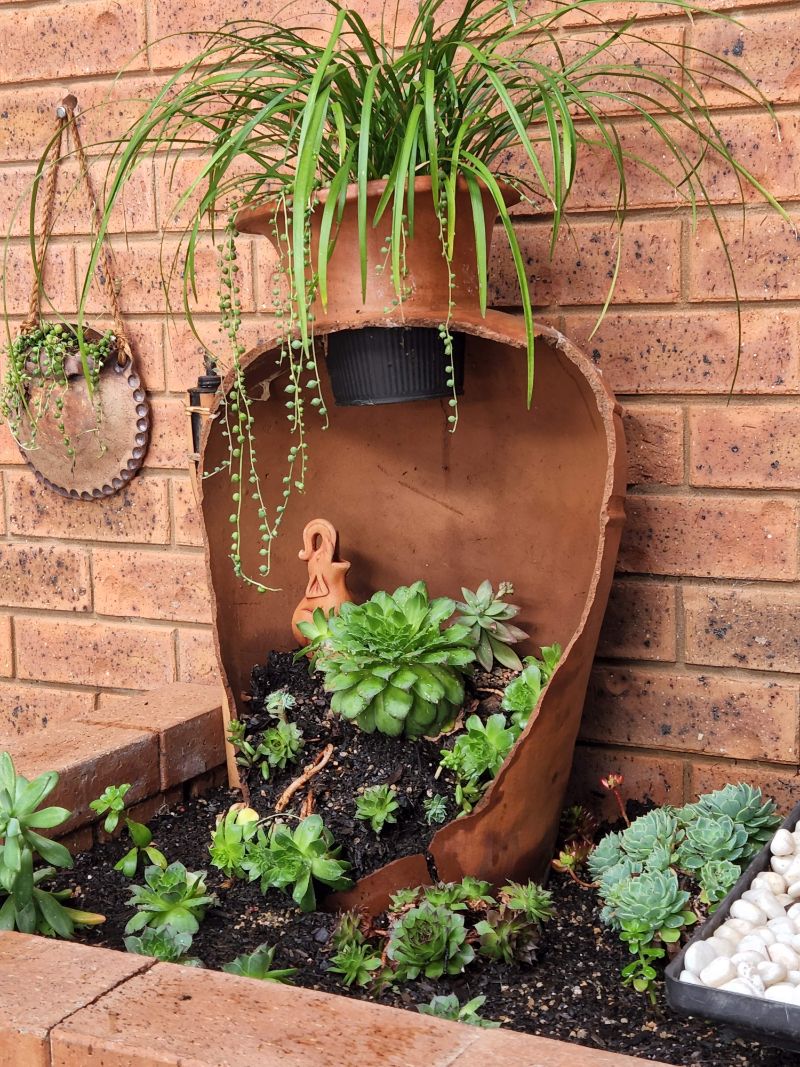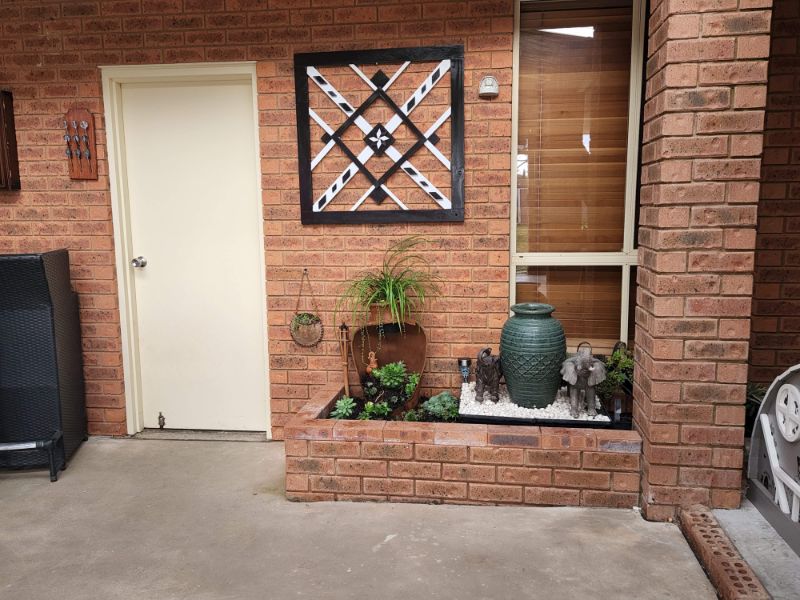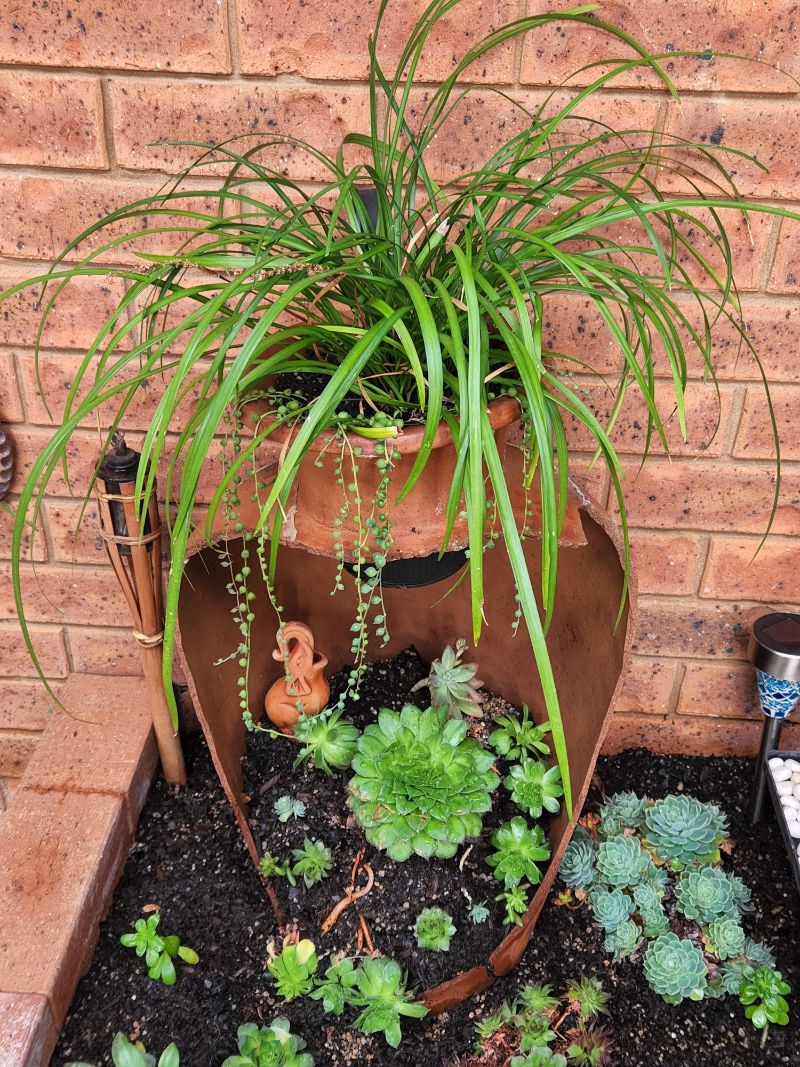 When they destroyed my outdoor futon a year ago I repurposed it into a succulent plant stand.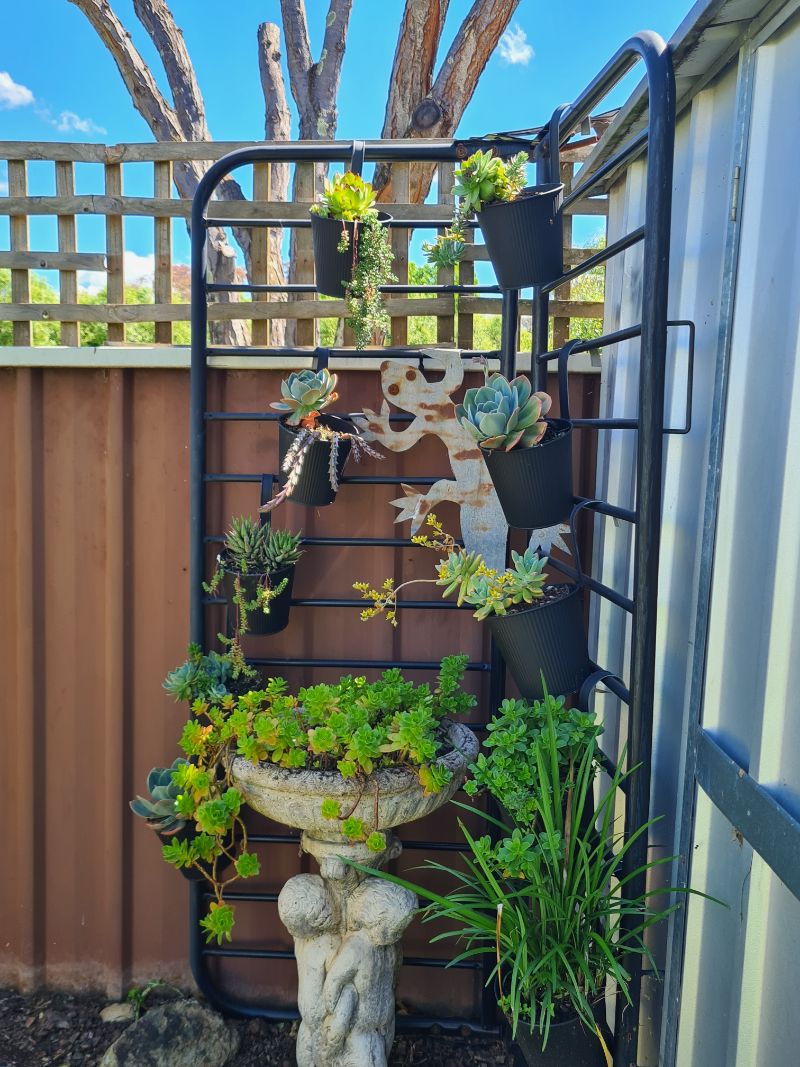 The succulents in the buckets had become so overcrowded I planted them into the planter. They don't seem to bother with the bigger plants.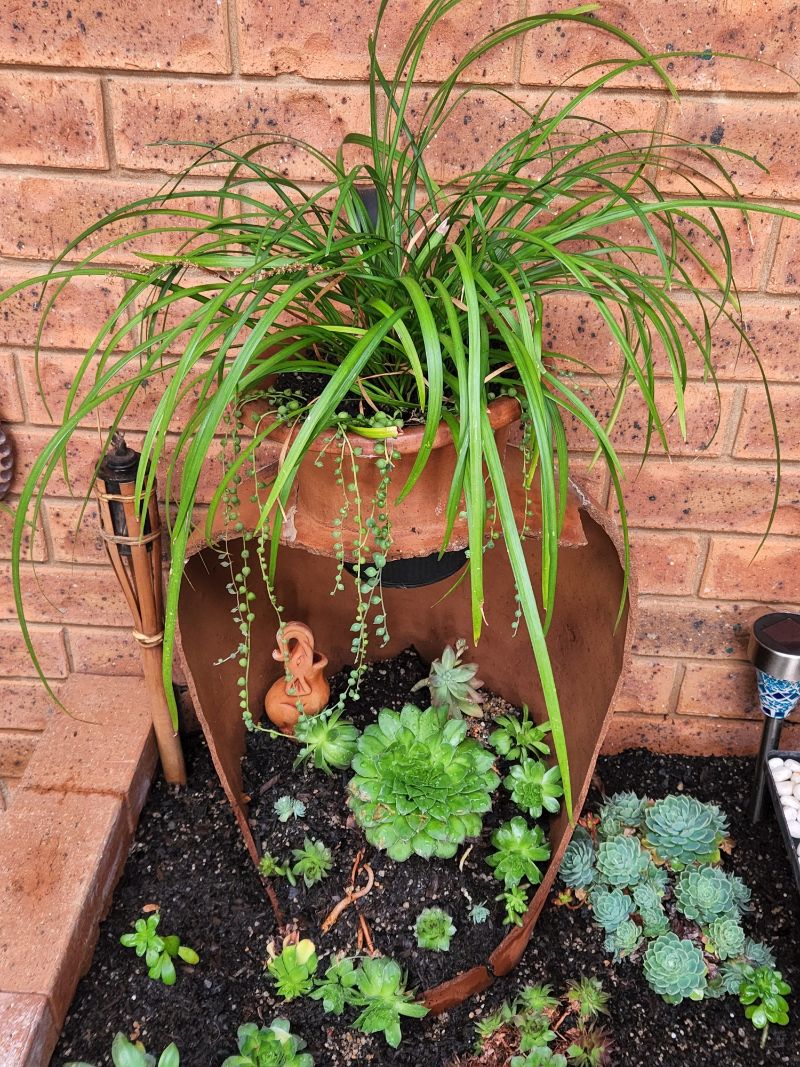 Do over designers blog hop
As I mentioned, this is the 'Do It Over' Designers Blog Hop and there are some amazing projects!  Be sure to click on the links below for inspiration.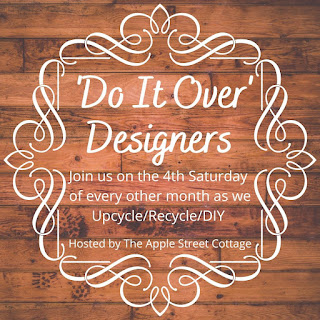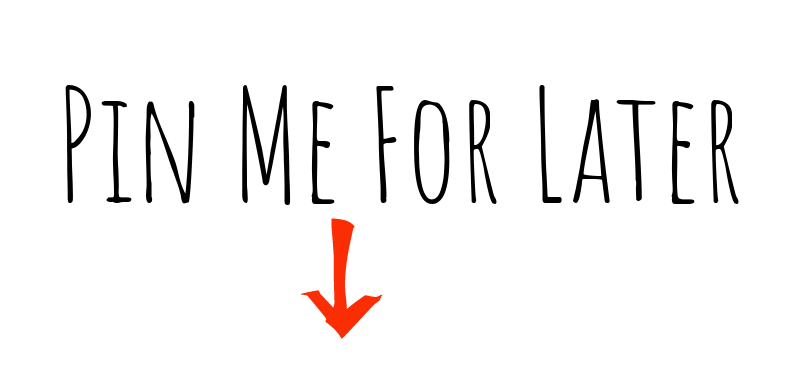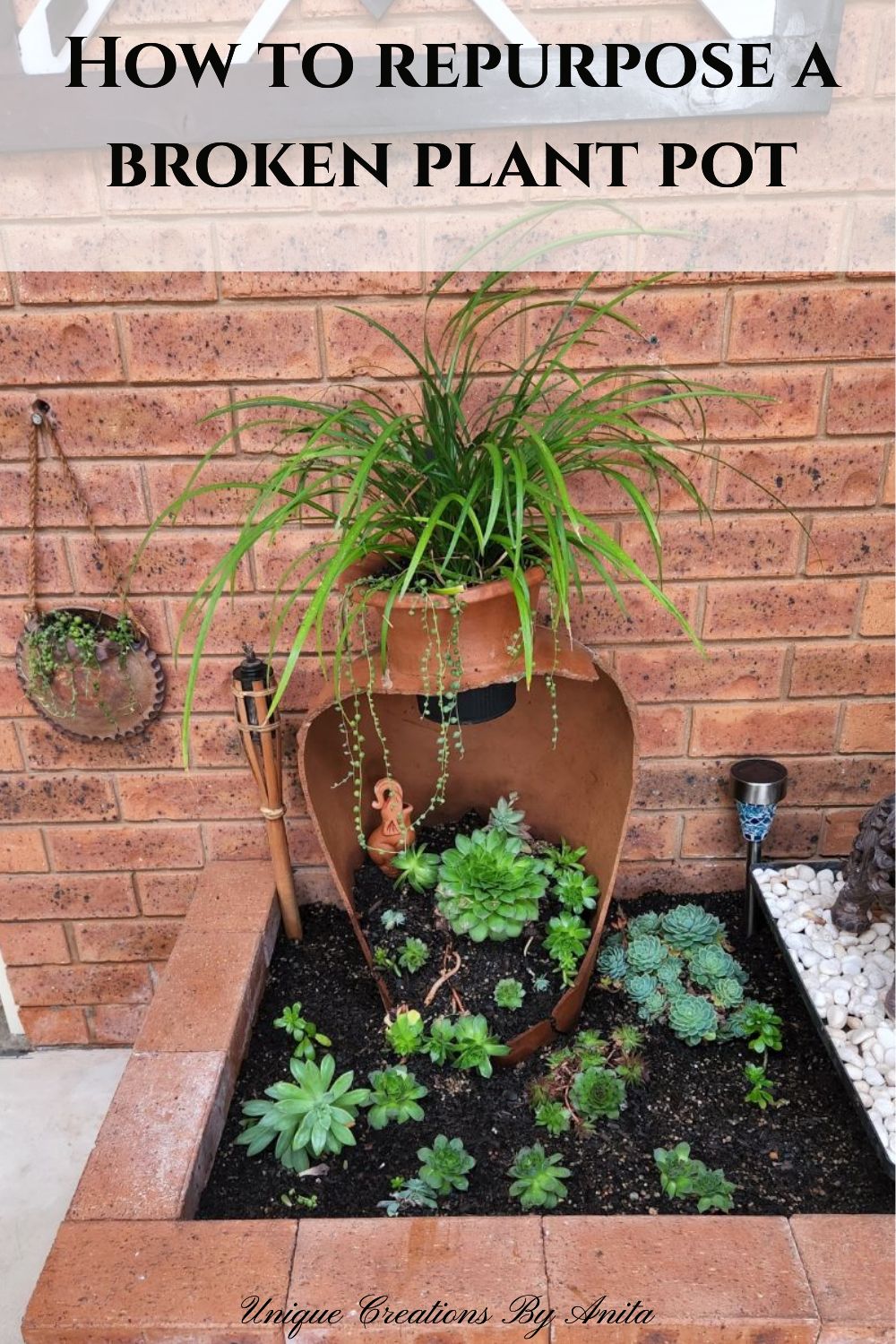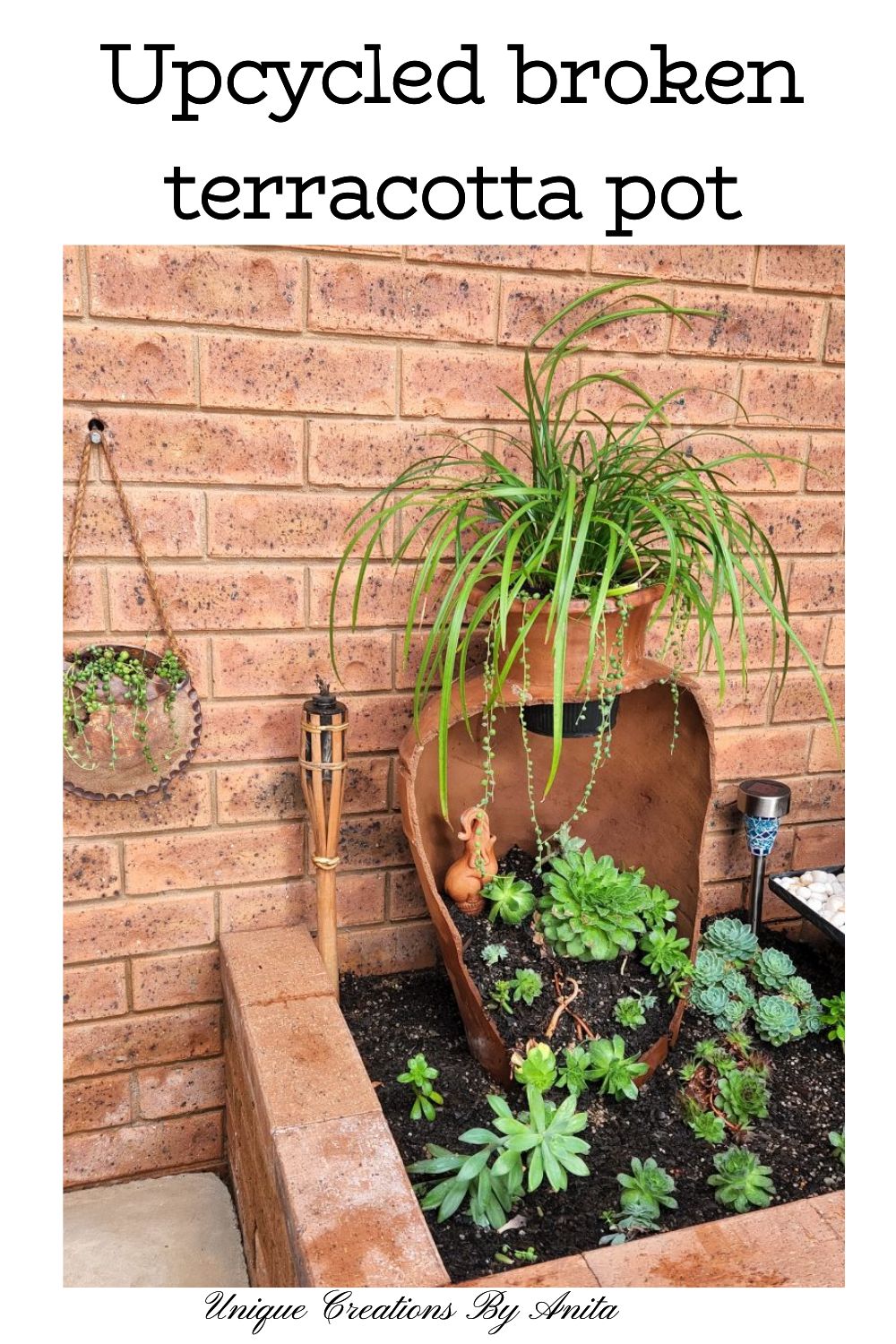 If you are looking for any of the items used in this project, please consider using our links. By clicking on the links we will earn a small commission at no extra cost to you.  Which helps us come up with new and exciting ideas to share with you. Please feel free to share or leave a comment we would love to hear your thoughts.