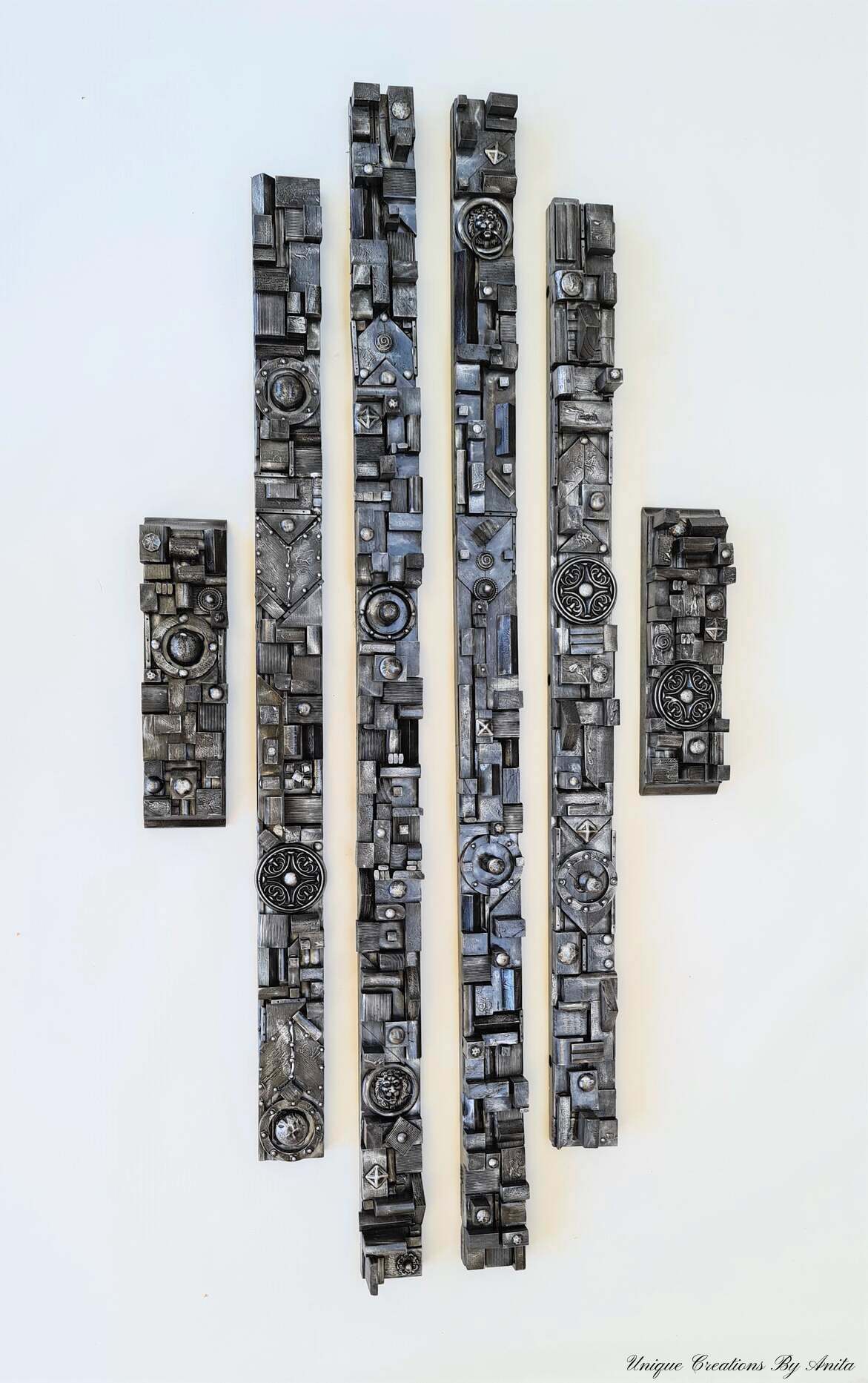 I am a total hoarder when it comes to scrap wood, I always try and use it in some way or another.  So with my scrap heap becoming so big, I wanted to try and use some of the smaller scraps to make Scrap wood wall art.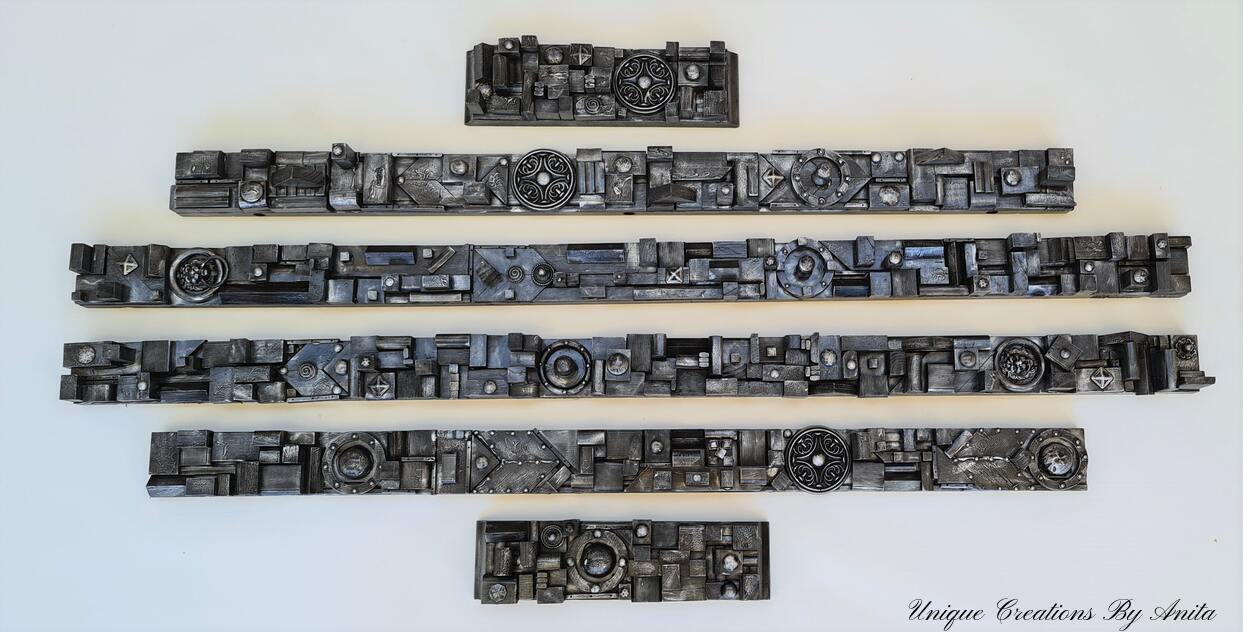 The idea I had in my head, was to use a straight piece of wood and glue all the smaller scraps to the surface. The idea behind doing it this way was that the wall art could be arranged in any way on the wall. You also have the versatility to move the sections around to create a different design.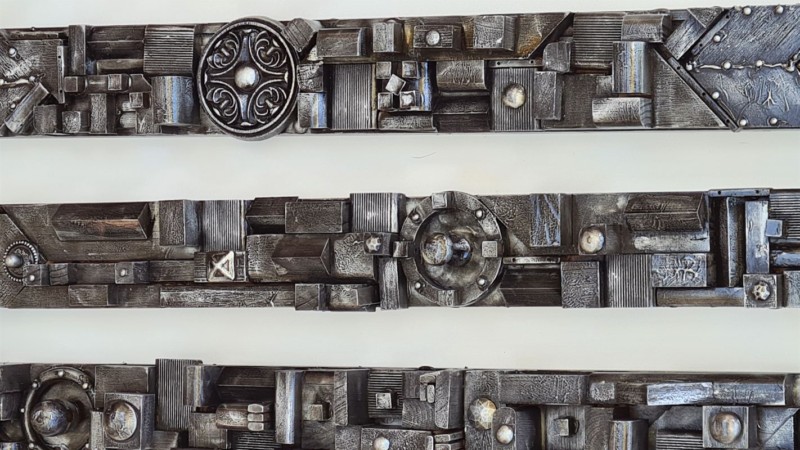 How to make scrap wood wall art
**This post may contain affiliate links. Which means I earn a small commission on links used at no extra cost to you. Please see my disclosure policy for more information.**
Find scrap wood
The idea I had for this project,  was to try and mix wood of all shapes and sizes and glue them to larger pieces. I knew I was going to paint the wood so using dirty and painted wood was not going to be an issue. If you want the natural wood look, you may need to sand the wood first.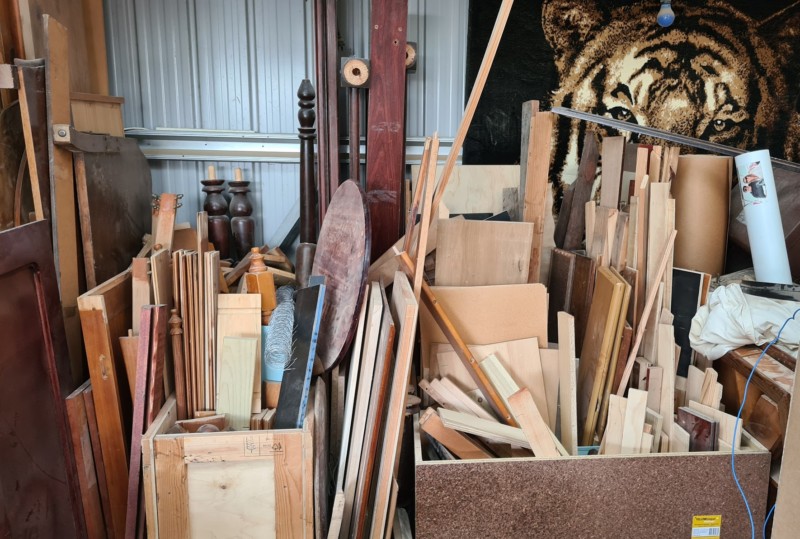 I have no idea why I kept the very small scraps from my barn quilt projects, but they worked great.  The wood I used for the base, was repurposed bed slats for an old bed. I also repurpose a wooden bathmat into this project, modelled by my new puppies. They like to get in all my pictures when they can. lol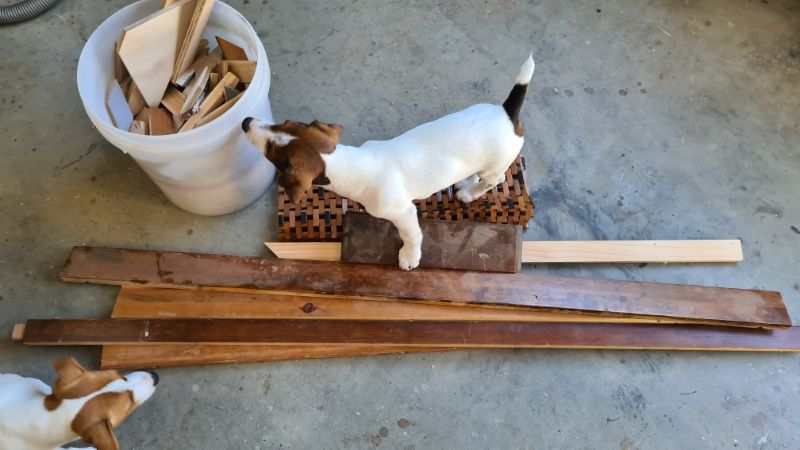 Cut the wood
For me, the quickest and easiest way to cut the wood smaller was to use a mitre saw.
But you can use any saw, some will just take longer than others to do.  I tried to keep my pieces under 3 cm so they don't stick out too far.  If you have a mitre saw you can cut some of the wood at random angles to make you wall art look more interesting.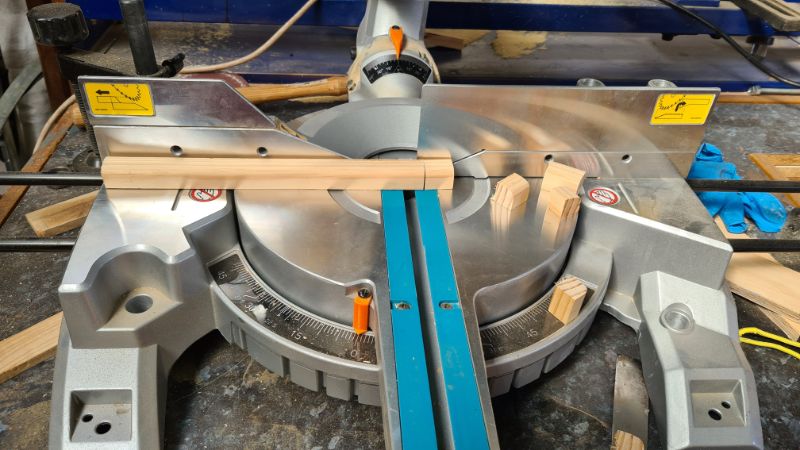 Glueing the wood
Because this scrap wood wall art will be hanging on a wall I did not use wood glue, but a hot glue gun.  It is a good idea to use a full-size glue gun
and black hot glue
which is easier to disguise.  I know this will be strong enough because I have used it many times on my barn quilts.  In the past, if I have had to remove a piece I was not happy with, I had to use a hammer and chisel to remove it. If you have some unfinished wood don't be tempted to sand the surface, because will make it more interesting once painted. This step does take a few hours to complete.  You start at the top and randomly glue the small pieces of wood the base.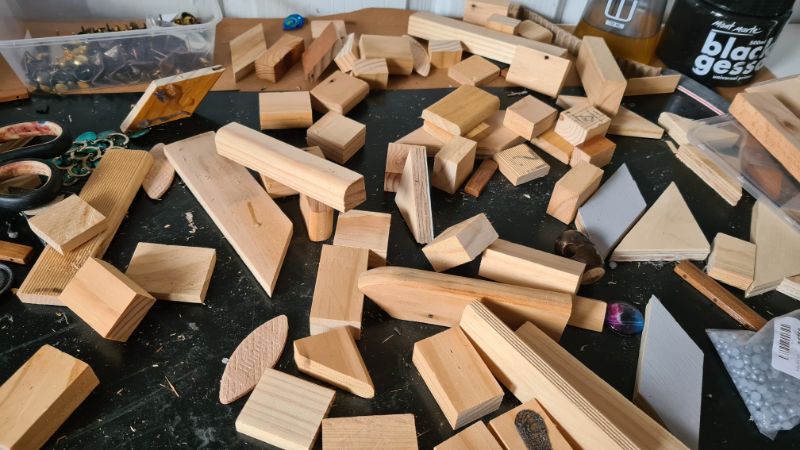 This is where the wooden bathmat became handy to fill in all the small gaps. While I was sitting doing this step, I got the idea to try and add some mixed media art to my scrap wood wall art.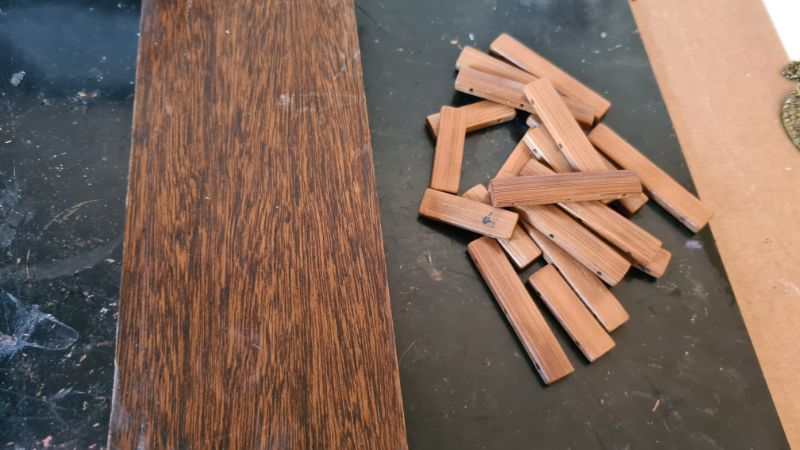 Add some textures
To try and add some character to the wood I wanted to add some different textures. I went around my workshop and craft room looking for bits and bobs to add to each piece. Here are a few items that I used. You don't need anything fancy because once it is painted it will look good anyway.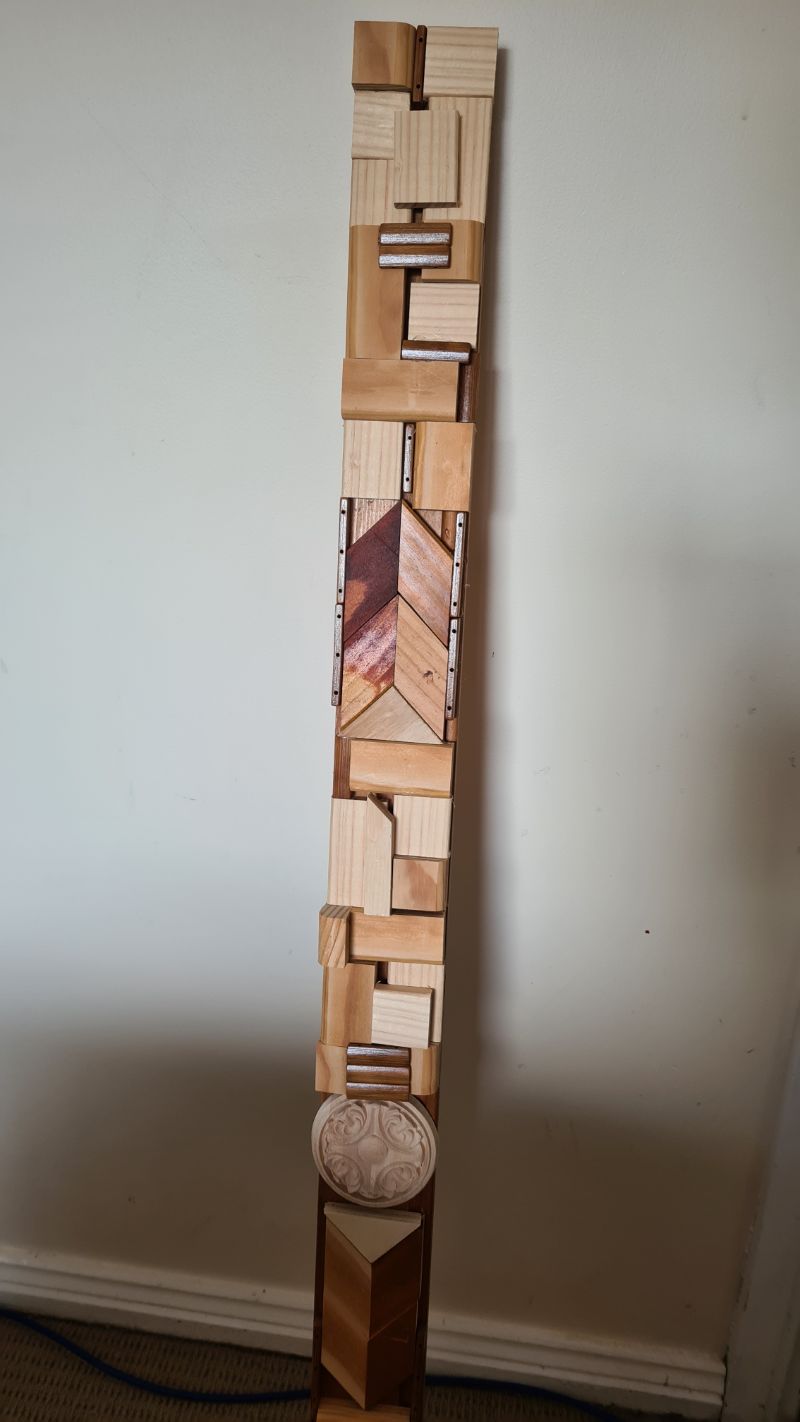 Old buttons
Broken drawer pulls
glass beads
upholstery studs
thumbtacks
resin squares
half pearl beads
Ping pong ball cut in half
wooden curtain hoop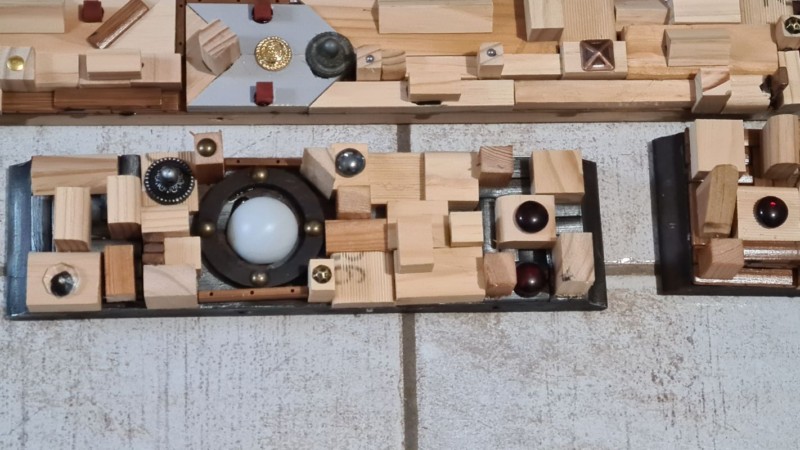 You can zoom in on the images below to see other items I used. For added effect, you can add some random layers.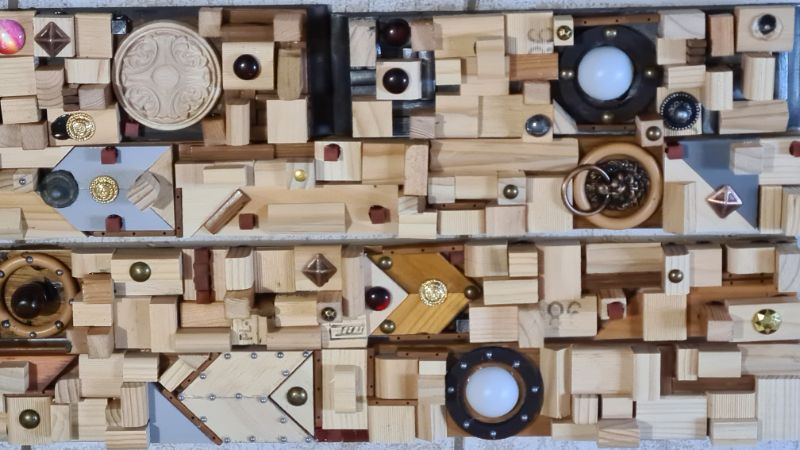 I must admit it does look very crappy at this stage, but it will get better.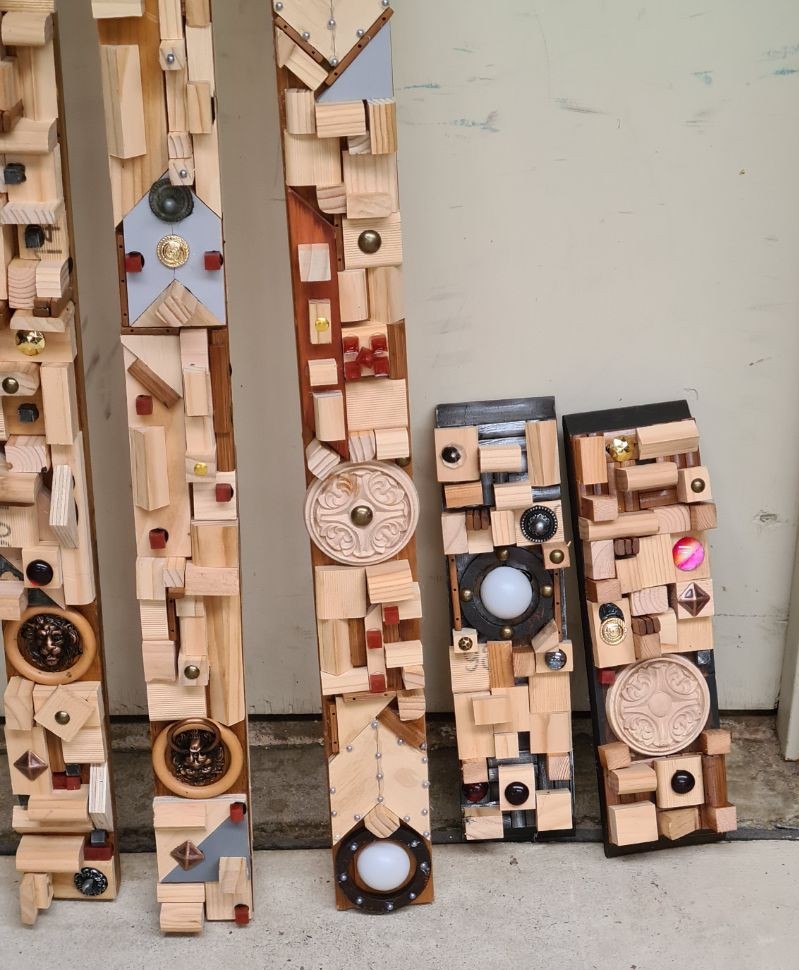 Paint the wood
I used black Gesso only because that is what I had at home. If it was not a Sunday, I would have bought suitable black spray paint and used that instead. This step did take me at least an hour to complete with a paintbrush. When you are painting with gesso don't try and do it perfectly.  In this project, the messy painting will actually add to the effect in the end.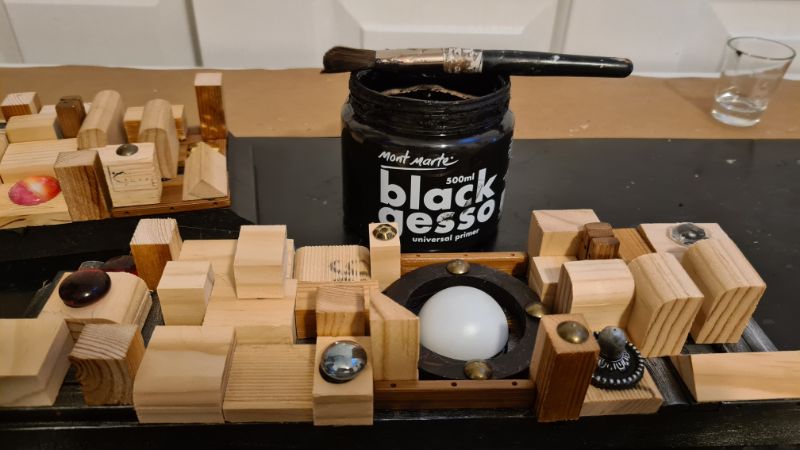 I thought it looked interesting like this, but I wanted to add the silver to highlight the texture.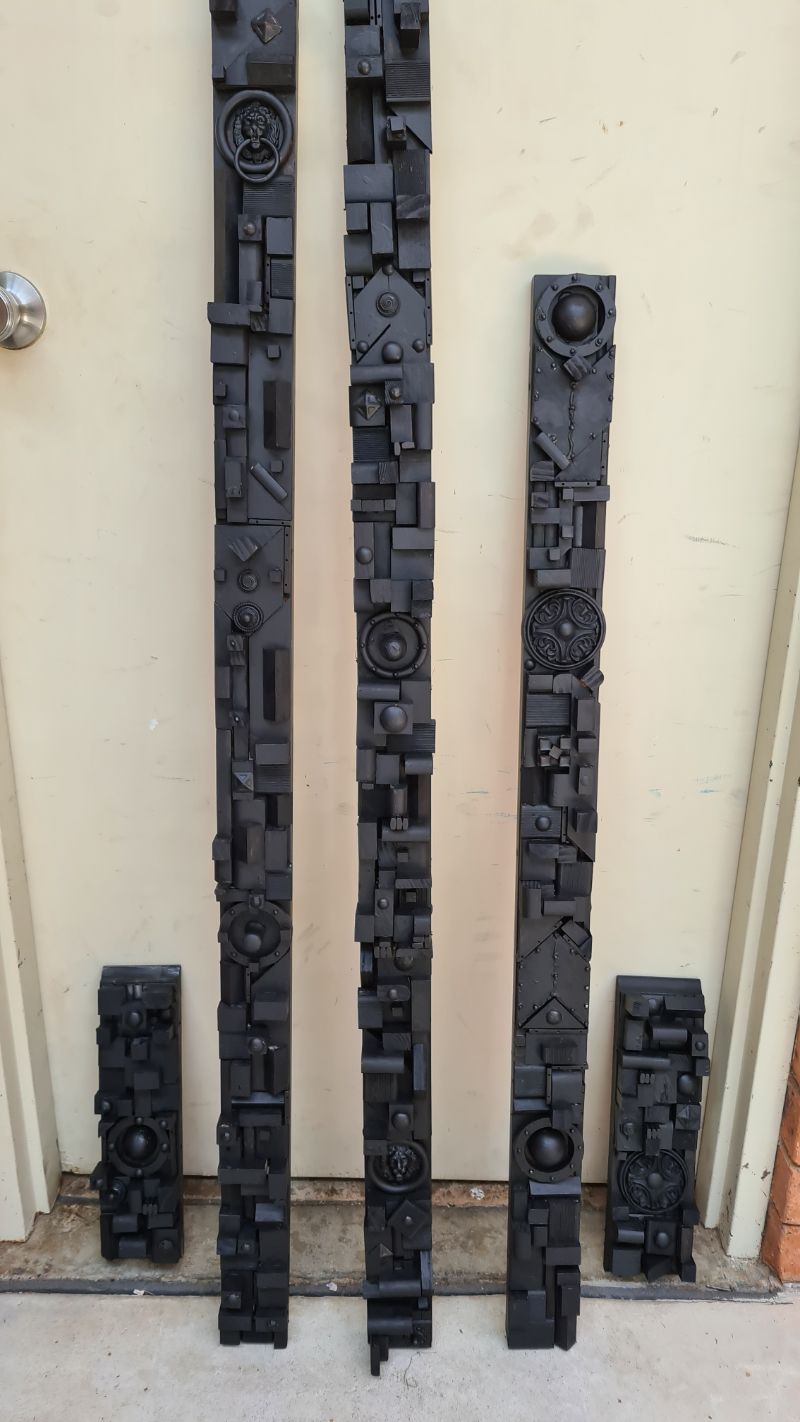 Adding the silver wax paste
I used silver wax paste
to highlight the black paint.  This is a method that is used in mixed media art.  If you follow my blog you will remember I used it when I recycled a book into a jewellery box. This metallic wax paste comes in many colours
so you are not limited to silver.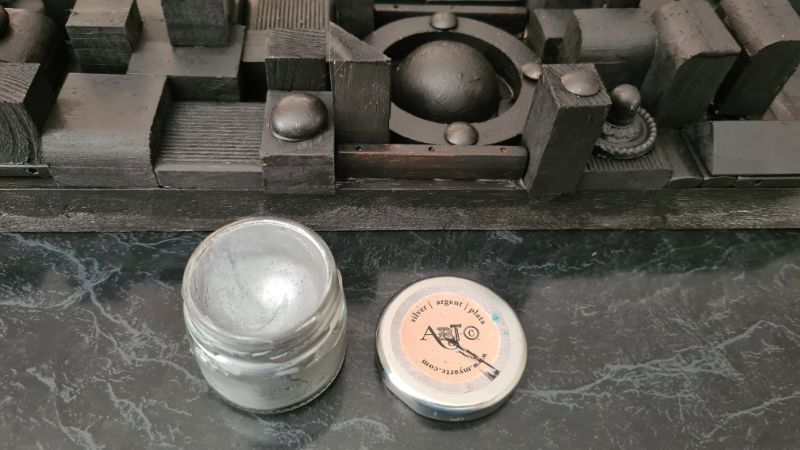 Dip the tip of your finger into the wax and gently rub it over the surface of the wood.  Try not to cover all the black or the effect will be lost.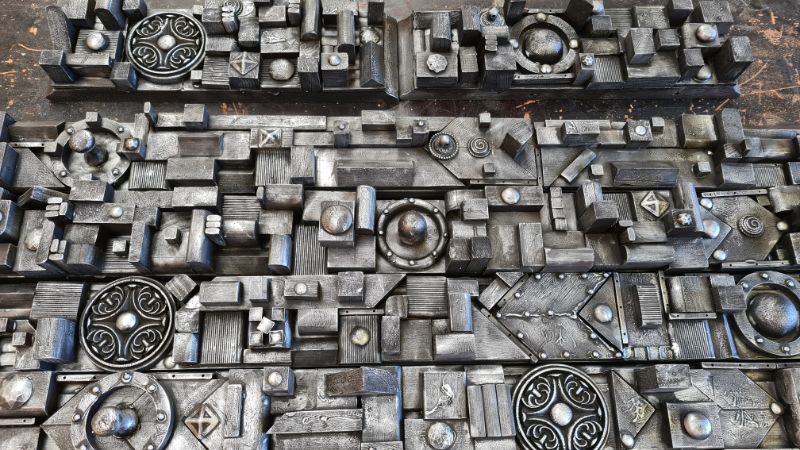 This image below is an excellent example of how messing painting adds to the effect. On the ping pong ball and the chevroned shaped wood,  I just slapped the paint on. I also find that messy hot glue looks great. Once you have added the metallic silver wax, it needs 12 hours to cue.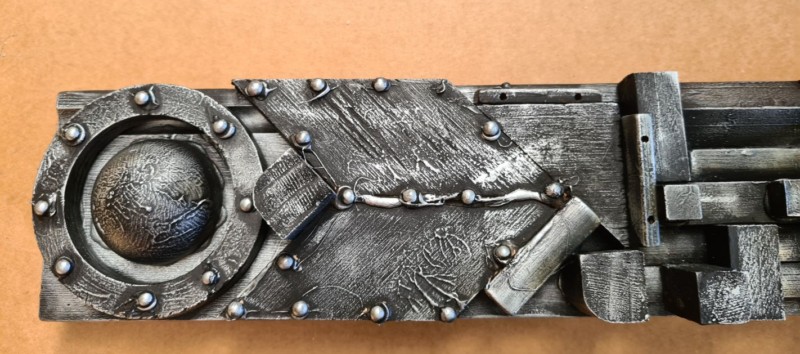 Seal the wood
To seal the paint and stop the metallic silver paste from going dull, you need to seal the surface.  I added 2 coats of clear gloss spray.
Your scrap wood wall art is now ready to hang.  You can use keyhole hinges
if you are happy to put holes in your walls.  I used the velcro command strips
.  They can hold up to 4kgs so they worked perfectly for these.  When I get bored with this wall art, I can pull the command strips off and there is no mess left behind.
Close-ups of the detail
It was hard to photograph this project because the wall that I put it on has rubbish light.  To get it all in, I had to be so far back you could not see the detail.  So here are some closeup shots. This image below is the actual colour, the next image was taken outside in the sun.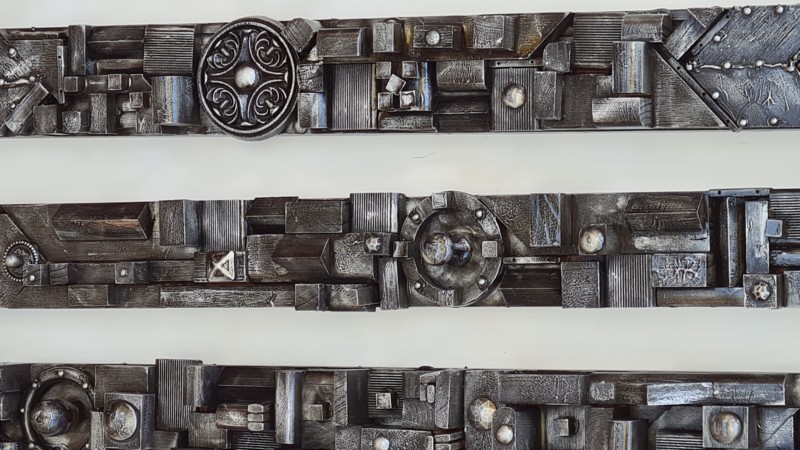 The great thing about this idea is the design can be altered, the possibilities are endless.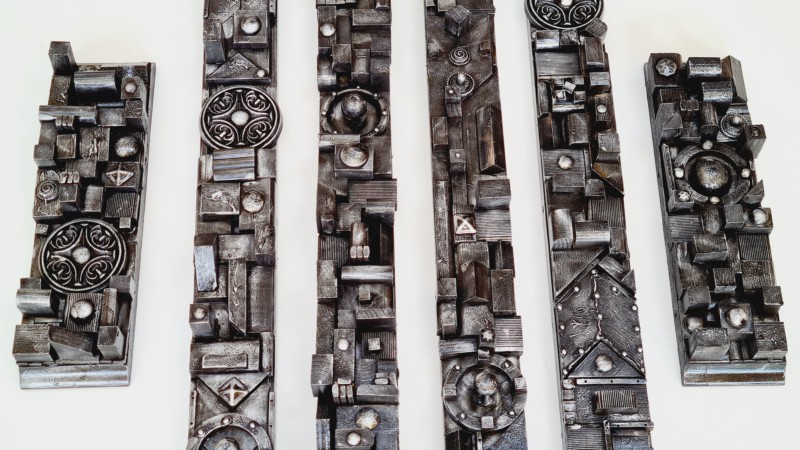 More scrap wood project ideas
This wall hanging was also made using scrap wood.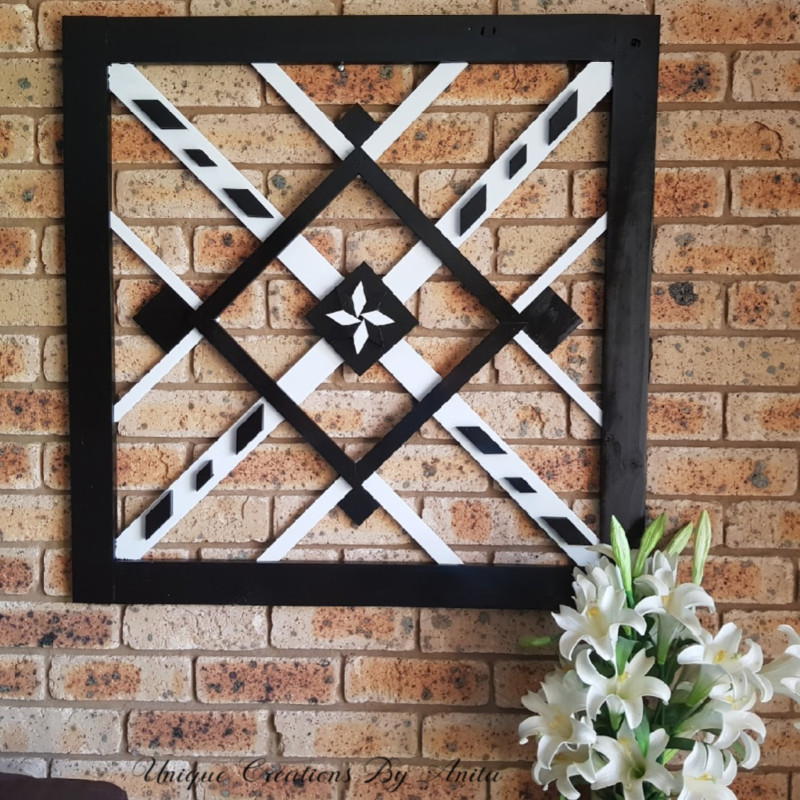 Scrap wood planters are also a great way to use up some of your scraps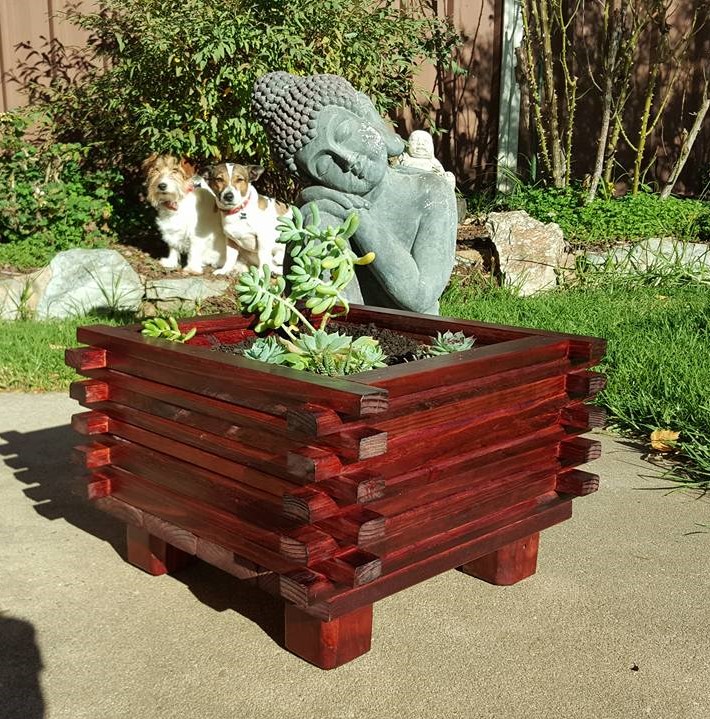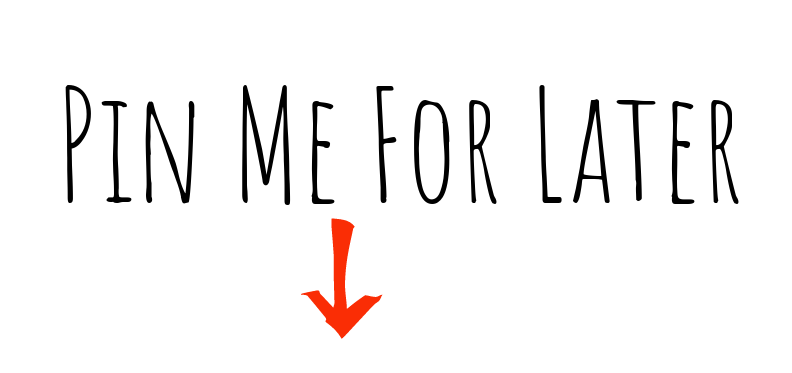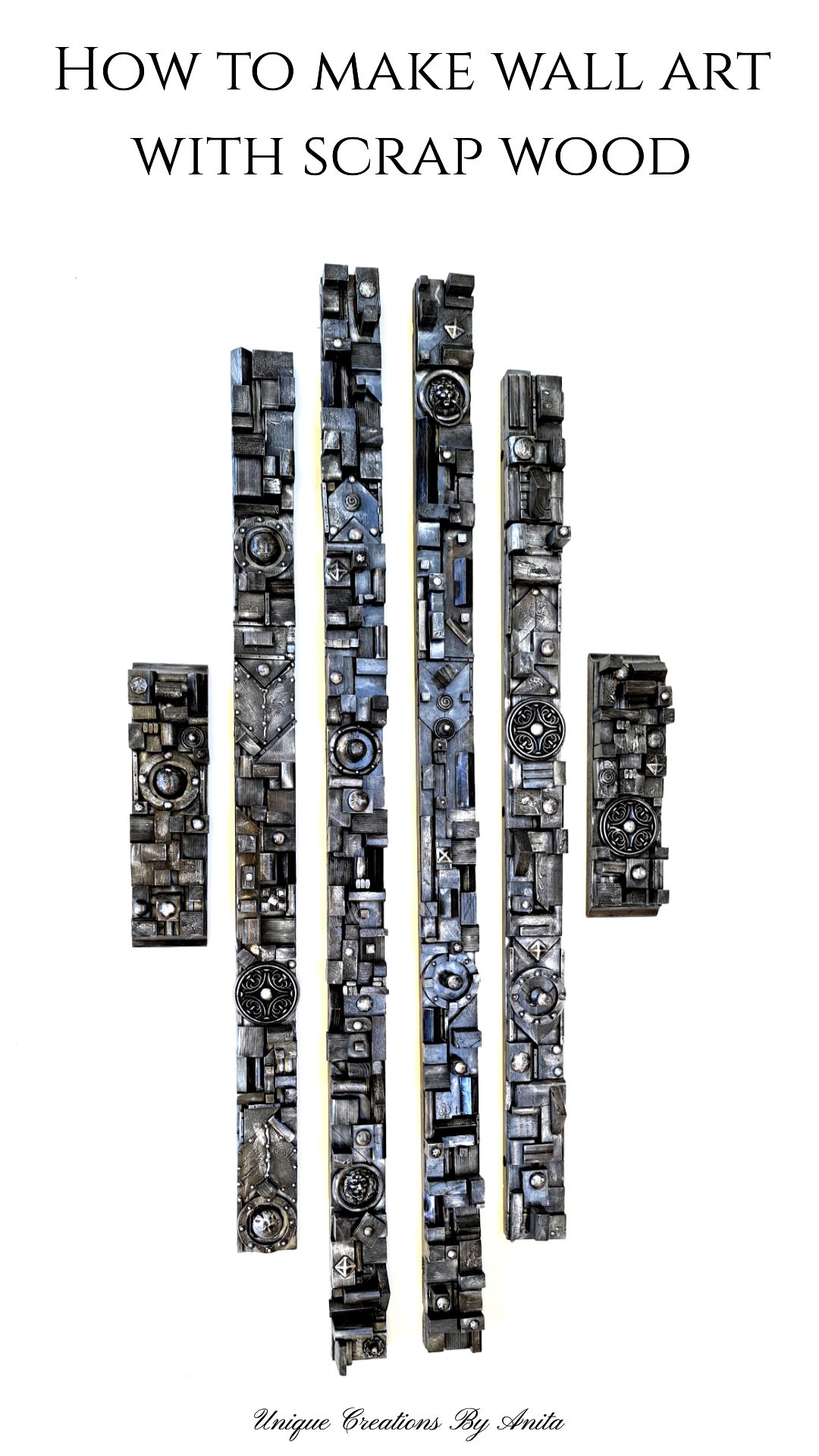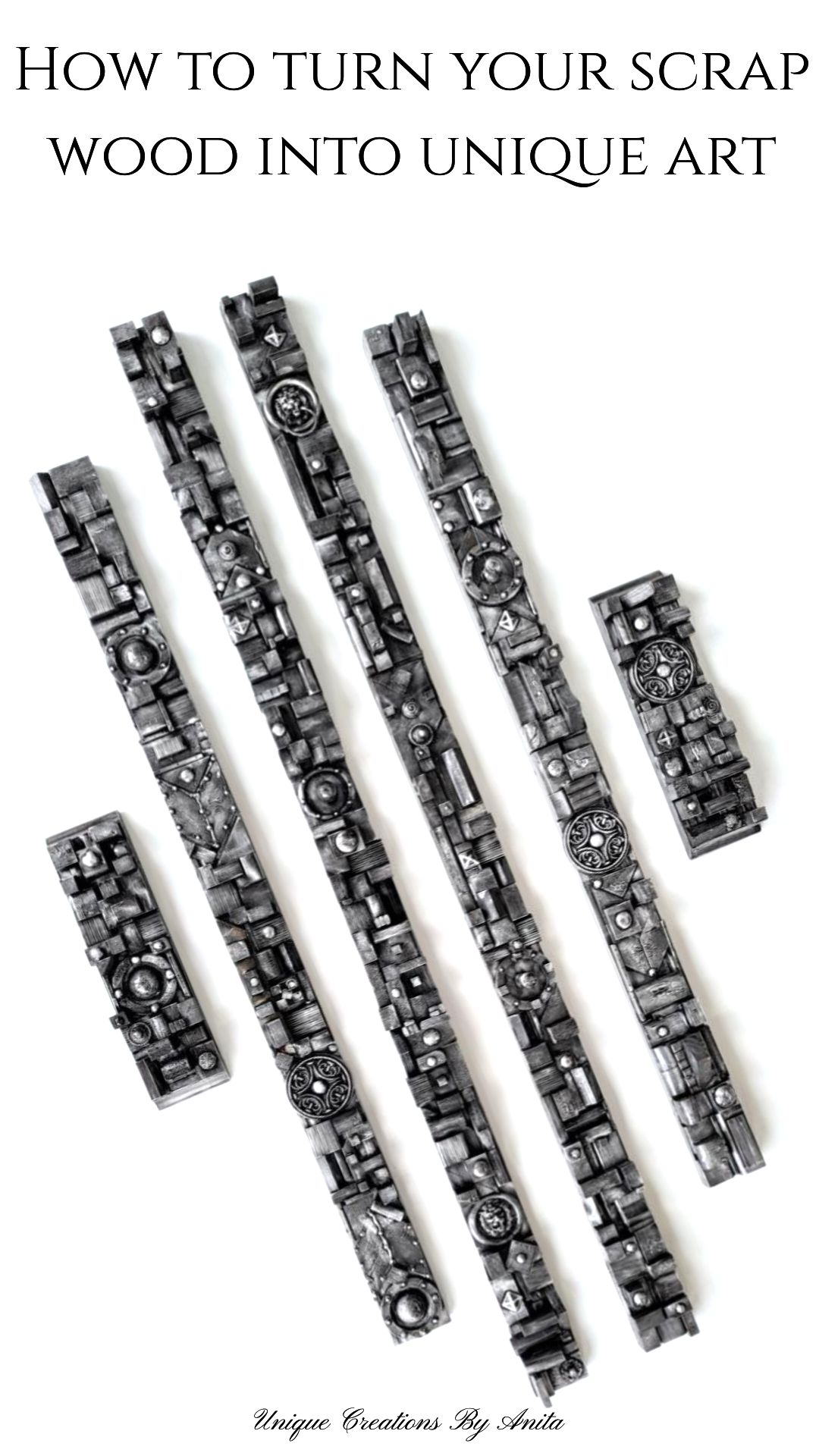 If you are looking for any of the items used in this project, please consider using our links. By clicking on the links we will earn a small commission at no extra cost to you.  Which helps us come up with new and exciting ideas to share with you. Please feel free to share or leave a comment we would love to hear your thoughts.